Chocolate and peanut butter!  Two classic flavors come together to make a spectacular Fall M&M Brownie Pizza!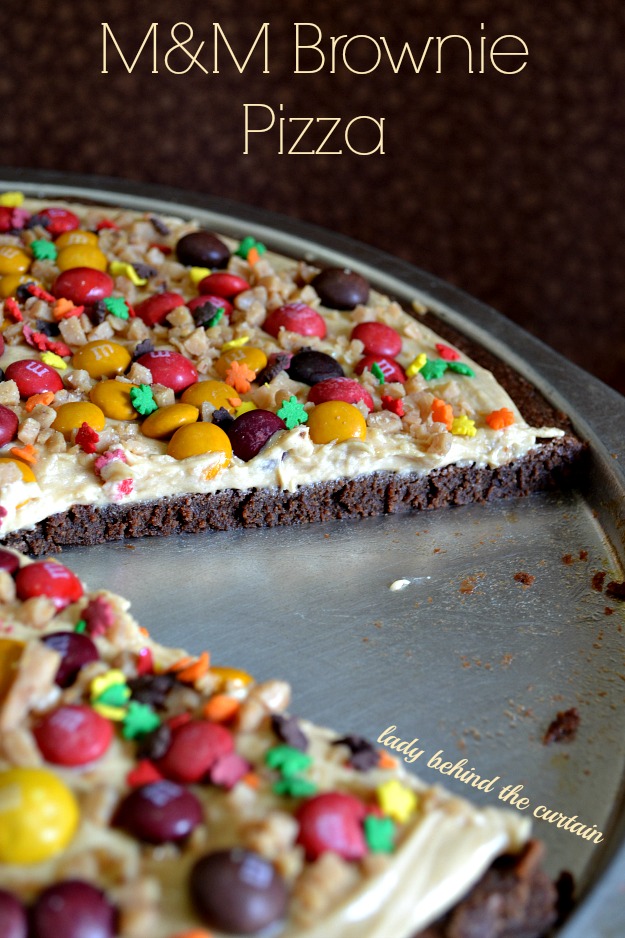 This M&M Brownie Pizza only bakes 15 minutes.  Topped with a delicious peanut butter frosting and tons of toppings.  Football season is almost here and I KNOW your hungry game watchers will love having this to snack on.
This can be the dessert to your pizza party!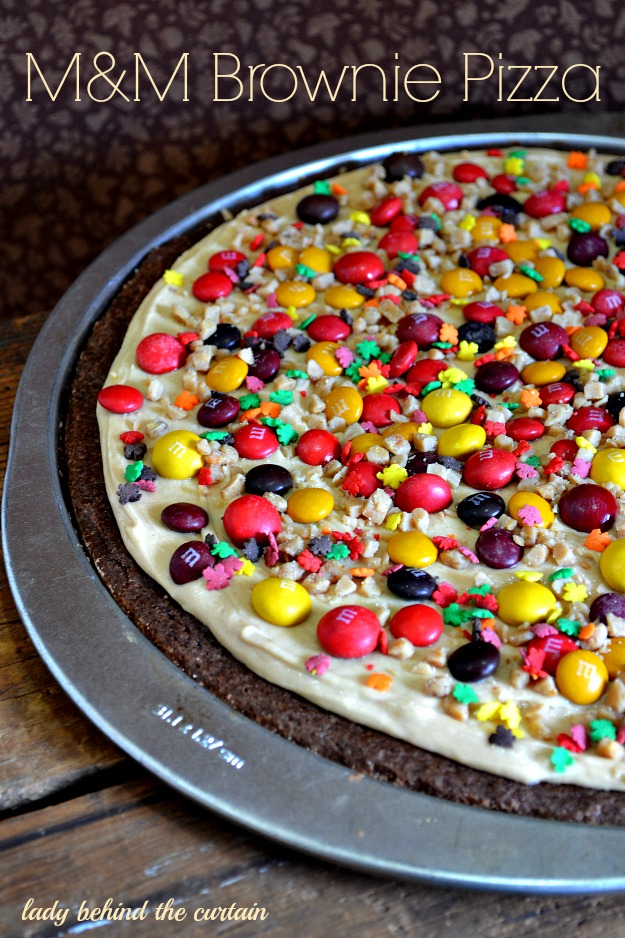 Create your own Recipe Box and save your favorite Lady Behind The Curtain recipes.  Make a Meal Plan with your favorite recipes and ZipList will automatically add the ingredients to a Shopping List.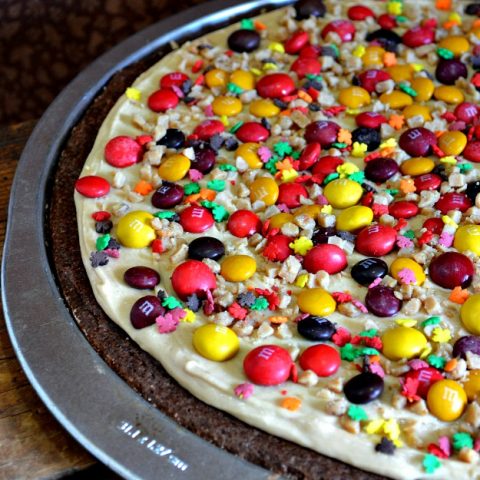 M&M Brownie Pizza
Ingredients
For the Brownie Pizza:
1/2 cup butter, cubed
2 ounces unsweetened chocolate, chopped
1 cup granulated sugar
3/4 cup all-purpose flour
2 eggs, slightly beaten
For the Frosting:
4 ounce cream cheese, softened
1/3 cup creamy peanut butter
1-1/2 teaspoons vanilla extract
2 cups confectioners' sugar
2 to 4 tablespoons milk
For the Toppings:
1/4 cup toffee bits
1/4 cup Fall Chocolate M&M's
1/4 cup Fall Peanut Butter M&M's
1 tablespoon autumn leaves sprinkle mix
Instructions
For the Brownie Pizza:
Preheat oven to 350 degrees.
Spray a 12-inch pizza pan with non stick cooking spray and set aside.
In a small saucepan over low heat, melt the butter, chocolate and sugar.
Remove from the heat; stir in flour until smooth.
Add eggs and beat until smooth.
Spread onto the prepared pizza pan.
Bake 15 minutes or until a toothpick inserted into the center comes out clean.
Cool completely on a wire rack.
For the Frosting:
Combine the cream cheese, peanut butter and vanilla until creamy and fluffy.
Add the sugar.
Beat until well combined.
Add enough milk to come to a spreading consistency. NOTE: only add 1 tablespoon at a time. I only used 2 tablespoons.
Spread over brownie.
Top with the toppings.
Store in refrigerator until ready to serve.