No Bake Peanut Butter Energy Bites
Keep a supply of these quick and easy No Bake Peanut Butter Energy Bites in your refrigerator for an afternoon pick me up snack, pack some to take to work or on a hike.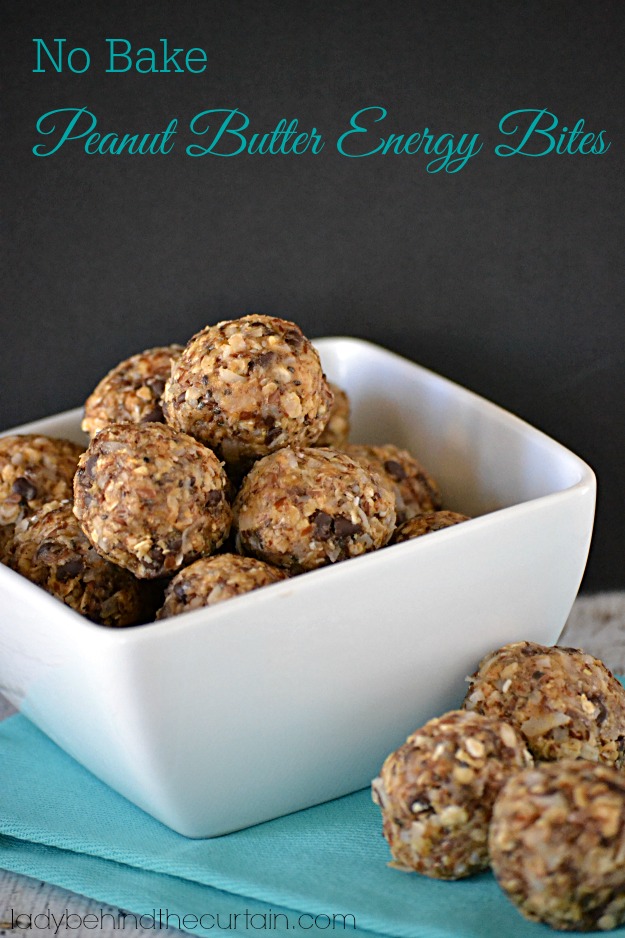 The perfect on the go pop in your mouth snack for hiking.  Made with peanut butter, honey, coconut ,healthy chia seeds and flax seeds.  These No Bake Peanut Butter Energy Bites are packed with nutrients.
For other options you could also make Granola Garbage Sticks or Peanut Butter Cereal Bars.
Create your own Recipe Box and save your favorite Lady Behind The Curtain recipes.  Make a Meal Plan with your favorite recipes and ZipList will automatically add the ingredients to a Shopping List.
Yield: 22 Bites
No Bake Peanut Butter Energy Bites
Ingredients
1 cup quick oats
1 cup flaked coconut
1/2 cup flaxseed meal
1 tablespoon whole flaxseeds
1 tablespoon chia seeds
1/2 cup mini chocolate chips
1/2 cup peanut butter
1/3 cup honey
1 teaspoon vanilla paste or extract
Instructions
In a medium bowl add the oats, coconut, flaxseed meal, flaxseeds, chia seeds.
Mix to combine.
Add the chocolate chips, peanut butter, honey and vanilla to the oat mixture.
Mix until all the ingredients are coated.
Refrigerate 30 minutes. (it makes making the bites easier)
Using a tablespoon, scoop out peanut butter mixture and form into a ball.
Store in the refrigerator.
Notes
This recipe is from Lady Behind The Curtain
NOTE: Deleting the chocolate chips from the recipe will bring the calorie count down to 97.