No Bake Strawberry Cheesecake
No Bake Strawberry Cheesecake with a Homemade Graham Cracker Topper: Light, fluffy, creamy and delicious!  The best Valentine's Day Dessert!  This easy to make dessert is perfect for any occasion and reminds me of a Chiffon Dessert. A dessert that every hostess will love. It's not only semi homemade but it can also be made in advance.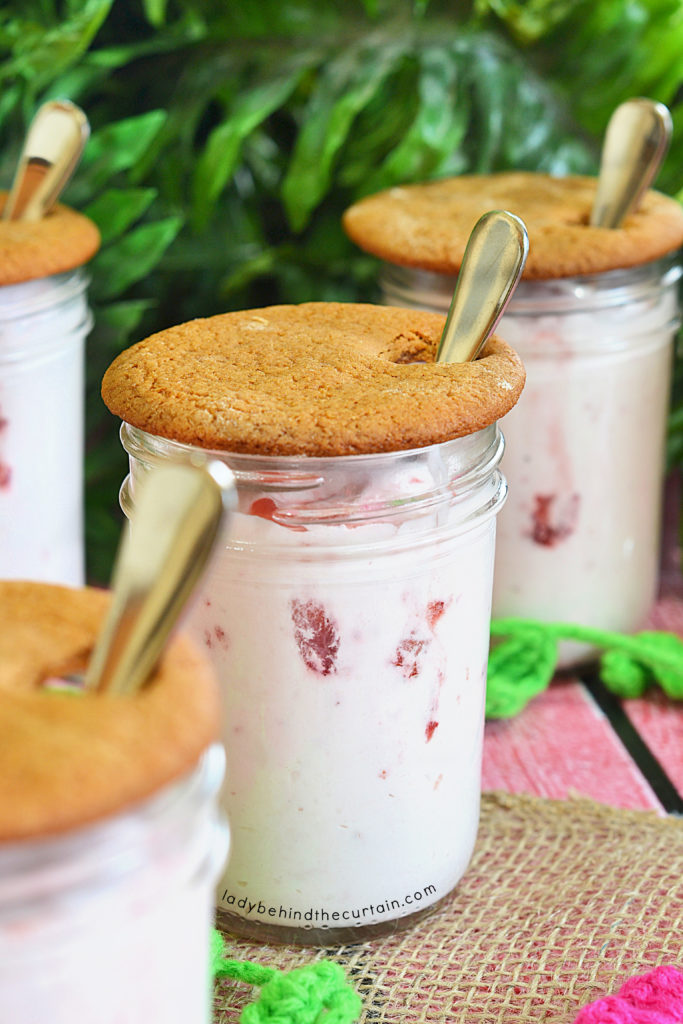 How to Make No Bake Strawberry Cheesecake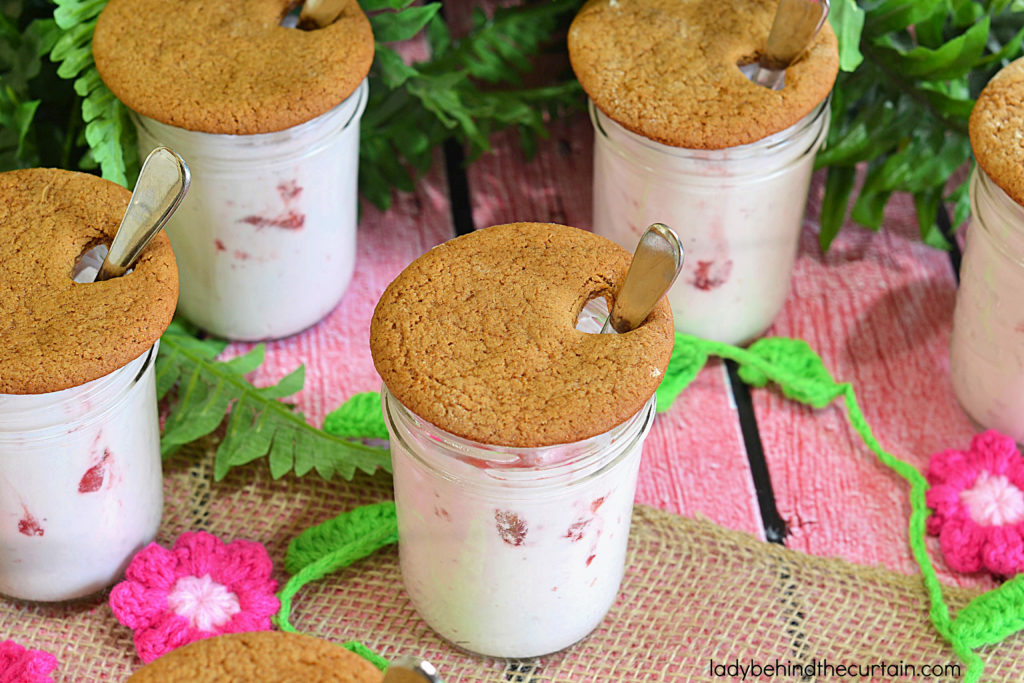 DIRECTIONS (full printable recipe below)

Beat cream cheese until creamy, add cool whip and powdered sugar. Blend until well combined. Fold in strawberries and cornstarch. Blend to break up the strawberries. Store in refrigerator. When ready to serve spoon cheesecake into 10 half pint jars; insert appetizer size spoons and top with graham cracker toppers.
How to Make Homemade Graham Crackers
DIRECTIONS (full printable recipe below)

Combine the flour, brown sugar, baking soda, and salt in a bowl. Mix together using a mixer fitted with the paddle. Add the butter and mix until the mixture is the consistency of a coarse meal. In a separate bowl; whisk together the honey, milk and vanilla. Add the honey mixture to the flour mixture and mix on low until the dough barely comes together. Lay out on a large piece of plastic wrap and dust it lightly with flour, then turn the dough out onto it and pat it into a rectangle about 1-inch thick. Wrap it, then chill it until firm, about 2 hours or overnight. On a well floured surface roll dough into about 1/4-inch thickness. The dough will be sticky, so flour as necessary. Cut dough into desired shapes I used a 2 1/2-inch round cookie cutter. Use a 3/4-inch heart and cut in one corner. Place the cracker on one or two parchment-lined baking sheets. Chill until firm, about 30 to 40 minutes in the refrigerator for 15 to 20 minutes in the freezer. Preheat oven to 350°. Bake for 15 minutes, until browned and slight firm to the touch. TIP: While the cookies are still hot, you may have to cut the heart out again (mine closed). Cool completely and place on the filled half pint jars.
Create Different Versions of this No Bake Strawberry Cheesecake
BLUBERRY CHEESECAKE: Instead of strawberries add fresh or frozen blueberries
PEACH COBBLER CHEESECAKE: Use canned or fresh peaches, add a dash or cinnamon and sugar (if using fresh)
COCONUT LIME CHEESECAKE: Add toasted coconut and lime zest for the perfect Fiesta Dessert!
CANDY BAR CHEESECAKE: Kids will love this cheesecake. Add chunks of their favorite candy bars. The perfect Movie Night Dessert!
CHERRY CHEESECAKE: Use cherry pie filling! Super easy and just as delicious!
How to Customize This Strawberry Cheesecake to Your Container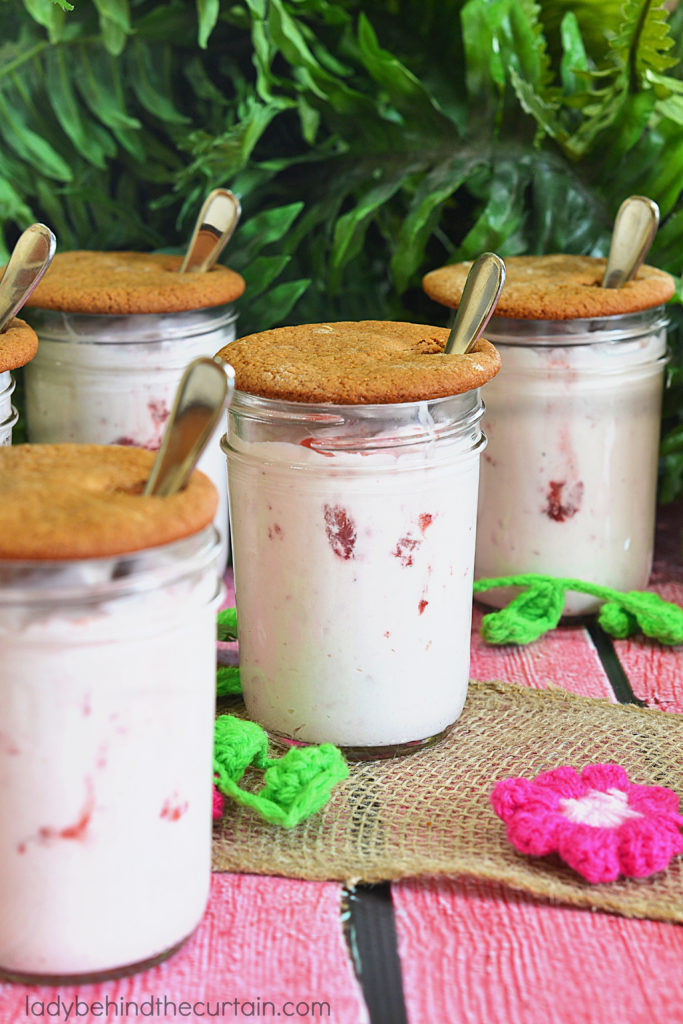 PIE PLATE/DISH: This no bake cheesecake recipe fits perfectly into a 9-inch pie dish. Instead of making your graham cracker cookies, add or use a graham cracker crust. Either mix in your fruit or add it to the top.
SMALL 4 OUNCE MASON JAR: Did you know the top of a 4 ounce jar is the same size as a half pint jar? That's great news because you can serve smaller portions but you don't have to make smaller cookies.
SMALL 5 OUNCE CUP: If you don't have jars you can substitute the jars for 5 ounce punch cups.
Make a DIP!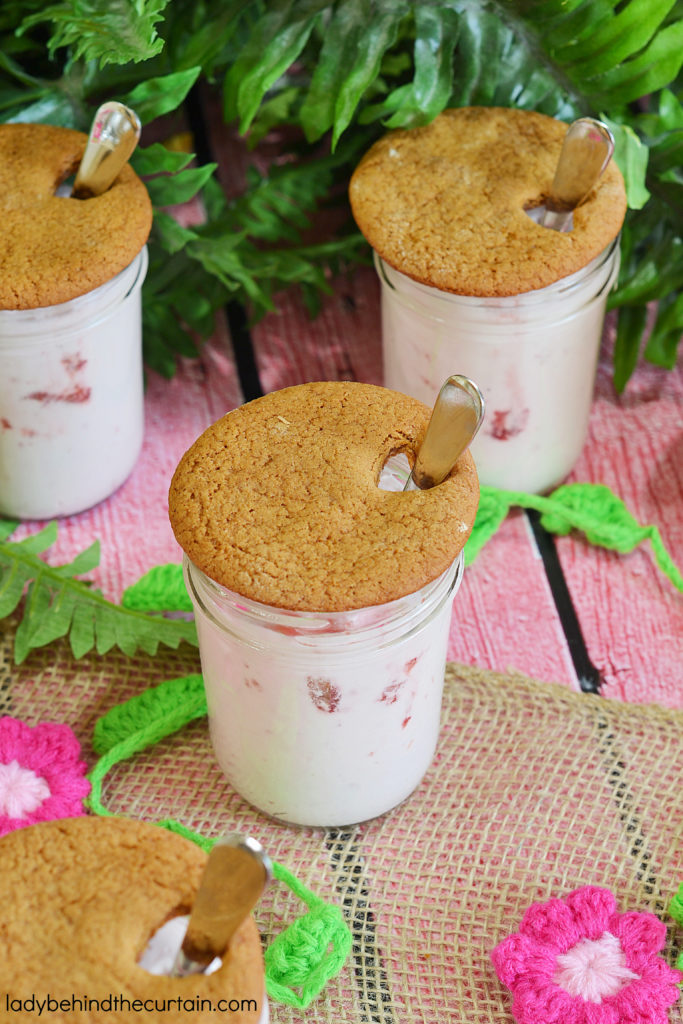 MORE NO BAKE CHEESECAKE RECIPES
NEVER MISS A POST