Old Fashioned Chicken and Cornbread Dressing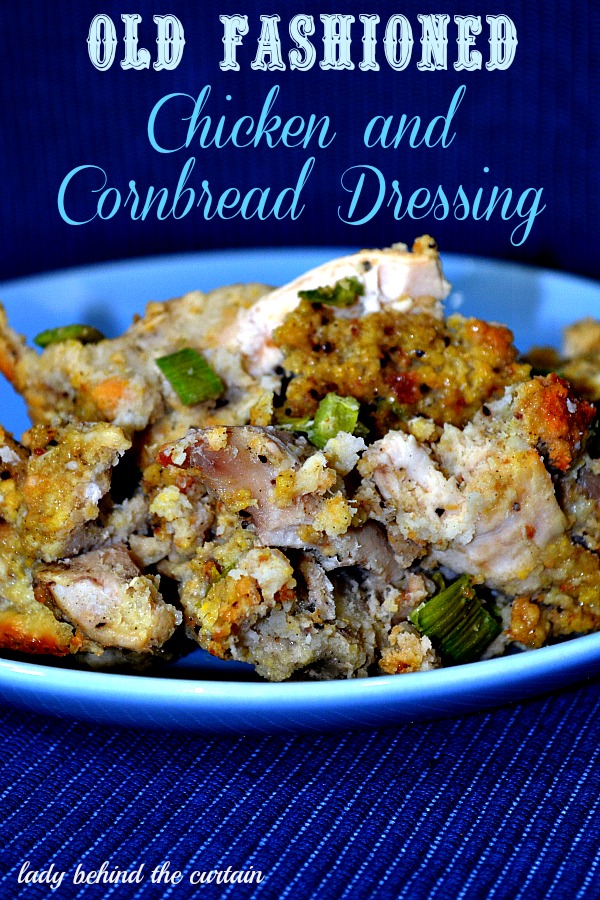 This recipe has been handed down from generation to generation and I am happy to share it with you.  Because there is NOTHING like a handed down recipe.  There's a reason it's been handed down because it's DELICIOUS!
Old Fashioned Chicken and Cornbread Dressing Recipe
Ingredients (stock)
5 pound whole chicken
1 large onion, cut in half
1 garlic bulb, cut in half
salt to taste
water
Directions (stock)
Place all the above ingredients into a large stock pot and cover with water.  NOTE:  There is no need to peel the onion of the garlic since it will all be discarded.  Bring to a boil, turn down temperature and simmer for 1 hour.  Remove chicken from the broth to cool.  Strain vegetables from broth and set aside.
Ingredients (dressing)
1 – 8×8 pan of baked corn bread, broken up into small pieces
1 can grands biscuits, baked plus 2 more biscuits or add a couple of slices of bread, pulled into bite size pieces
6 eggs, slightly beaten
1 cup celery, chopped
1 cup onion, chopped
1 tablespoon sage
2 teaspoons salt
1 teaspoon pepper
5 cup stock
Directions
Preheat oven to 350 degrees.
In a VERY large bowl combine all the above ingredients and mix.  Pour into a 9×13 baking dish. Bake 1 hour or until when a knife is inserted into the center it comes out clean.
LEFTOVER STOCK CHICKEN GRAVY
Ingredients
3 cups (leftover) chicken stock
1/4 cup plus 2 tablespoons flour
salt and pepper to taste
Directions
Whisk into cooled chicken stock the flour until creamy.  Boil on low until the gravy thickens.  Salt and pepper to taste.  This is a LBC original!
MORE GREAT MAIN DISH RECIPES