Old Fashioned Coconut Sheet Cake
Old Fashioned Coconut Sheet Cake |  A delicious moist cake full of coconut flavor.  With ingredients like coconut milk and toasted coconut there's no mistaking this Old Fashioned Coconut Sheet Cake is the real deal.  The cake we all grew up eating.
The difference between my Mom's coconut cake and this one is the toasted coconut.  I love the extra layer of flavor toasted coconut adds.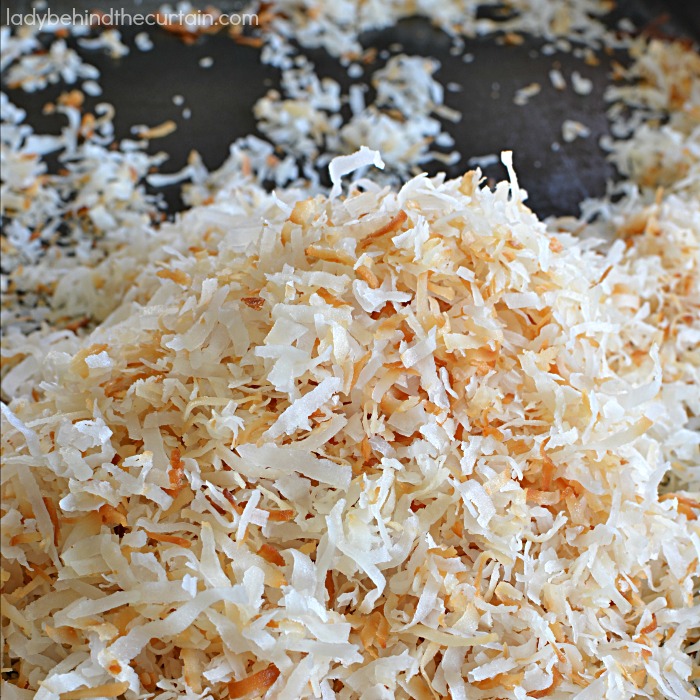 Preheat oven to 350°.  Pour coconut onto a rimmed baking pan.  Bake, stirring every couple of minutes until some (not all) of the coconut is golden brown (about 10 minutes)
Is there anything better than having a slice of your childhood?  Memories come flooding in.  My mom made this cake all the time and still does.  I can remember a specific time….it was my birthday….I think I was 10 or 11.  My birthday is in March and that year it was close to Easter so my mom colored the coconut green to look like grass and hide jelly beans in it to represent eggs.  By the way that was in 1968 or 1969.  I thought it was the coolest cake ever!  Awww…..the simple life.  I miss it!
I love how combining a few key ingredients becomes a delicious dessert full of fun memories.  Do you have a favorite cake your Mom used to make or still makes for you that brings sweet memories?  If so, I would love to hear about it.  Here are a few more of my favorite coconut recipes.  GRANDMA'S COCONUT CREAM PIE and SEMI HOMEMADE TROPICAL PINEAPPLE COCONUT CUPCAKES.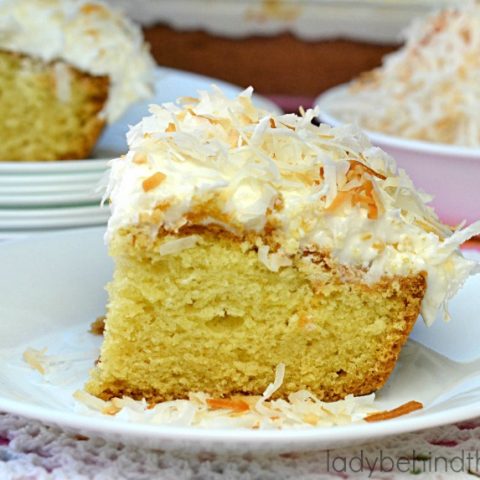 Old Fashioned Coconut Sheet Cake
Total Time:
1 hour
10 minutes
Ingredients
For the Cake:
3 cups all-purpose flour
1 teaspoon baking powder
1 teaspoon baking soda
1/2 teaspoon salt
1 cup unsalted butter, softened
1 1/2 cups granulated sugar
4 large eggs, separated
1 teaspoon vanilla extract
1 teaspoon coconut extract
1 1/4 cups coconut milk
1 1/2 cups sweetened, flaked coconut, toasted
For the Coconut Cream Frosting:
3/4 cup unsalted butter, softened
1 teaspoon coconut extract
6 cups confectioners' sugar
5 to 6 tablespoons coconut milk
Instructions
For the Cake:
Preheat oven to 350 degrees.
Spray a 9x13-inch baking dish with non stick cooking spray.
To a medium bowl add the flour, baking powder, baking soda and salt; stir to combine.
In a large mixing bowl beat butter and sugar until light and fluffy; scrap the sides.
Add the egg yolks, one at a time making sure to beat them in well and the extracts.
Gradually add the flour mixture to the butter mixture alternately with the coconut milk.
In a medium bowl, beat egg whites at high speed until stiff peaks form.
Gently fold egg whites into batter.
Spread into prepared pan.
Bake 30 to 40 minutes or until a wooden tooth pick inserted into the center comes out clean.
Cool completely on a wire rack before frosting.
Frost the cooled bake, sprinkle on the toasted coconut.
For the Coconut Cream Frosting:
In a large mixing bowl; cream the butter until light and fluffy.
Add the extract and sugar 1 cup at a time.
Add the coconut milk one tablespoon at a time.
MORE CAKE RECIPES
1. SUPER MOIST CARROT CAKE RECIPE  2. MOCHA DEVIL'S FOOD CAKE  3. HONEY BUN CAKE
NEVER MISS A POST!
Sign up for my newsletter and receive my recipes in your inbox. Easy to see anytime and saved for safe keeping. Click Here and sign up today! —->>>>CURTAIN CALL NEWSLETTER
More desserts with coconut you might like. COCONUT CREAM COOKIE STACKS and  FRENCH COCONUT PIE.