Old Fashioned Stack Cake | With SIX spicy cake layers (more like a gingerbread cookie) and homemade apple butter this cake is sure to be your families new favorite Fall cake.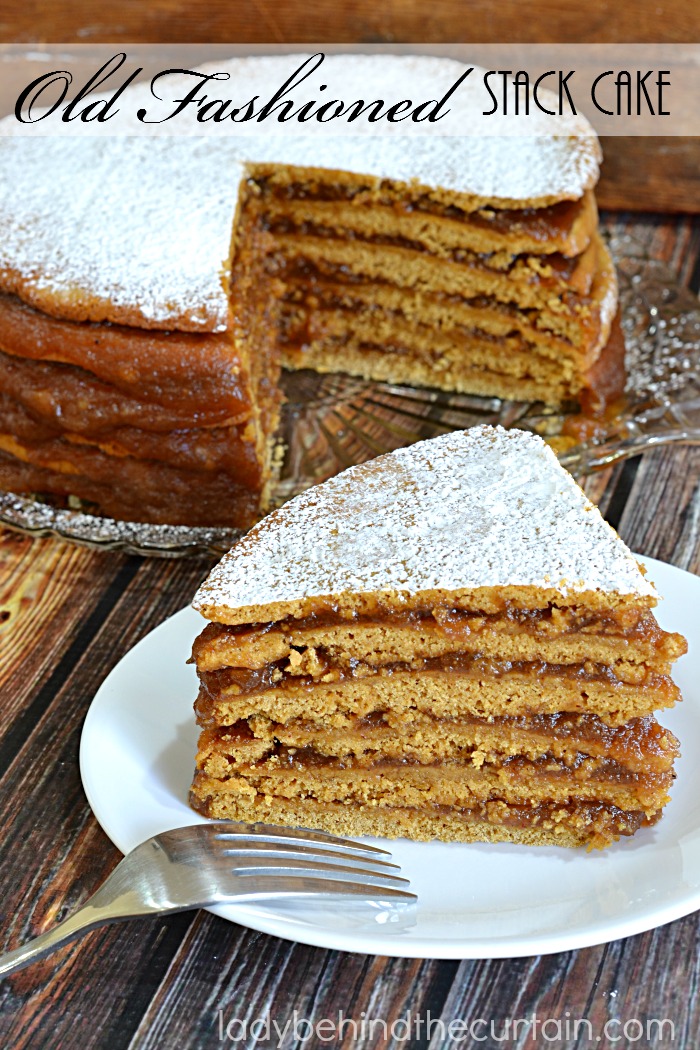 This cake comes with a little history. Since cakes were so expensive back in the days of old. Whenever there was a gathering like a barn dance. Families would each prepare a layer of this special ginger and molasses cake to donate to the shindig. It is said that the number of layers in a cake was a measure of the popularity of the hosting family. Sometimes there would be as many as twelve layers!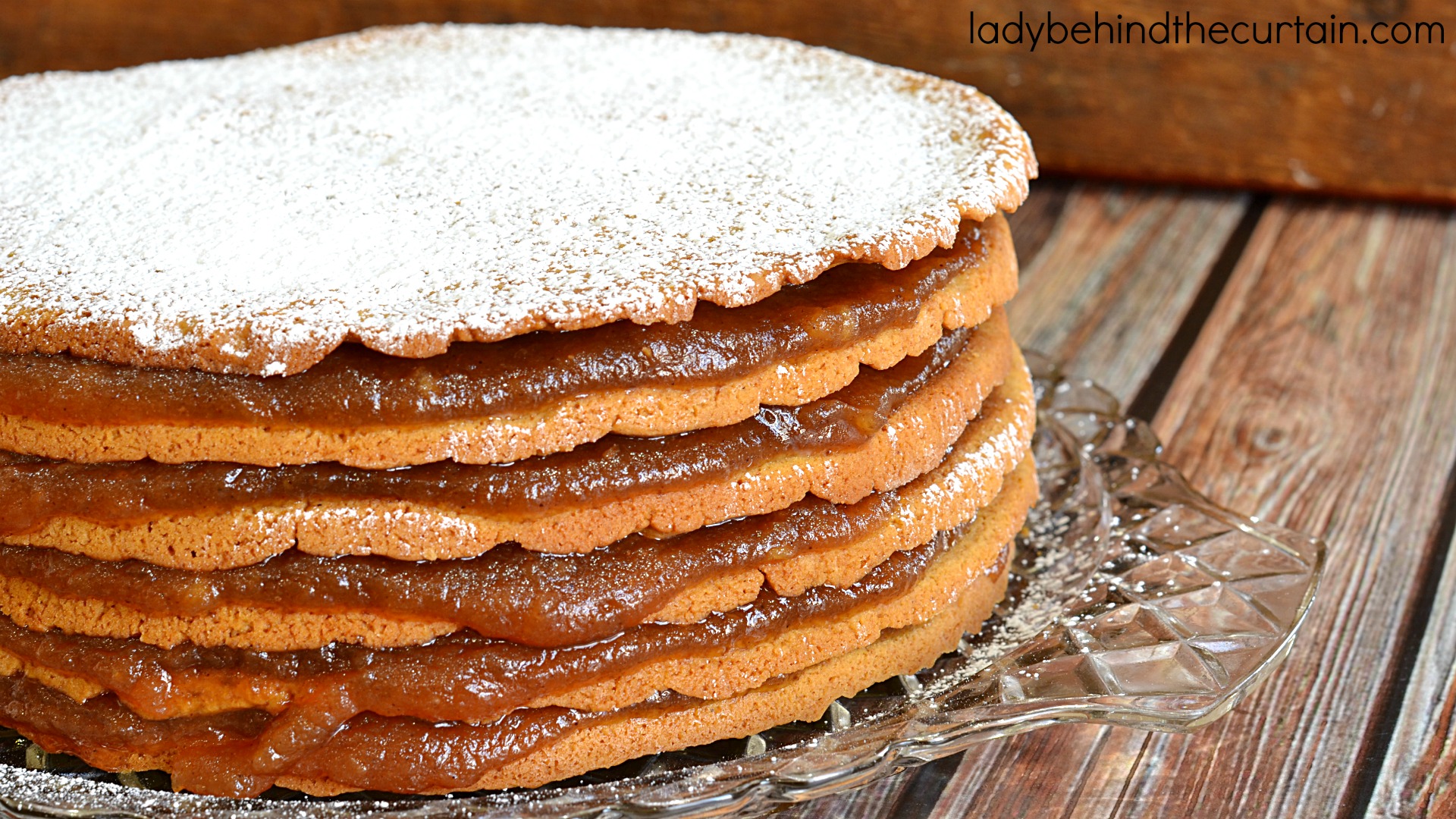 Not a fan of apple butter? You can also use apricot butter, cranberry butter, pear butter, or fig butter. I'm sure store bought would work fine but the apple butter was really easy to make and has better flavor than the store bought.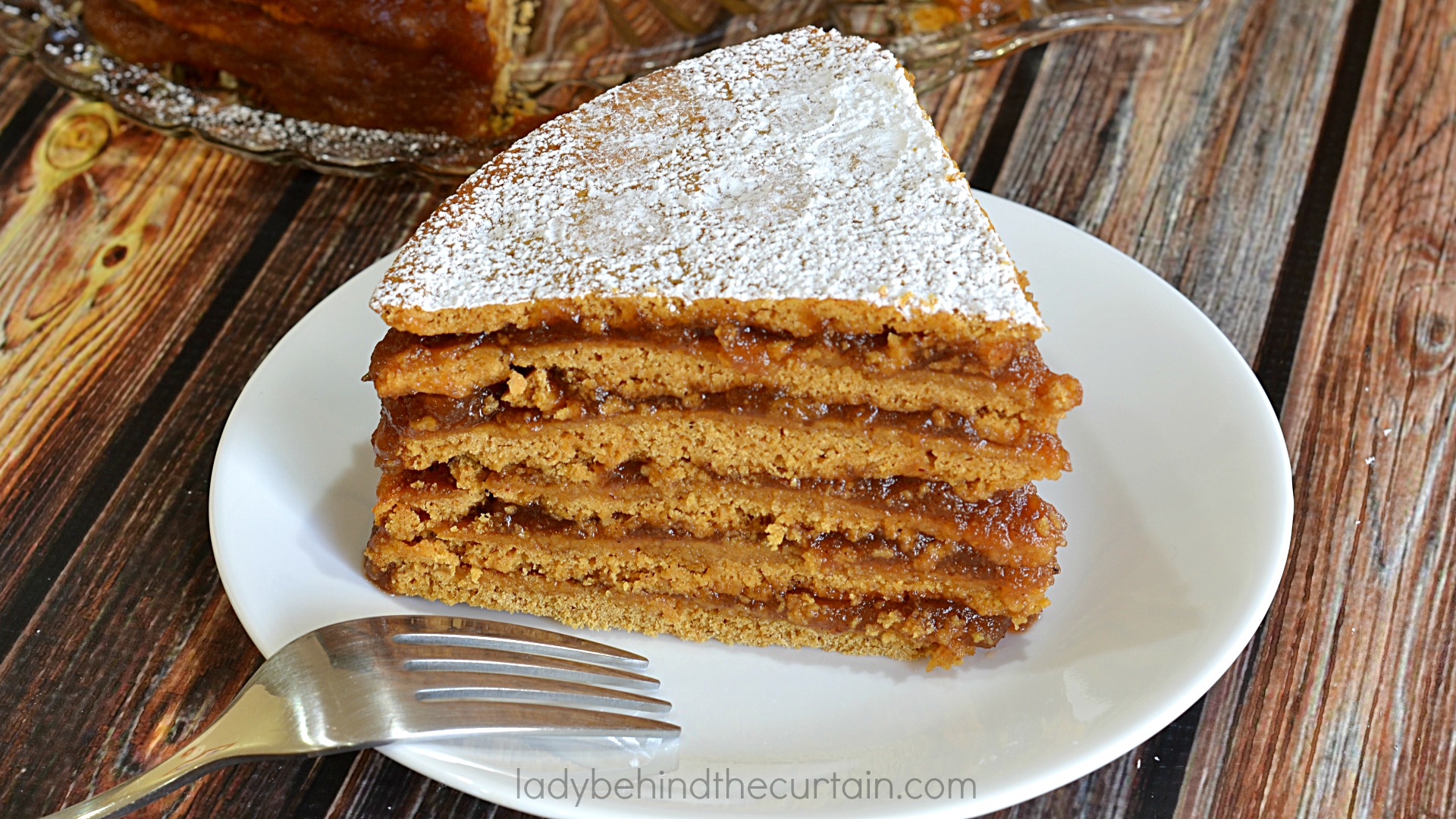 Cake batter or Cookie dough?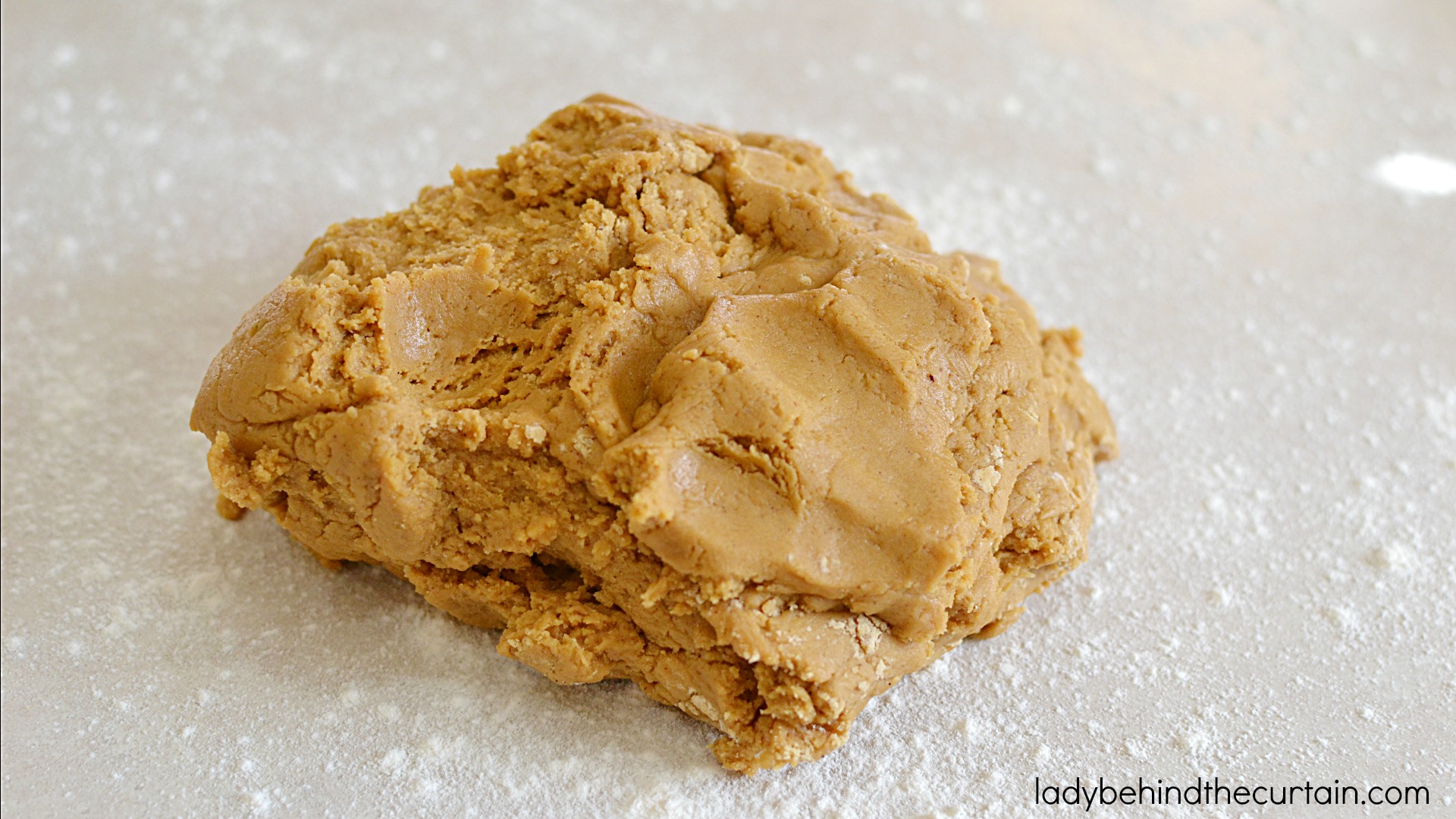 Form into a log.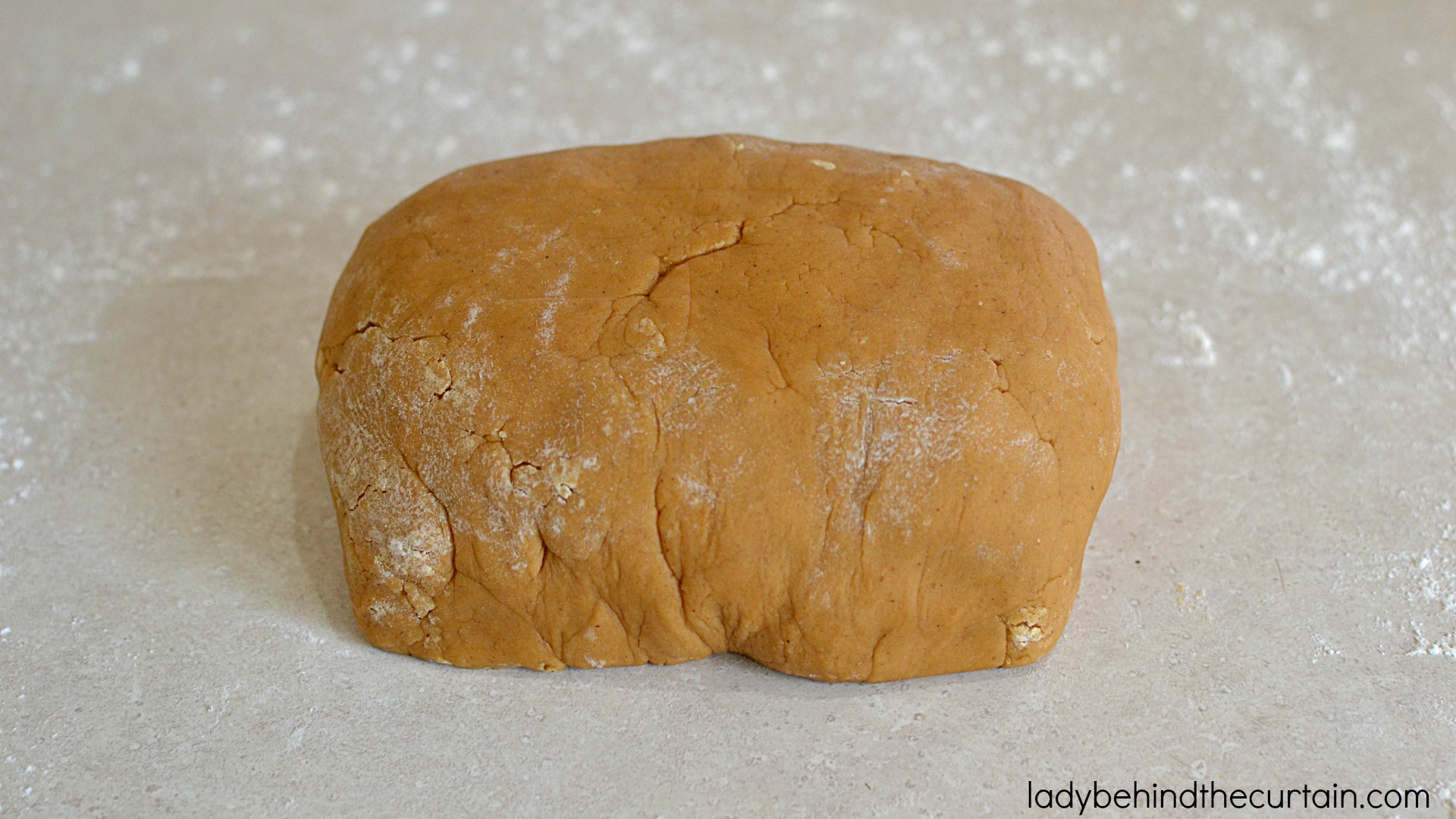 Cut into SIX equal portions.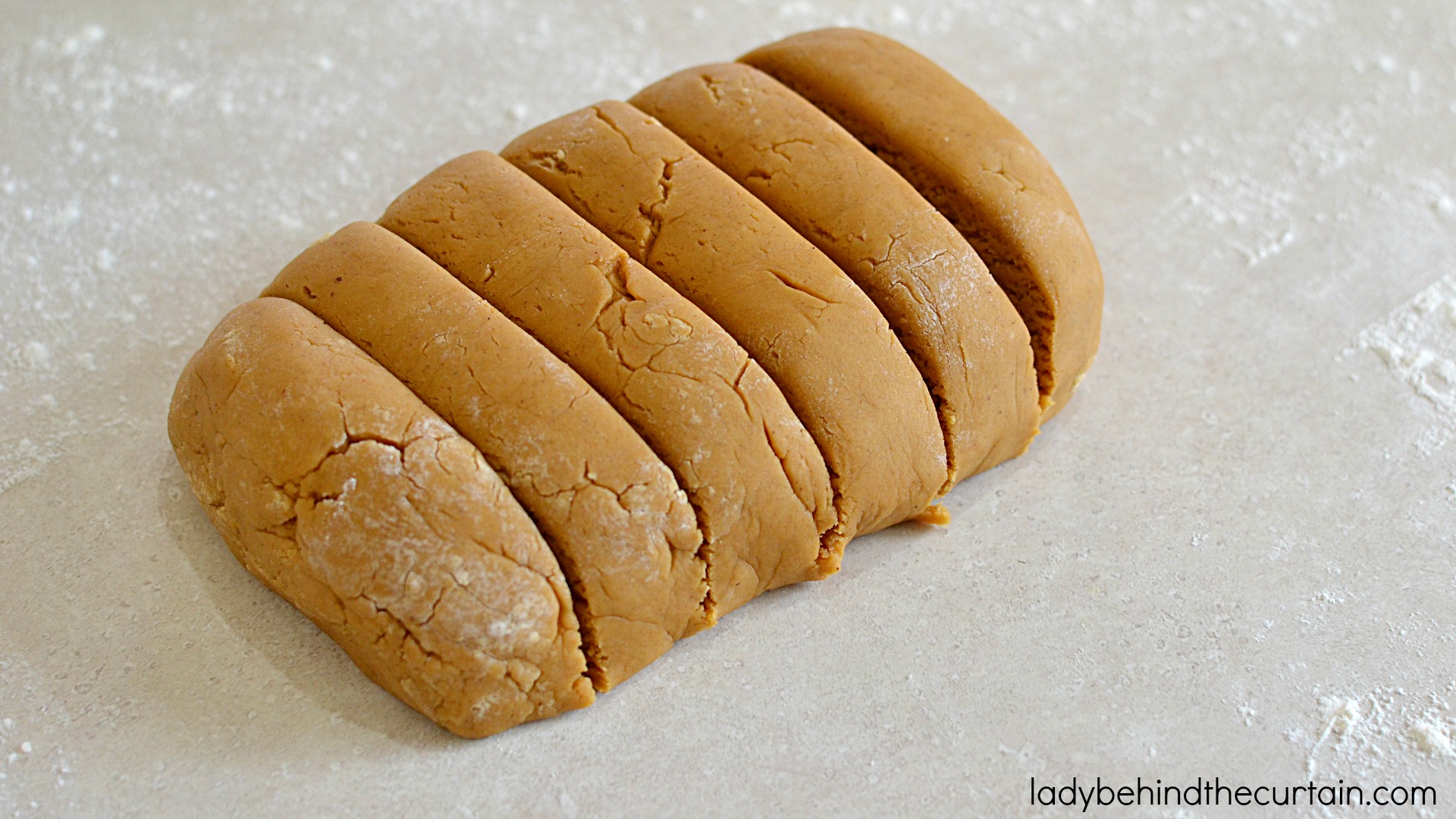 Cover remaining dough while other cakes bake.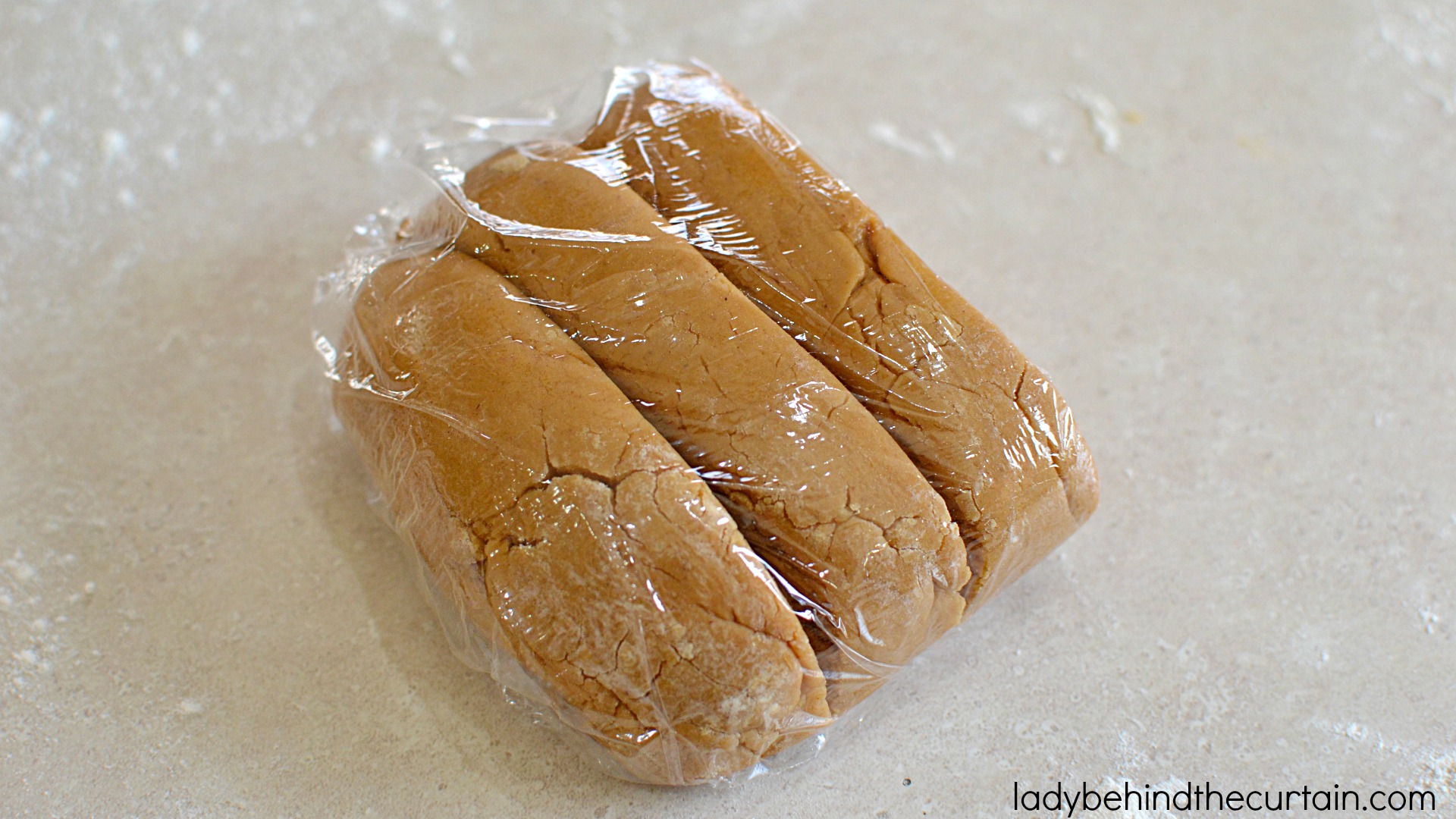 Press into prepared baking pans.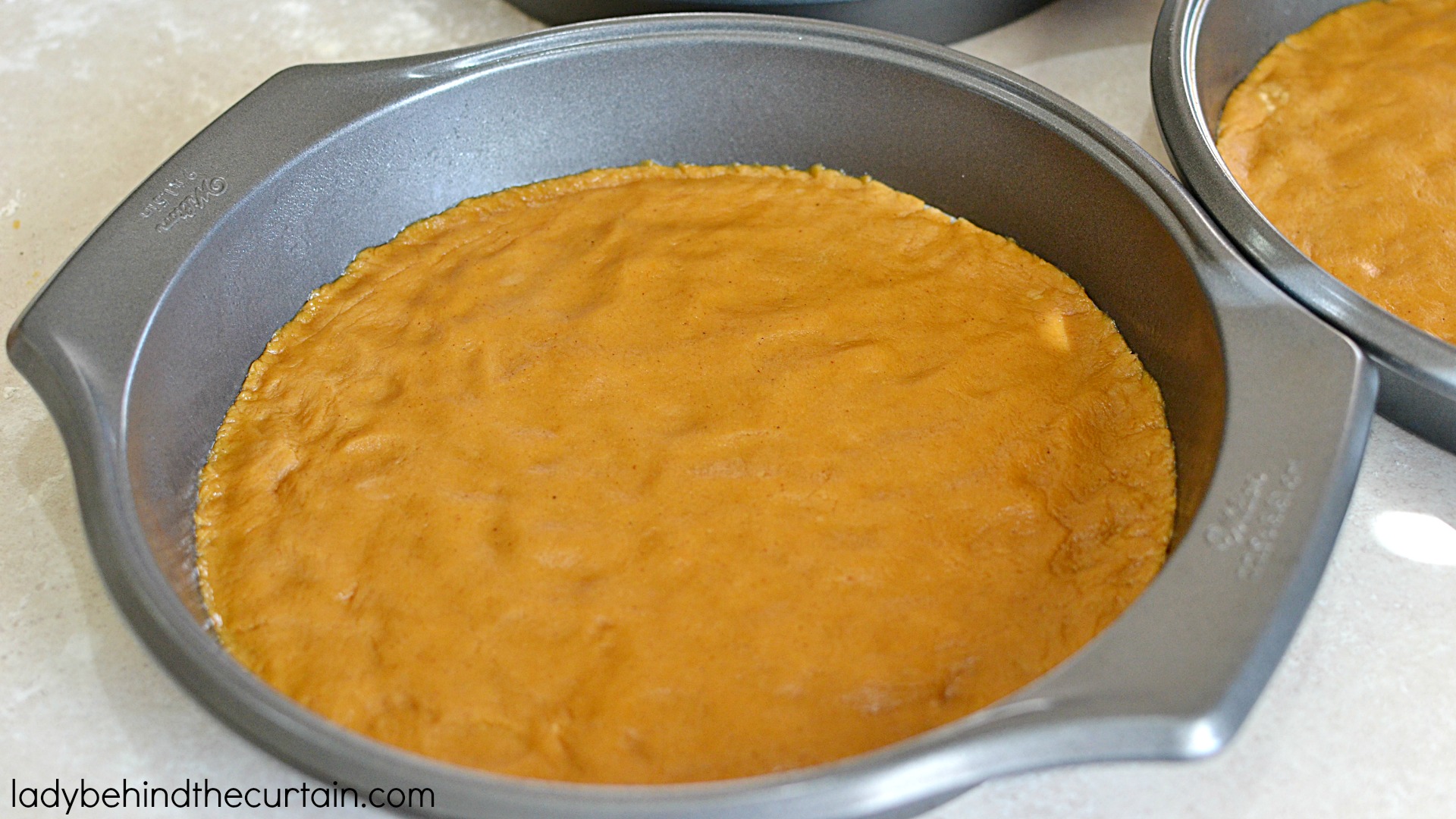 HOMEMADE APPLE BUTTER!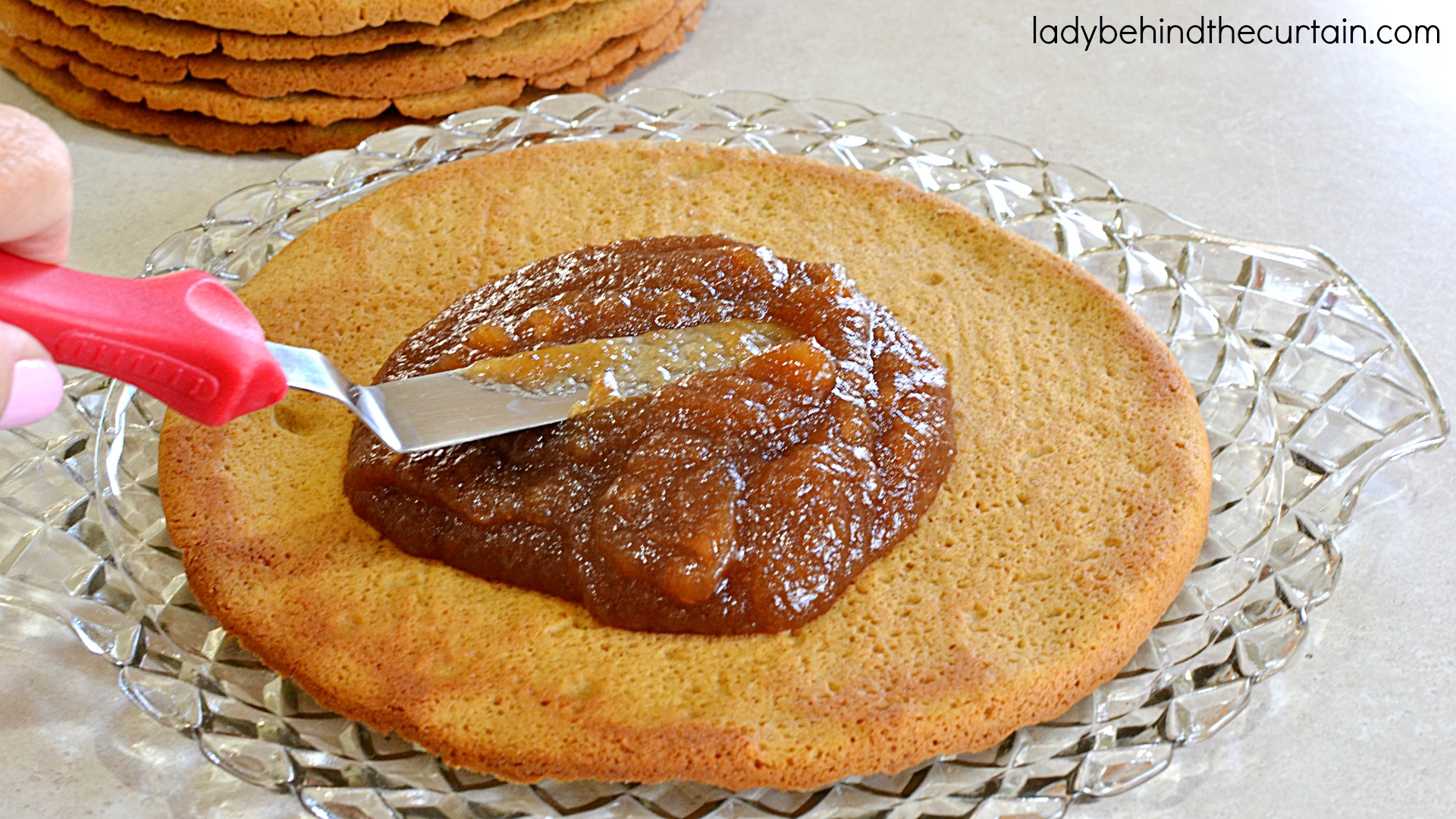 LAYERS!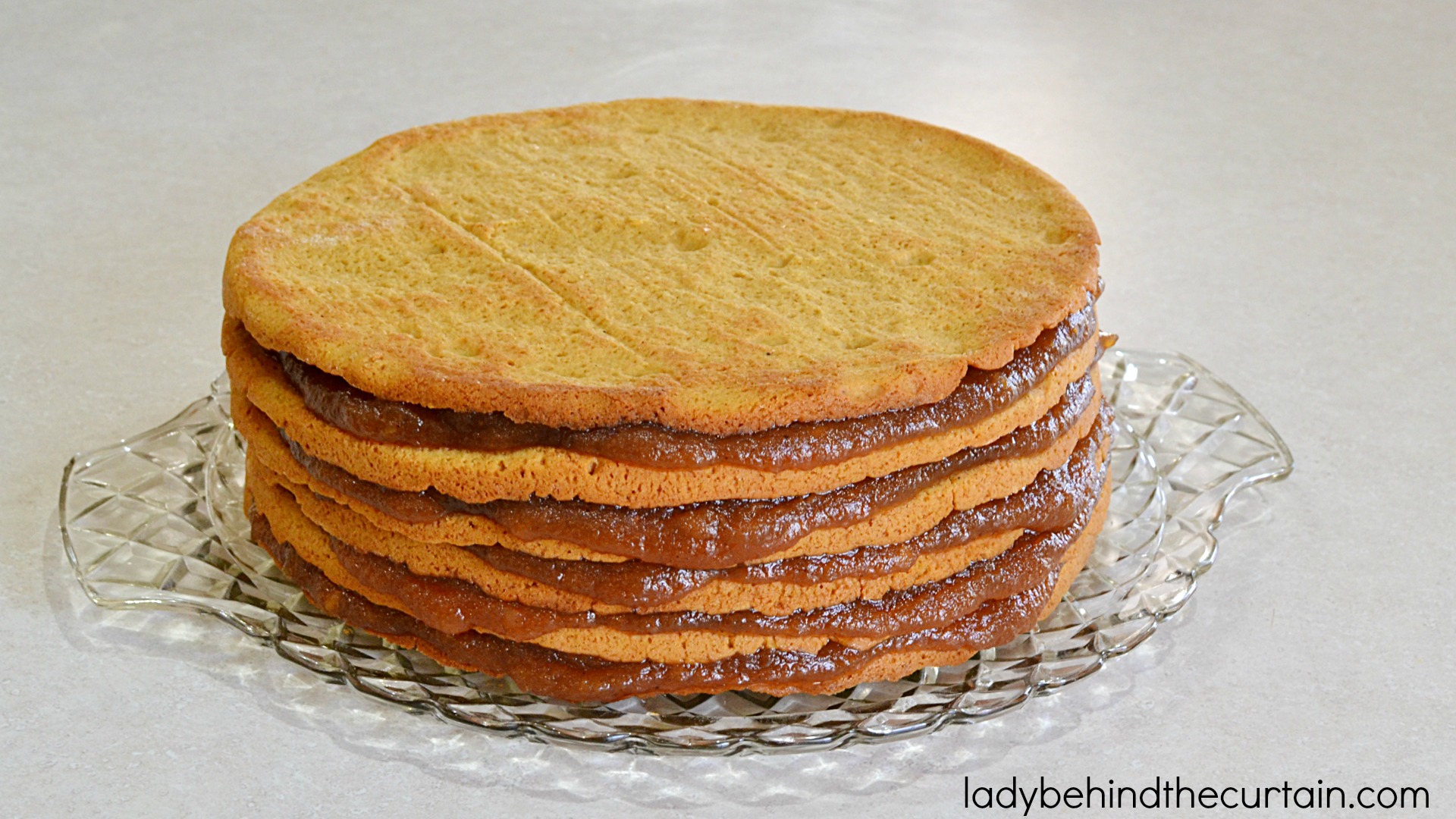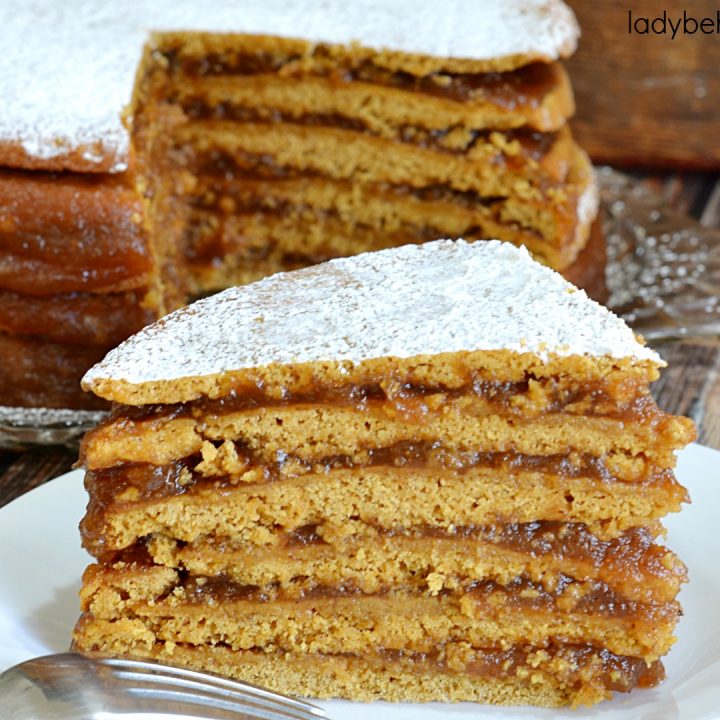 Old Fashioned Stack Cake
Ingredients
For the Cake-This recipe is enough for 6 layers:
1/2 cup shortening
1/2 cup granulated sugar
1/2 cup buttermilk
1/3 cup molasses
1 large egg
1 teaspoon vanilla extract
3 1/2 cups all-purpose flour
1 teaspoon ground ginger
1/2 teaspoon baking soda
1/2 teaspoon salt
1/2 teaspoon ground cinnamon
pinch of nutmeg
confectioners' sugar for sprinkling on top
For the Apple Butter Filling:
Instructions
For the Cake:
Preheat oven to 350 degrees.
Spray 6 (9-inch) cake pans with nonstick cooking spray.
NOTE: if you're like me and don't have 6 cake pans you can do this in stages ( I baked THREE at a time).
Line bottoms of pans with parchment paper, and spray parchment paper with nonstick cooking spray.
Beat shortening and sugar until creamy.
Add buttermilk, molasses, egg, and vanilla, beating well.
In a medium bowl; combine flour, ginger, baking soda, salt, cinnamon and nutmeg.
Slowly add the flour mixture to the wet mixture; mix until combined.
On a lightly floured surface, form dough into a log; cut into 6 equal portions.
Place 1 portion in each prepared pan, and use finger to lightly pat dough to edges of pans.
NOTE: This dough is more of a cookie dough then a cake batter.
Bake for 10 to 12 minutes or until lightly browned.
Remove from pans, and cool completely on wire racks (cake will have the consistency of a gingerbread cookie).
Place 1 cake layer on a serving plate or cake stand; spread with about 2/3 cup warm fruit butter filling.
Repeat procedure with remaining layers and fruit butter filling, stacking each on previous layer.
Do not spread fruit butter filling on top layer.
Cover and refrigerate cake for at least 24 hours.
Just before serving, dust with confectioners' sugar.
For the Apple Butter:
Follow direction for the Slow Cooker Apple Butter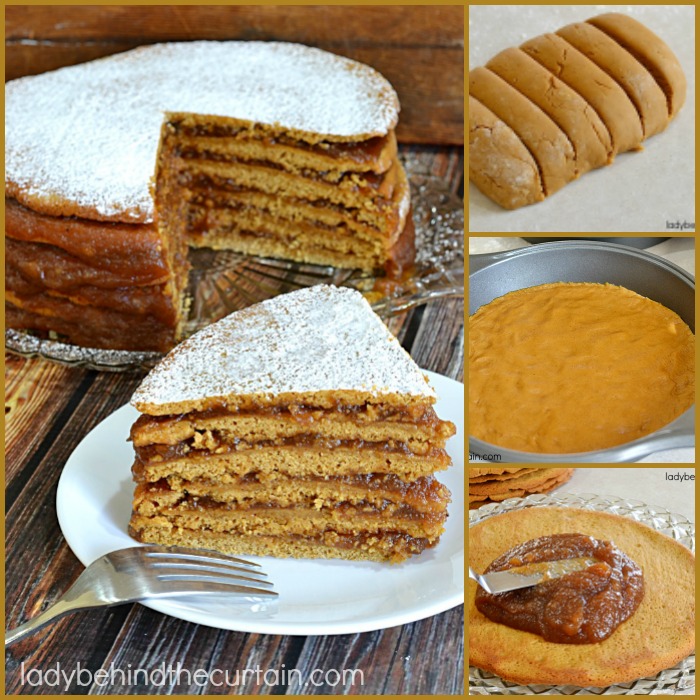 NEVER MISS A POST!
Sign up for my newsletter and receive my recipes in your inbox. Easy to see anytime and saved for safe keeping. Click Here and sign up today! —->>>>CURTAIN CALL NEWSLETTER