Orange Creamsicle Cheesecake Bars
These Orange Creamsicle Cheesecake Bars are just as refreshing as they look!  Bright and beautiful!  The perfect easy and light dessert for a Spring Brunch, Ladies Tea, Bridal Shower or Baby Shower. With a vanilla wafer crust, light and fluffy center and a refreshing orange cheesecake top. The perfect summer dessert!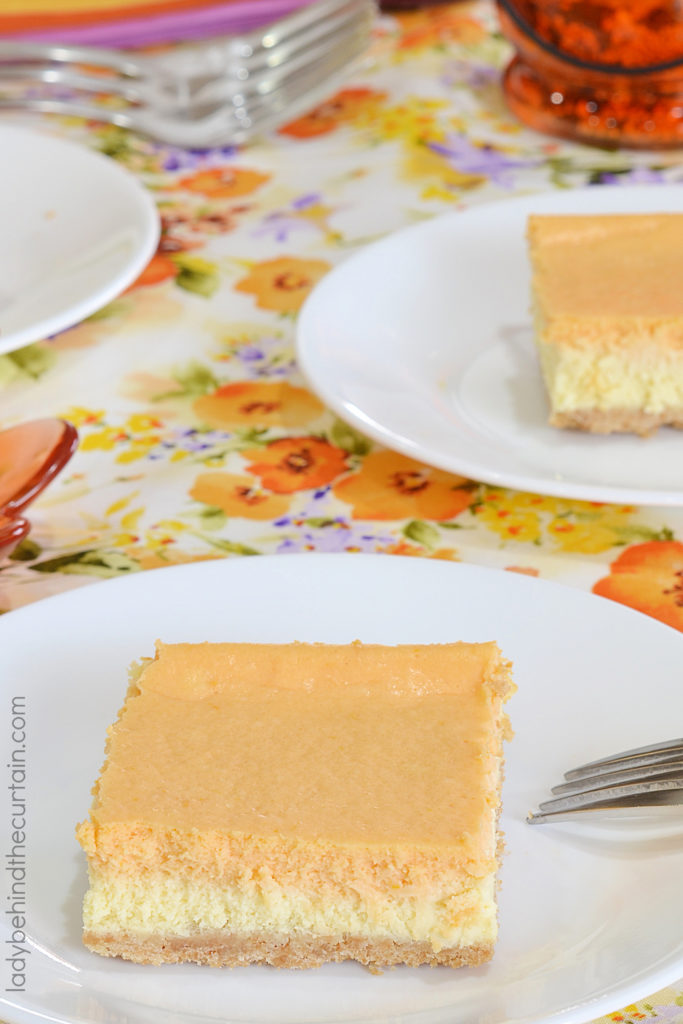 How to Make Orange Creamsicle Cheesecake Bars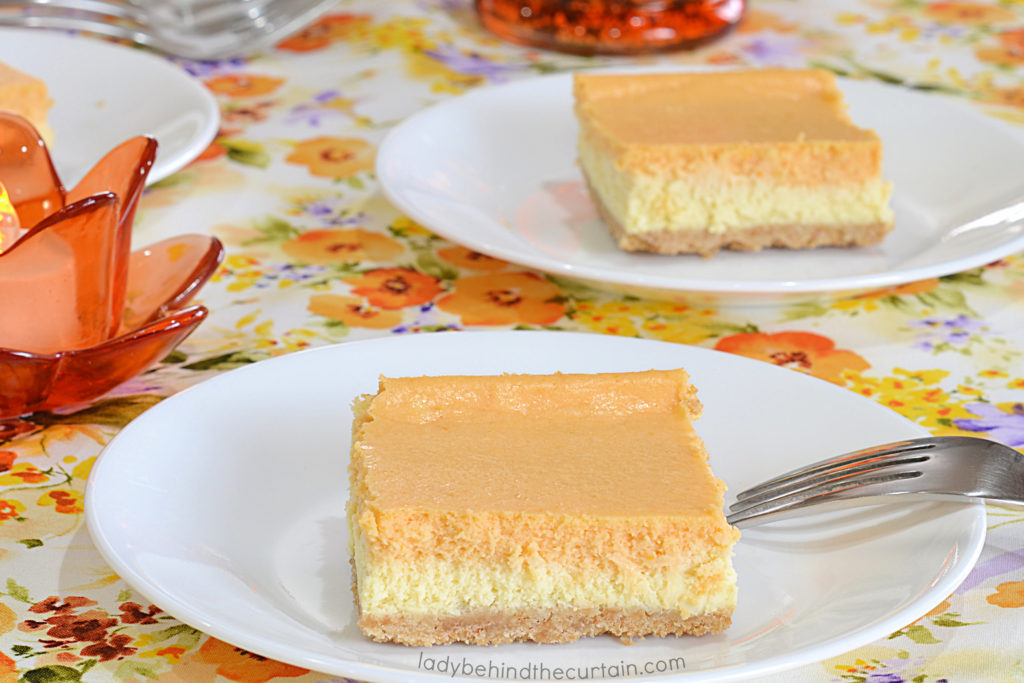 INGREDIENTS

FOR THE CRUST:

2 cups crushed vanilla wafers (about 60 wafers)
¼ cup unsalted butter, melted

FOR THE CHEESECAKE LAYER:

3 (8 ounce) packages of cream cheese, softened
1 (14 ounces) can sweetened condensed milk
3 large eggs
2 teaspoons vanilla extract

FOR THE ORANGE CHEESECAKE LAYER:

2 tablespoons orange juice concentrate
1 teaspoon grated orange peel
1 teaspoon orange extract
5 drops yellow food coloring
3 drops red food coloring
DIRECTIONS

FOR THE CRUST:

Put wafers into a food processor and pulse until the wafers are in crumb form.
Preheat oven to 325°.
In a large bowl, combine the wafer crumbs and butter.
Press into greased 13-in x 9-in. baking pan.

FOR THE CHEESECAKE LAYER:

Beat cream cheese until smooth.
Add the milk, eggs and vanilla beat until combined.
Pour **half** of the cream cheese mixture over crust.

FOR THE ORANGE CHEESECAKE LAYER:

Add the orange juice concentrate, orange peel, extract and food coloring to the remaining cream cheese mixture; beat until combined.
Lightly pour over first layer.
Bake for 45 to 50 minutes or until center is almost set.
Cool on a wire rack.
Refrigerate for at least 2 hours before cutting.
OTHER VARIATIONS
Tools You Need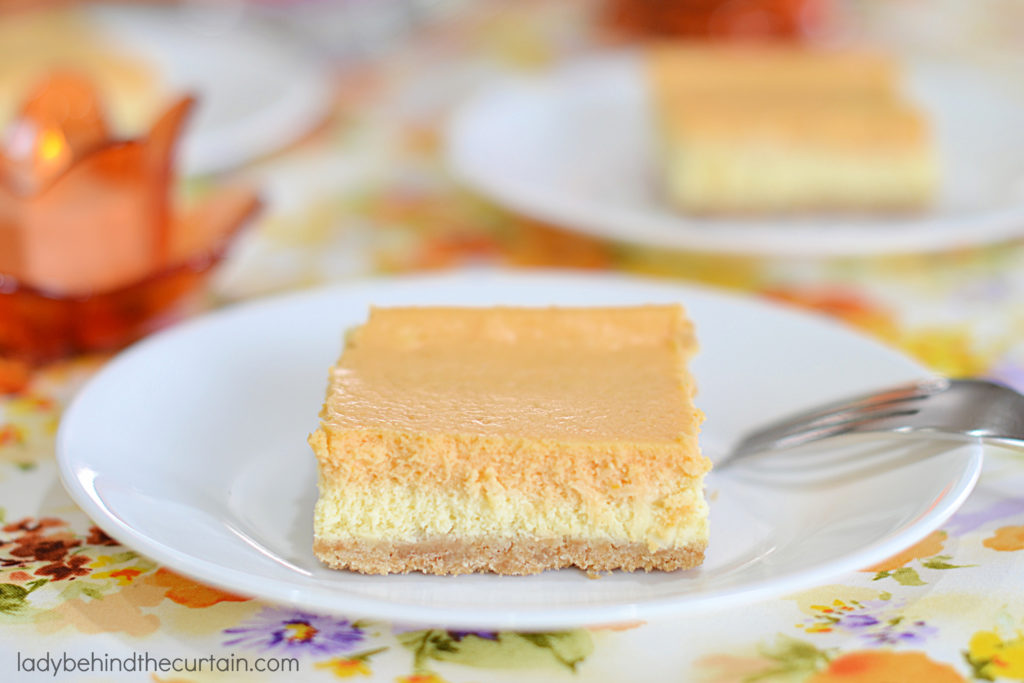 MICROPLANE: Makes it easy to create fine orange zest a regular grater will work too but will create chunky orange rind
FOOD PROCESSOR: Used to create a fine powder texture and blender would work too.
MIXER: This can be a hand held type or free standing.
What are the benefits of using room temperature ingredients?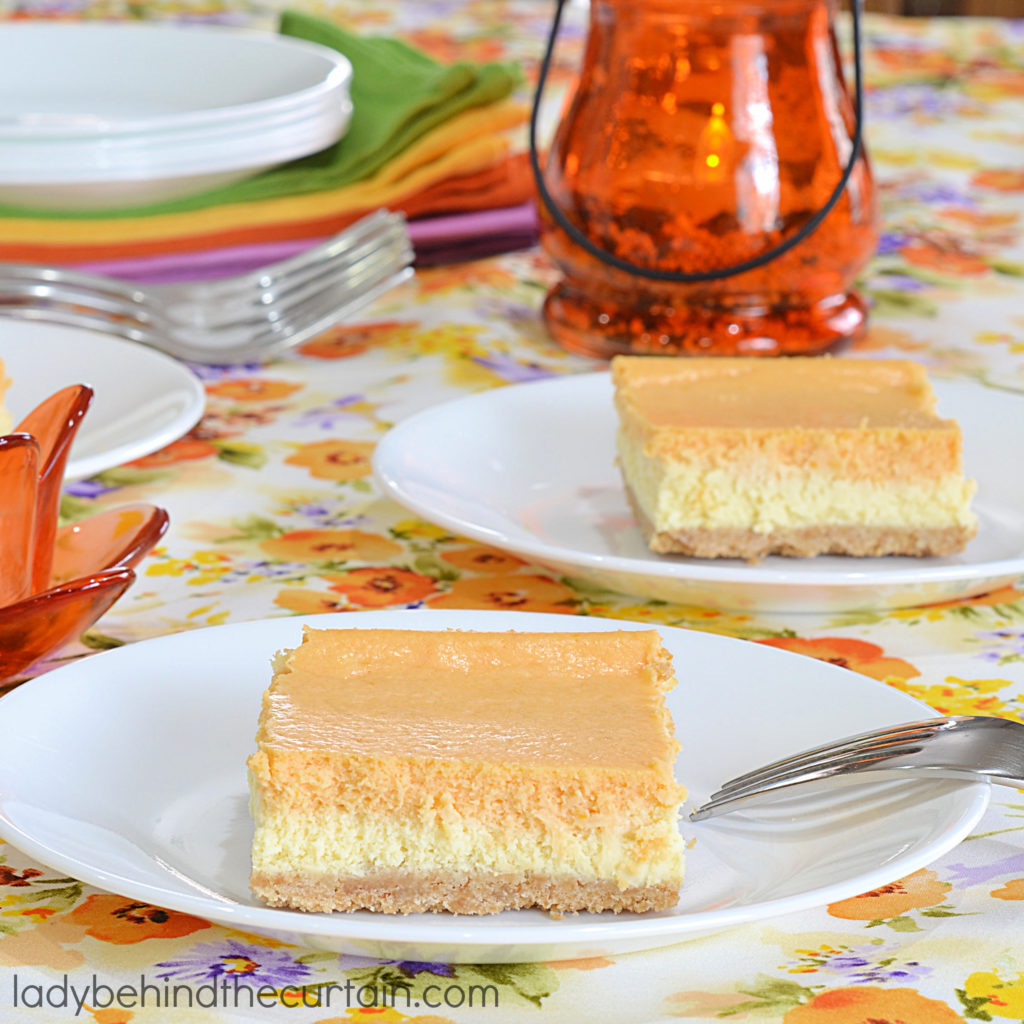 MORE CHEESECAKE BAR RECIPES
NEVER MISS A POST