Peaches and Cream Tart. This incredibly pretty dessert starts with a delicious crust made from ground almonds and macaroon cookies. The filling is just as delicious, a creamy almond flavored cream cheese, fresh fruit and an apricot honey glaze.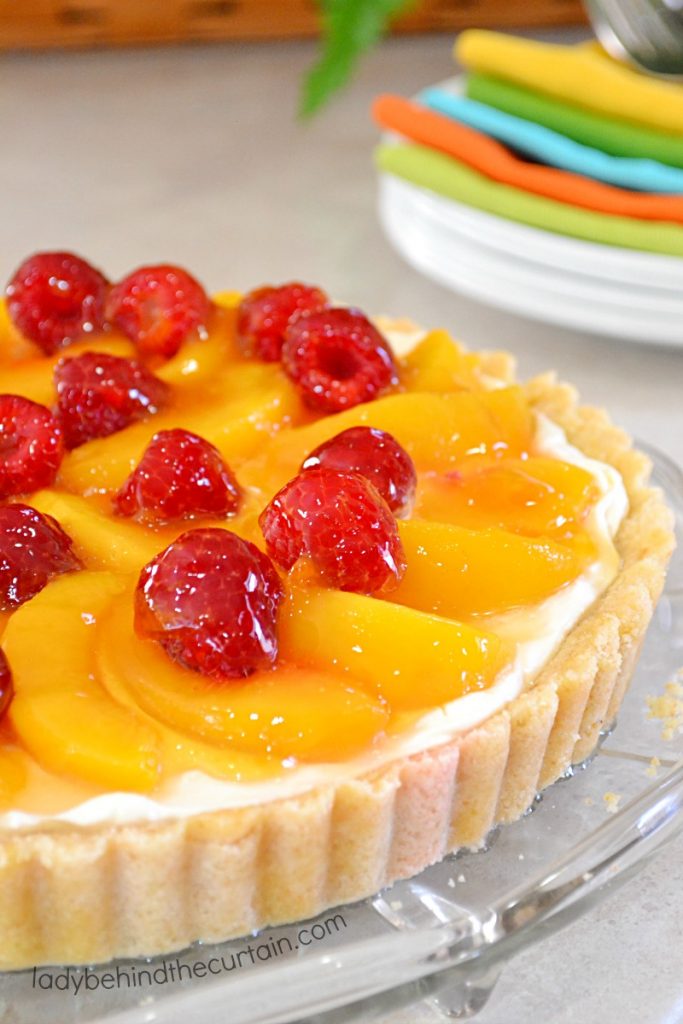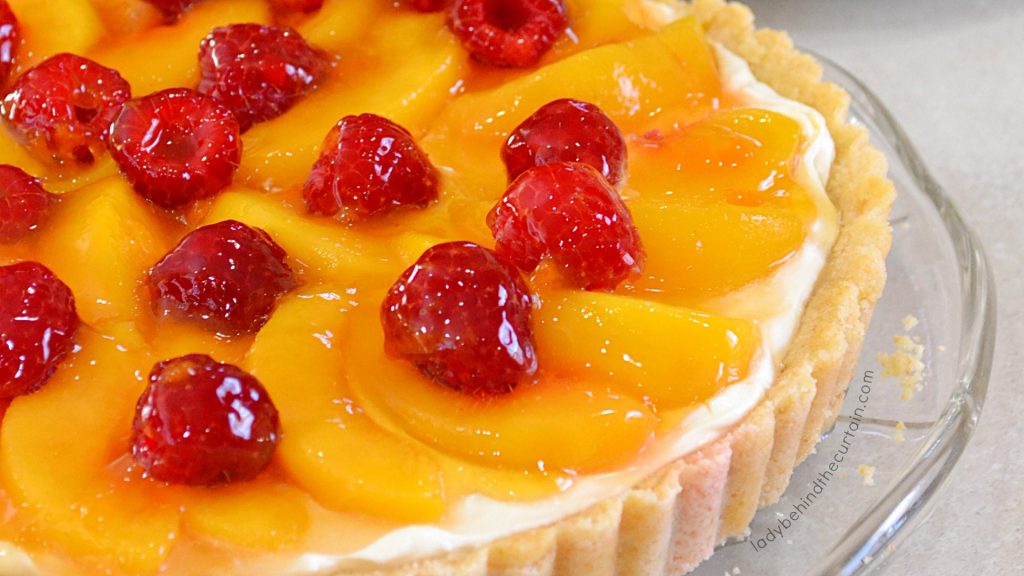 How to Peel Fresh Peaches
Fill a large pot with water, bring to a boil
Add rinsed peaches to the boiling water
Blanch 30 to 60 seconds
Place blanched peaches in a bowl of ice water (to keep them from cooking)
Peaches should peel easily, use a small paring knife
How to Make Crust Ahead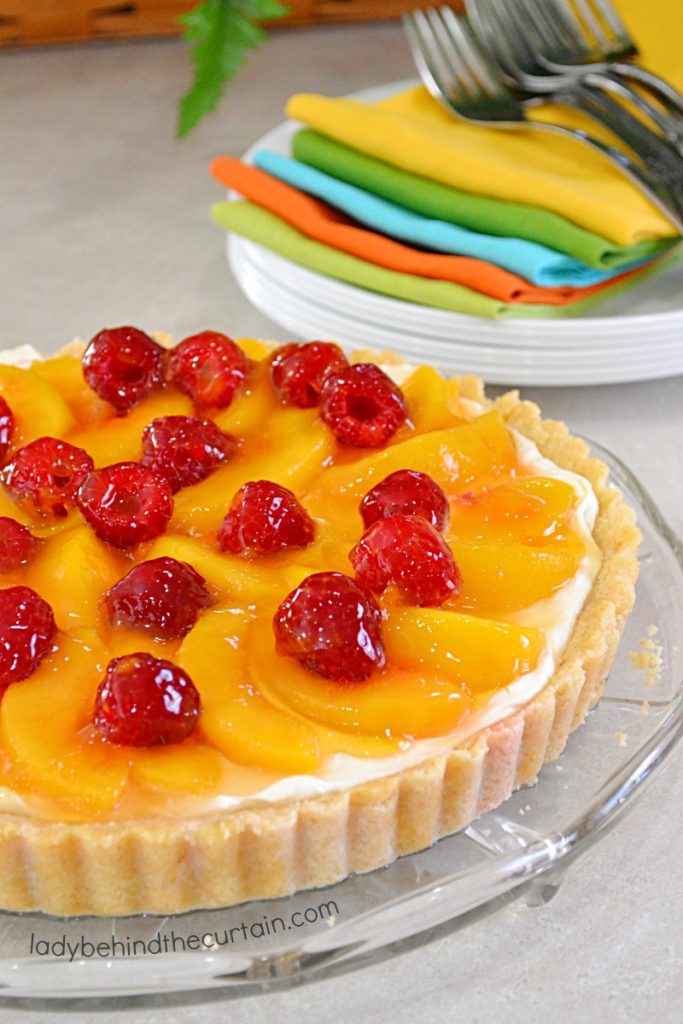 MORE DELICIOUS PEACH DESSERT RECIPES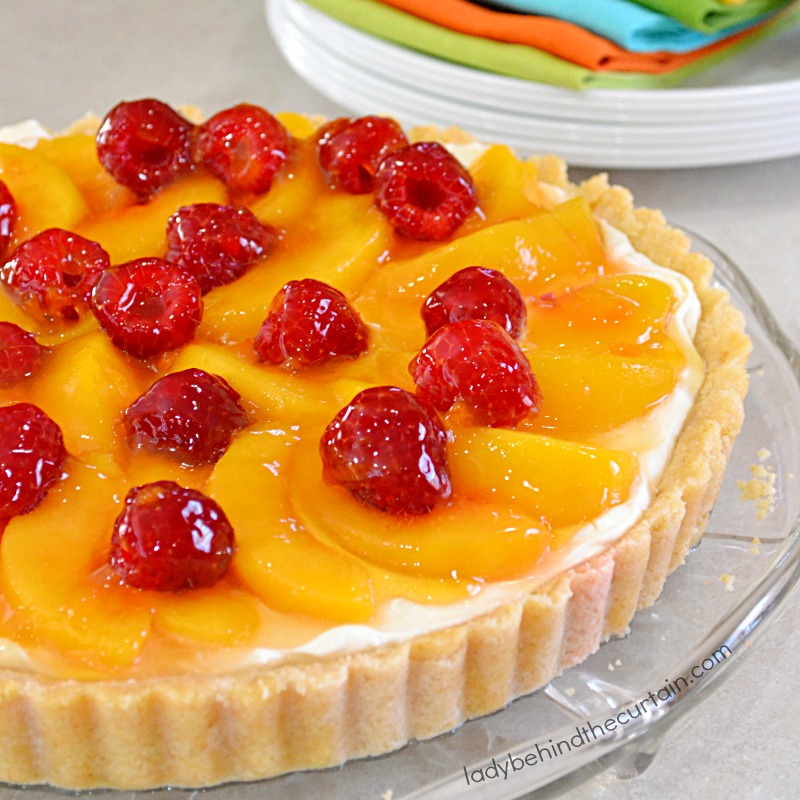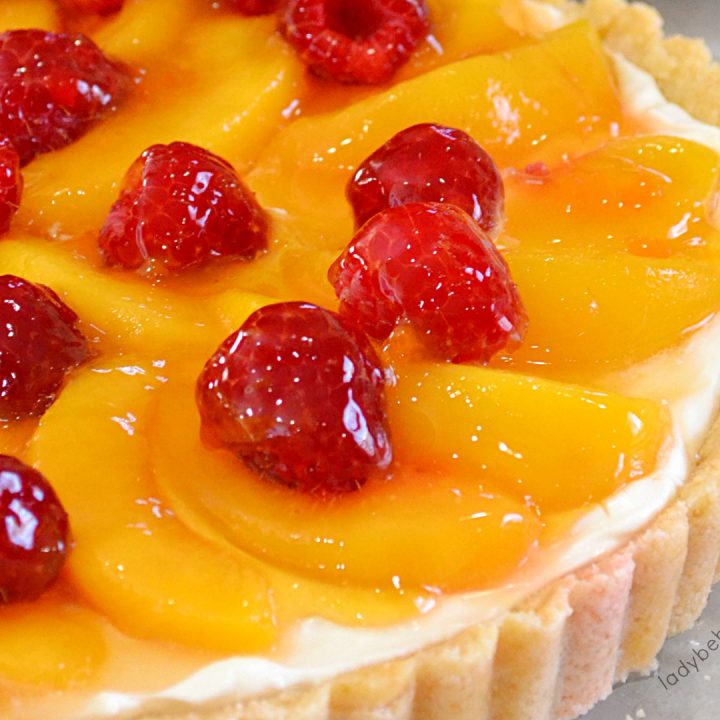 Peaches and Cream Tart
The perfect dessert for a brunch!
Ingredients
For the Crust:
2 cups crumbled soft macaroon cookies (about 1 - 13 ounce package)
1 cup ground almonds
3 tablespoons butter, melted
For the Filling:
1/2 cup heavy whipping cream
8 ounces cream cheese, softened
1/3 cup sugar
2 teaspoons orange juice
1 teaspoon vanilla extract
1/4 teaspoon almond extract
4 medium peaches, peeled and sliced or 3 cups frozen unsweetened sliced peaches, thawed
1/2 cup fresh raspberries
1/4 cup apricot preserves
2 teaspoons honey
Instructions
For the Crust:
Preheat oven to 350°.
In a food processor bowl add cookies, process until the cookies reach a crumb. NOTE: You will need to do this in two batches.
Pour cookie crumbs into a large bowl.
Process the almonds.
Pour the cookies crumbs back into the food processor with the almonds and add the melted butter.
Process until blended.
Press onto the bottom and up the sides of an 11-inch fluted tart pan with a removable bottom.
Place pan on a baking sheet. Bake for 12 to 14 minutes or until golden brown.
Cool completely on a wire rack.
For the Filling:
Beat whipping cream until soft peaks form; set aside.
In another bowl beat cream cheese and sugar until smooth.
Beat orange juice and extracts into the cream cheese mixture.
Fold in whipped cream.
Spread over crust.
Arrange peaches and raspberries over filling.
In a small saucepan, combine preserves and honey.
Cook and stir over low heat until melted.
Brush over fruit.
Store in the refrigerator.
Notes
This recipe is adapted from the Best of Taste Of Home Volume 2 cookbook.
NEVER MISS A POST