Peanut Butter Dog Biscuits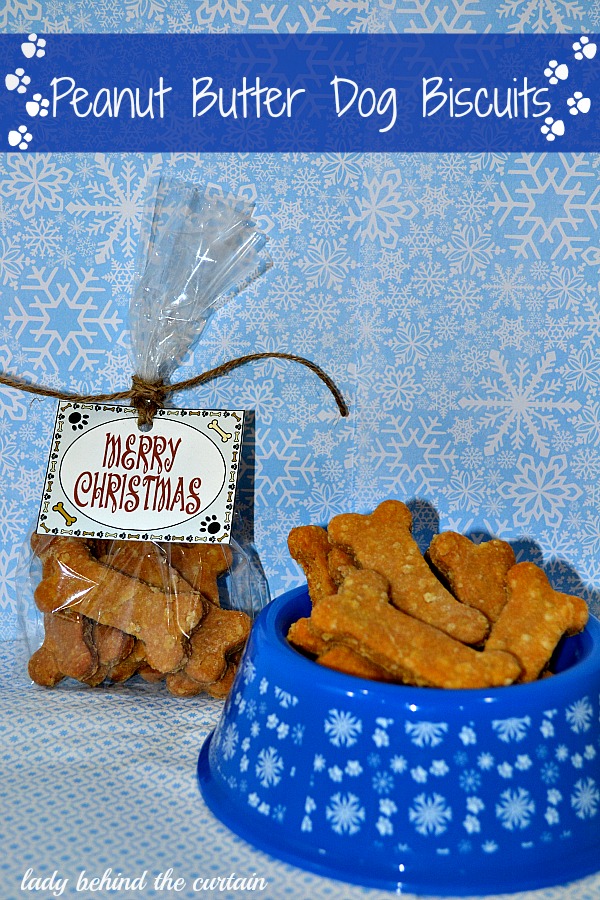 These healthy treats are for the one in the family that gives you their unconditional love, and deserves to receive a Christmas gift too!
Making a holiday cookie tray for family and friends?  Do they have a dog?  Why not tuck in a little something for their dog on that goodie tray. Here is the printable for the dog biscuit treat bag tag.
Peanut Butter Dog Biscuit Recipe
Ingredients
1/2 cup water
1/2 cup oil
2 eggs
3 tablespoons peanut butter
2 teaspoons vanilla extract
2 cups all-purpose flour
1/2 cup cornmeal
1/2 cup oats
Directions
Preheat oven to 400 degrees.
Spray 2 cookie sheets with non stick cooking spray and set aside.
Combine ALL the ingredients in a mixing bowl and mix until well combined and the dough forms a ball.  Dump biscuit mixture onto a WELL floured surface.  NOTE:  The dough is still a little sticky; knead more flour into the dough to get it the texture of cookie dough.  Roll dough until it is 1/4-inch thick.  Cut into bone shapes and place on prepared cookie sheets.  Bake 20 minutes.  Turn off oven and allow the biscuits to cool in oven until crisp and hard (about 1 hour).  Store in airtight container.  Makes 48 biscuits.