Pecan Pie Cheesecake Fudge
Pecan Pie Cheesecake Fudge | Yes, this Pecan Pie Cheesecake Fudge is insane.  So be prepared you may have to hide it.  🙂  I combined the best of three dessert treats together!  Pecan Pie, Cheesecake and Fudge!  Unlike cheesecake which needs to be refrigerated, this fudge can be stored at room temperature.  Which makes this the PERFECT travel safe treat!  Off to Grandmas house you go!  Armed with the BEST fudge EVER!  🙂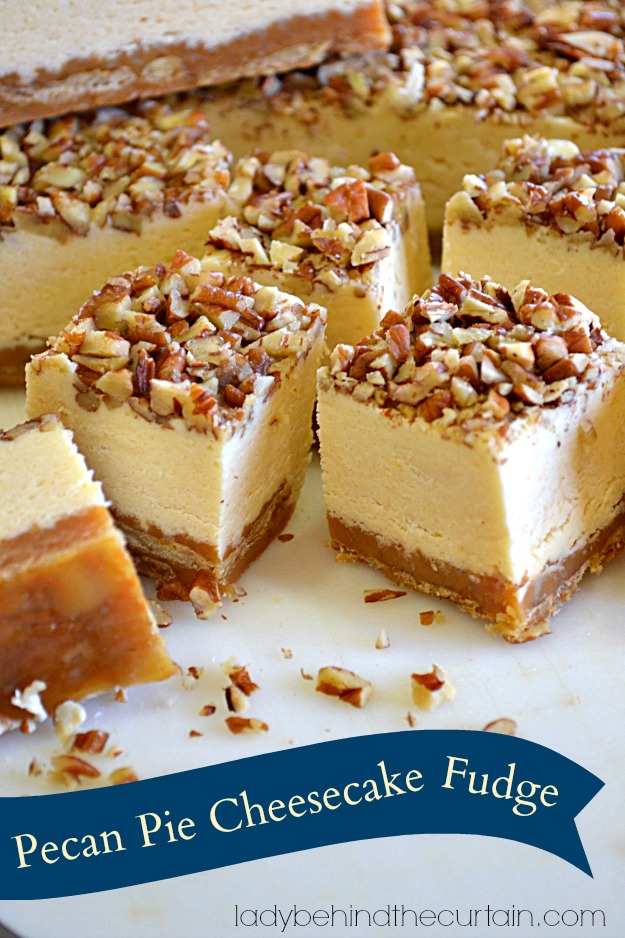 First, the Pecan Pie Cheesecake Fudge starts with a salty crunchy crust made with saltines.  Then a layer of pecan pie filling and if that's not enough a cheesecake fudge on top sprinkled with chopped pecans.  A must have for the holiday dessert table, bake sale or as a gift!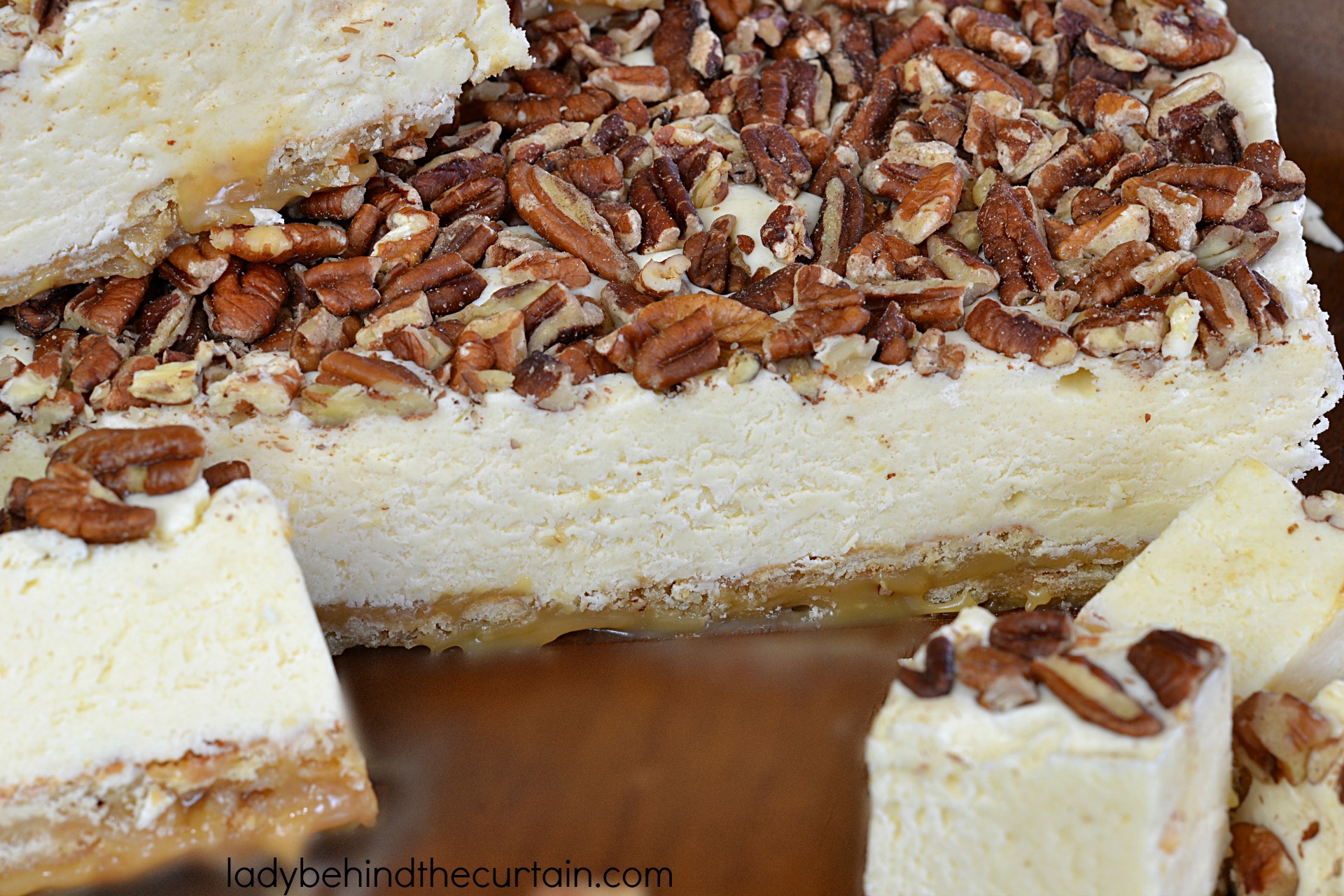 Fudge is perfect for holiday trays.  It's easy to make and can be made days in advance.  With so many flavors to choose from.  I'm curious what is your favorite fudge flavor?  Click here for over THIRTY fudge recipes—->>>>FUDGE.  Also, I have a Pinterest board dedicated to fudge!  With over 2700 pins I'm sure you'll find loads of new recipes!  Click here to follow—->>>>OH FUDGE!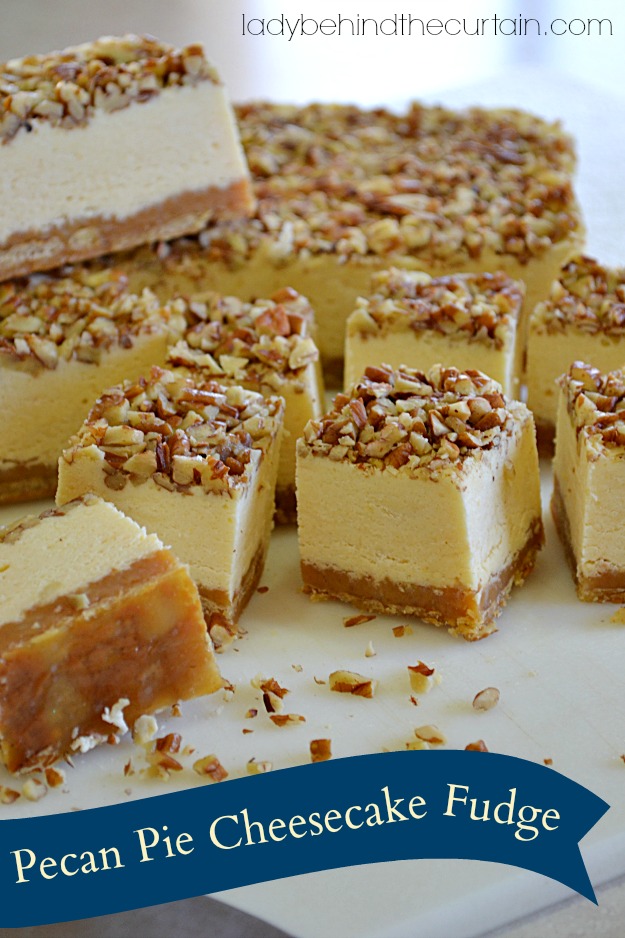 WANT TO GIVE THIS FUDGE AS A GIFT OR TAKE TO A FUNCTION?  ♥♥CLICK««HERE »»TO PRINT OUT YOUR OWN PRETTY RECIPE CARD.  BECAUSE YOU KNOW THEY'RE GOING TO WANT THE RECIPE.♥♥ 
WATCH MY VIDEO FOR A DETAILED LOOK ON HOW TO MAKE THE BEST FUDGE EVER!
LOOK BELOW FOR MORE FUDGE RECIPES!
DON'T FORGET TO PIN THIS RECIPE TO YOUR CANDY OR HOLIDAY BOARDS.  🙂
First add a layer of saltines.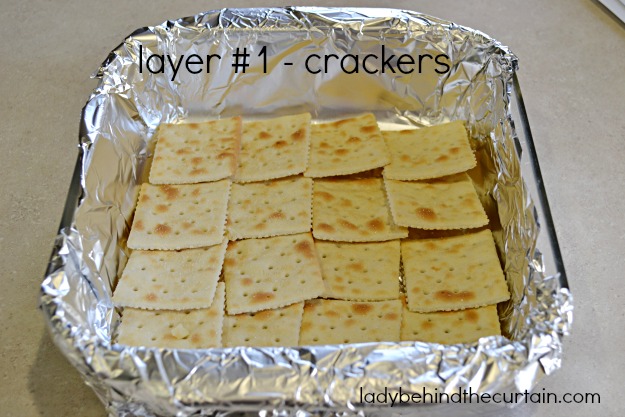 Add the delicious caramel layer and bake.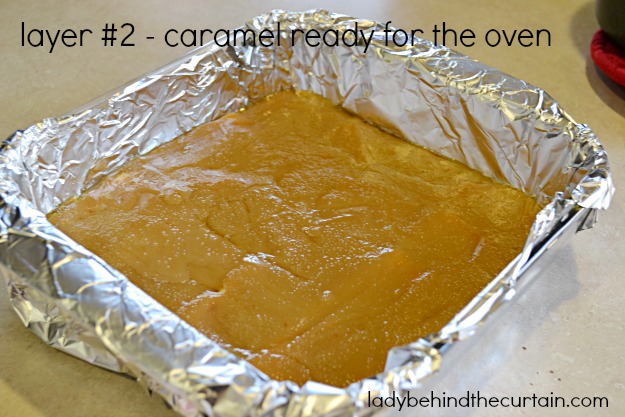 BEFORE YOU BEGIN THIS RECIPE REMEMBER….MAKING FUDGE IS A SCIENCE!  NO GUESSING..YOU HAVE TO MEASURE EVERYTHING.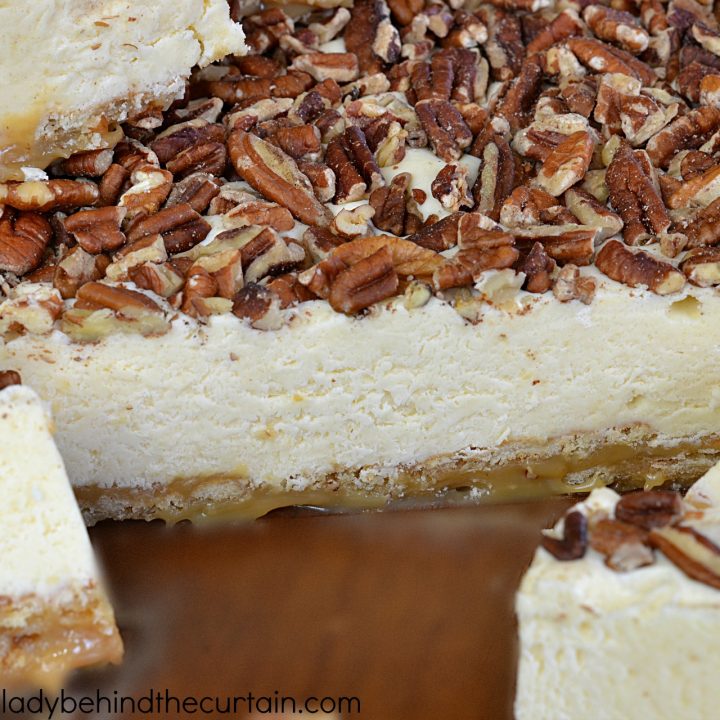 Pecan Pie Cheesecake Fudge
Ingredients
For the Crust and Filling:
16 saltine crackers
1/2 cup butter
1/2 cup light brown sugar, packed
2/3 cup sweetened condensed milk
For the Cheesecake Fudge:
3 cups white chocolate chips
1-1/2 tablespoons butter
pinch of salt
1 cup sweetened condensed milk
1-1/2 cups marshmallow cream (the equivalent of one 7 ounce jar)
1 - 3.4 ounce instant cheesecake pudding mix, DRY
NOTE: If you can't find cheesecake pudding you can substitute with vanilla pudding.
Instructions
For the Crust and Filling:
Preheat oven to 425 degrees.
Line a 8x8-inch baking dish with foil (I used non stick foil) and spray with non stick cooking spray.
Arrange saltines in a even layer on the bottom of the baking dish overlapping some to anchor down the crackers.
In a medium saucepan, bring butter and brown sugar to a boil over medium-high heat
TIP: Make sure the sugar mixture is at a COMPLETE BOIL before cooking to the 2 minutes.
Cook for 2 minutes.
REMOVE FROM HEAT AND STIR IN THE SWEETENED CONDENSED MILK
Slowly pour over crackers.
Use a spatula to make sure all the crackers are covered.
Bake 10 minutes.
Set aside and make fudge topping.
For the Cheesecake Fudge:
In a medium saucepan combine the white chocolate chips, butter, salt,condensed milk and dry pudding mix; heat until melted and smooth.
Add the marshmallow; stir until melted and smooth.
Pour hot fudge over filling. Smooth using an off set spatula.
Sprinkle on pecans, press down with the palm of your hand.
Refrigerate until set (at least 2 hours or overnight).
Remove from refrigerator.
Carefully remove foil making sure to get all the pieces and cut into small squares.
Store at room temperature.
MORE PECAN PIE RECIPES

PECAN PIE PUMPKIN CHEESECAKE  2. WHITE CHOCOLATE PECAN PIE CANDY  3. PECAN PIE BREAD PUDDING

CLICK HERE FOR MORE FUDGE RECIPES—-33 CHRISTMAS FUDGE RECIPES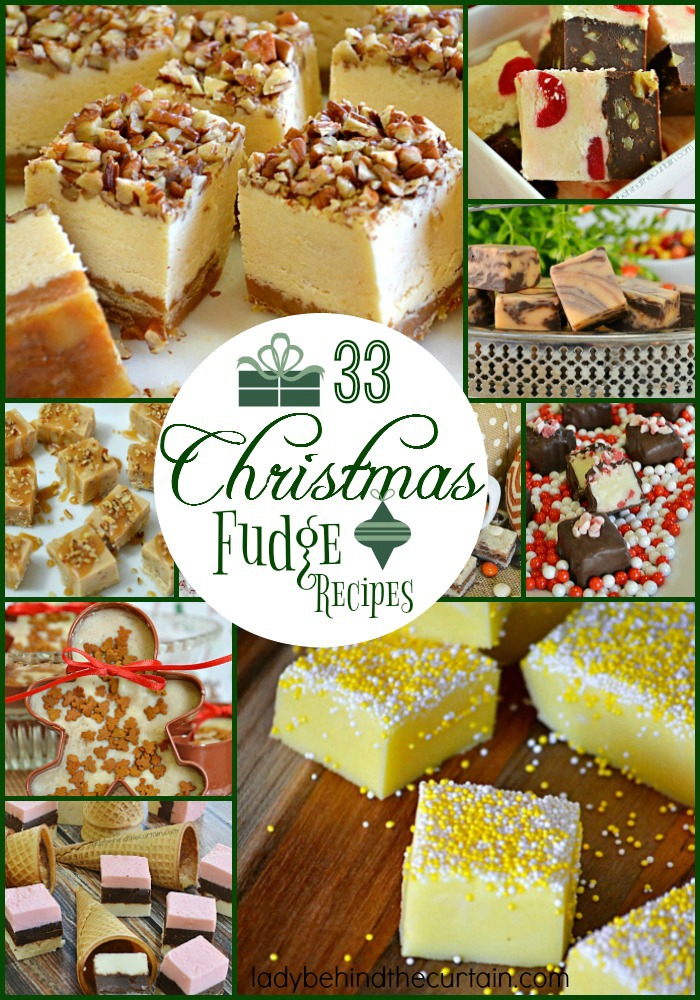 NEVER MISS A POST!
Sign up for my newsletter and receive a FREE ebook "Top 10 Fudge Recipes from Lady Behind The Curtain" PLUS my recipes in your inbox. Easy to see anytime and saved for safe keeping. Click Here and sign up today! —->>>>CURTAIN CALL NEWSLETTER
More fudge recipes you might like.  BUCKEYE FUDGE and SUPER EASY ORIGINAL SEE'S FUDGE RECIPE.