Instead of a sweet sauce these Picadillo Sloppy Joes are savory with a little heat.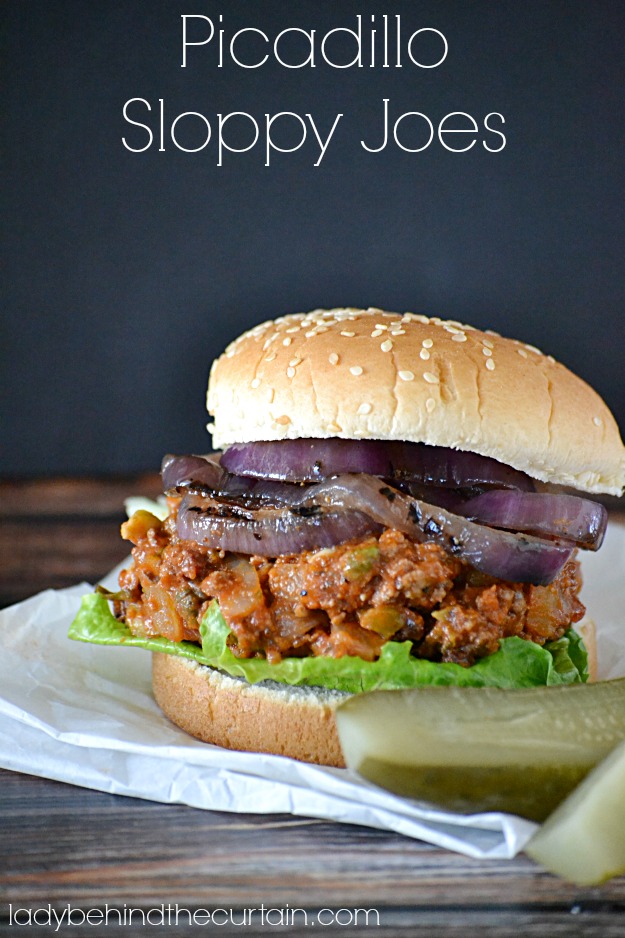 In less then an hour your family can be enjoying these delicious and healthy Picadillo Sloppy Joes.
Serve with my sweet Mad Hatter Salad and my Slow Cooker Au Gratin Potatoes and for dessert how about a Chocolate Pound Cake with Fudge Sauce.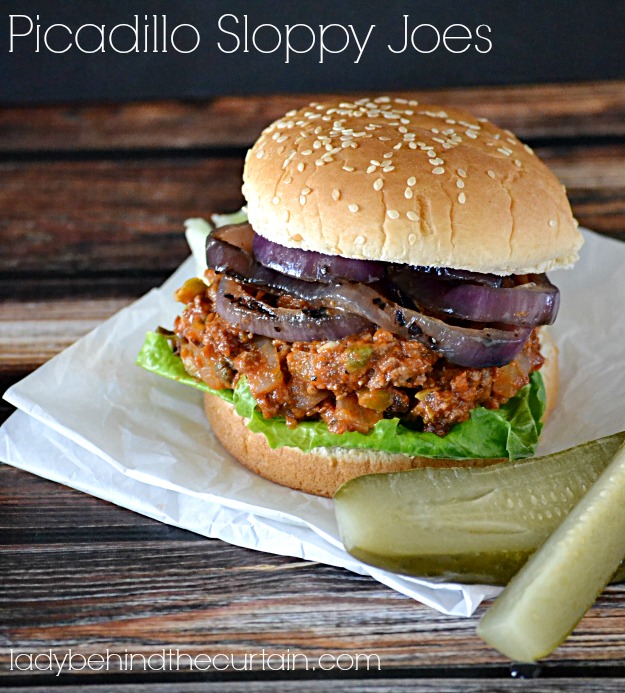 Create your own Recipe Box and save your favorite Lady Behind The Curtain recipes.  Make a Meal Plan with your favorite recipes and ZipList will automatically add the ingredients to a Shopping List.
Picadillo Sloppy Joes
This recipe is perfect for those busy week nights.
This recipe was adapted from the Cooking Light Jan./ Feb. 2014 magazine.
Ingredients
1 teaspoon olive oil
3/4 cup onion, chopped
2 teaspoon garlic, minced
1 pound 90% lean ground sirloin
1 teaspoon dried oregano
1 teaspoon ground cumin
1/2 teaspoon ground cinnamon
1/2 cup water
3 tablespoons dried currents or raisins
2 1/4 ounces pitted green olives, chopped (about 12)
15 ounce can tomato sauce
1/2 cup cilantro, chopped
2 tablespoons red wine vinegar
1 tablespoon minced pickled jalapeno pepper
Cooking Spray
1 medium red onion, cut into 6 thick slices
6 (1 1/2 ounce) hamburger buns with sesame seeds
lettuce
Instructions
Saute onion and garlic in oil until tender.
Add ground beef and cook until no longer pink and crumble.
Add oregano, cumin, cinnamon, water, currents, olives, tomato sauce, cilantro, vinegar and jalapeno.
Cook covered at a simmer 30 minutes.
Heat a grill pan over medium-high heat.
Coat with cooking spray.
Add onion slices, grill until tender and browned (about 4 minutes on each side)
Remove onions from grill pan.
Place buns, on grill pan about 1 minute or until golden brown.
Place lettuce on bun, 1/2 cup beef mixture, onion and but top.
Nutrition Information
Serving Size

1/2 Cup
Amount Per Serving
Calories

323
MORE MAIN DISH LIGHT RECIPES
1. GRILLED ORANGE TERIYAKI CHICKEN  2. PORK TENDERLOIN WITH MUSHROOM GRAVY  3. CHICKEN CHILI RELLENO  4. LIGHT MEXICAN STUFFED SHELLS