Pineapple Pie Filling Oatmeal Bars
Bake these Pineapple Pie Filling Oatmeal Bars during dinner and serve hot with vanilla ice cream.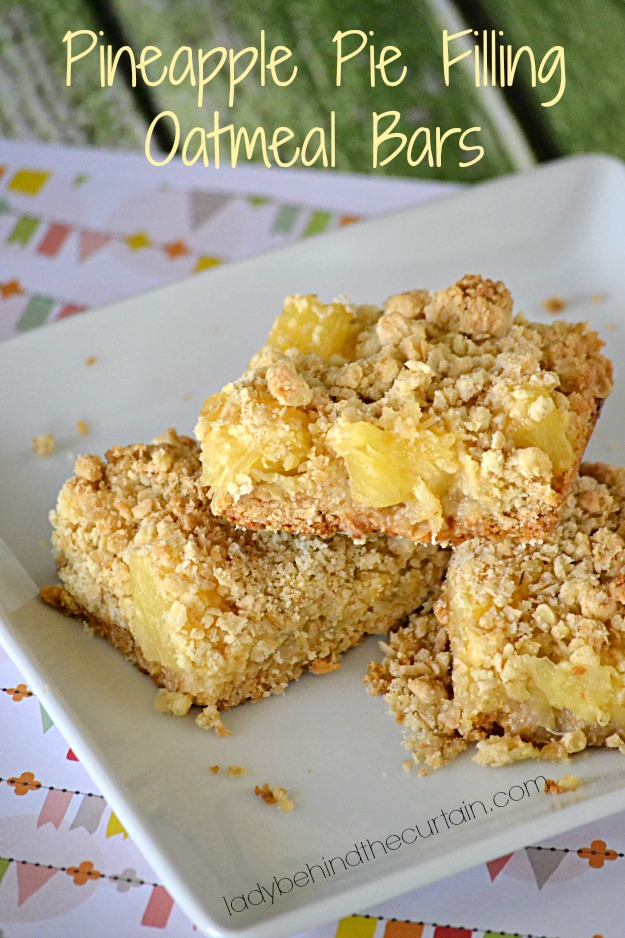 You can use Pineapple preserves but I love the fresh taste of making my own pineapple pie filling and the chunks of pineapple.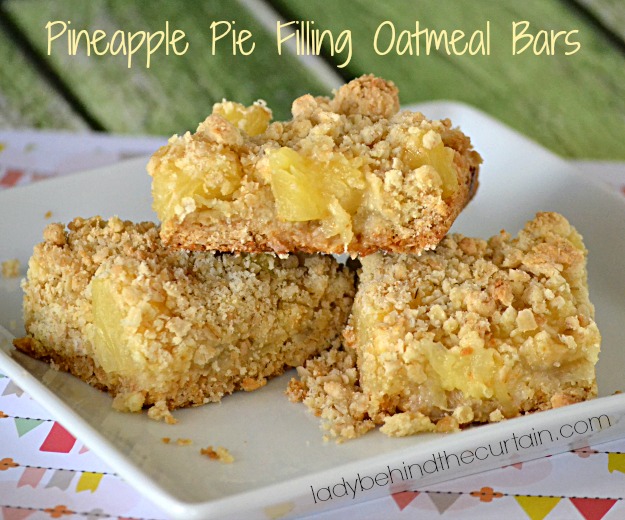 I love serving bars for dessert especially when I need to feed a crowd.  You can serve tons of people, provide variety with only three trays.  Like my ALMOND JOY BARS, PAY DAY KRISPY BARS and my APPLE PECAN CREAM CHEESE BARS
Create your own Recipe Box and save your favorite Lady Behind The Curtain recipes.  Make a Meal Plan with your favorite recipes and ZipList will automatically add the ingredients to a Shopping List.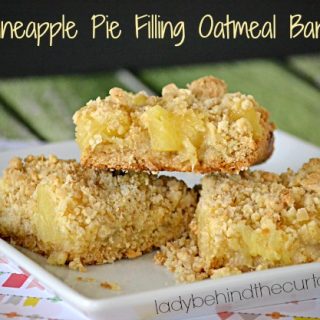 Pineapple Pie Filling Oatmeal Bars
Total Time:
1 hour
10 minutes
Delicious and so easy to make. The perfect last minute dessert!
Ingredients
For the Pineapple Pie Filling:
2 (20 ounce) pineapple chunks or tidbits, drained
3 tablespoons cornstarch
1/2 cup granulated sugar
For the Crust and Topping:
2 yellow cake mixes
5 cups quick oats
1 1/2 cups butter, melted
Instructions
Preheat oven to 375 degrees.
Line a 16x21x1-inch baking pan with foil and spray with non stick cooking spray.
For the Pineapple Pie Filling:
Drain all the pineapple juice into a medium saucepan.
Add cornstarch and sugar.
Cook on medium heat until the pineapple juice mixture starts to bubble and thickens.
Set aside. DO NOT ADD PINEAPPLE
For the Crust and Topping:
Add together the cake mixes and oats, stir to combine.
Add melted butter, stir until crumbs form.
Pour half of the cake mixture into the prepared pan and press to the bottom of the pan.
Pour Pineapple Juice mixture over pressed crumbs; evenly spread using an offset spatula.
Sprinkle on the pineapple and remaining crumb topping.
Bake 35 to 40 minutes or until lightly golden brown.
Cut into 35 bars.
PINEAPPLE RECIPES
1. SLOW COOKER SPICY PINEAPPLE CHICKEN  2. PINEAPPLE CRISP  3. PINEAPPLE, STRAWBERRY & BLUEBERRY PROTEIN SMOOTHIE  4. PINEAPPLE CUPCAKES  5. APRICOT PINEAPPLE SALSA  6. PINEAPPLE COCONUT BARS