MOVIE NIGHT WILL NEVER BE THE SAME!
These pretzel nuggets are quick and easy to make!  Your movie goers can be eating FRESH HOMEMADE pretzel nuggets before you know it. Make a statement by putting them on skewers!  Serve with marinara sauce, mustard and cheese sauce.
These would also be a GREAT treat for your hungry game watchers.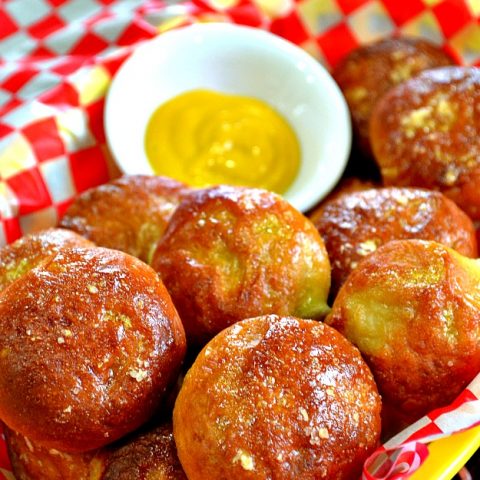 Pretzel Nuggets
Yield:
64 Pretzel Nuggets
Prep Time:
1 hour
30 minutes
Total Time:
1 hour
44 minutes
Serve at your next movie night.
Ingredients
I-1/2 cup warm water (110 degrees)
2-1/4 teaspoons or 1/4 ounce active dry yeast
2 teaspoons granulated sugar
4-1/4 cups all-purpose or bread flour
2 teaspoons salt
4 tablespoons butter, melted
1/2 cup baking soda, divided
1 egg, lightly beaten
salt for sprinkling (pretzel or kosher)
Instructions
In the bowl of your stand up mixer fitted with the dough hook, add the water, yeast and sugar.
Stir and let rest for 5 - 10 minutes or until foamy.
Add the flour, salt and melted butter.
Mix until well combined and forms a ball.
Transfer to a medium bowl sprayed with non stick cooking spray, cover with plastic wrap and allow to rise in a warm place for 1 hour or until doubled in size.
Line 2 cookie sheets with parchment paper and set aside.
Pull dough out of bowl onto a lightly floured surface and divide into 4 equal portions.
Roll each piece into a 16-inch rope. Cut into 1-inch pieces.
Tuck edges under to form a ball.
NOTE: 2 ropes will fill one cookie sheet. Only fill one cookie sheet at a time.
Cover with towel and let the bites rest for 15 minutes.
While the first batch is resting make the second batch the same as the first.
Bring 2 quarts of water to a boil.
Take off the heat and add 1/4 cup of the baking soda to a boil. NOTE: Don't let the out of control bubbles scare you.
Drop some (how many depends on the size of your pan) pretzel nuggets into the boiling water.
Boil for 1 minute turning the pretzel nugget over several times during that time.
Remove with a slotted spoon; place back onto the parchment paper lined cookie sheet.
Once all the nuggets are boiled for this cookie sheet brush egg wash on each pretzel nugget and sprinkle with sea salt.
Repeat the boiling process for the second cookie sheet including adding the remaining 1/4 cup baking soda, brush on egg and sprinkle with sea salt.
Bake at 425 degrees for 13-15 minutes or until golden brown.
SERVE THESE PRETZEL NUGGETS ON MOVIE NIGHT!