These Quick Coconut Bars are easy to make.  Once you taste them you'll be wondering….is this candy or a cookie?  Whatever you decide you'll know these bars are DELICIOUS!!!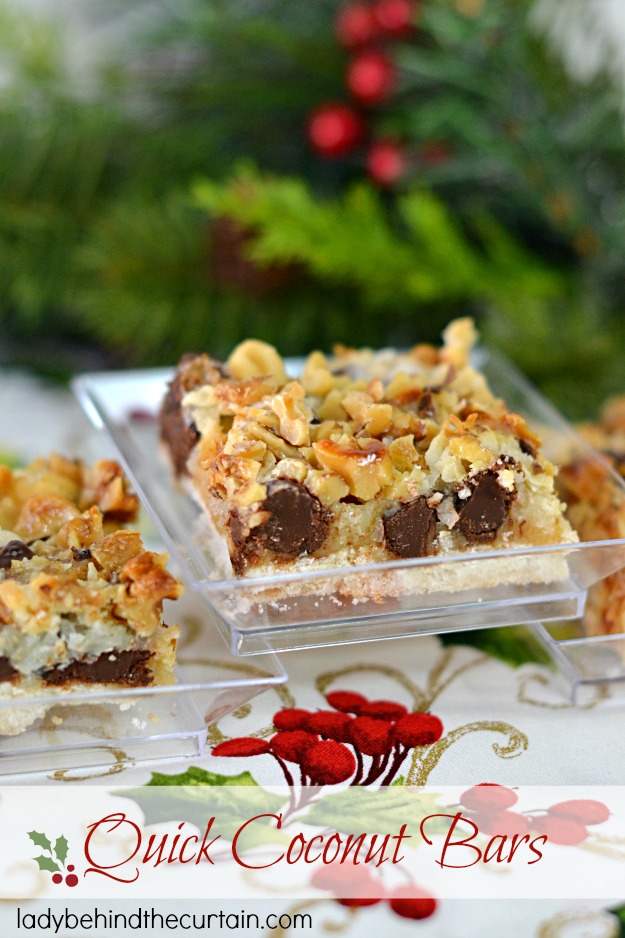 Making these Quick Coconut Bars is almost exactly like making a dump cake.  Except and this is a BIG except.  Instead of adding melted butter you get to add……are you ready for it?  SWEETENED CONDENSED MILK!  The yum factor just hit the roof!  😆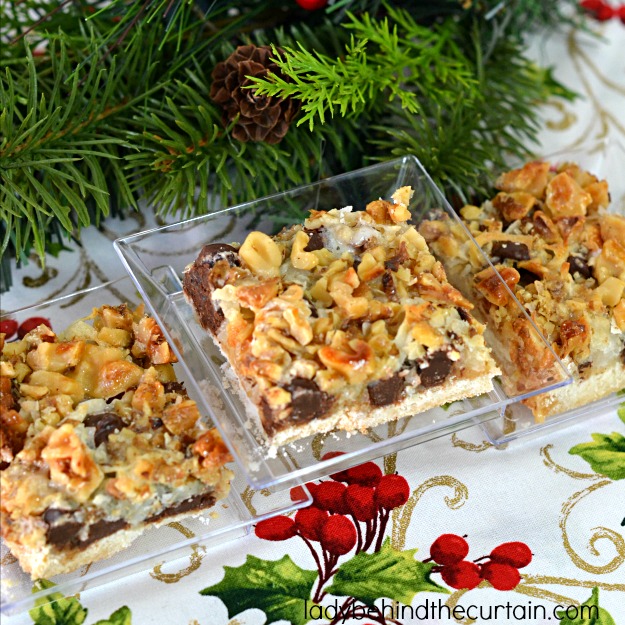 Like a dump cake you add a cake mix but then you get to sprinkle on marshmallows, chocolate chip, coconut, walnuts and then as if that wasn't enough you drizzle on the condensed milk.  Yep you just died and went to  yumilicious heaven.  😉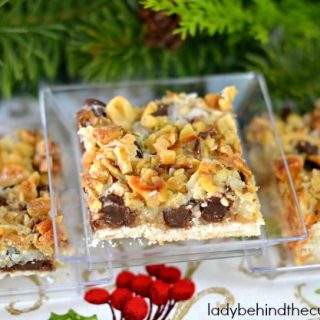 Quick Coconut Bars
Ingredients
3 tablespoons butter
1/2 package white cake mix
1 1/2 cups of miniature marshmallows
6 ounces semi sweet chocolate pieces
3 1/2 ounces of sweetened flaked coconut
1 cup chopped walnuts
1 (14 ounce) can sweetened condensed milk
Instructions
Preheat oven to 350 degrees.
Melt butter in oven using a 13 x 19 x 2 inch pan.
Coat pan.
Sprinkle dry cake mix over butter.
Sprinkle marshmallows, chocolate pieces, coconut and nuts on cake mix.
Pour milk evenly on top.
Bake 30 minutes
Run knife around edges to loosen.
Cool completely and cut into bars.
MORE BAR RECIPES
1. CHEWY PEANUT BRITTLE BROWNIES  2. CHERRY CABERNET BROWNIES  3. COCONUT CHOCOLATE BARS