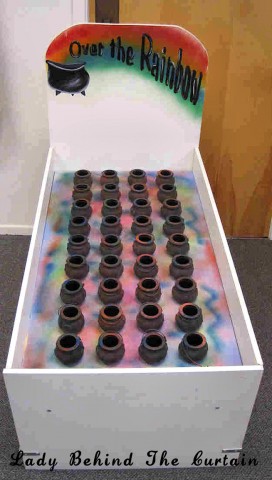 Next time you're planning a Kid's Party, Carnival or Fall Festival add this game.  This kids will love it.  In fact you might have to keep the adults from it so the kids can play it.  🙂
For this game you can either build it like the picture above or simply screw mini kettles (from Oriental Trading) to a piece of plywood and elevate it with whatever you have around.
A fun twist on the old time penny pitching game.
Object:  The object of this game is to get all 5 pennies into a kettle.
Age Group:  All Ages
Over The Rainbow Game Rules
1.**Each player gets 5 pennies
2.**Toss the pennies trying to get them in the kettles
3.**2 tickets – 0 pennies in the kettle
**5 tickets- for EVERY penny in kettle