Raspberry Coconut Zinger Cupcakes
Raspberry Coconut Zinger Cupcakes |  These cupcakes are a nod to my favorite Hostess® treat ZINGERS®!  These delicious cupcakes have a mixture of coconut and white chocolate chips with a hidden raspberry treasure.  Bring out the best dessert to your guests and celebrate 4th of July this year with these delicious easy to make Raspberry Coconut Zinger Cupcakes decorated with fun festive red, white and blue coconut!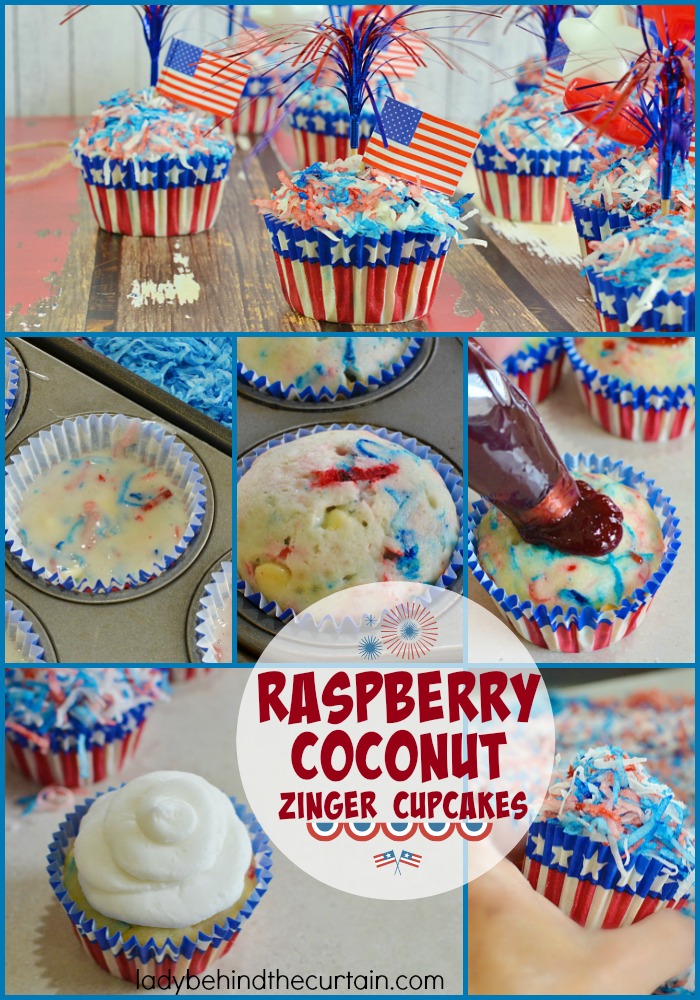 If you don't know how or have never colored coconut don't worry.  Click my HOW TO COLOR COCONUT link and I will walk you through the easy steps to becoming a master at coloring coconut.  🙂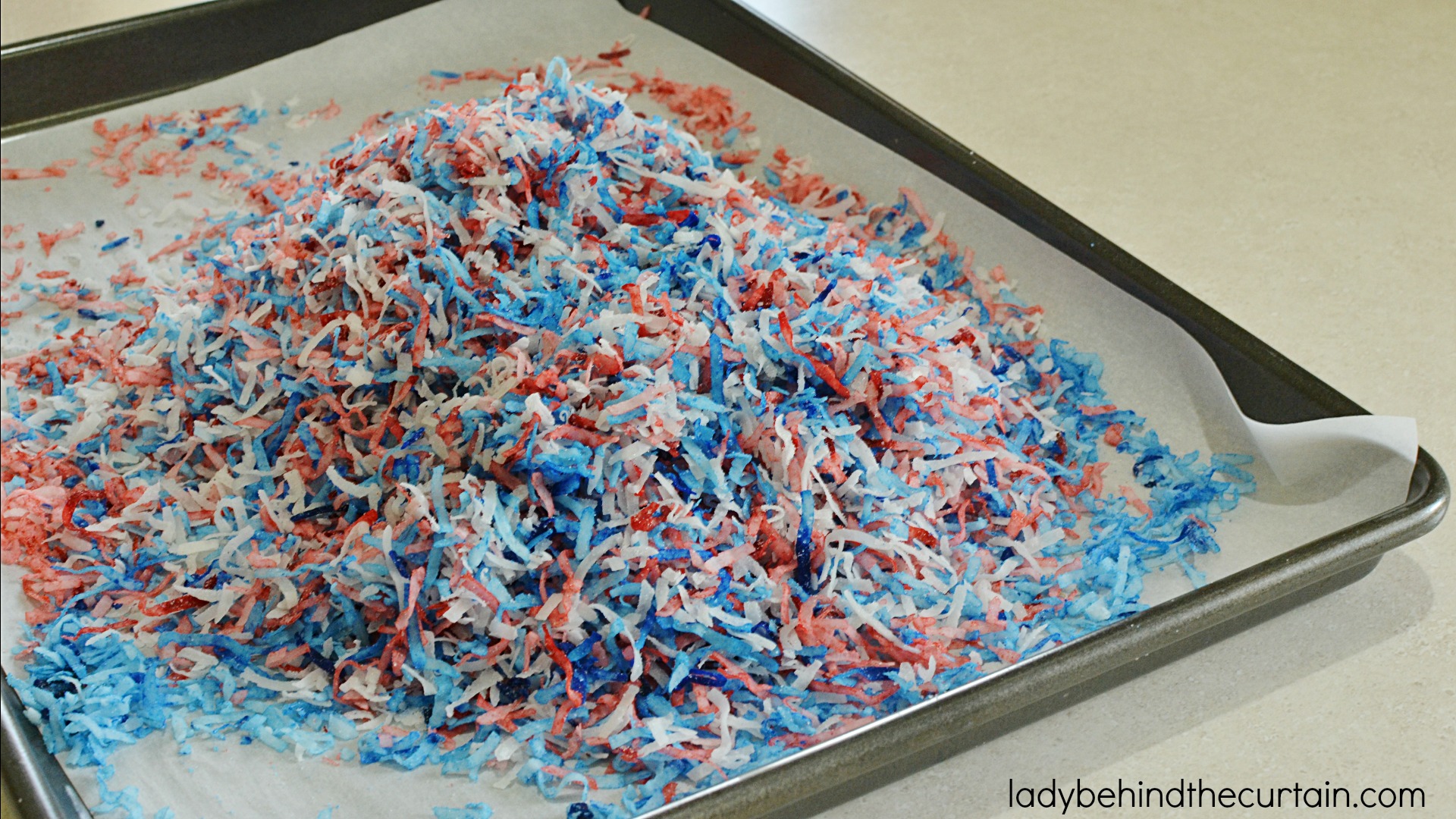 PUTTING THESE FUN CUPCAKES TOGETHER!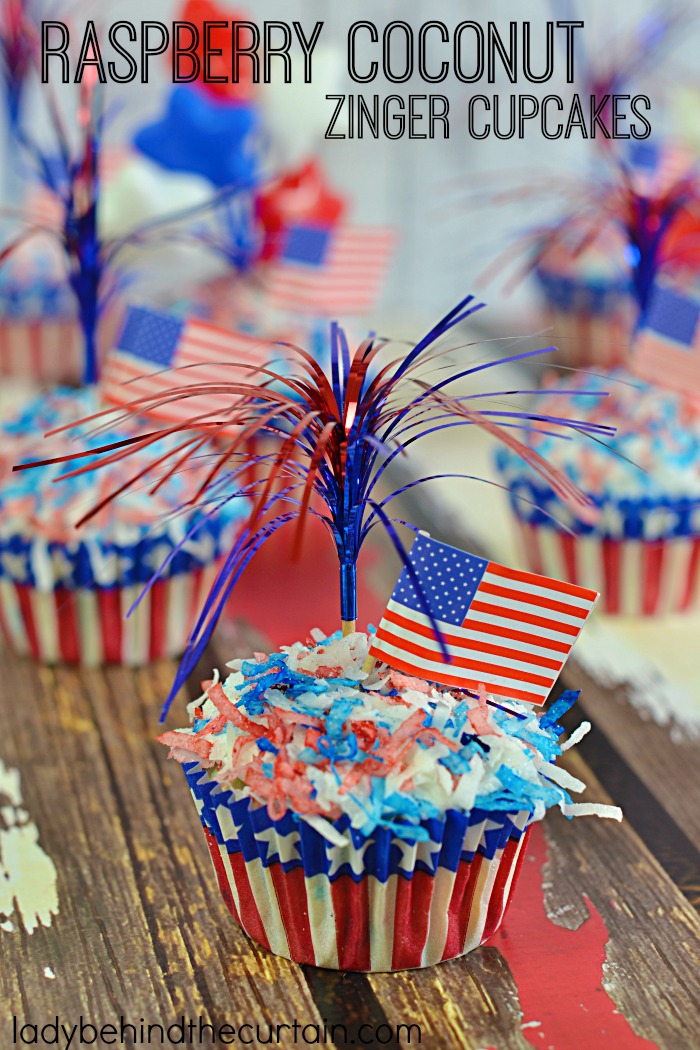 Fold in colored coconut for a splash of color and flavor!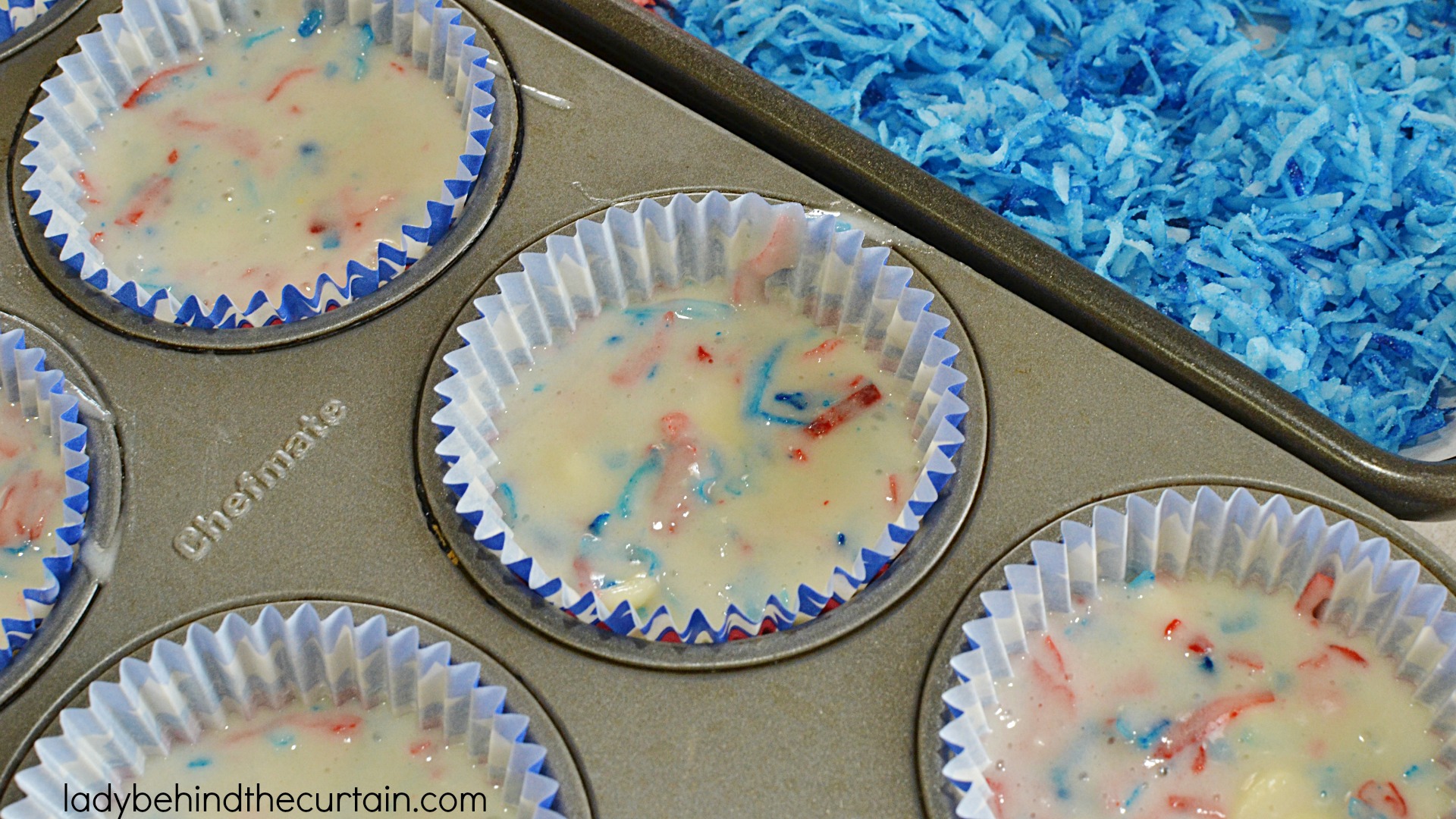 Baked!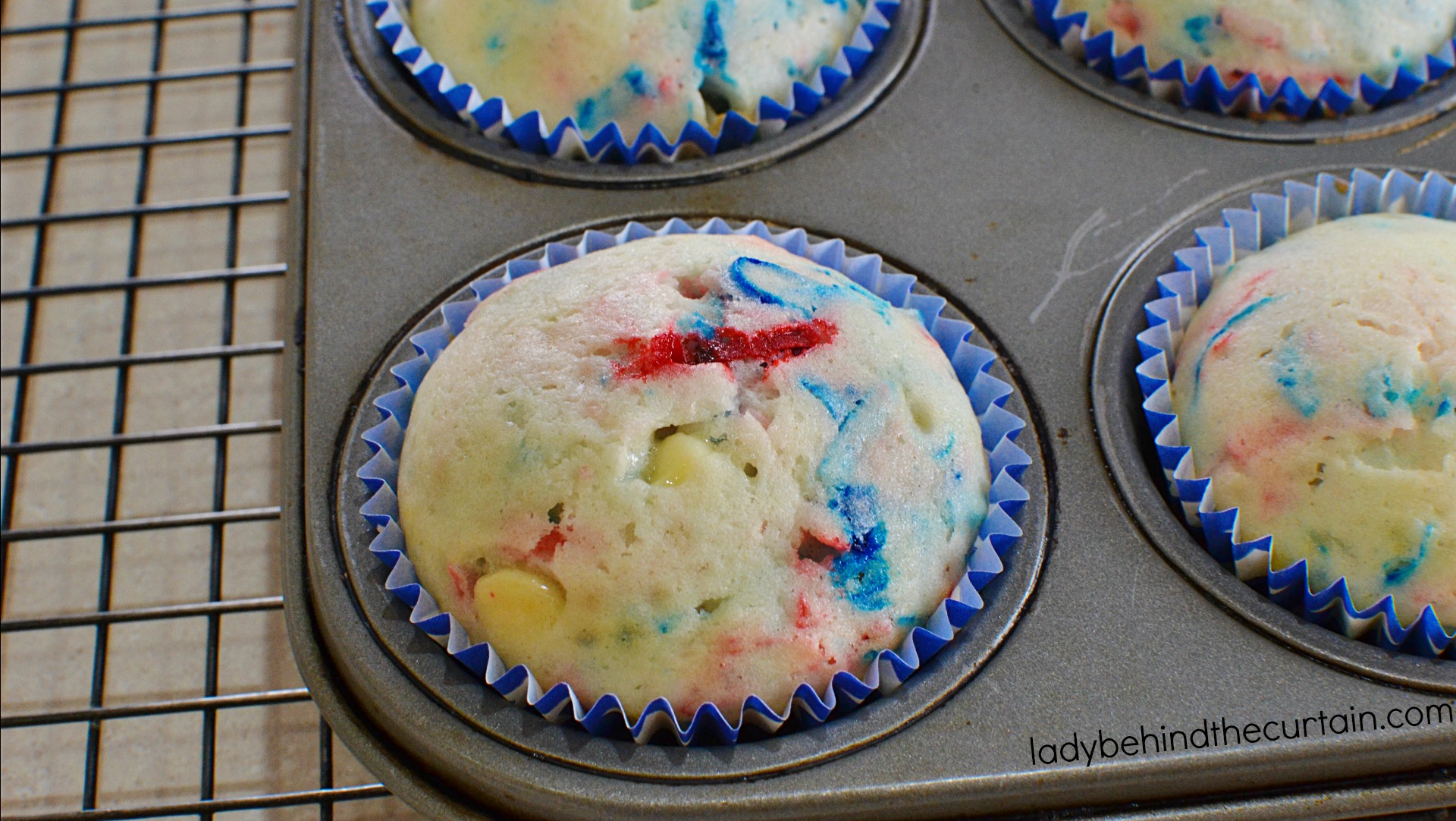 Fill with jam.
Top with frosting.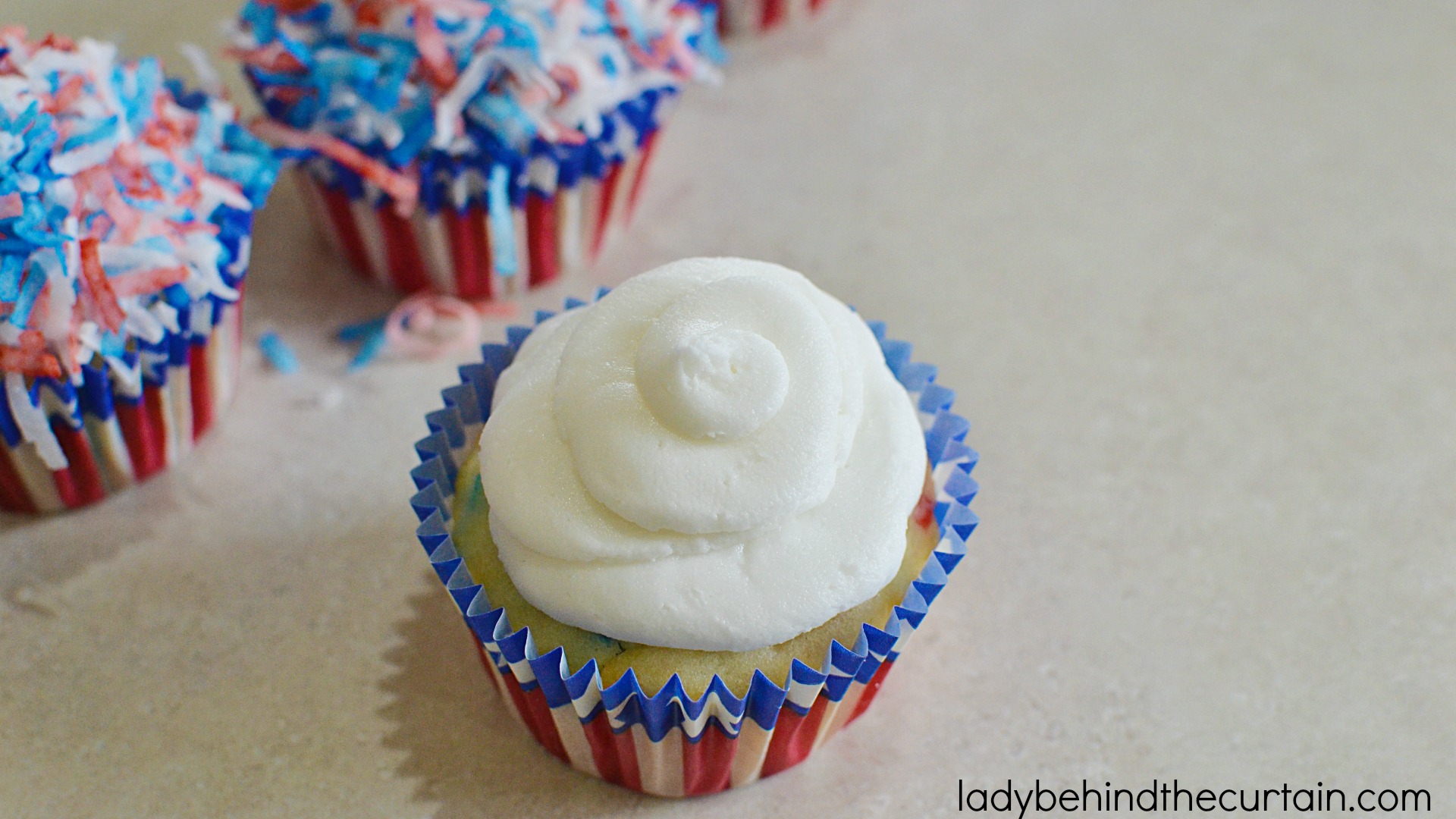 Dip in coconut.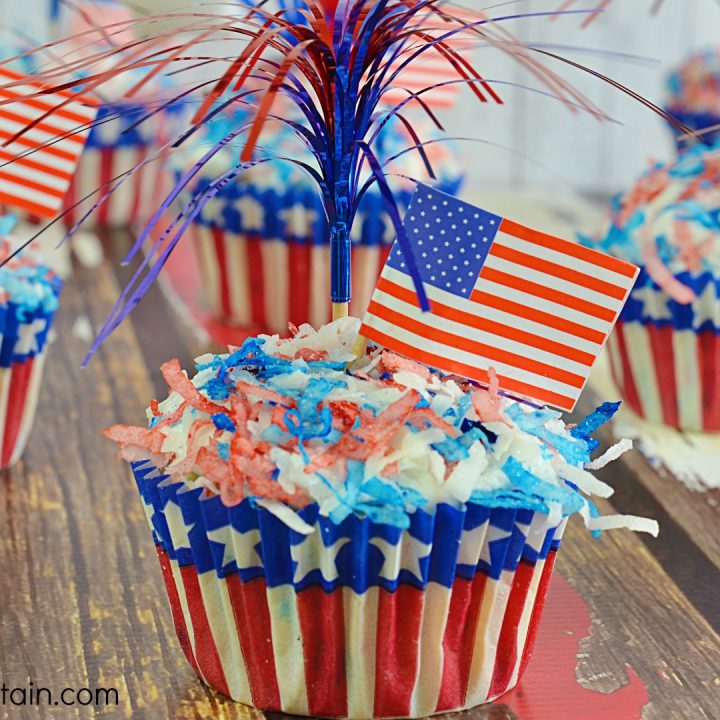 Raspberry Coconut Zinger Cupcakes
Ingredients
For the Cupcakes:
white cake mix (15.25 ounces)
1 1/4 cups water
1/2 cup vegetable or canola oil
4 large egg whites
1 cup white chocolate chips
1 cup coconut, divided 1/2 cup red and 1/2 cup blue (optional)
1 cup seedless raspberry preserves
For the Bakery White Frosting:
1 cup shortening
1 1/2 teaspoon clear vanilla extract
1/2 teaspoon almond extract
4 cups confectioners' sugar
3 to 4 tablespoons milk
4 cups colored coconut How to Color Coconut 1 cup white, 1 cup red, 1 cup blue
Instructions
For the Cupcakes:
Preheat oven to 350 degrees.
Line 18 muffin cups with cupcake liners.
Place cake mix, water, oil and egg whites in a mixing bowl.
Mix on medium speed until combined and creamy.
Stir in the white chocolate chips.
If using colored coconut lightly fold in coconut other wise it can be added with the chips.
Using an ice cream scoop divide cake batter.
Bake 20 minutes or when a toothpick inserted into the center comes out clean.
Cool cupcakes in pan 10 minutes.
Remove from pan and cool completely on a wire cooling rack.
Fill a piping bag with raspberry preserves fitted with a #12 piping tip.
Insert tip into cupcake and fill until the cupcake just starts to bulge.
For the Bakery White Frosting:
Add the shortening to a medium mixing bowl.
Beat until shortening is light and fluffy.
Add extracts and beat until incorporated into the shortening.
Add the sugar 1 cup at a time; beat until smooth between each addition.
Add milk only if frosting is too thick (I usually add 3 tablespoons).
Drizzle in 1 tablespoon at a time until the frosting reaches spreading or piping consistency.
Fill a piping bag with frosting or spread frosting on filled cupcakes.
Dip and press coconut into frosting (use the frosting as the glue to hold the coconut on the cupcake).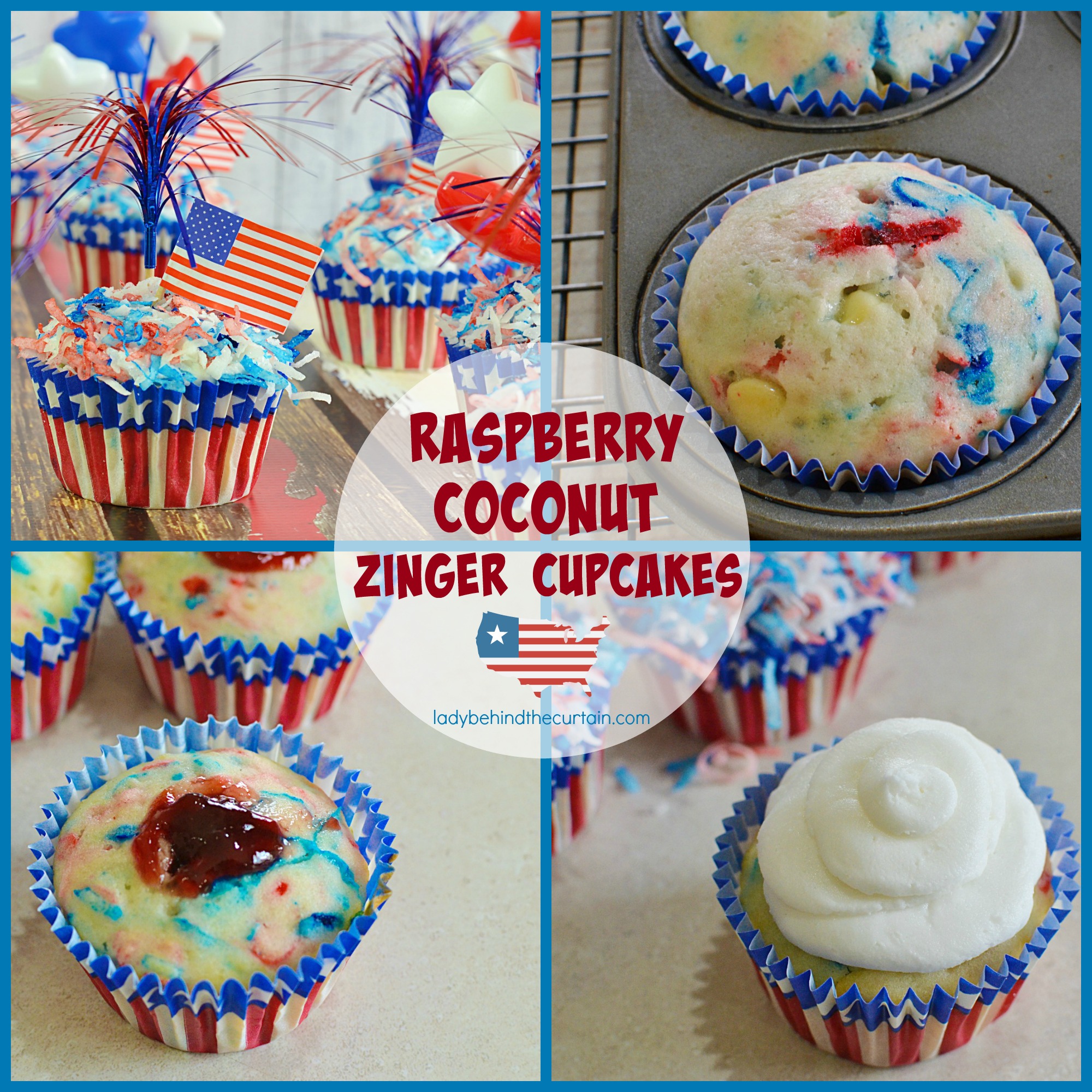 MORE CUPCAKE RECIPES
FINDING DORY OCEAN WATER CUPCAKES  2. ECLAIR CUPCAKES 3. MINI FIRECRACKER CUPCAKES