Reese's Pieces Decorated Pretzels
Reese's Pieces Decorated Pretzels: The sweet and salty combo is incredible with a thick layer of peanut butter and a dark chocolate outer coating. So delicious and so easy to make there's nothing quite like them. Create these delicious Reese's Pieces Decorated Pretzels for your dessert table or hand out as a gift.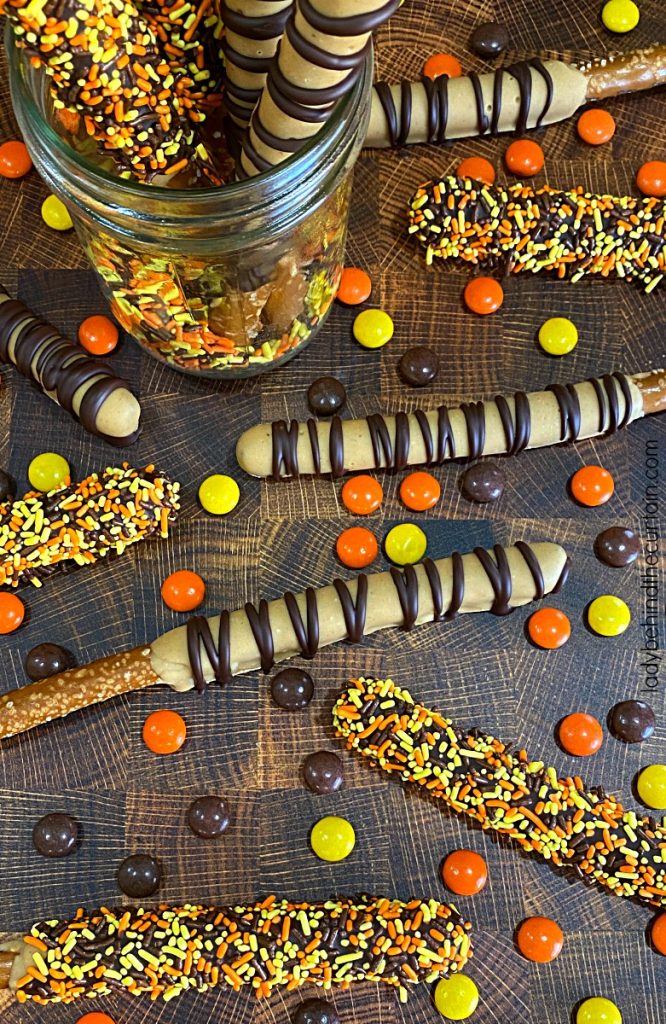 HOW TO DECORATE PRETZELS
For these pretzels I used two techniques. The Chocolate Drizzle and Chocolate Coating with sprinkles. Both are super easy and visually pleasing.
THE KEY TO THESE PRETZELS IS THE DOUBLE COAT OF PEANUT BUTTER

Melt peanut butter chips ( I used Reese's peanut butter chips)
Spoon melted peanut butter chips over pretzel rod
Tap on the side of the bowl to get all the extra off
Place on a cookie sheet lined with parchment paper (VERY IMPORTANT)
Place the cookie sheet with the coated pretzels in the refrigerator until hardened (about 10 minutes)
Add more peanut butter chips to the already melted chips and heat.
Add a second coating of the melted peanut butter chips.
Place in the refrigerator to harden (about 10 minutes)
While the coating hardens, melt the dark chocolate.
DECIDE AHEAD OF TIME WHICH TECHNIQUE YOU WILL BE USING—IF USING BOTH, THEN FIGURE OUT WHEN
The reason is…..the sprinkles HAVE to be applied while the chocolate is wet.
Coat pretzels over the peanut butter layer with the melted dark chocolate and add sprinkles
OR ….Pour melted chocolate into a squeeze bottle or zip top bag with the corner cut off and in a back and forth motion drizzle the chocolate over the peanut butter layer
YOU CAN FIND ALL THESE INSTRUCTIONS AND THE INGREDIENT LIST BELOW ON THE PRINTABLE RECIPE CARD.
FOR ADDED HELP WATCH THE BELOW VIDEO OR CLICK HERE→EVERYTHING YOU NEED TO KNOW ABOUT HOW TO DECORATE PRETZELS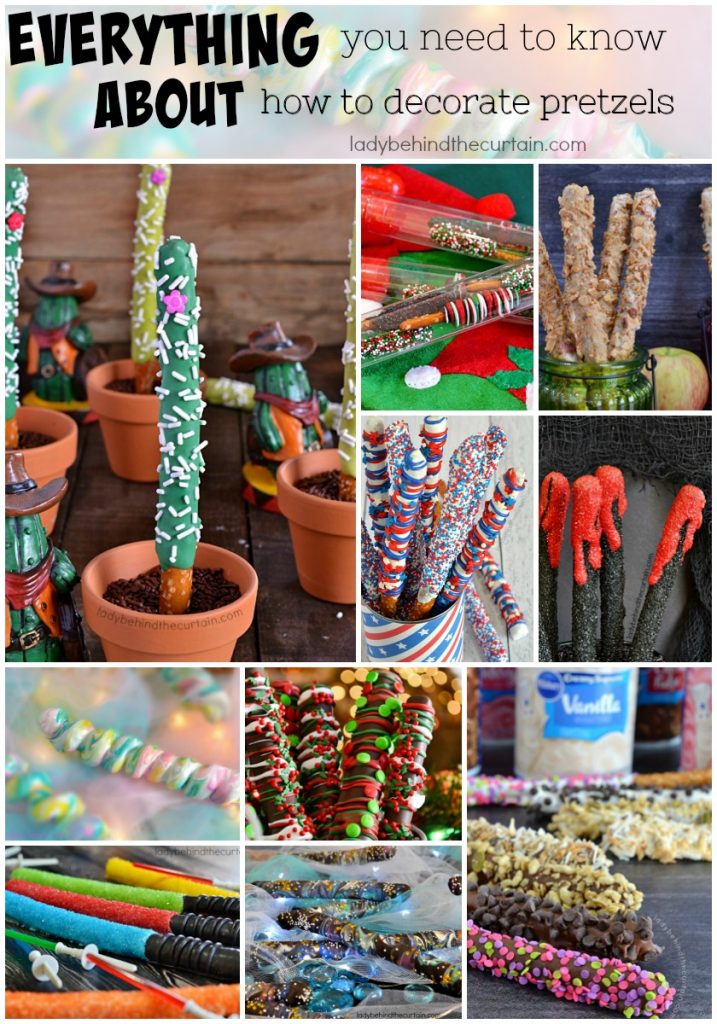 SECRET WEAPON TO BEAUTIFUL DECORATED PRETZELS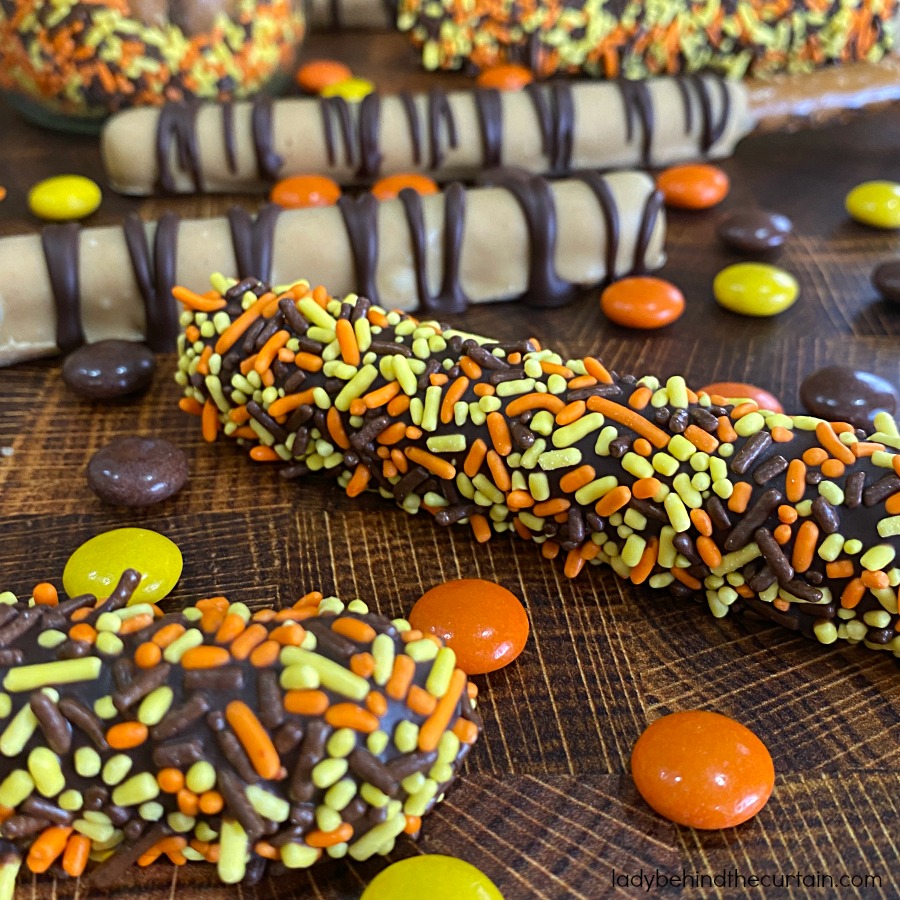 TWO OPTIONS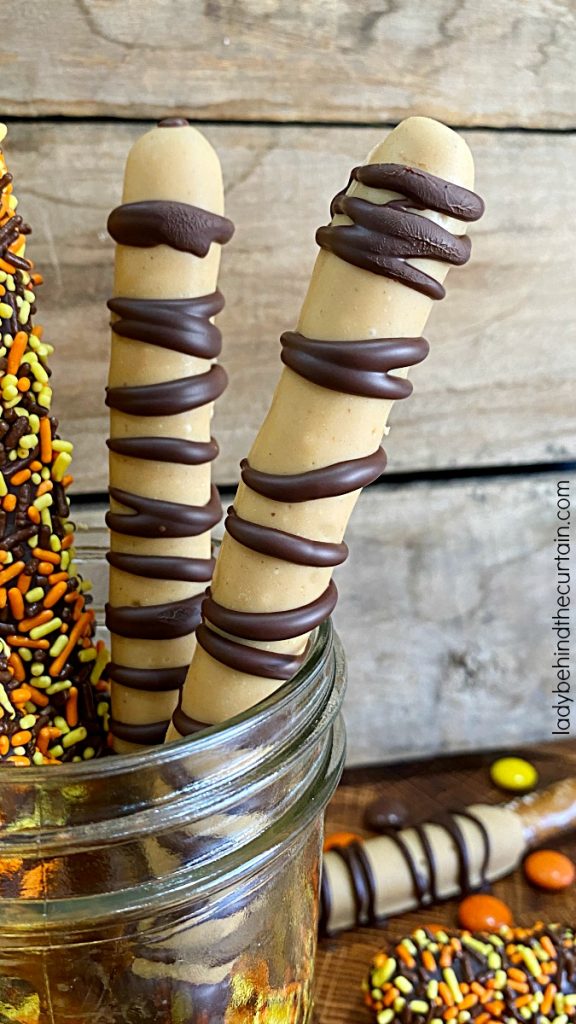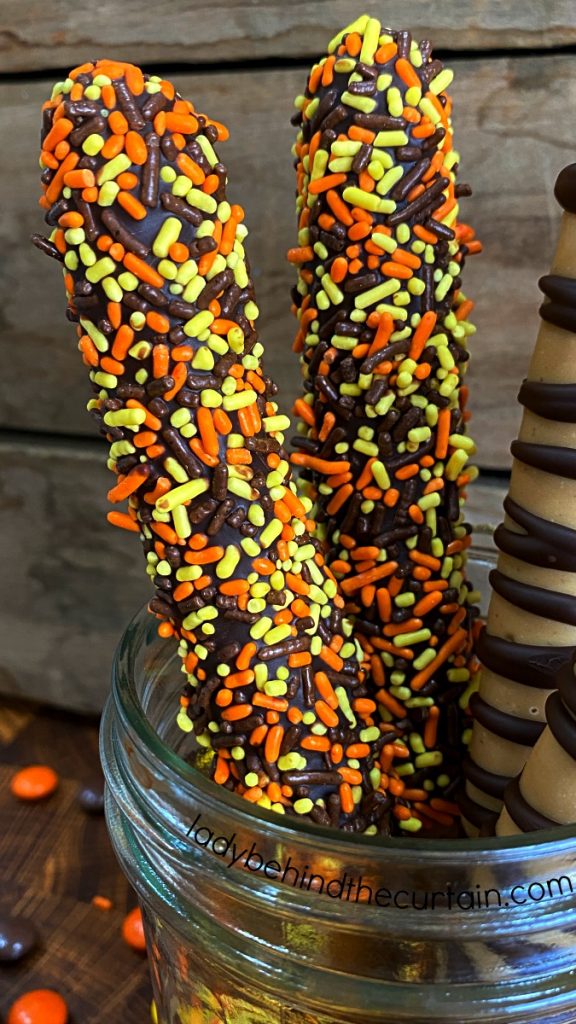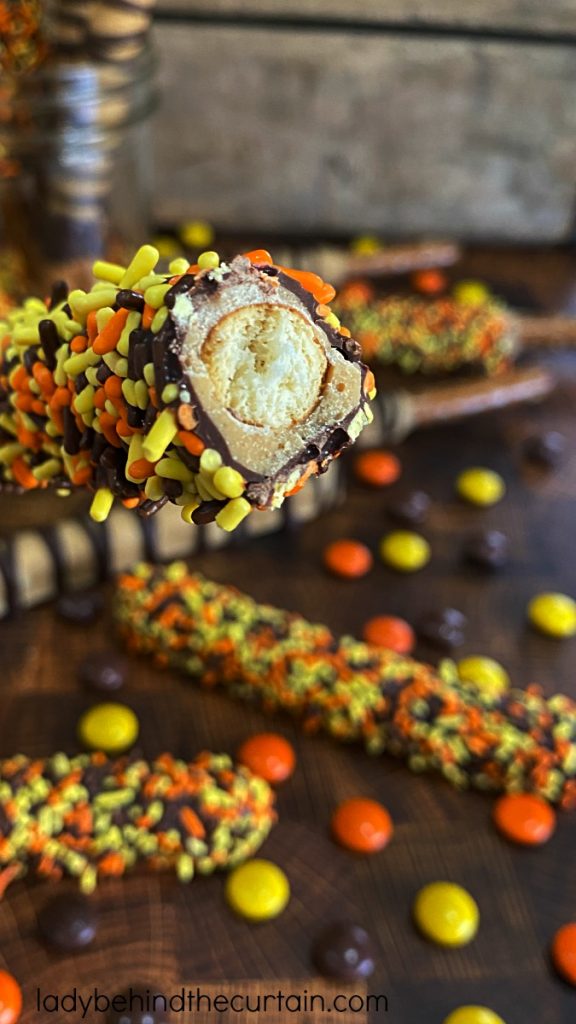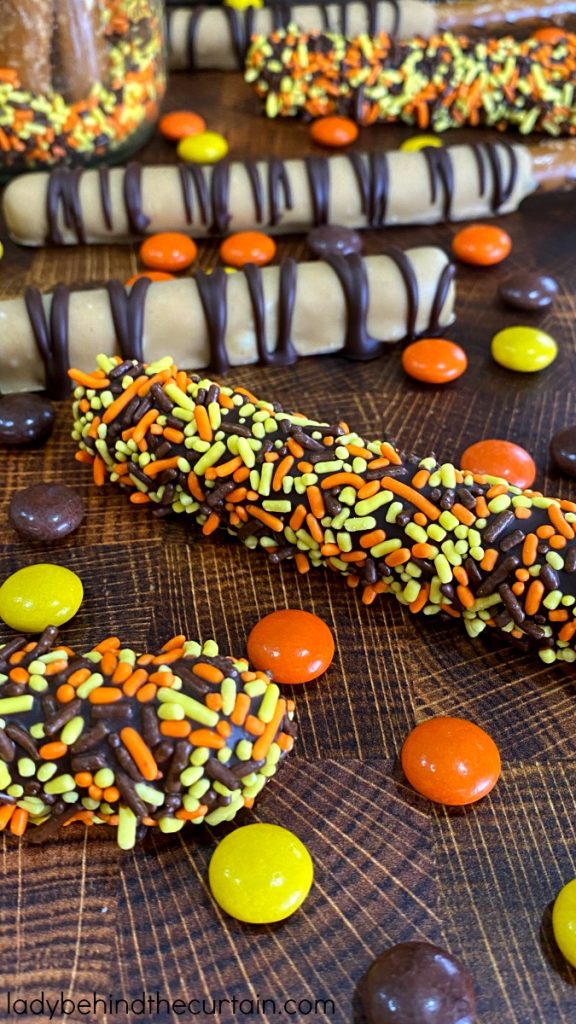 MORE DECORATED PRETZEL IDEAS
CLICK HERE FOR OVER 30 IDEAS→DECORATED PRETZELS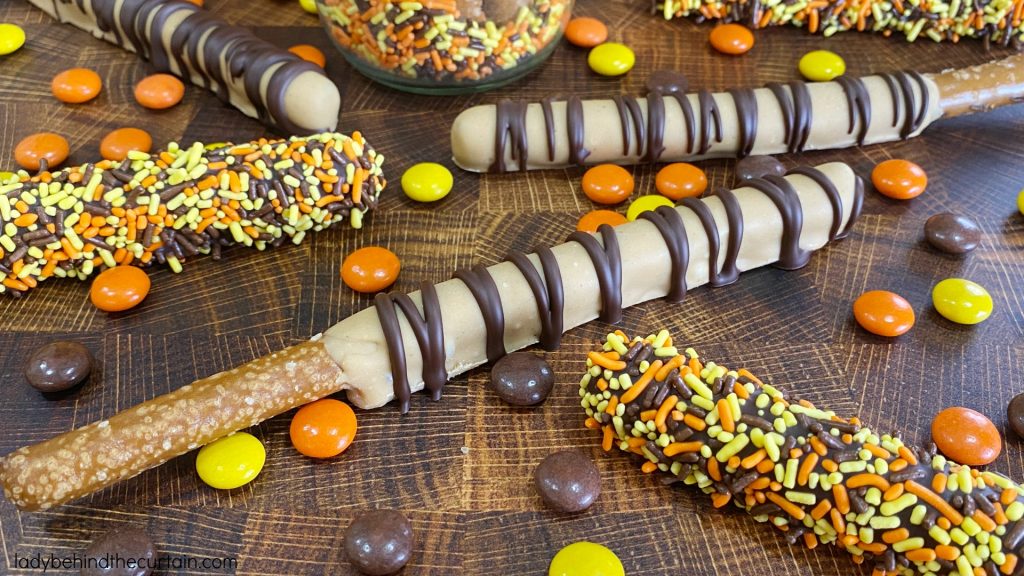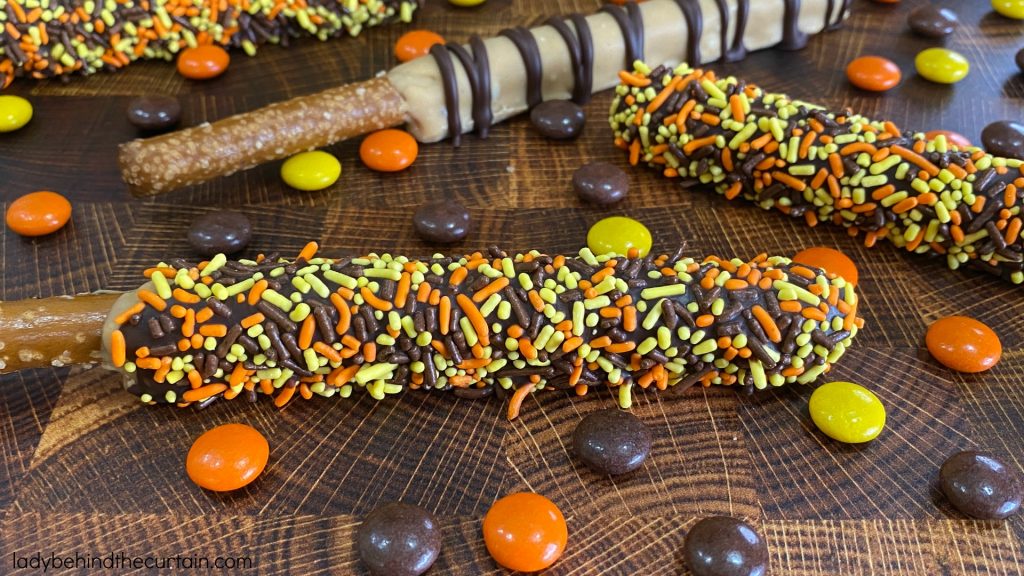 NEVER MISS A POST