Refreshing Strawberry Tea

The flavor of summer…
FRESH STRAWBERRIES!
Serve this refreshing strawberry tea at your next luncheon, picnic or barbecue.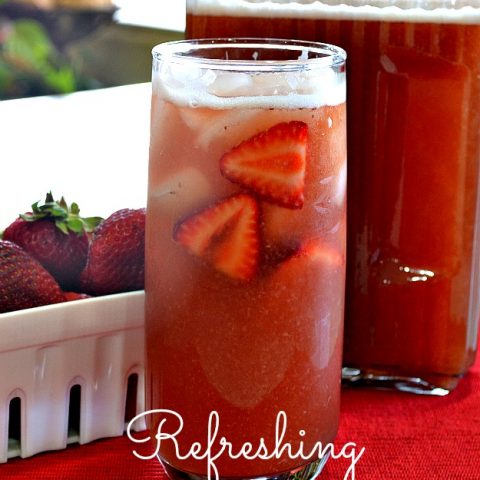 Refreshing Strawberry Tea
Cook Time:
1 hour
15 minutes
Total Time:
1 hour
25 minutes
Ingredients
For the Strawberries:
1 pound container of fresh strawberries, chopped
2 tablespoons sugar**
3 tablespoons water
For the Tea:
2 quarts water, divided
5 tea bags
2/3 cup sugar**
Instructions
For the Strawberries:
Place the strawberries, sugar and water into a blender and blend until liquefied.
Pour into a strainer placed over a bowl.
Using a wooden spoon rub the strawberry juice through leaving behind as much of the seeds as possible.
Set aside.
For the Tea:
In a medium saucepan bring 1 quart of water to a boil.
Take off heat.
Add tea bags and cover for 1 hour.
Add sugar to the pitcher and pour hot tea over to melt sugar.
Stir until sugar is melted and combined.
Add remaining 1 quart of water, strawberry juice and stir.
Notes
This is a LBC original!
**I used Splenda in place of the sugar.