Root Beer Float Cupcakes:  Reminiscent of days gone by when getting a root beer float on a Sunday evening was….well…..what you did.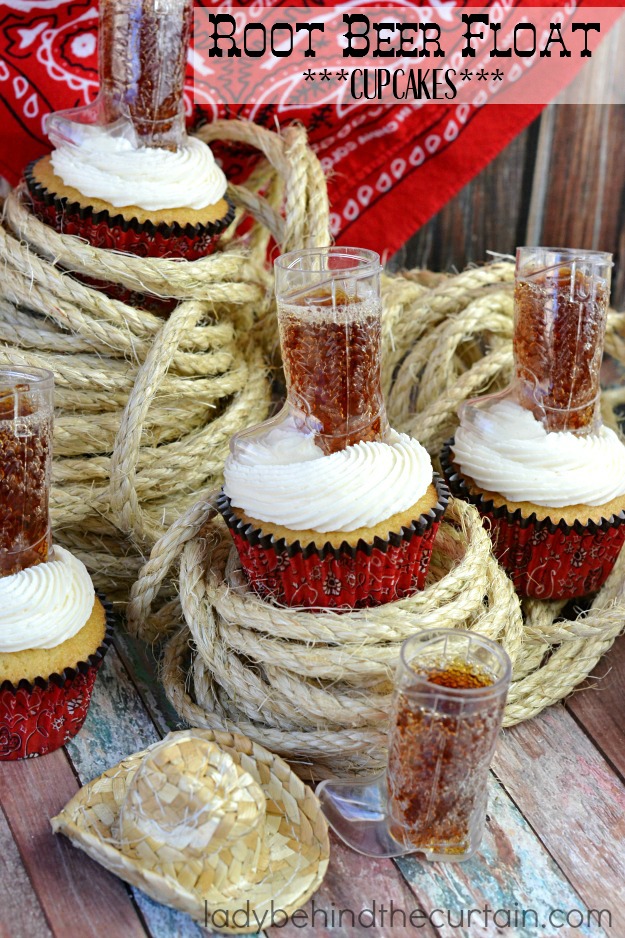 These Root Beer Float Cupcakes are true to their name.  There is no mistaking this for another flavor.  They are DELICIOUS!!!  I made these cupcakes for my Church's Rodeo Fest and had many people comment on how good they were.  This would be a fun cupcake to serve at a 50's party, a soda shop theme party (just add a cut straw),rodeo theme party or a backyard barbecue!  FUN!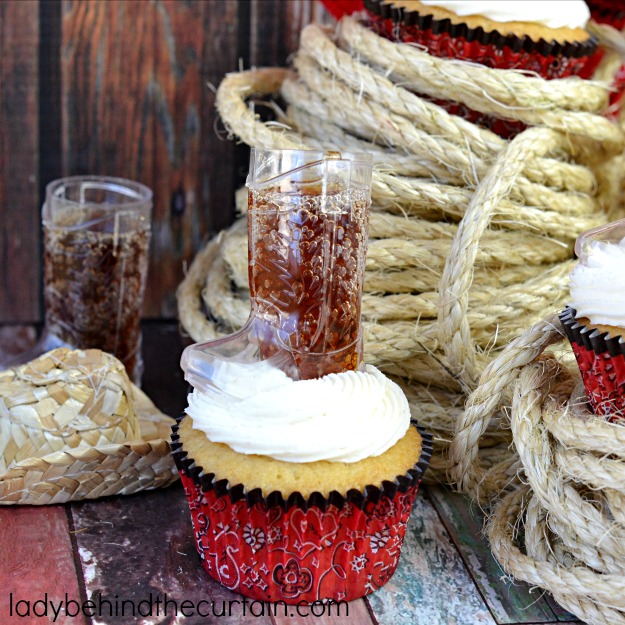 Add a "kick" of fun and serve your guests an ice cold shot of root beer on top of their cupcake.  I got the mini boot glasses from Oriental Trading and thought they added some fun to the cupcakes.  Another option is to add a barrel shaped root beer flavored hard candy.
Ingredients
For the Root Beer Cupcake:

3/4 cup butter, softened
3 eggs, room temperature
2-1/2 cups all-purpose flour
2-1/2 teaspoons baking powder
1/2 teaspoon salt
1-1/2 cups sugar
2 teaspoons root beer extract
1/2 teaspoon vanilla
1-1/4 cups root beer

For the Float Frosting:

1/4 cup butter, softened
3/4 cup vanilla ice cream, softened, divided
1/2 teaspoon vanilla extract
4 cups confectioners' sugar
Instructions
Stir together the flour, baking powder, and salt. Set Aside
Preheat oven to 350 degrees.
Beat butter on high speed for 30 seconds.
Gradually add sugar, about 1/4 cup at a time.
Beating on medium speed until combines.
Scrape sides of bowl; beat on medium speed about 2 minutes more or until light and fluffy.
Add eggs, one at a time, beating well after each addition.
Beat in root beer extract and vanilla.
Alternately add flour mixture and root beer to butter mixture, beating on low speed after each addition just until combined.
Spoon batter into lined muffin cups, filling each two-thirds full.
Bake for 17 to 20 minutes or until a wooden toothpick inserted in centers come out clean.
Cool cupcakes in muffin cups on wire racks for 10 minutes.
Remove cupcakes from muffin cups. Cool completely on wire racks.
Pipe or spread float frosting over cupcakes.

For the Float Frosting:

Cream the butter until fluffy, add 1/2 cup ice cream and vanilla. Combine and add the sugar 1 cup at a time.
If the frosting is too stiff add more of the vanilla ice cream until the frosting reaches spreading or piping consistency.
https://www.ladybehindthecurtain.com/root-beer-float-cupcakes/
MORE WESTERN THEME TREATS
1. BABY FOOD JAR S'MORES  2. CHERRY PIE POPS  3. ROOT BEER FLOAT FUDGE