Semi Homemade Carrot Cake Squares
Is time getting away from you?  Are you stressed out because company is coming and you don't know what to serve for dessert?  I feel your pain.  That's why I developed these quick Semi Homemade Carrot Cake Squares.  They're easy to make and make a large portion.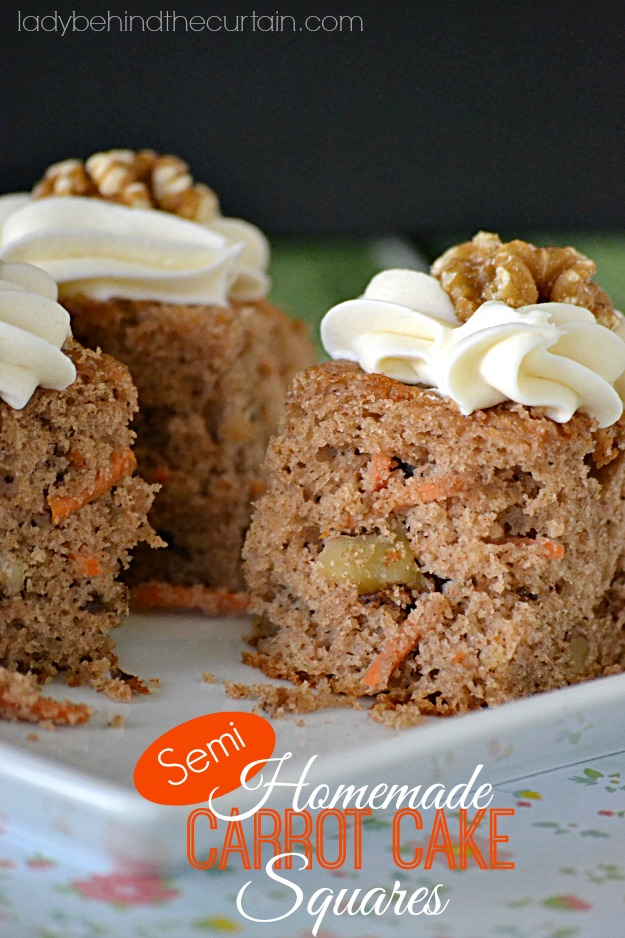 This is the perfect dessert for church events.  That's what I made it for.  I was in charge of feeding 45 to 50 people dessert after a meeting and these Semi Homemade Carrot Cake Squares were perfect.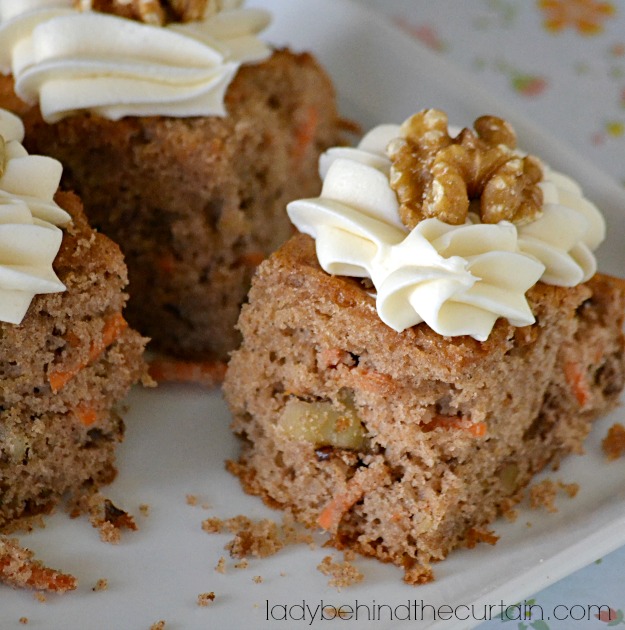 All you need is a spice cake mix, some carrots and walnuts to make this VERY moist cake.
It's all about the frosting!  Using a cake mix is acceptable is you make your own frosting.  It makes all the difference.  Smooth, creamy and delicious.
Create your own Recipe Box and save your favorite Lady Behind The Curtain recipes.  Make a Meal Plan with your favorite recipes and ZipList will automatically add the ingredients to a Shopping List.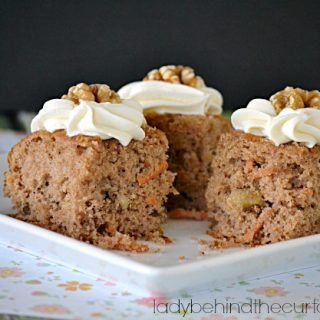 Semi Homemade Carrot Cake Squares
Easy and delicious. Perfect for last minute entertaining.
Ingredients
For the Semi Homemade Carrot Cake Squares:
2 spice cake mixes, plus ingredients listed on the boxes
2 cups julienne/shredded cut carrots
1 cup walnuts, chopped
For the Cream Cheese Frosting:
8 ounce cream cheese, softened
3/4 cup butter, softened
2 teaspoons vanilla extract
6 cups confectioners' sugar
2 tablespoons milk
garnish walnut pieces (optional)
Instructions
For the Semi Homemade Carrot Cake Squares:
Preheat oven to 350 degrees.
Spray a 16x21x1 -inch baking sheet with non stick cooking spray.
Combine all ingredients as listed on the cake mix box, add the carrots and walnuts.
Pour into prepared pan.
Bake 28 to 30 minutes or until a toothpick inserted into the center comes out clean.
Cool completely.
Cut into 35 squares.
Using a #1M piping tip pipe on frosting in a zig-zag pattern and top with a walnut piece.
For the Cream Cheese Frosting:
Cream together the cream cheese and butter until fluffy. (about 2-3 minutes)
Add the vanilla and mix until combined.
Add the sugar 1 cup at a time with milk as needed to reach either a pipping or spreading consistency.
MORE CAKE MIX RECIPES
1. CAKE BATTER BIRTHDAY PANCAKES  2. GOOEY CARAMEL CAKE  3. PINEAPPLE COCONUT BARS  4. MAI TAI CUPCAKES