Semi Homemade Coconut Lime Fiesta Cake
Semi Homemade Coconut Lime Fiesta Cake | This easy to make Fiesta Cake has swirls of lime and coconut in each layer, topped with a delicious creamy cream cheese frosting and toasted coconut. Dress up your Semi Homemade Coconut Lime Fiesta Cake with a handmade (by me) cake topper set! Scroll down for more details.
If you're planning a fiesta then….I've got you covered! With over one hundred recipes, party ideas and now you can purchase Fiesta Party Decorations (from me)! Click here for more recipes—->>>>FIESTA PARTY RECIPES….here for the party ideas—->>>>FIESTA PARTY IDEA and here for party supplies—->>>>FIESTA PARTY SUPPLIES.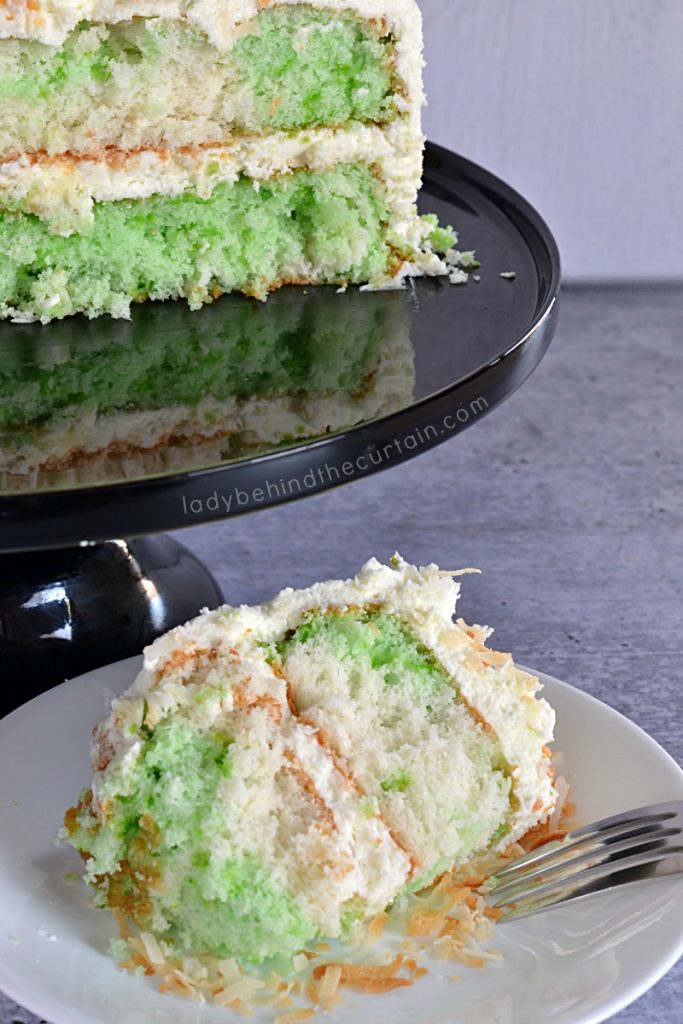 This delicious Semi Homemade Coconut Lime Fiesta Cake can also be transformed into cupcakes! Typically a cake recipe will make 20 to 24 cupcakes!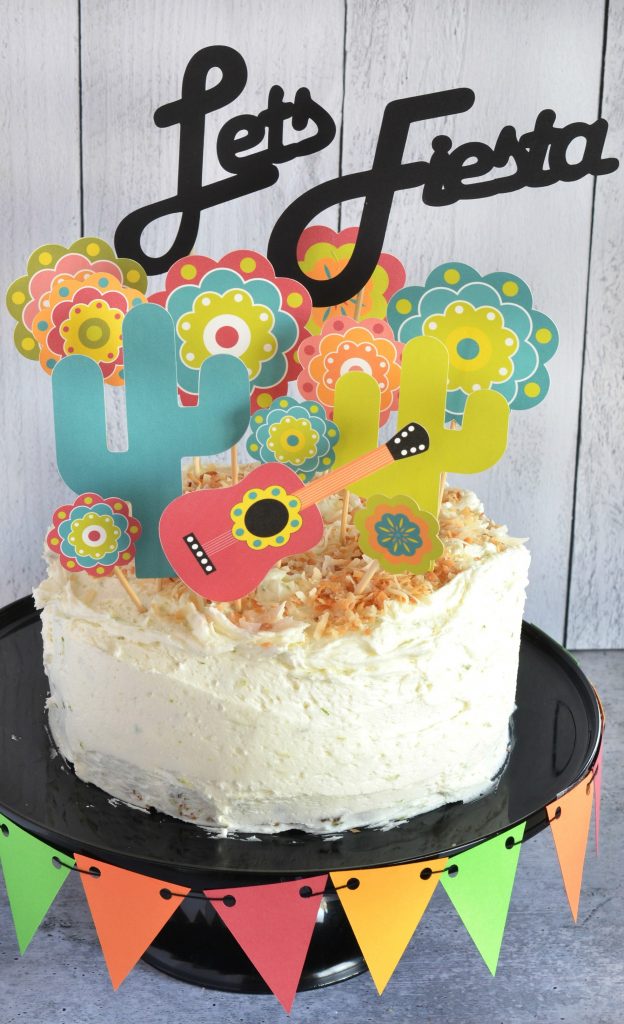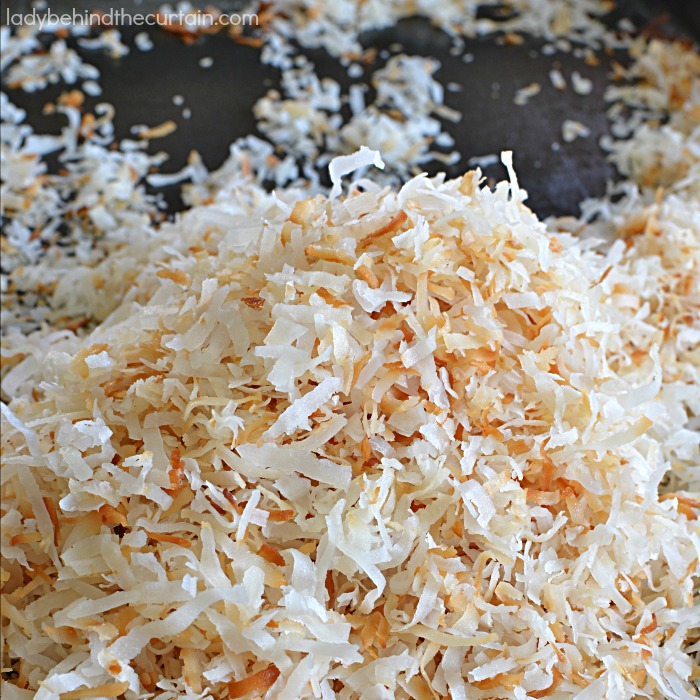 ---
TIPS FOR A TENDER MOIST CAKE
Good ingredients equals great taste. To send your guests straight to cupcake heaven use only the best ingredients. Like real butter, real vanilla and dark dutch cocoa.
Never over bake a cupcake. You can never save an over baked cupcake. You're doing it right when your cupcakes look slightly sunken, rather than peaked. Test them with a toothpick if you're unsure–if no batter clings to the pick, they're done.
Mix batter with a light hand. Baking fluffy, moist cupcakes is all about creating air bubbles in your batter that expand in the oven. If you over mix your batter, you collapse those bubbles. To avoid this mix on a low speed, stopping just as all ingredients blend.
Let all ingredients come to room temperature before baking. All ingredients incorporate into batter mush more easily if they're at similar temperatures.
Baking in advance? Freeze cupcakes. If you're baking to eat right away, we recommend storing cupcakes at room temperature. But if they're for tomorrow, freezing will retain their moisture much better than leaving them on a counter overnight.
---
SNEAK PEEK!
Take a look at some of the fun items in the store!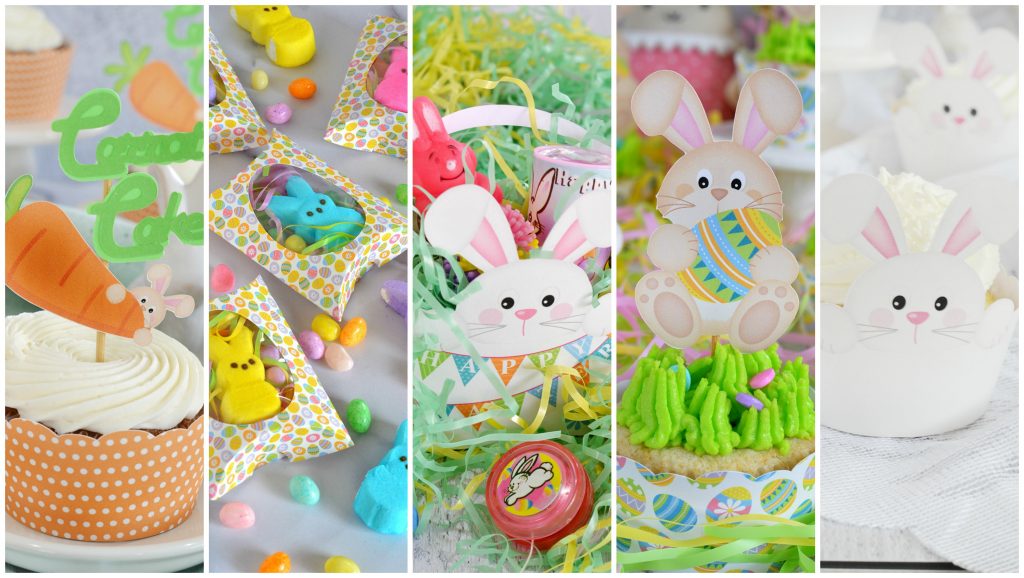 Yield: 2 (9-inch) layered cake
Semi Homemade Coconut Lime Fiesta Cake
Ingredients
For the Coconut Lime Fiesta Cake
2 (15.25 ounce) boxes white cake mix, plus ingredients to make them
1 (3 ounce) box lime jello
1 cup sweetened shredded coconut
1 teaspoon coconut extract
2 tablespoons green sprinkles (jimmies)
For the Lime Butter Frosting
For the Garnish:
1 cup toasted coconut
zest from one lime
Instructions
For the Coconut Lime Fiesta Cake
Preheat oven to 350 °
Spray two 9-inch round cake pans with non stick cooking spray. Out of parchment paper, cut a circle to fit in the bottom of each pan. Once in the pan add more non stick cooking spray to the paper.
In a large mixing bowl, add the cake mixes and ingredients. Mix until combined. Split batter into TWO bowls (about 2 cups each). To one bowl add 1 cup coconut and 1 teaspoon of coconut extract. Stir to combine. To the other bowl, add 4 tablespoons lime jello and green sprinkles. Stir to combine. In prepared pans alternate between the lime cake batter and coconut cake batter adding spoonfuls at a time. Make sure to divided the batters as equally as possible for each pan. Use a skewer to swirl or leave in patches.
Bake 27 minutes or until toothpick inserted into the center comes out clean. Place baked pans on cooling rack 15 minutes, turn upside down to release from pan. Peel off parchment and cool completely.
FOR BEST RESULTS: Wrap cooled cake in plastic wrap and freeze. Unwrap cake and frost while the cake is still frozen. This makes the cake super easy to handle and the cake won't break apart when trying to frost.
For the Lime Butter Frosting
Click here for the recipe---->>>>LIME BUTTER FROSTING
For the Garnish
Add toasted coconut and zest lime to frosted cake.
How to Toast Coconut
Preheat oven to 350°. Pour coconut onto a rimmed baking pan. Bake, stirring every couple of minutes until some (not all) of the coconut is golden brown (about 10 minutes).
MORE FUN CUPCAKE RECIPES
PINEAPPLE CARROT CUPCAKES 2. DARK CHOCOLATE STRAWBERRY CUPCAKES 3. CARAMEL APPLE PARTY CUPCAKES
NEVER MISS A POST!
Sign up for my newsletter and receive my recipes in your inbox. Easy to see anytime and saved for safe keeping. Click Here and sign up today! —->>>>
CURTAIN CALL NEWSLETTER
More cake recipes you might like. GERMAN CHOCOLATE CAKE and VANILLA CAKE.