Semi Homemade Creamy Chicken Soup
Semi Homemade Creamy Chicken Soup |  Yes, you can have a creamy soup and not break the calorie bank.  I have a trick to make it creamy without actually adding cream!  Sometimes shortcuts are a must.  This soup has several shortcuts so that you can have this delicious soup on the table in less then an hour.  That's start to finish!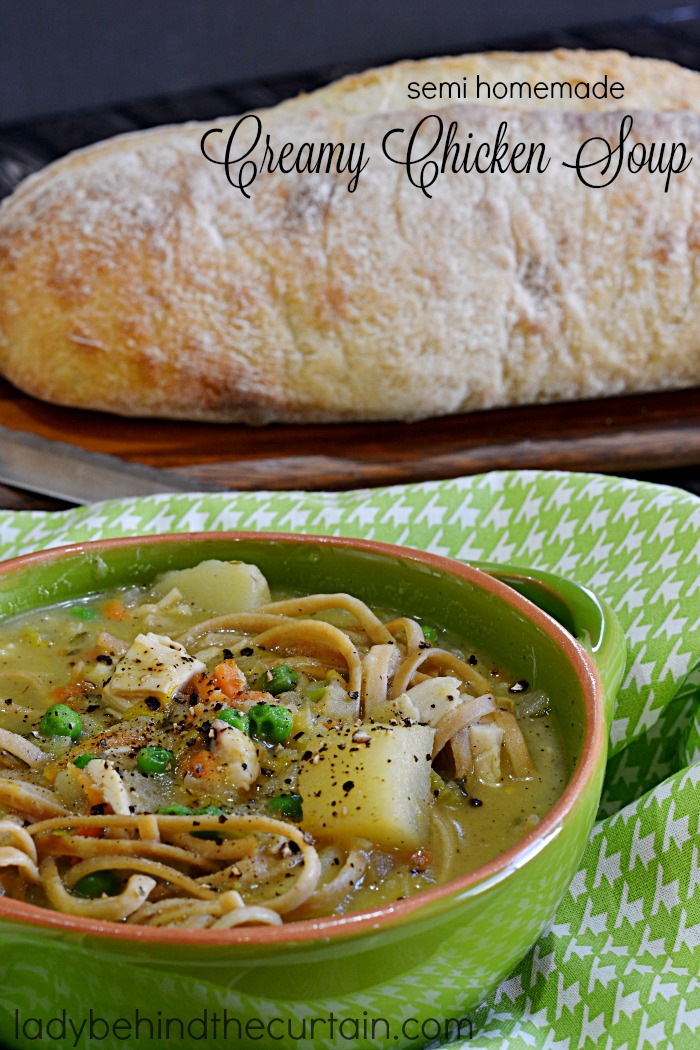 Now to answer a few questions……what do I use to thicken the soup?  I mash half of the potatoes!  More shortcuts…..store bought roasted chicken and chicken stock.  I have a "go to" chicken stock for those times when I don't have time to make my own and it is the best!  It's Kitchen Basics by McCormick.  If your store carries it I highly recommend not just the chicken but the beef too.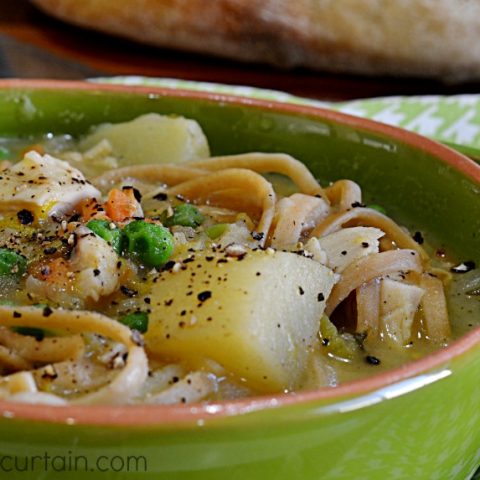 Semi Homemade Creamy Chicken Soup
Ingredients
1 1/2 cups whole wheat noodles
2 teaspoons olive oil
1/2 cup onion, chopped
3/4 cup shredded carrots (store bought already shredded)
1/2 cup celery with leave, sliced
1/4 teaspoon salt
2 tablespoons all-purpose flour
1 tablespoon fresh thyme, chopped
1/2 teaspoon poultry seasoning
5 cups chicken stock or broth
2 3/4 cups cubed, peeled russet potatoes (15 ounces or 3 medium)
1/2 cup water
1 teaspoon salt
1 1/2 cups chopped, skinned purchased roasted chicken ( I used only white meat)
1/2 cup frozen peas
1/2 cup 2% milk
1 teaspoon salt
freshly ground black pepper
Instructions
Cook noodles according to the package directions, drain and keep warm.
In a Dutch oven or 5 quart pot heat oil; add onion, carrot and celery; cook for 5 minutes or until vegetables are tender.
Sprinkle with flour, thyme and poultry seasoning; cook and stir for 1 minute more.
Stir in broth, potatoes, water and 1 teaspoon salt.
Bring to boiling; reduce heat and simmer covered 20 to 25 minutes or until potatoes is tender.
Using a potato masher, coarsely mash half of the potatoes.
Stir in chicken, peas, milk and remaining teaspoon of salt.
Stir in noodles and sprinkle each serving with pepper.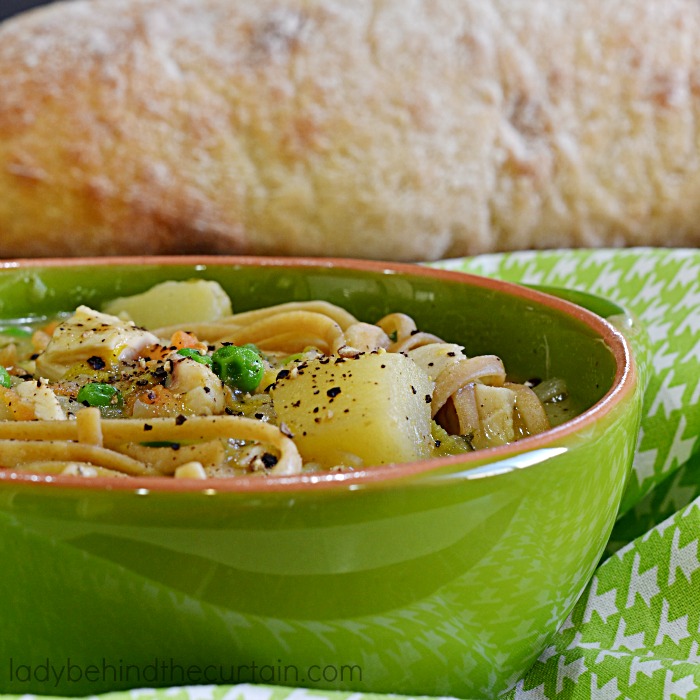 MORE SOUP RECIPES

MEXICAN CHICKEN SOUP WITH CILANTRO DUMPLINGS  2. CHICKEN AND POTATO FLORENTINE SOUP  3. SHORT RIB SOUP