Semi Homemade Dark Chocolate Orange Cupcakes
A moist cupcake with layers of dark chocolate and orange cake batter topped with an orange buttercream frosting make this semi homemade dessert the perfect Halloween Party Cupcake! Yes….you read that right this delicious cupcake is semi homemade but trust me your guests will NEVER no! Also, the Orange Buttercream is ahh-mazing! These Semi Homemade Dark Chocolate Orange Cupcakes are so light and fluffy you'll think you're biting into a cloud of orange and dark chocolate heaven.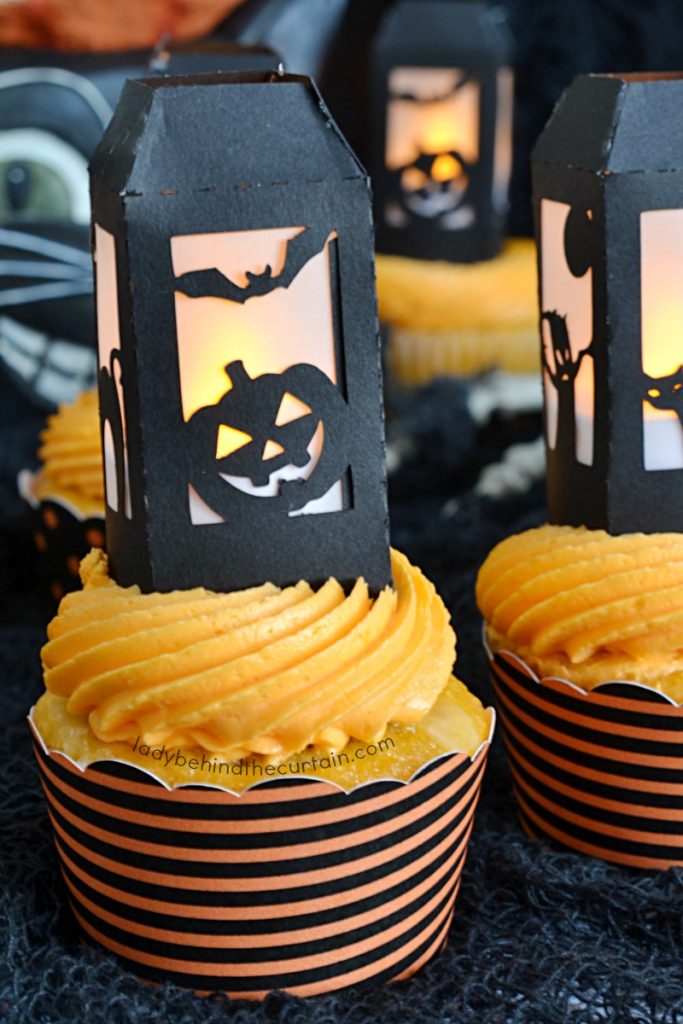 WHAT MAKES THE PERFECT PARTY CUPCAKE
The first thing a party cupcake needs to be is moist. Once you have that you're already ahead of the cupcake making game.
A flavorful cupcake. That might sound like a no brainer but trust me I have had my share of flavorless cupcakes.
Easy to make. Sometimes you have the time to make a party cupcake from scratch and sometimes you don't!
Topped with the BEST frosting! There is no substitute for homemade (in my opinion).
IF YOU'RE WONDERING…..YES! THESE SEMI HOMEMADE DARK CHOCOLATE ORANGE CUPCAKES DO FULFILL ALL THE ABOVE POINTS!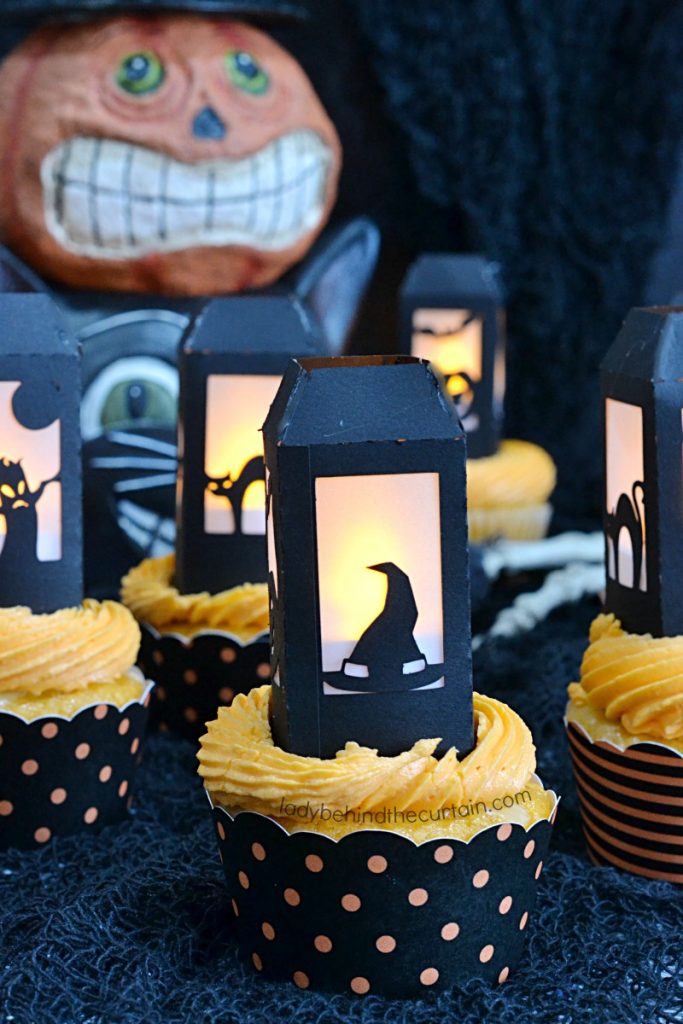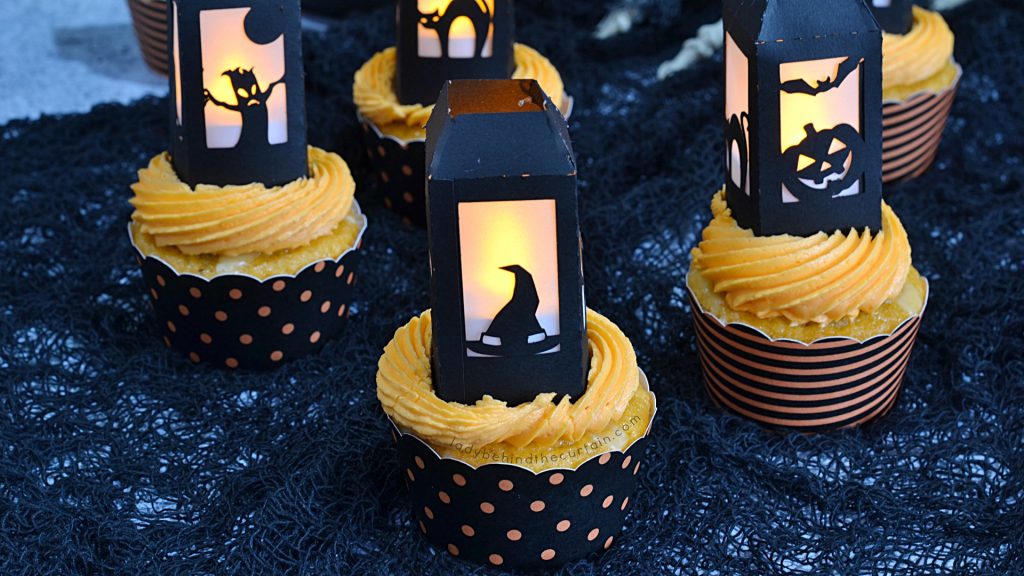 SHOP THE ENTIRE HALLOWEEN PARTY COLLECTION BELOW↓↓↓ (click on the title of the product to be taken to LADY BEHIND THE PARTY)
You are invited to the Inlinkz link party!
HOW TO HAVE MOIST CUPCAKES AFTER A MONTH!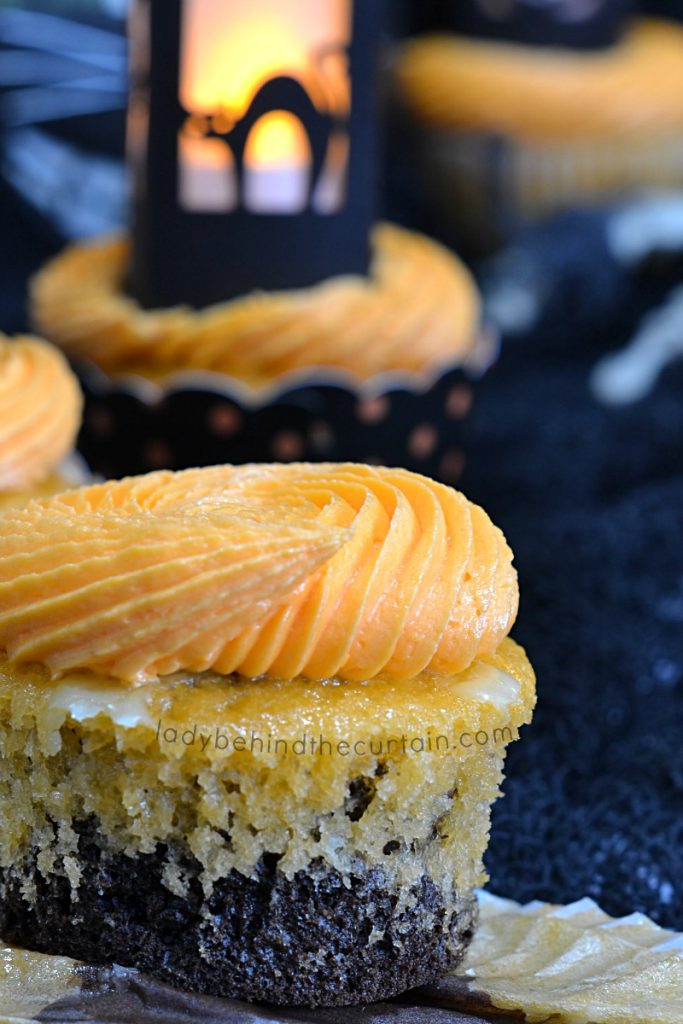 Semi Homemade Dark Chocolate Orange Cupcakes
Yield:
Makes 2 dozen regular size cupcakes
The perfect easy to make cupcake for any occasion.
Ingredients
For the Dark Chocolate Cupcake Batter:
2/3 cup hot water
2/3 cup dark cocoa powder
1 (12.75 ounce) box Ghirardelli Dark Chocolate cake mix
½ cup vegetable oil
2 large eggs
½ cup sour cream
For the Orange Cupcake Batter:
1 (15.25 ounce) white cake mix
1 (3 ounce) box orange jello
¾ cup vegetable oil
3 large eggs
1 cup orange soda
For the Orange Glaze:
1 cup powdered sugar
2 tablespoons fresh orange juice (about 1 medium orange)
For the Orange Buttercream Frosting:
Instructions
For the Dark Chocolate Cupcake Batter:
Whisk together the hot water and cocoa until smooth. In a large mixing bowl, add the cake mix, oil, eggs, sour cream and cocoa mixture. Mix together until creamy. Set aside.
For the Orange Cupcake Batter:
In a mixing bowl, combine the cake mix, jello, oil and eggs. Beat until smooth (about 1 minute). Slowly add the soda. Mix just until blended.
Putting it all Together:
Preheat oven to 350°. Line cupcake pans with 24 liners.
Add 2 teaspoons of the chocolate batter to each cupcake well. TIP: moisten finger tips with water- spread the batter to the edge. Add 1 tablespoon of the orange batter and top the cupcake off with an additional 1 tablespoon of chocolate batter in the center. NOTE: You will have enough of the orange batter leftover for 1 dozen more cupcakes.
Bake 15-17 minutes or until a toothpick inserted into the center comes out clean.
While the cupcakes are baking make the glaze.
For the Orange Glaze:
Whisk together the powdered sugar and orange juice until glaze is smooth and all lumps are gone. Add a teaspoon over hot cupcakes. TIP: Place a sheet of wax paper under the cooling racks to catch any over drip of the glaze. This makes clean up a snap. COOL COMPLETELY BEFORE ADDING FROSTING.
For the Orange Buttercream Frosting:
Click here for this delicious frosting recipe---->>>>ORANGE BUTTERCREAM FROSTING.
MORE HALLOWEEN PARTY CUPCAKE RECIPES
NEVER MISS A POST
Creepy Halloween Party Food recipes you might like. BURRITO SKULLS and SEVERED FINGERS IN A BUN.