Welcome to the Lady Behind The Curtain Semi Homemade Page!
What is Semi Homemade? For me it means the biggest portion of the recipe is made with a store bought product. Like a cake mix, frozen shrimp, frozen french fries, and pastry dough (just to name a few). The key to using these products is to make your life easier in the kitchen. So, that no matter what the day has brought, you can feel good about having the time to prepare a good meal for your family.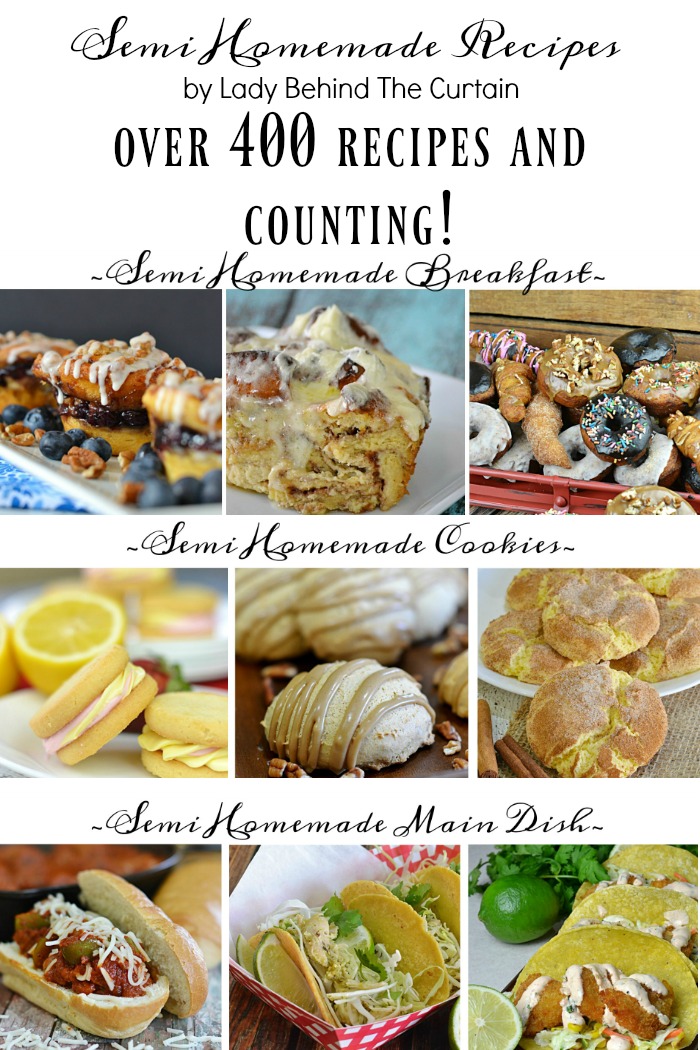 Also, I am a firm believer in entertaining. I really feel the passion for entertaining has been lost. So my goal for this page is to show you that you don't have to spend the day in the kitchen to be able to create something beautiful and delicious! Take my dinner rolls for instance( I have several in the dinner roll category). The Semi Homemade Dazzling Twist Dinner Rolls are super easy to make, look amazing and started with store bought frozen dough. But will your family or guests know that you didn't spend hours kneading and waiting for the dough to rise? No, they won't!

But wait…. I'm getting ahead of myself. Let's start with Semi Homemade Breakfast and how I use Store Bought Biscuits, Cinnamon Rolls and Crescent Rolls to create some of the most delicious Semi Homemade Donuts I've ever had! If you know my website at all you know that I am in love with bread pudding. I took cinnamon rolls from the bakery and transformed them into the BEST Semi Homemade Cinnamon Roll Bread Pudding. Speaking of cinnamon rolls wait til you see what I did with frozen cinnamon rolls. Would you believe Semi Homemade Cinnamon Blueberry Crumble Muffins?
♥SCROLL DOWN TO VIEW ALL THE CATEGORIES WITH LINKS♥

Now onto the Semi Homemade Appetizers. This category has a span of delicious appetizers. The Semi Homemade Mini Egg Salad Sliders may start with store bought frozen dough but they are elegant enough to serve at a baby or bridal shower. The most popular appetizer I have is Semi Homemade Strawberry Shortcake Appetizer Kabobs. These Kabobs are so fresh and festive. They always brighten up a table. For those of you that need to feed hungry game watchers there are many Semi Homemade Recipes for you to serve. Like Semi Homemade Easy Bacon Wrapped Jalapeno Poppers. This recipe actually starts with frozen mozzarella sticks! Oh…. and you have got to try the Semi Homemade Jalapeno Popper Pops. I love these pops so much. They were perfect at my Western Party!
♥SCROLL DOWN TO VIEW ALL THE CATEGORIES WITH LINKS♥

Let's talk about the Semi Homemade Main Dish category. Please oh please try the Semi Homemade Easy Saucy Meatball Sandwich! This sandwich is perfect for lunch or at a game day party. Did you know that if you use frozen shrimp or roasted chicken from the deli that you could create some wonderful tacos? Yep, that's true with the Semi Homemade Tomatillo Chicken Tacos and Semi Homemade Shrimp Tacos with Roasted Corn Slaw! I am so happy I discovered these two tricks.
Okay let's dive into desserts. I have separated them into four categories (not counting the miscellaneous), Semi Homemade Cakes, Semi Homemade Cookies, Semi Homemade Cupcakes and Semi Homemade Party Ready Food.
♥SCROLL DOWN TO VIEW ALL THE CATEGORIES WITH LINKS♥
First, the Semi Homemade Cakes. A lot of bakers are against using a cake mix. I am NOT one of those bakers! There are so many ways to dress up a cake mix and in this category you will find over 25 recipes! Let's break that down a little with what I specifically used to enhance the flavor of a cake mix. Jello….one of my favorite ways to add flavor to a cake mix like The Semi Homemade Mini Coconut Lime Bundt Cakes. These cake are super moist and pack a lot of flavor. They are so good…. trust me no one will care that you didn't make the cake from scratch. Another great example is dump cake. Are you kidding? The title is literally what you do to make this cake. You dump everything in a pan and bake. What you get is a gooey moist delicious cake. I have several dump cakes like the Semi Homemade Strawberry Pineapple Angel Dump Cake. Have you ever heard of a gooey cake? It…is….kind of ridiculous. I mean that in a good way. Wow…just Wow! Okay…so we all are crazy about lemon. So let's take that and then add lots of creamy butter and you have got something your family and friends will devour. What am I talking about? Semi Homemade Lemon Gooey Butter Cake!
♥SCROLL DOWN TO VIEW ALL THE CATEGORIES WITH LINKS♥
While cakes are easy to make my passion is Semi Homemade Cupcakes! I love making them look festive. In fact my granddaughters have given me the nickname of The Cupcake Grandma! Just because the cupcakes start with a cake mix doesn't mean they aren't just as good as cupcakes made from scratch. You can still fill them with yummy cream filling like my Semi Homemade Twinkie Cupcakes. Or mix up the flavors and add a flavored cake mix with a different flavored pudding mix like my Semi Homemade Strawberry Lemonade Cupcakes. Now if you really want to dazzle your family and friends add two different flavors of jello. This will create brightly colored layers along with lots of flavor like my Semi Homemade Sunset Cupcakes.
♥SCROLL DOWN TO VIEW ALL THE CATEGORIES WITH LINKS♥

Semi Homemade Cookies…I know you think they're already easy. So this is more about adding flavor and creating a delicious soft cookie. But….before we get to those types of cookies there's another one and that is taking a store bought cookie and creating something new. For instance my Semi Homemade Strawberry Lemonade Cheesecake Sandwich Cookies. I know! They are not only pretty to look at but yummy too! By simply taking two shortbread cookies and piping a no bake cheesecake filling between the cookies…you will transform store bought cookies into a sandwich cookie fit for a bridal or baby shower. I served these at a ladies luncheon. They were oohing and aahing over them….never knowing that they started out as store bought short bread cookies! Now onto another one of my favorite ways to make semi homemade cookies. Cake Mixes! Do you love soft chewy cookies? All you have to do is add a cake mix and a few other ingredients and voila! A soft delicious cookie! From Semi Homemade Chewy Banana Pecan Cookies and the perfect Semi Homemade Snickerdoodle Cake Mix Cookie. I have over 20 cookies recipes using a cake mix to choose from!
♥SCROLL DOWN TO VIEW ALL THE CATEGORIES WITH LINKS♥
Now to the fun! Semi Homemade Party Ready Food! That's right! Here you will find over 80 recipes using store bought ingredients along with some fresh ingredients too! I will show you how easy it is to make something quick and easy to serve at your next party! Like Semi Homemade Mini Cherry Pies. These little pies are baked in tiny ketchup cups and made with store bought dough and store bought pie filling. The key is to make party food fun and that's exactly what these little pie are…. FUN! You are never going to believe what I used in this pie to make it Semi Homemade. You probably guessed store bought pie dough and you would be right but that's not all! I used bakery chocolate cupcakes to create this delicious Semi Homemade Peanut Butter Chocolate Cupcake Pie! I know! It might sound crazy but when the frosting from the cupcakes is baked it is transformed into pockets of crunchy meringue bits. Another party ready food I do is my Semi Homemade Tin Can Pineapple Upside Down Cake! I bake the cake right in the pineapple can! It's so much fun!
LOOK FOR MORE CATEGORIES BELOW! ENJOY!
LINKS!

So as you can see I have a passion for creating Semi Homemade Recipes. Because I never want time to get in the way of you being able to create something tasty for your family or guests!