Shrimp Tacos with Roasted Corn Slaw
When I have friends over I love putting together a taco bar.  These Shrimp Tacos with Roasted Corn Slaw fit in perfectly.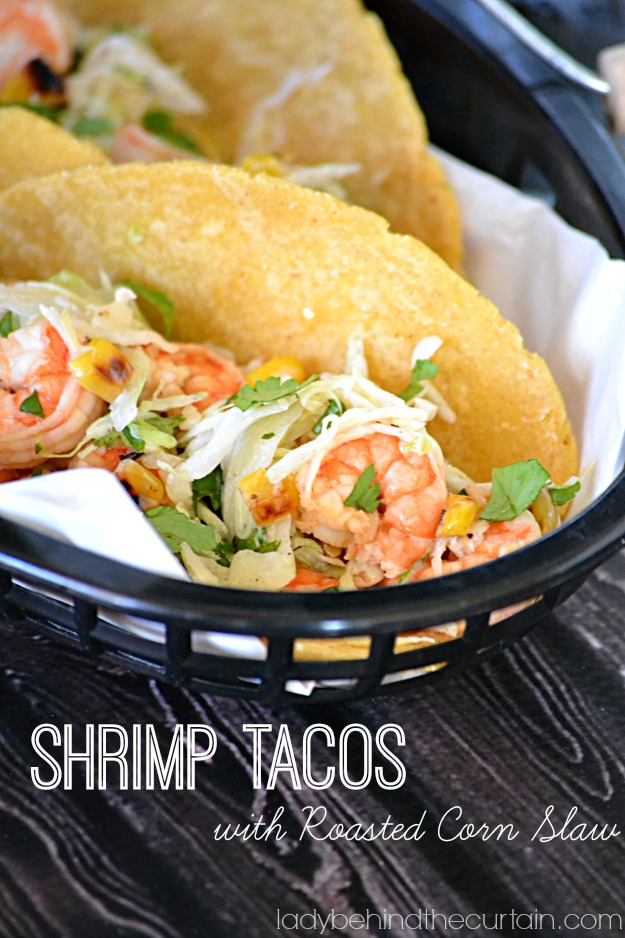 The shrimp is marinated in a mixture of vinegar, brown sugar, and chipotle for a spicy sweet and sour flavor.  On top is a tangy coleslaw with smokey corn.
I also love my Beer Batter Fish Tacos and what Mexican inspired meal would be complete without a great salsa recipe like my The Best and Easiest Salsa.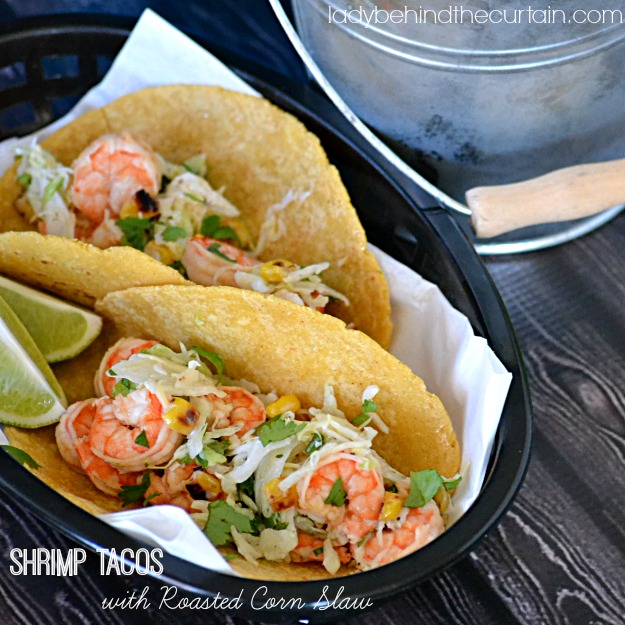 Create your own Recipe Box and save your favorite Lady Behind The Curtain recipes.  Make a Meal Plan with your favorite recipes and ZipList will automatically add the ingredients to a Shopping List.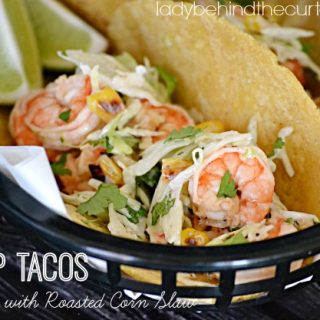 Shrimp Tacos with Roasted Corn Slaw
For something different add this shrimp to a taco bar!
Ingredients
For the Shrimp and Sauce:
1 pound fresh or frozen medium shrimp, thawed and cleaned
2 tablespoons vegetable oil
2 tablespoons rice vinegar
6 cloves garlic, minced
1 tablespoon light brown sugar, packed
1 teaspoon chipotle chile pepper with sauce, seeded and chopped
1/2 teaspoon salt
2 tablespoons hot water
12 (6-inch) corn tortillas
For the Roasted Corn Slaw:
1 cup frozen whole kernel corn
2 tablespoons mayonnaise
1 tablespoon lime juice
1/4 teaspoon salt
2 tablespoons fresh cilantro, chopped
2 cups finely shredded cabbage
Instructions
For the Shrimp and Sauce:
In a bowl combine oil, vinegar, garlic, brown sugar, chipolte pepper with sauce, salt and water.
Whisk until smooth.
Add shrimp, toss to coat, cover and refrigerate for 30 minutes.
In a medium skillet set on medium high heat add shrimp and sauce; cook and stir 3 to 4 minutes or until shrimp is pink.
For the Roasted Corn Slaw:
Coat a large skillet with cooking spray; heat over medium high heat.
Add frozen corn, spread to a single layer.
Cook, without stirring for 3 minutes; stir.
Continue to cook, without stirring for 2 to 3 minutes or until golden brown.
Transfer to a bowl; cool completely.
When the corn is cool, stir together the mayonnaise, lime juice, salt, cilantro and cabbage.
To Assemble:
Add cooked shrimp with a slotted spoon to warm tortillas, top tacos with roasted corn slaw.
Drizzle with reserved cooking juices.