Slow Cooker Pistachio Nut and Sour Cherry Chocolates
Slow Cooker Pistachio Nut and Sour Cherry Chocolates: Skip the candy store this year and make your Valentine Homemade Chocolates! This incredibly easy to make candy is perfect for gift giving. It can't get any easier than throwing some chocolate and nuts into a slow cooker to make candy. Made with pistachio nuts, three kinds of chocolate and dried cherries, all melted and blended together making this the perfect crockpot candy.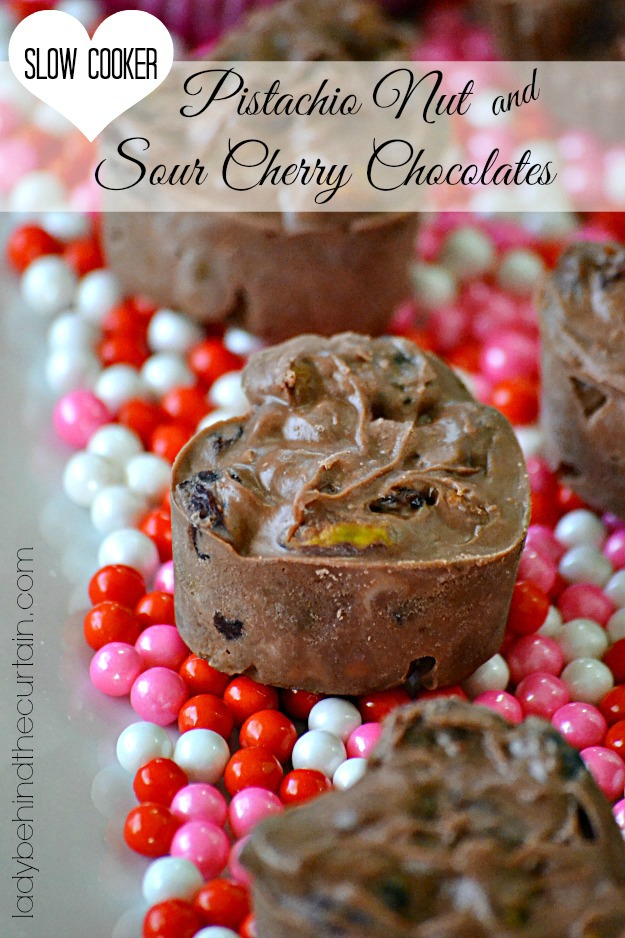 Alternative Add-Ins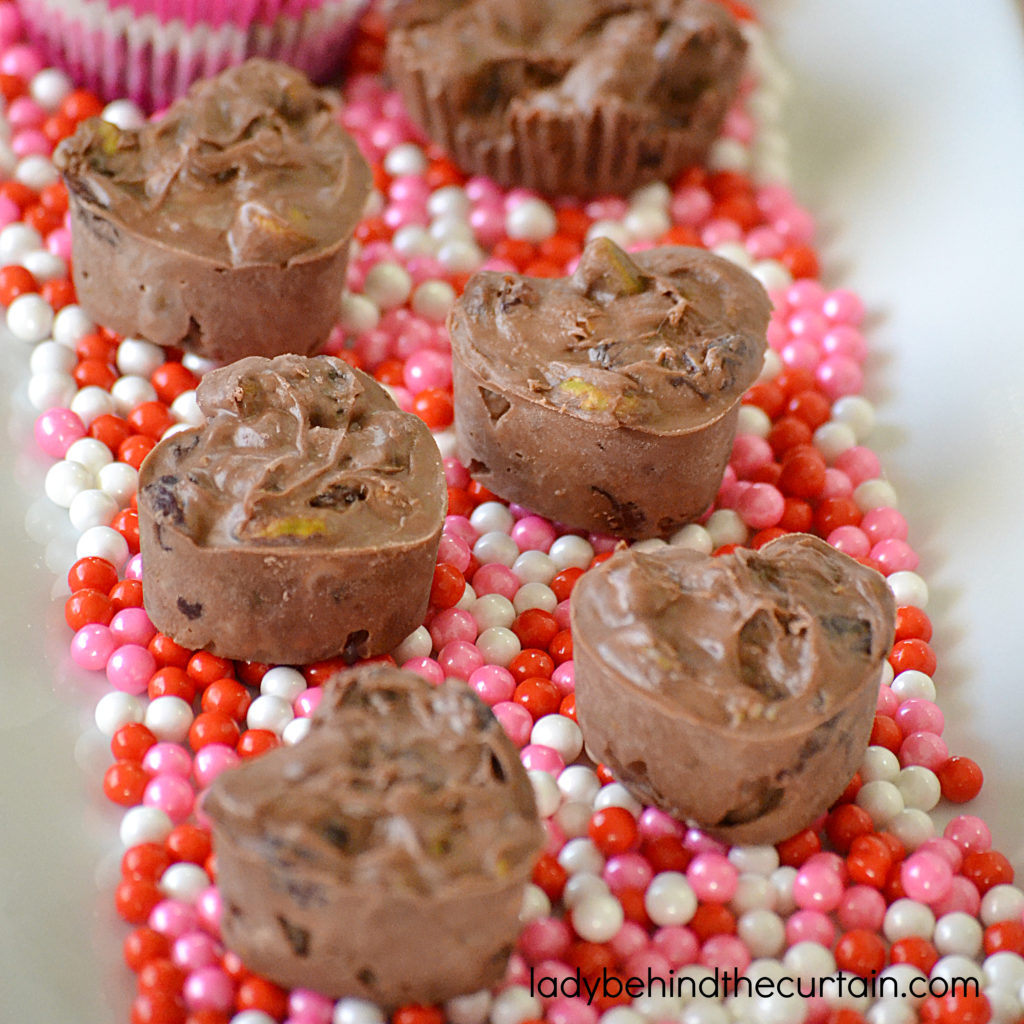 WHITE CHOCOLATE
PECANS
PRETZELS
DRIED CRANBERRIES
CHOCOLATE CHUNKS, WHITE OR DARK CHOCOLATE (right before adding the melted chocolate to the molds or liners, fold in chocolate chunks)
DRIED PINEAPPLE
TOASTED COCONUT
MACADAMIA NUTS
How to Make Slow Cooker Pistachio Nut and Sour Cherry Chocolates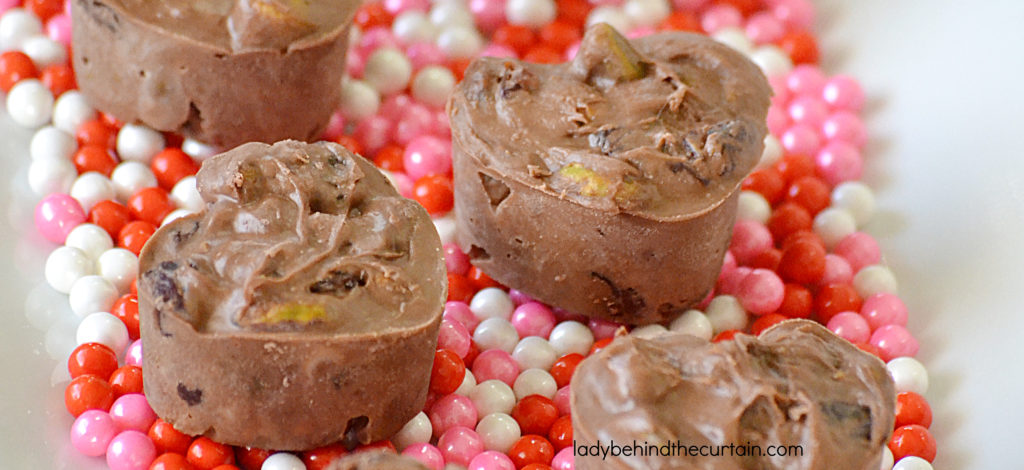 INGREDIENTS (full printable recipe below)

DRY ROASTED PISTACHIO NUTS: Add not only flavor to your candy, also add crunch! Plus the saltiness of the nuts combined with the sweetness of the chocolate is candy perfection.
GERMAN'S SWEET CHOCOLATE: German chocolate adds even more sweetness to the candies. If you can't find German chocolate, simply use semi-sweet chocolate in its place.
WHITE CHOCOLATE BARK: Almond bark is also known as vanilla-flavored candy coating. It is made from vegetable fats instead of cocoa which is why it is not white chocolate. And, it doesn't even contain any almonds in it…the name came from its use for covering nuts. But, it is still a popular choice for coating everything from fruits to nuts to crackers.
SOUR DRIED CHERRIES: Add another layer of flavor and chewy texture.

DIRECTIONS

Put the pistachio nuts in the bottom of a small 2 quart slow cooker.
Layer the chocolate over the nuts.
German's chocolate, semi sweet and white chocolate bark.
Put on lid and turn on low.
Cook 3 hours. DO NOT STIR!
After 3 hours, add the cherries and stir with a wooden spoon until smooth.
Drop into the heart shaped candy molds.
Drop about 2 tablespoons of chocolate into cupcake liners that have been placed in a cupcake tin.
Allow candy to cool completely.
Different Containers for Chocolates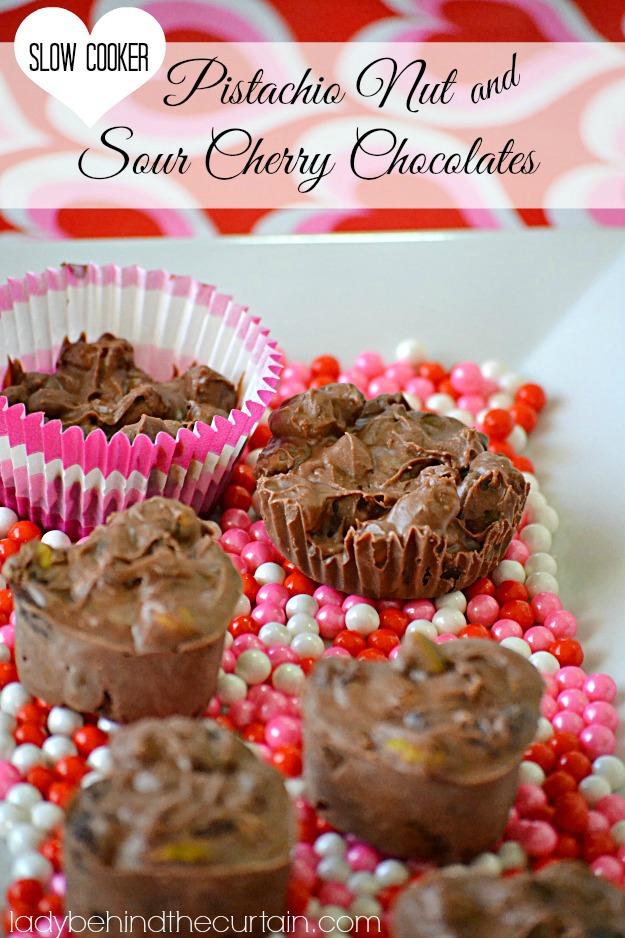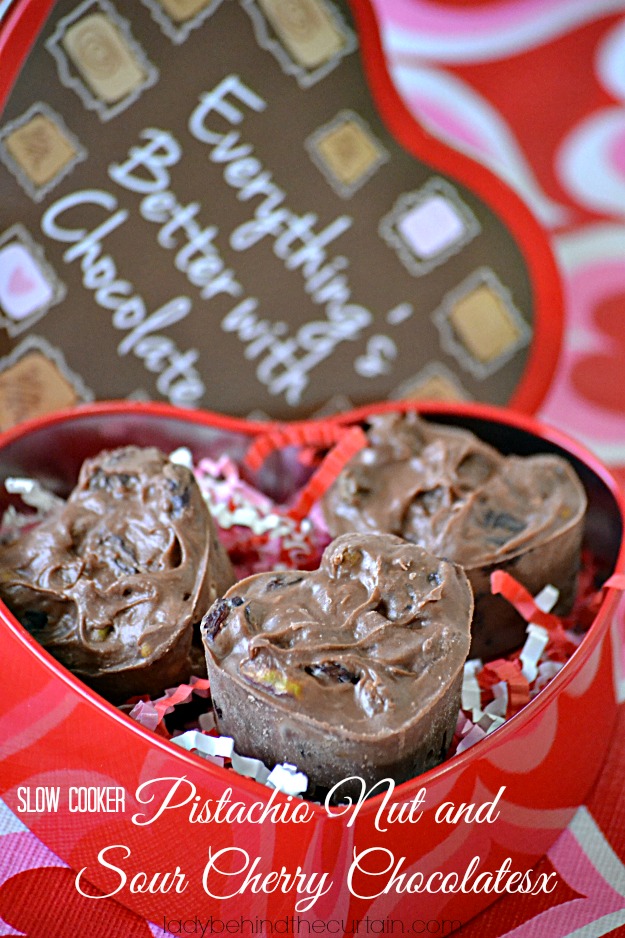 MORE HOMEMADE CANDY RECIPES
NEVER MISS A POST