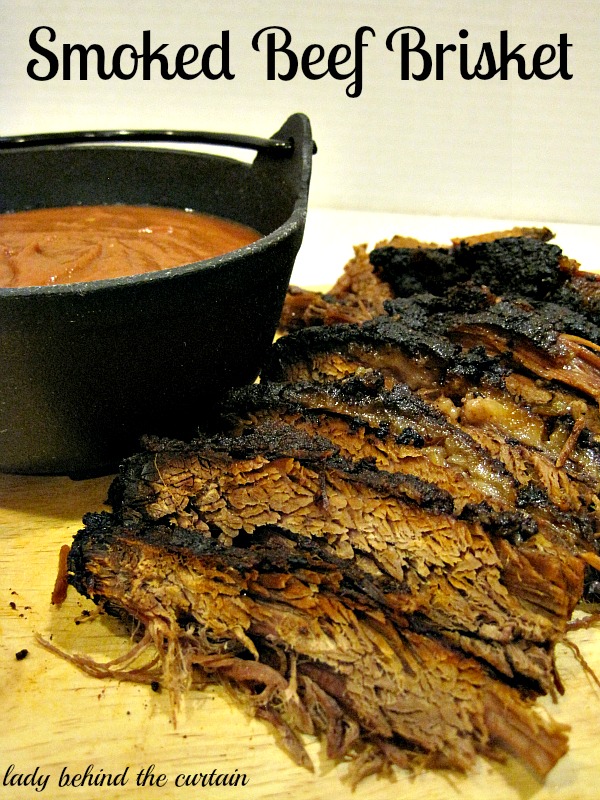 Here's a little history behind the brisket.  During the cattle drives of the 1800s, cowboys discovered that brisket–a tough cut of meat—tenderized when cooked for a long time over a fire.
WARNING!!! This brisket takes up to 24 hours the day before for the rub to cure and 10 to 12 hours to cook.  I wanted to make sure you were prepared for the amount of time this dish takes.  Nothing worse then going to make something and realize you don't have enough time to do it.  All it takes is a little planning.
Smoked Beef Brisket Recipe
Ingredients
1/3 cup paprika
3 tablespoons kosher salt
3 tablespoons ground black pepper
2 tablespoon sugar
2 tablespoons firmly packed brown sugar
2 tablespoons chili powder
1 tablespoon garlic powder
1 tablespoon onion powder
1 (5 to 6- pound) flat-cut beef brisket
wood chips
mopping sauce (recipe below)
Directions
Combine paprika, salt, pepper, sugar, brown sugar, chili powder, garlic powder, and onion powder.  Reserve 2 tablespoons rub mixture for Mopping Sauce.  Rub remaining mixture over brisket; cover and refrigerate for 8 to 24 hours.  Remove from refrigerator, and let stand at room temperature for 30 minutes.
Soak wood chips in water for 30 minutes.  Drain.
VERY IMPORTANT TO PREVENT AN OVER COOKED BRISKET!  Preheat smoker to 225 .  Sprinkle wood chips.  Place brisket, fat side up, on smoker grate.  Cook, covered with lid, for 8 hours, basting occasionally with Mopping Sauce.
Wrap brisket in heavy duty aluminum foil.  Return brisket to smoker, and cook, covered with lid, for 2 to 4 hours or until very tender.  Let stand for 30 minutes before slicing.
Mopping Sauce Recipes
Ingredients
1 (12-ounce) bottle dark beer
1/2 cup cider vinegar
1/2 cup ketchup
2 tablespoons Worcestershire sauce
2 tablespoons rub mixture (reserved from smoked brisket reciep)
Directions
In a small saucepan, combine beer, vinegar, ketchup, Worcestershire sauce, and reserved rub mixture.  Bring to a boil over medium-high heat.  Reduce heat, and simmer for 5 minutes.  Cooking with Paula Deen September/October 2011

MORE GREAT RECIPES