Sparkling Pineapple Slush Punch
Cool off with this refreshing Sparkling Pineapple Slush Punch.  Make it for a summer day by the pool, baby shower, bridal shower or luau.
No more diluting your punch with ice.  Freeze the punch instead!  If you want to dress up this Sparkling Pineapple Slush Punch, add all the ingredients (except the ginger ale) to a gelatin mold, add pineapple chunks and strawberries then freeze.  When ready to serve put the frozen ring in a large punch bowl and pour cold ginger ale over it.  Or, make ice cubes and serve each guest their own slush!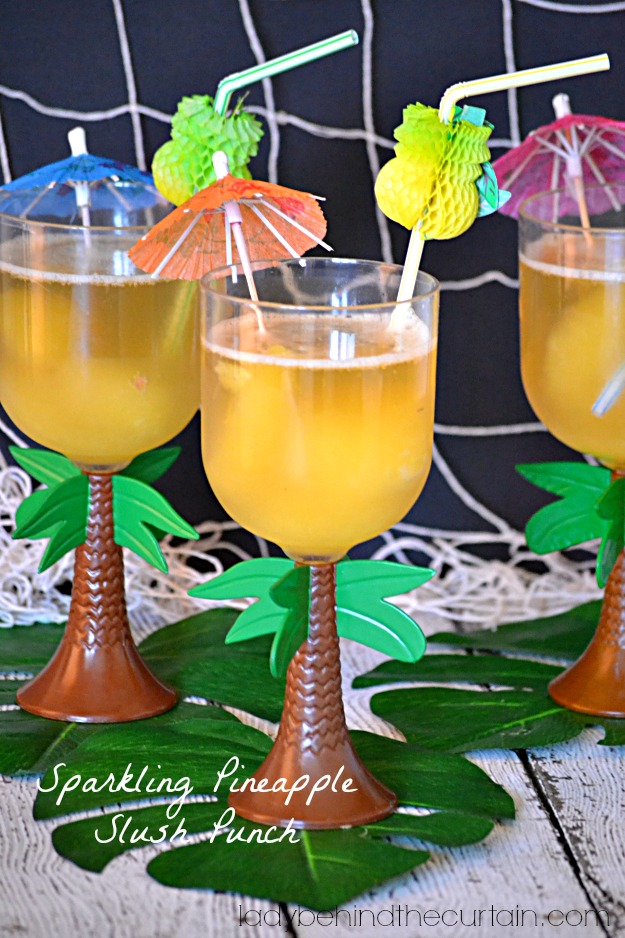 Create your own Recipe Box and save your favorite Lady Behind The Curtain recipes.  Make a Meal Plan with your favorite recipes and ZipList will automatically add the ingredients to a Shopping List.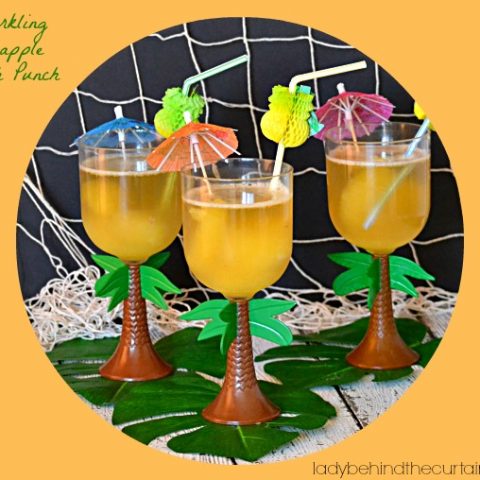 Sparkling Pineapple Slush Punch
Prep Time:
9 hours
15 minutes
Total Time:
9 hours
15 minutes
Can be frozen up to 6 months.
Ingredients
3 cups water
1-1/2 cups sugar
3 ounce box of pineapple flavor gelatin
29 ounces can pineapple chunks, undrained
5 cups pineapple juice
1/2 cup lemon juice
2 liters and 16 ounces of ginger ale, chilled
Instructions
In a large saucepan combine the water, sugar and gelatin.
Bring to boiling, stirring to dissolve sugar and gelatin.
Remove from heat.
Place pineapple (with juice) in a blender and blend until smooth.
In an extra large bowl combine gelatin mixture, purred pineapple, pineapple juice and lemon juice.
Divide pineapple mixture among four 1-quart containers.
Cover and freeze for at least 8 hours or until firm.
To serve, let containers stand at room temperature for 1 hour.
Break pineapple mixture in a punch bowl or jug.
Gently pour in ginger ale; stir until slushy.
Serve at once.