Spider Themed Halloween Dessert Table
Spider Themed Halloween Dessert Table |  This fun themed Halloween Party table is not only full of fun themed treats but also has lots and lots of spiders!  Spiders come is all sizes and so do the ones at this Halloween party!  From spiders with 50-inch hairy legs to small edible chocolate spiders.  This dessert party table lives up to its name.  Lady Behind The Curtain received product from Oriental Trading for this post all opinions are 100% mine.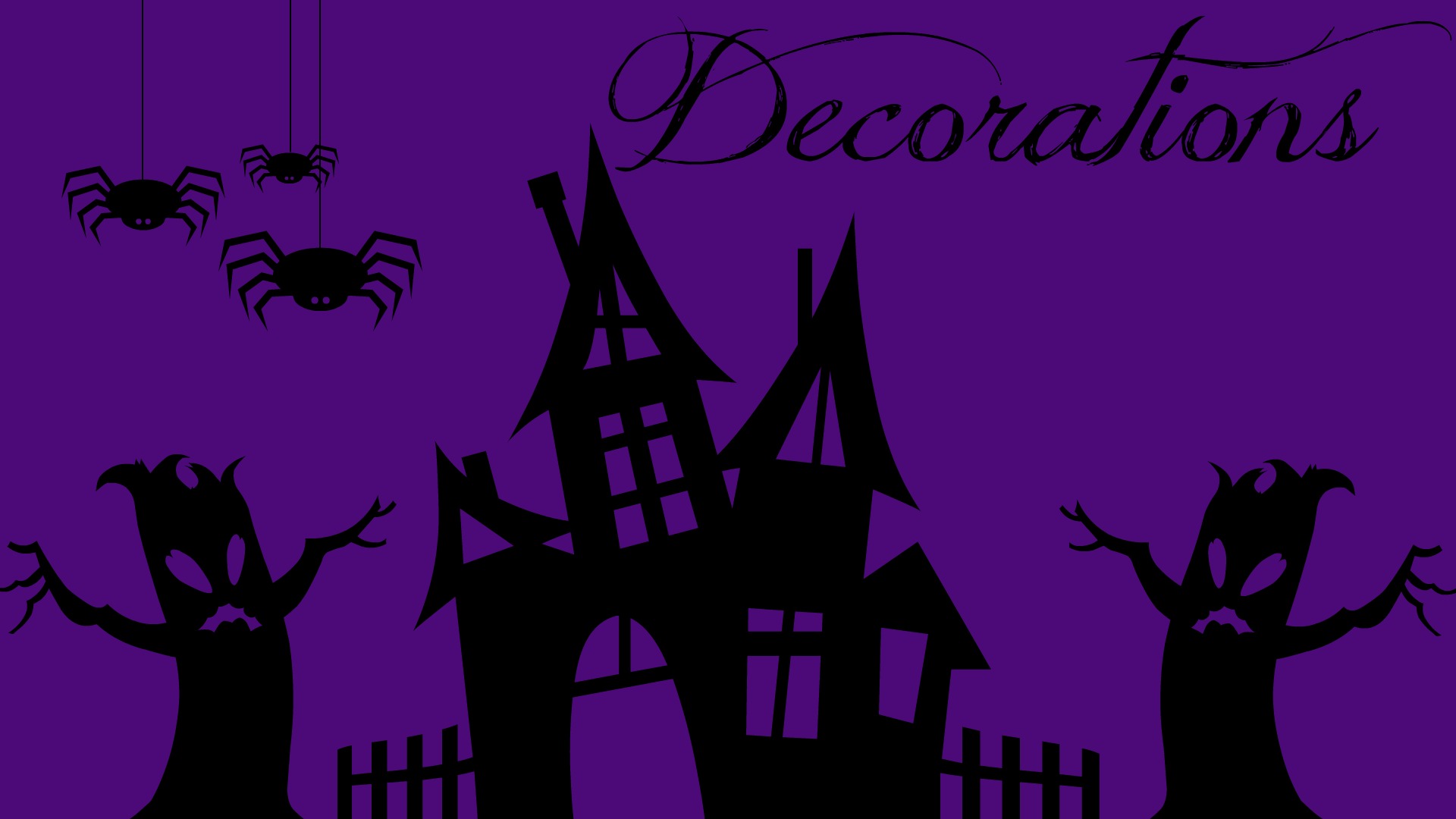 The number one thing to decide before shopping and purchasing anything is the color scheme.  For this party I chose purple, green and black.  I hung purple fabric for the backdrop and then an incredible rope spider web that spans 9 feet in diameter and comes with loops for easy hanging is from Oriental Trading.  Click here for the link—->>>>Black Spider Web Rope.  The giant spider that has the leg span of 50 inches is also from Oriental Trading.  Click here for the link—->>>>Poseable Hairy Spider.  For me the backdrop sets the tone of the party table and already creates fun!  Oriental Trading is my Halloween Headquarters where you can get not only party decorations but also Halloween Tableware too!
The table covering is black fabric, a strip of green fabric and lots of black gauze!  You also get the gauze from Oriental Trading.  Click here for the link—->>>>Deluxe Creepy Cloth Wall Decoration.  The black trees are from the dollar section at Target along with all the wooden pieces.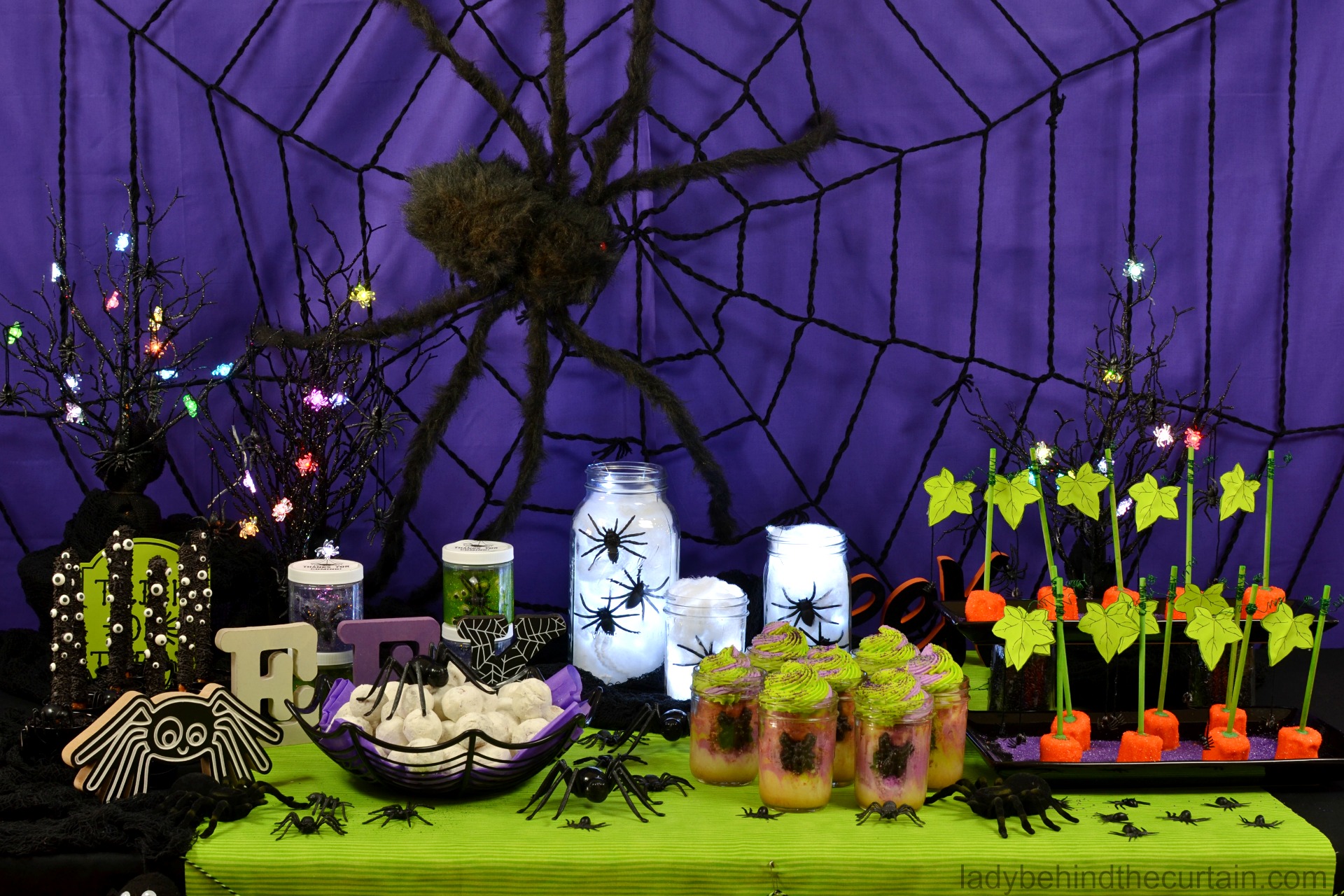 The centerpiece is one of my favorites!  Because it's super easy to put together and delivers lots of drama.  I know the spiders are important to this centerpiece but what I think is the most important thing is the lighting.  It's all about the lighting with this centerpiece and that comes in the form of an awesome find!  Battery operated lights!  These lights have white bulbs (instead of warm) and have a timer!  I know!  I love this feature.  I can turn them on and forget about them!  If I leave them on timer mode they will turn back on at the same time the next day.  Click here for the link—->>>>LED Cool White Mini String Lights.  Click here for the tutorial—->>>>SPIDER LIGHT CENTERPIECE.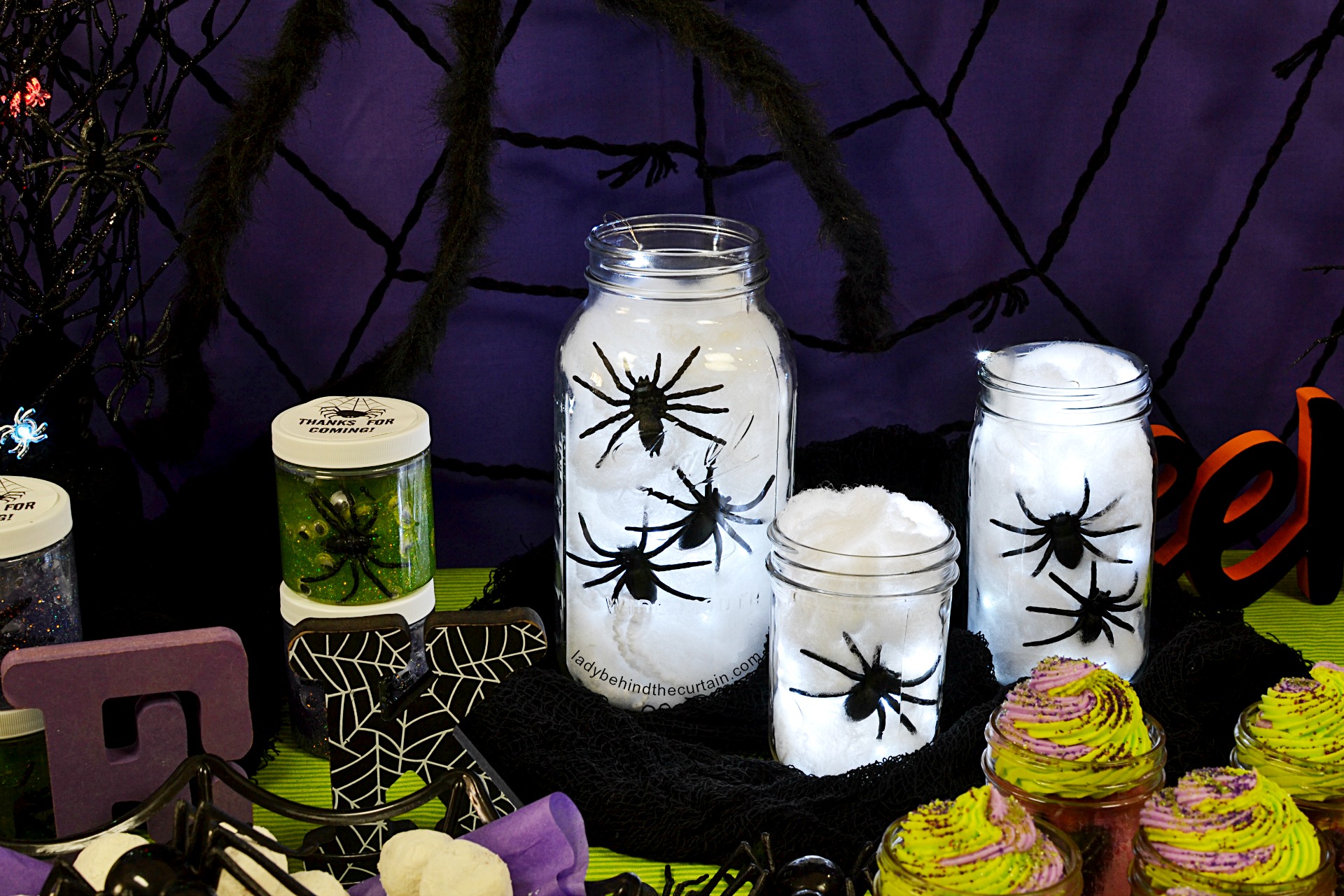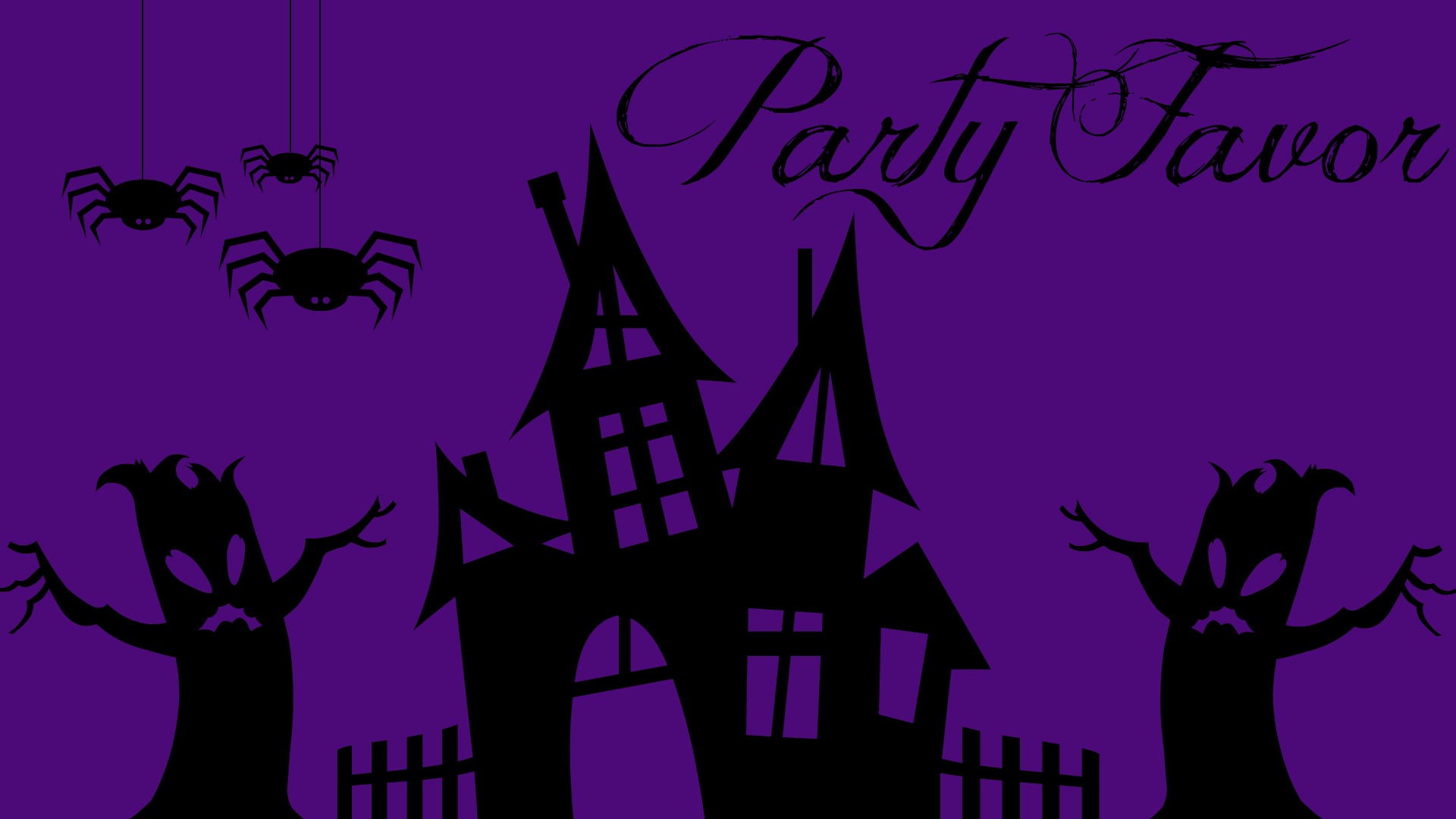 What's a Halloween party without slime?  Every party needs slime.  With all the great supplies out there making slime is an easy way to make your own party favors.  Click here for the tutorial—->>>>HALLOWEEN SPIDER SLIME.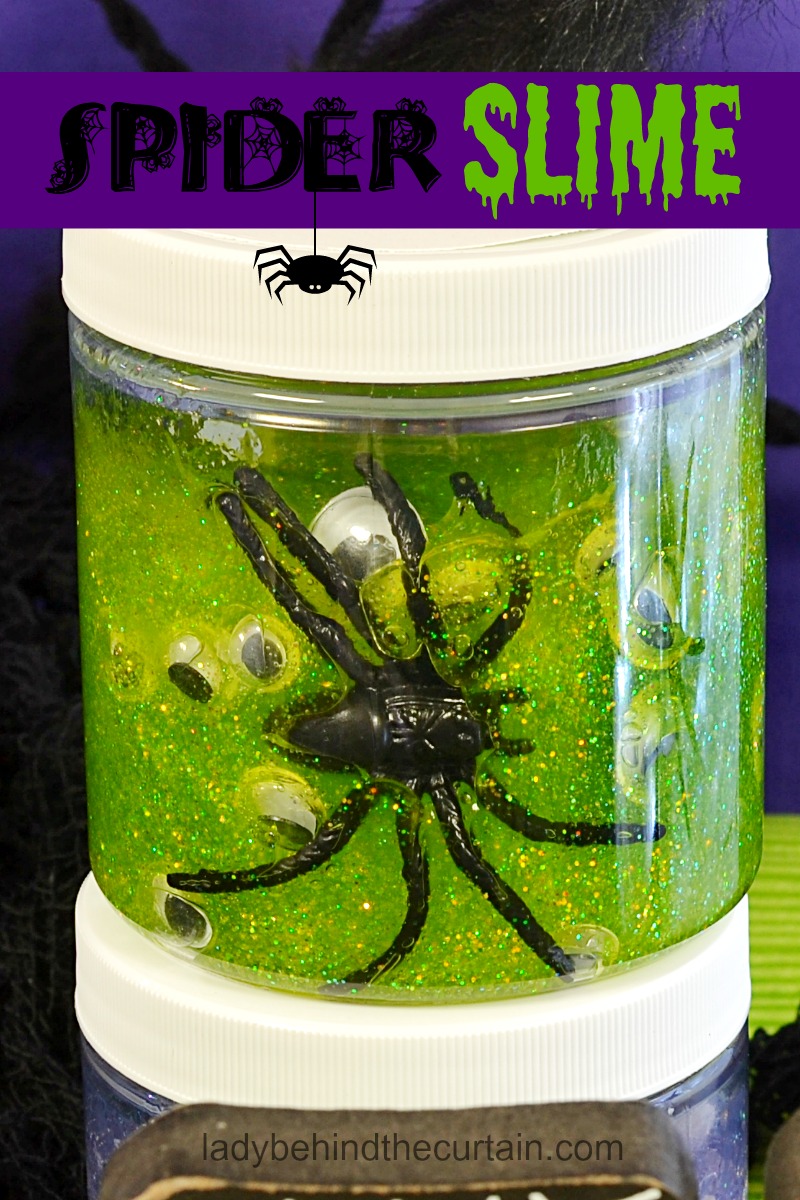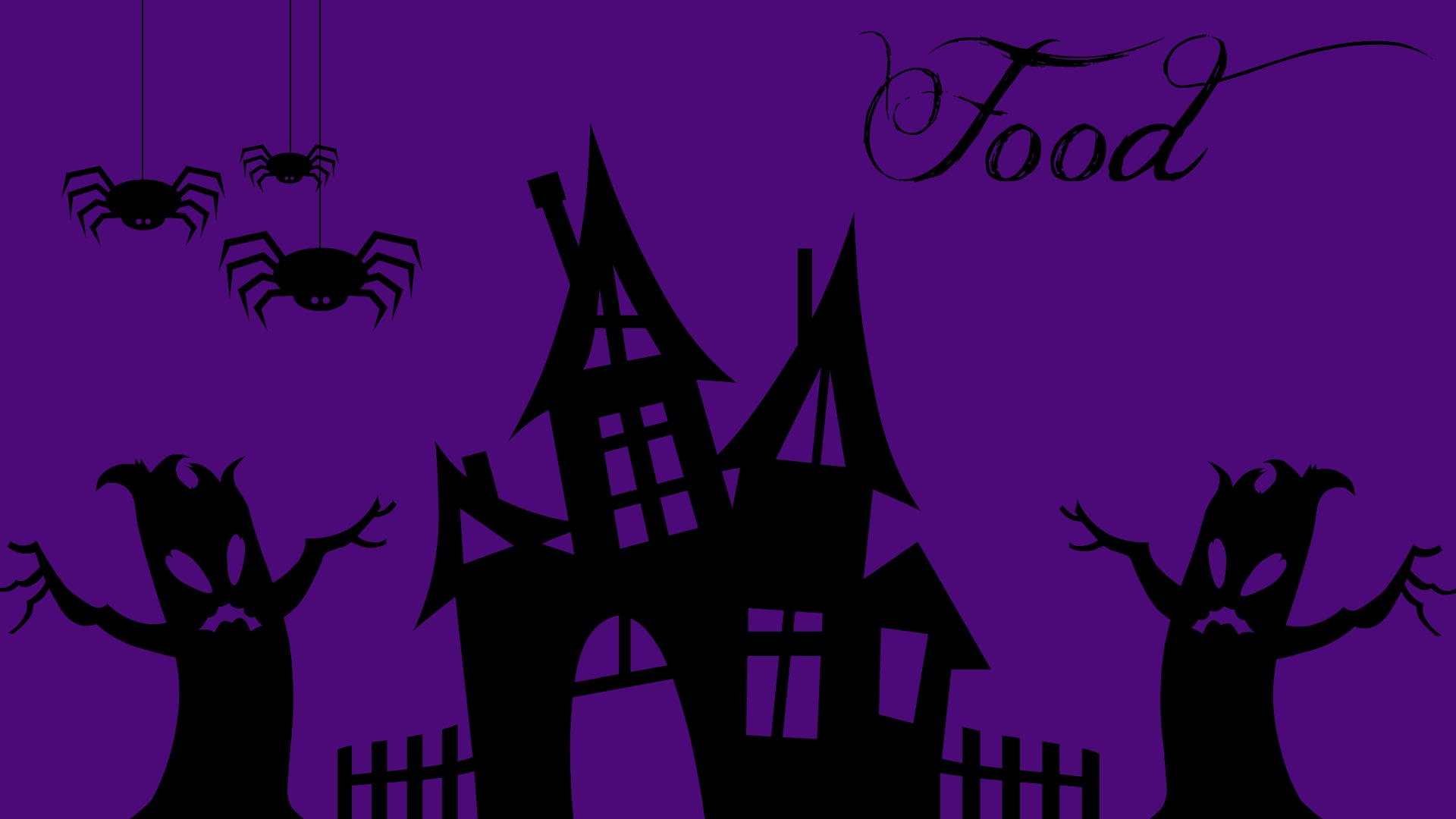 SPIDER EGGS:  These delicious little treats are simply store bought powdered donut holes.  YES!  Something you don't have to make but fits right in with the theme of the party!  Also, the spider bowl is from Dollar Tree.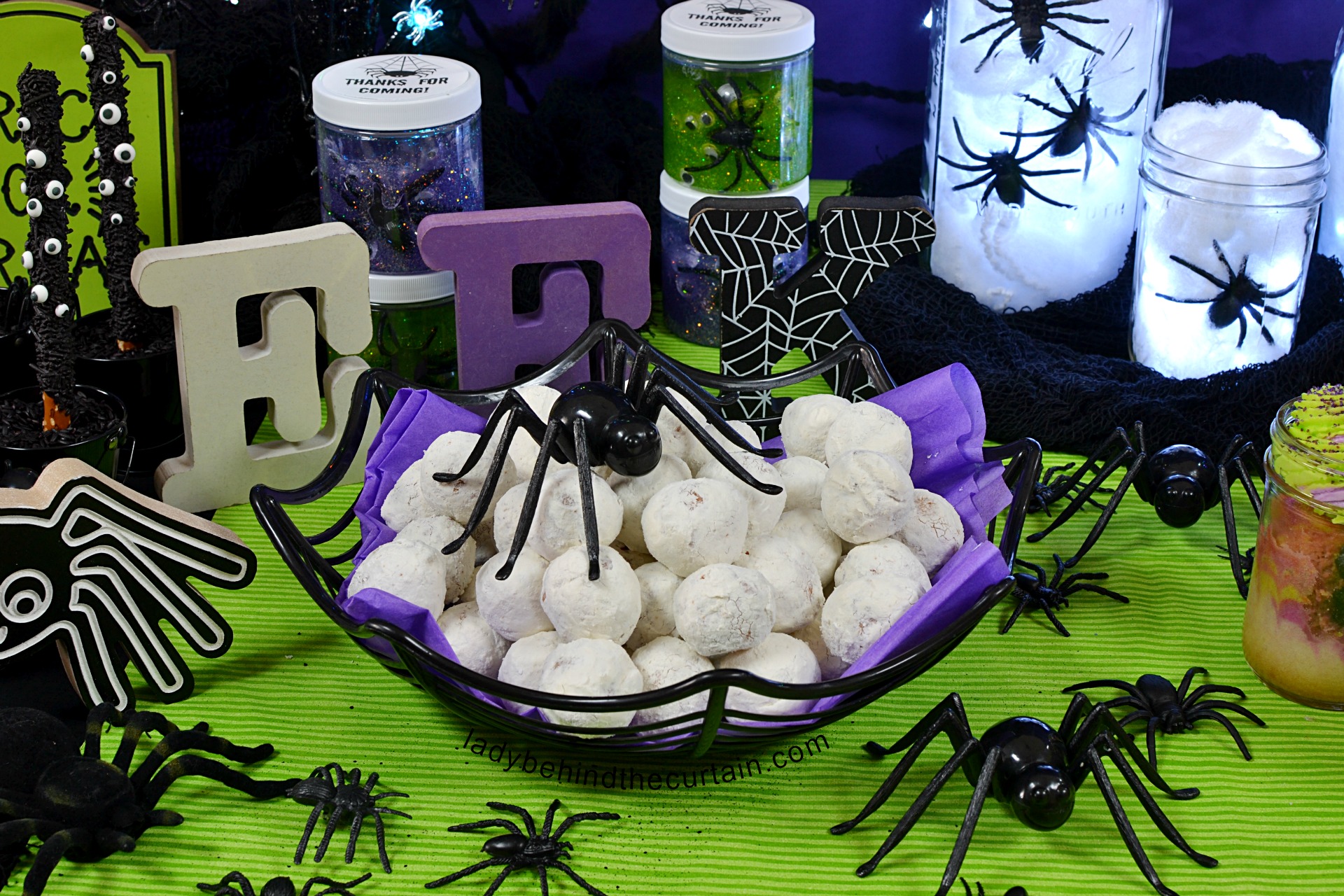 Cake in a jar!  Who doesn't enjoy there own cake!  These fun cakes are swirled with colors of purple and green and have a chocolate spider surprise.  Click here for the recipe—->>>>HALLOWEEN MARBLE CAKE IN A JAR.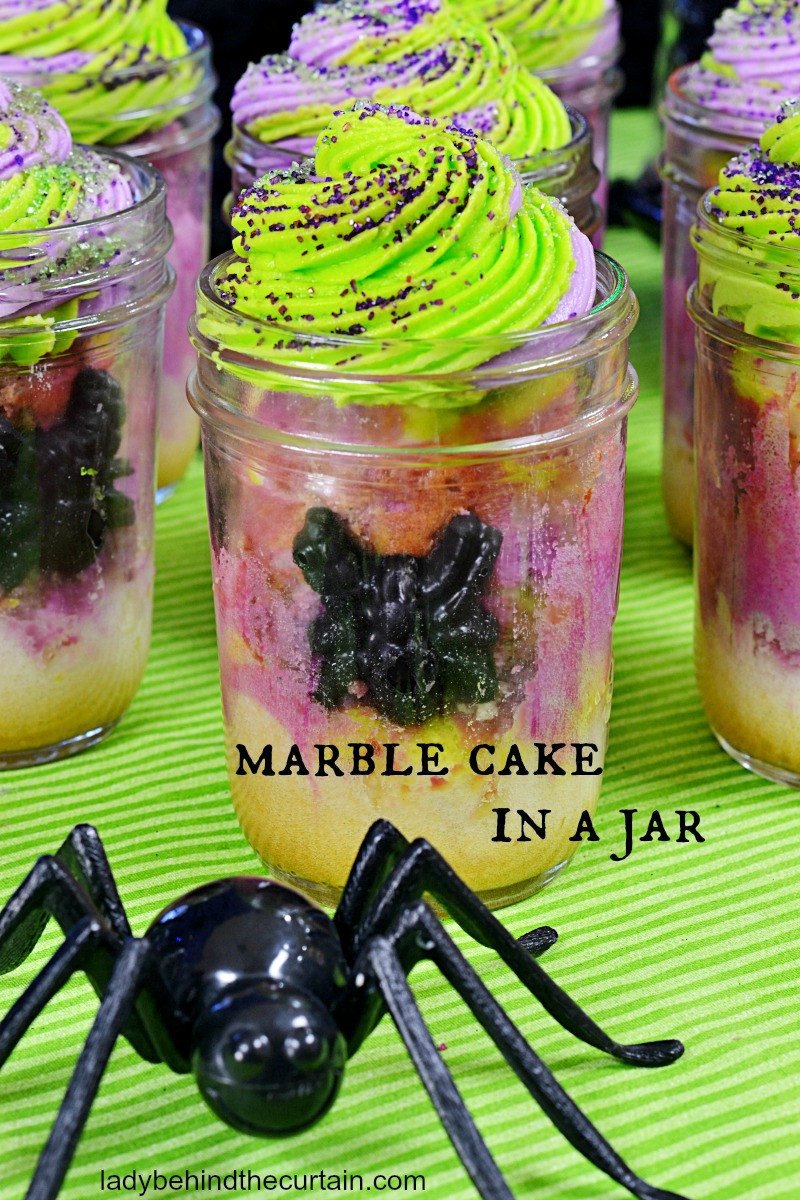 Candy covered pretzels!  Possibly the best combo since peanut butter and chocolate.  I love the sweet candy wrapped around a crunchy salty pretzel.  This one might be a bit of a stretch but I thought since there were tons of eyes on the pretzels I could put a creative twist on them and say they were spiders!  Click here for the recipe/tutorial—->>>>HALLOWEEN SPIDER PRETZELS.
Treat your guests with the ultimate homemade peep!  But watch out!  There might be a spider creeping down from the pumpkin leaf!  These wonderful treats start with a store bought marshmallow.  The marshmallow is dipped in melted candy and then in crunchy orange sugar sprinkles!  Click here for the recipe/tutorial—->>>>HALLOWEEN MARSHMALLOW PUMPKIN POPS.
Click here for the recipes—->>>>HALLOWEEN RECIPES
Click here for the Party Ideas—->>>>HALLOWEEN PARTY IDEAS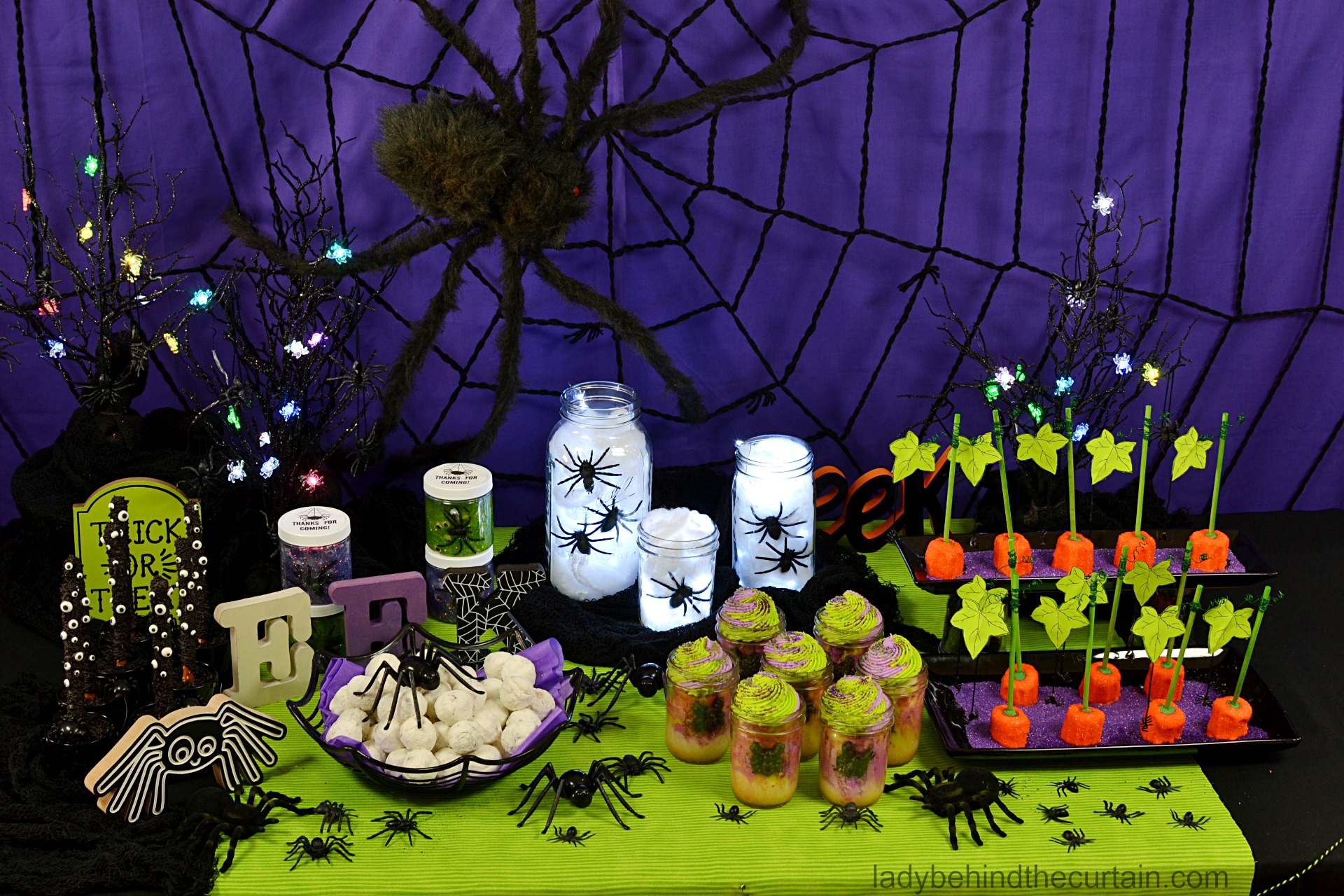 NEVER MISS A POST!
Sign up for my newsletter (two per month) and receive my recipes in your inbox. Easy to see anytime and saved for safe keeping. Click Here and sign up today! —->>>>CURTAIN CALL NEWSLETTER