Spiral Cookie Lollipop-Party Favor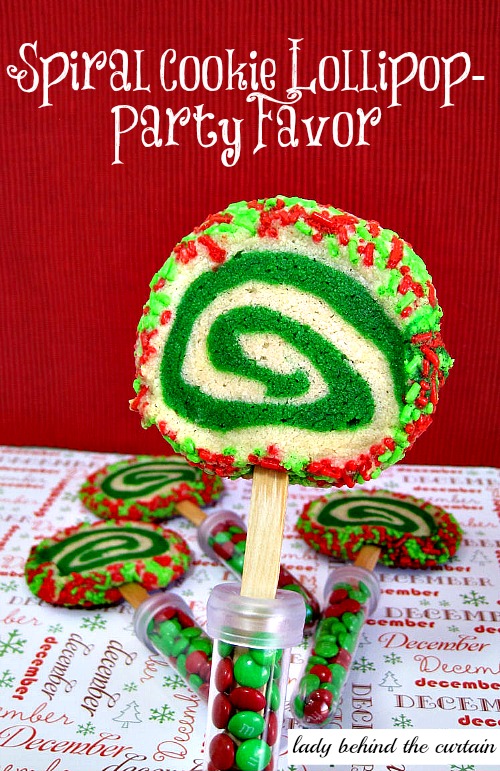 POSSIBLY THE CUTEST PARTY FAVOR EVER!
As soon as I  saw the idea for using a floral vial at bettycrocker.com I started brain storming on ideas of what I could do with them and where I could find the vials at a reasonable price.  I got mine from the floral department in my Safeway for only .10 cents each.  Great price right?
Spiral Cookie Lollipop-Party Favor Recipe (makes 2-1/2 dozen)
Ingredients
2 cups plus 4 tablespoons all purpose flour, divided
1/2 teaspoon baking powder
1/4 teaspoon salt
2/3 cup powdered sugar
1/4 cup granulated sugar

1-1/4 cups butter, softened
1-1/2 teaspoons vanilla extract
food coloring
sprinkles (optional) 3 tablespoons of each color
Directions
In a large mixing bowl combine the 2 cups of flour, baking powder, salt and sugars.  Mix briefly.  Add the butter in pieces, mix until the mixture has the consistency of cornmeal.  Add the vanilla and mix just until a ball forms.
Divide into 2 balls.  Add food coloring of your choice and 2 tablespoons of flour to one ball.  Repeat for the second ball.
Roll out each portion of dough between sheets of waxed paper into a rectangle about 10 x 8-inches.
Peel wax paper on one side and lay one layer on top of  other. Leave the wax paper at the bottom of the bottom layer to help with the rolling process.   Roll into a jelly roll and wrap.  Refrigerate for 2 hours or until easy to slice.  Place sprinkles into a 9×13 pan, roll the log until completely covered.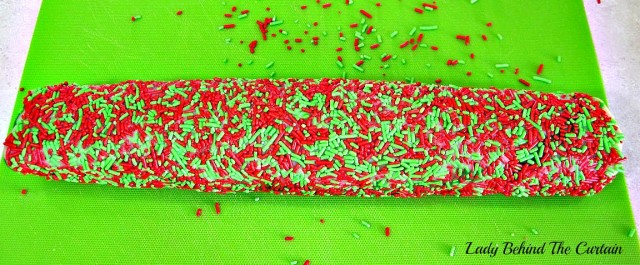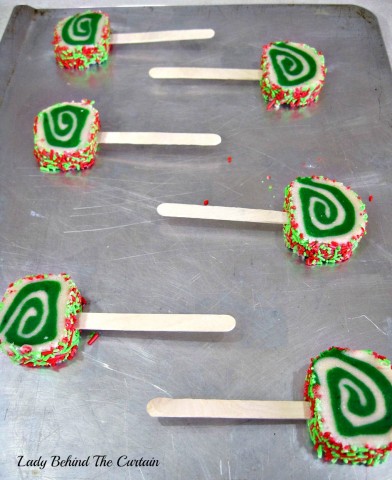 Preheat oven to 350 degrees.  Slice the log into 1/2 inch thick cookies, insert Popsicle stick and bake for 17 to 19 minutes, until the cookies are no longer shiny on top and the bottoms are golden.  Cool on cookie sheet for 5 minutes before carefully removing to a wire cooling rack.  When ready to either serve or give as a party favor insert the Popsicle stick into the vial filled with mini candy.  (I used mini M&M's I found at WalMart)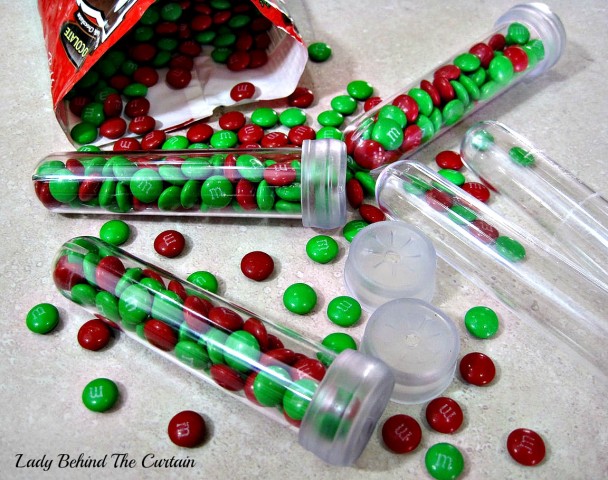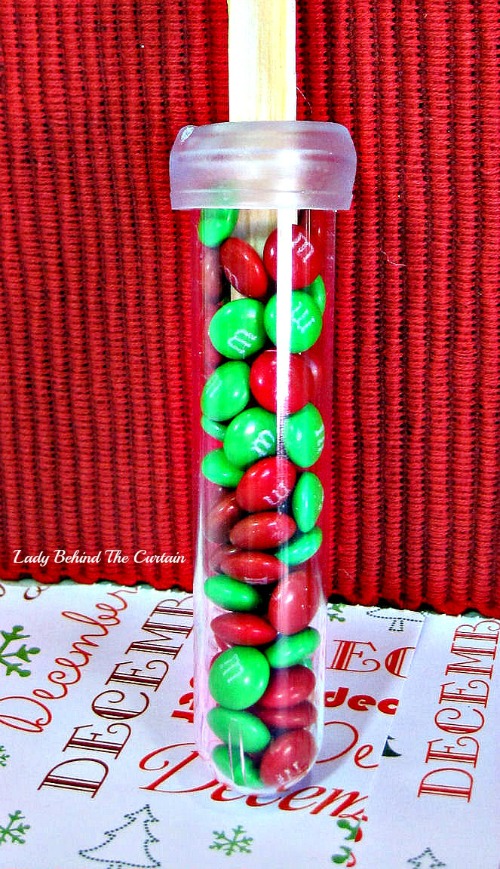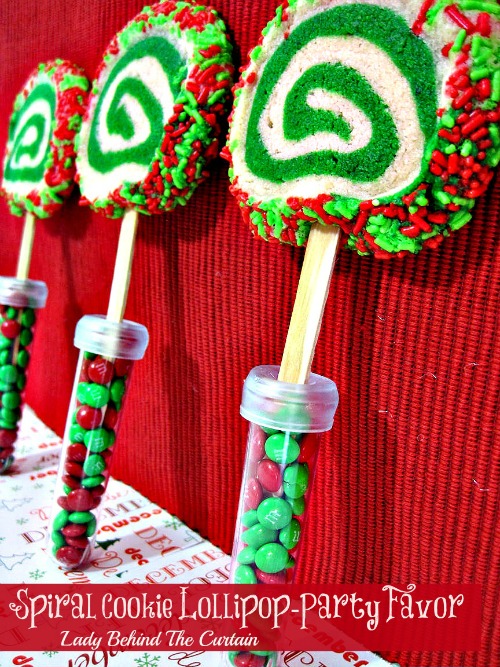 THIS RECIPE/IDEA WAS FEATURED ON THESE BLOGS
MORE GREAT FUN HOLIDAY IDEAS!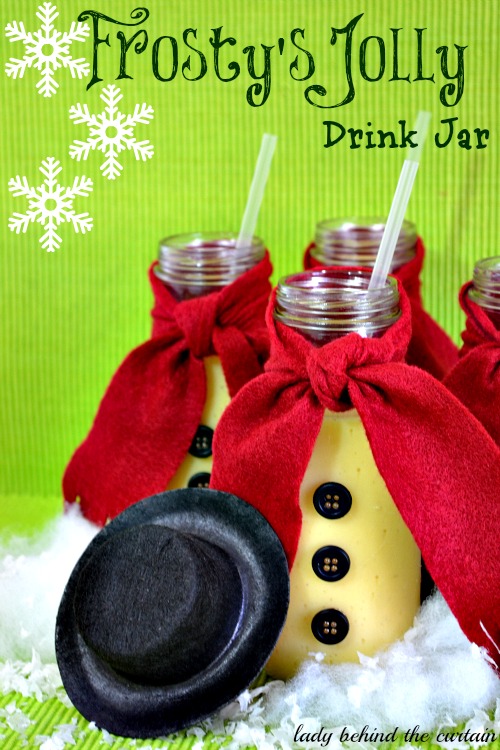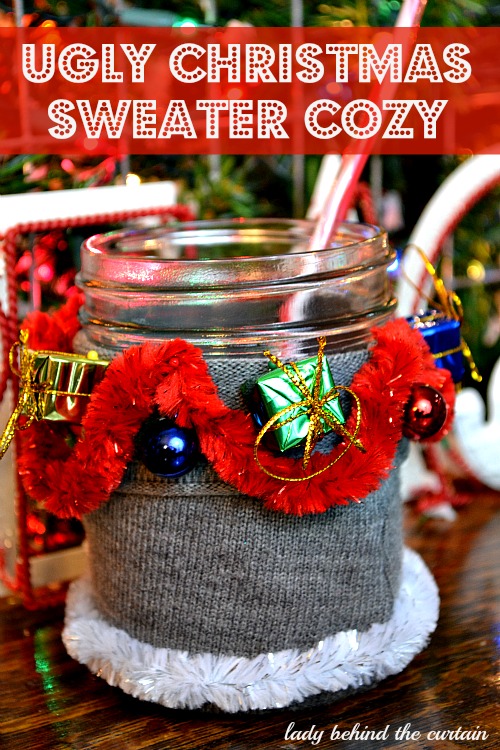 I SHARED THIS RECIPE/IDEA AT THESE PARTIES
WEDNESDAY:   Lil' Luna Link Party @ Lil' Luna;  What I Whipped Up Wednesday @ Sugar and Dots; Look What I Made @ Creations by Kara; Wow Me Wednesday @ Ginger Snap Crafts; Whatever Goes Wednesday @ Someday Crafts;  Whatcha Whipped Up @ DJ's Sugar Shack; Your Whims Wednesday @ My Girlish Whims; Back for Seconds Social @ Back for Seconds; Adorned from Above Link Party @ Adorned from Above;
THURSDAY:   Show Off Your Stuff @ Fireflies and Jellybeans;  Catch A Glimpse Thursday @ A Glimpse Inside;  Show Me Extraordinary Link Party @ 36th Avenue; Full Plate Thursday @ Miz Helen's Country Cottage; Strut Your Stuff @ Somewhat Simple;  Delightfully Inspiring Thursday @ Delightful Order.