Strawberry Cheesecake Scones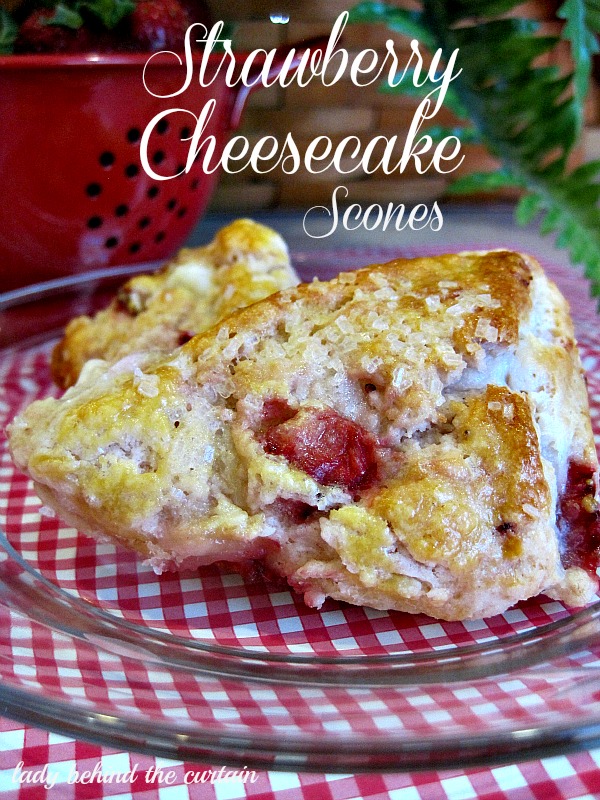 The taste of FRESH strawberries and the flavor of a cheesecake all together in a scone!  The perfect addition to a Buffet table, Mother's Day Brunch, a Ladies Tea or serve an out of town guests.  These strawberry cheesecake scones freeze beautifully.  So make extra!
FOR DETAILED PICTURES WATCH THE SLIDE SHOW BELOW.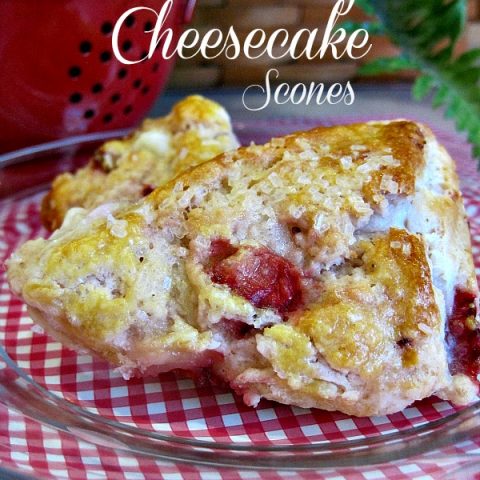 Strawberry Cheesecake Scones
Yield:
Makes 16 Mini Scones
Cheesecake for BREAKFAST!
Ingredients
For the Filling:
1 - 8 ounce package cream cheese, room temperature
1/2 cup sugar
1 tablespoon lemon juice
For the Scone Dough:
1 cup FRESH strawberries, chopped into small pieces
3 tablespoons sugar, divided
2 cups all-purpose flour
2 teaspoons baking powder
1/4 teaspoon salt
6 tablespoons butter, in cubes
2/3 cup heavy cream
coarse sugar ( optional) for sprinkling
1 egg ( for egg wash)
Instructions
For the Filling:
Combine cream cheese, sugar and lemon juice; beat until smooth.
For the Scone Dough:
Preheat oven to 400 degrees.
Lightly grease a cookie sheet.
Sprinkle fruit with 1/2 tablespoon sugar; set aside.
In a food processor combine the remaining sugar, flour, baking powder, salt and butter until it is small crumbs.
Pour crumb mixture into a medium size bowl, stir in fruit and cream.
Stir dough until it holds together.
Turn onto a lightly floured surface and knead a few time to incorporate dry ingredients.
On a heavily floured surface shape dough into a 9-inch square.
Spread cheesecake mixture over the dough.
Fold one edge into the center and over the filling.
Fold the remaining edge completely over the center to complete the three-fold.
Gently pat the dough into a 3-inch x 18-inch rectangle.
Cut rectangle into 4 equal pieces.
Using a spatula transfer a piece to the prepared cookie sheet, cut in half.
Move one half to its position and cut half diagonally to create a triangle, separate 1-inch.
Brush with egg wash and sprinkle with coarse sugar.
Bake for 15 minutes. Remove from cookie sheet and cool on a cooling rack.