Strawberry Swirl Cheesecake Ice Cream
This Strawberry Swirl Cheesecake Ice Cream is DAUGHTERS CHOICE!  When trying to decide what my next flavor of ice cream would be my daughter asked if I had made a cheesecake ice cream.  I had made a couple of no churn cheesecake ice creams.  BLUEBERRY CHEESECAKE ICE CREAM and STRAWBERRY CHEESECAKE ICE CREAM  but nothing with my ice cream maker.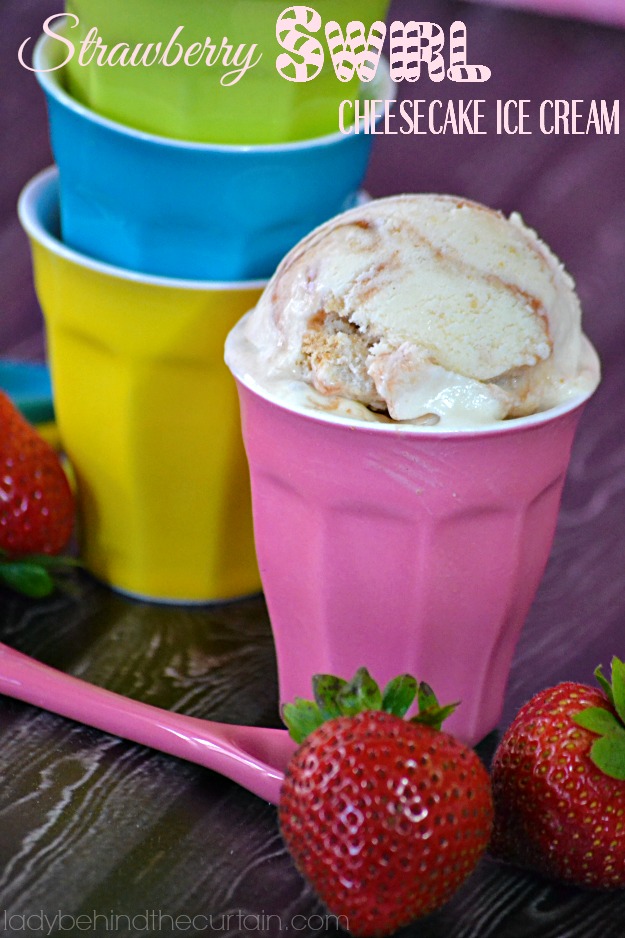 Celebrate summer with this Strawberry Swirl Cheesecake Ice Cream.  If cheesecake is your favorite dessert then you are going to love this Strawberry Swirl Cheesecake Ice Cream.
I took a store bought frozen cheesecake, added it to my favorite vanilla ice cream recipe and if that wasn't enough; added swirls of strawberry to create an easy and delicious ice cream.  This recipe is also perfect for leftover cheesecake.  ANY FLAVOR!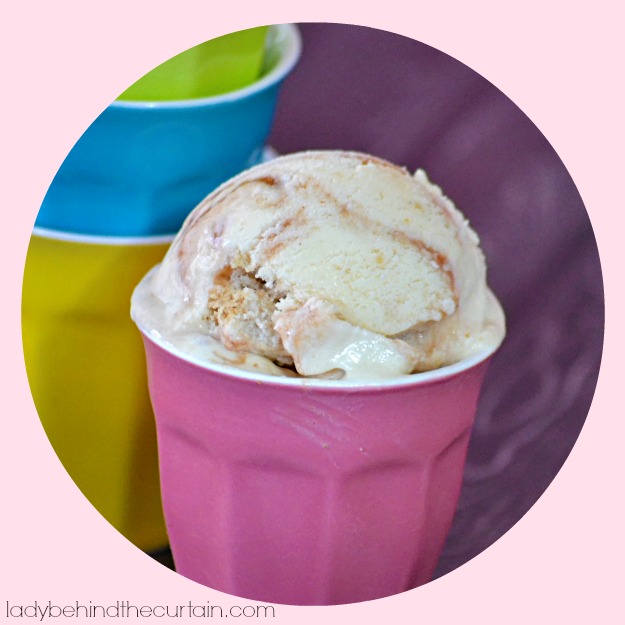 Create your own Recipe Box and save your favorite Lady Behind The Curtain recipes.  Make a Meal Plan with your favorite recipes and ZipList will automatically add the ingredients to a Shopping List.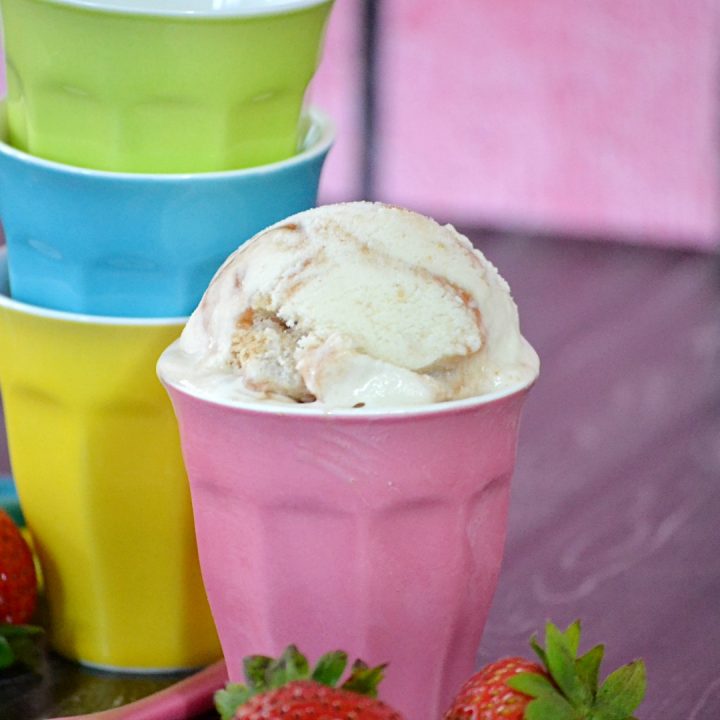 Strawberry Swirl Cheesecake Ice Cream
Use a store bought cheesecake to make this delicious swirl ice cream.
Ingredients
1 (17 ounce) frozen store bought plain cheesecake, thawed and divided
1 1/2 cups milk
1 1/8 cups granulated sugar
1 1/2 tablespoons vanilla extract
3 cups heavy cream
2/3 cup seedless strawberry preserves, heated in microwave 30 seconds
Instructions
Cut thawed cheesecake into 8 wedges.
Cut 5 wedges into bite size pieces.
Use a fork and cream cheesecake filling and crust together.
Cut the remaining 3 cheesecake wedges into bite size pieces and set aside.
Add creamed cheesecake, sugar and vanilla to a medium mixing bowl.
Beat until light and creamy.
Add milk, mix until sugar is dissolved.
Stir in cream.
Turn the machine on; pour the mixture into the freezer bowl.
Let mix until thickened, about 20 to 25 minutes.
The last 5 minutes add remaining cheesecake.
The ice cream will have a soft, creamy texture.
Pour into a 48 ounce container, spoon dollops of heated strawberry preserves over soft ice cream.
Use a knife and swirl into ice cream.
For a firmer ice cream, cover with a lid and place in freezer for 2 hours.