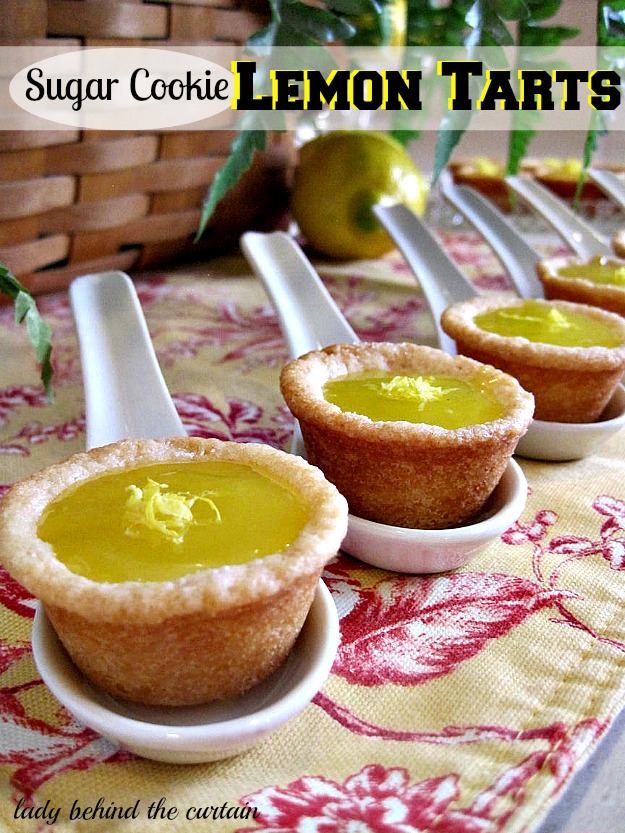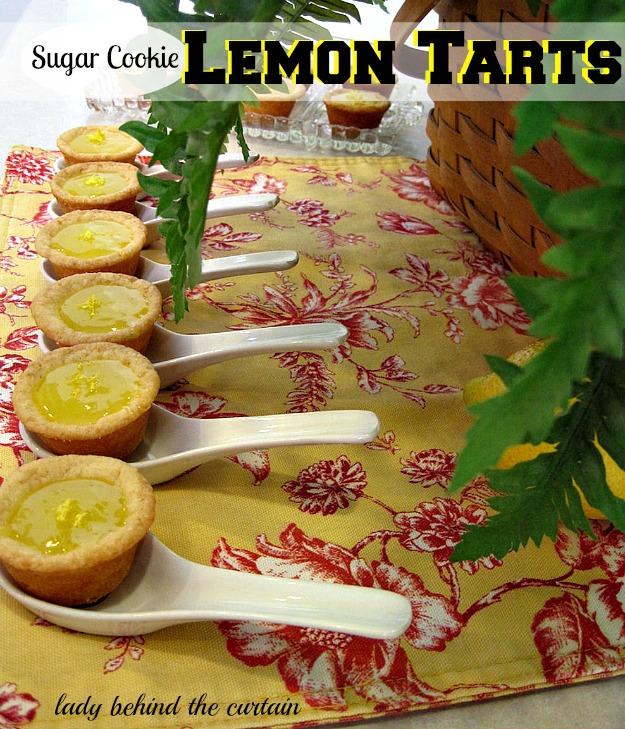 Just in time for Mother's Day, The Ladies Tea or The Ladies Spring Brunch!  These sugar cookie lemon tarts have the crust of a sugar cookie and the filling of lemon curd.  The perfect combo!  The best part is they can be made ahead of time!  That makes this recipe the dessert of choice for any hostess! AND you use store bought cookie dough!  WooHoo!!!
For detailed pictures watch the slide show below.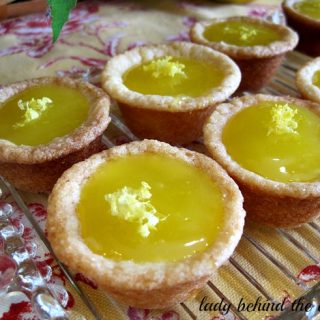 Sugar Cookie Lemon Tarts
Yield:
Makes 15 Cookie Cups
Ingredients
For the Crust:
1 package of pre made refrigerated Pillsbury sugar cookie dough
For the Filling:
2/3 cup sugar
1 tablespoon cornstarch
2 teaspoons finely shredded lemon peel
1/2 cup FRESH lemon juice
1/4 cup water
2 tablespoons butter
3 egg yolks, lightly beaten
additional lemon zest (optional)
Instructions
For the Crust:
Preheat oven to 350 degrees.
Heavily spray the rim and inside of each muffin cup with non stick cooking spray.
Place each square into a mini muffin cup.
Bake for 15 minutes.
While the cookies are still HOT dip the end of a wooden spoon into sugar and carefully make a well in the cookie making sure a hole in the bottom of the dough is not created.
Sprinkle with sugar.
Bake for an additional 5 minutes.
Cool completely in muffin pan.
When cooled pop out of muffin cups.
These can be frozen until the day of your event.
For the Filling:
In a medium saucepan stir together the sugar, cornstarch, lemon peel, lemon juice, water and the butter.
Cook and stir over medium heat until thickened and bubbly.
Gradually stir about half of the hot lemon mixture into the egg yolks while whisking. Return egg yolk mixture to the saucepan along with the remaining lemon mixture that was left in the pan. Bring to a gentle boil, reduce heat.
Cook and stir for 2 minutes.
Transfer to a small bowl.
Cover surface with plastic wrap; chill until needed.
Fill cookie cups with filling and top with lemon zest.