Taco Burgers with Tomatillo Salsa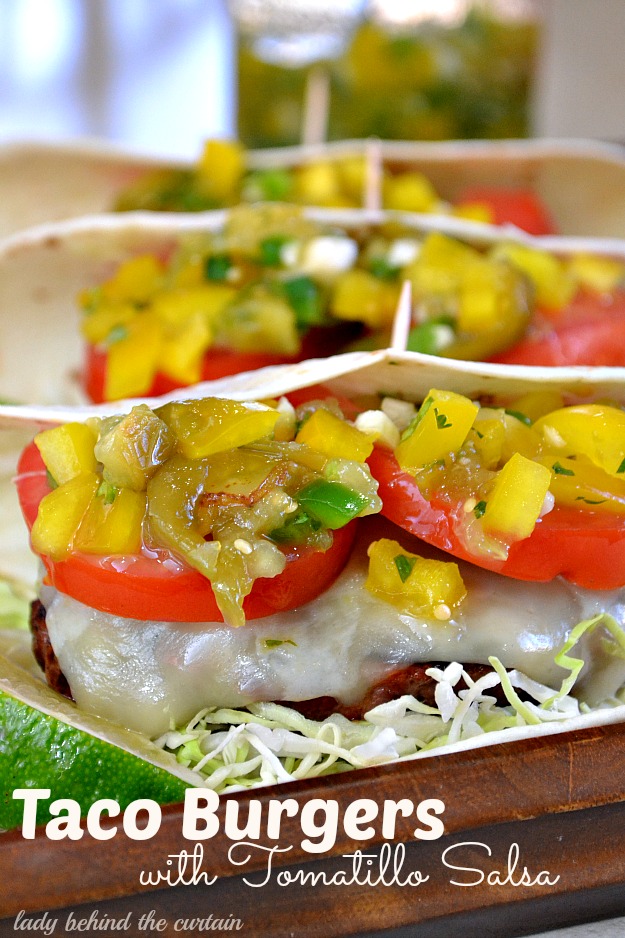 I love the savory spices added to the meat and the honey added to the salsa in these taco burgers with tomatillo salsa.
A new way to serve your burgers! ON TORTILLAS!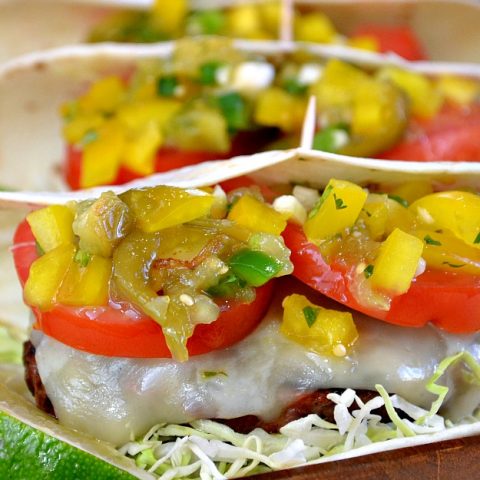 Taco Burgers with Tomatillo Salsa
Serve your burger on a flour tortilla!
Ingredients
2 teaspoons chili powder
1 teaspoon ground cumin
1/2 teaspoon salt
1/2 teaspoon onion powder
1/2 teaspoon garlic powder
1-1/2 pounds lean ground beef
4 slices Monterey Jack cheese
4 - 10-inch flour tortillas
1 large tomato, sliced
2 cups tomatillo-salsa (link below)
1 cup shredded cabbage
Instructions
In a large bowl combine chili powder, cumin, salt, onion powder, and garlic powder.
Add ground beef.
Using your hands, combine mixture gently, being careful not to over mix.
Shape mixture into four 3/4-inch thick half moon shape patties. (about 4-inches long)
Grill, turning once.
Add cheese during the last 1 minute of grilling.
Stack and wrap tortillas in foil. While patties are grilling, add tortillas to grill.
Grill about 5 minutes.
To serve, place a burger on one half of each tortilla.
Top with tomato, Tomatillo Salsa, and shredded cabbage.
Fold tortillas in half over filling.
Notes
This recipe is from the BHG Grilling 2010 magazine.