This truly is The Best Chicken Stock!  Full bodied with a rich depth of flavor.  This stock will enhance any recipe that calls for chicken stock.  I use this recipe to make my Chicken Noodle Soup.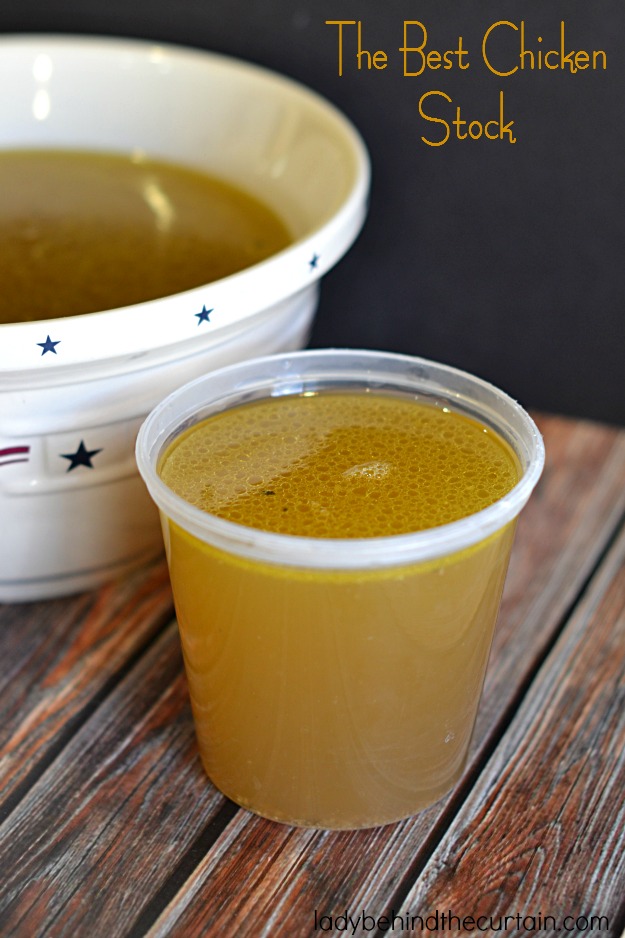 I make at least two batches and store them in the freezer.  Perfect for a quick weeknight dinner or when that unexpected flu hits and all you want is SOUP!  This Chicken Stock is stocked with it's own chicken.  I shred the chicken that was used to make the stock, that way all I have to do is add a few vegetables and noodles!
I put everything in the pot just like I got it from the grocery store.  I DON'T PEEL ANYTHING!  🙂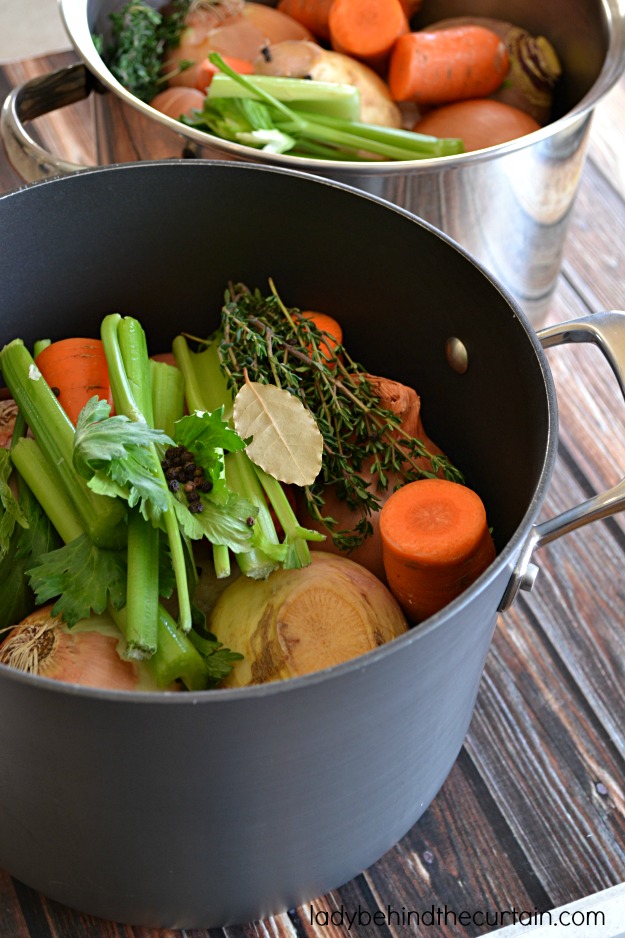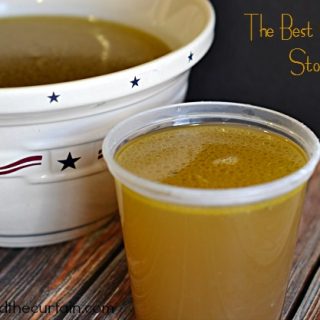 The Best Chicken Stock
Cook Time:
1 hour
30 minutes
Total Time:
1 hour
50 minutes
Ingredients
1 whole chicken (about 3-1/2 pounds)
2 carrots, cut in large chunks
3 celery stalks, cut in large chunks
2 large white onions, cut in half
1 head garlic
1 turnip, halved
1/4 bunch fresh thyme
2 bay leaves
1 teaspoon whole black peppercorns
1 tablespoon salt
Instructions
Place the chicken and vegetables in a large stockpot over medium heat.
Pour in only enough cold water to cover.
Toss in the thyme, bay leaves, and peppercorns, and allow it to slowly come to a boil.
Lower the heat to medium low and gently simmer for 1 to 1-1/2 hours, partially covered, until the chicken is done.
As it cooks, skim any impurities that rise to the surface; add a little more water if necessary to keep the chicken covered while simmering.
Carefully remove the chicken to a cutting board. When its cool enough to handle, discard the skin and bones; shred the meat.
Optional: You can either store the chicken in a separate container to use in another recipe or place the shredded chicken in with the stock.
Carefully strain the stock through a fine sieve into another pot to remove the vegetable solids. !TIP: If you want a thicker soup, take some of the vegetables from the stock, peel, puree them and add back to the stock.
Cover and refrigerate for up to one week or freeze.
FOR SOME DELICIOUS SOUP RECIPES VISIT MY SOUP CATEGORY.