Things You Should Know Before Visiting Disneyland

Things You Should Know Before Visiting Disneyland |  Disneyland is all about wonder and amazement.  Whether you are visiting Disneyland for your summer vacation or any time of year make sure to make a plan.  Traveling with kids of all ages has its challenges.  If you follow my tips below you will be able to enjoy your favorite rides, parades, fireworks and more!  Because…the most important thing is that you and your family enjoy all the Magic that ONLY Disney can create!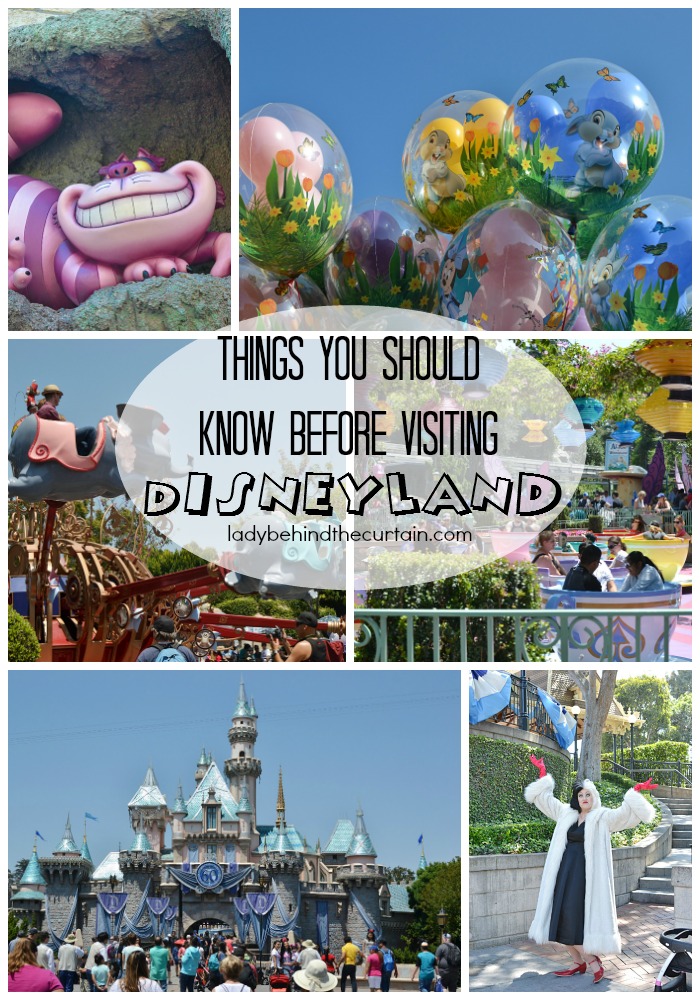 NO SAD KIDS:  If a cast member sees an upset child, they can invoke the "NO SAD KIDS" rule.  The rule allows the cast members to replace dropped ice cream, lost souvenirs or soiled clothing for free to any sad children.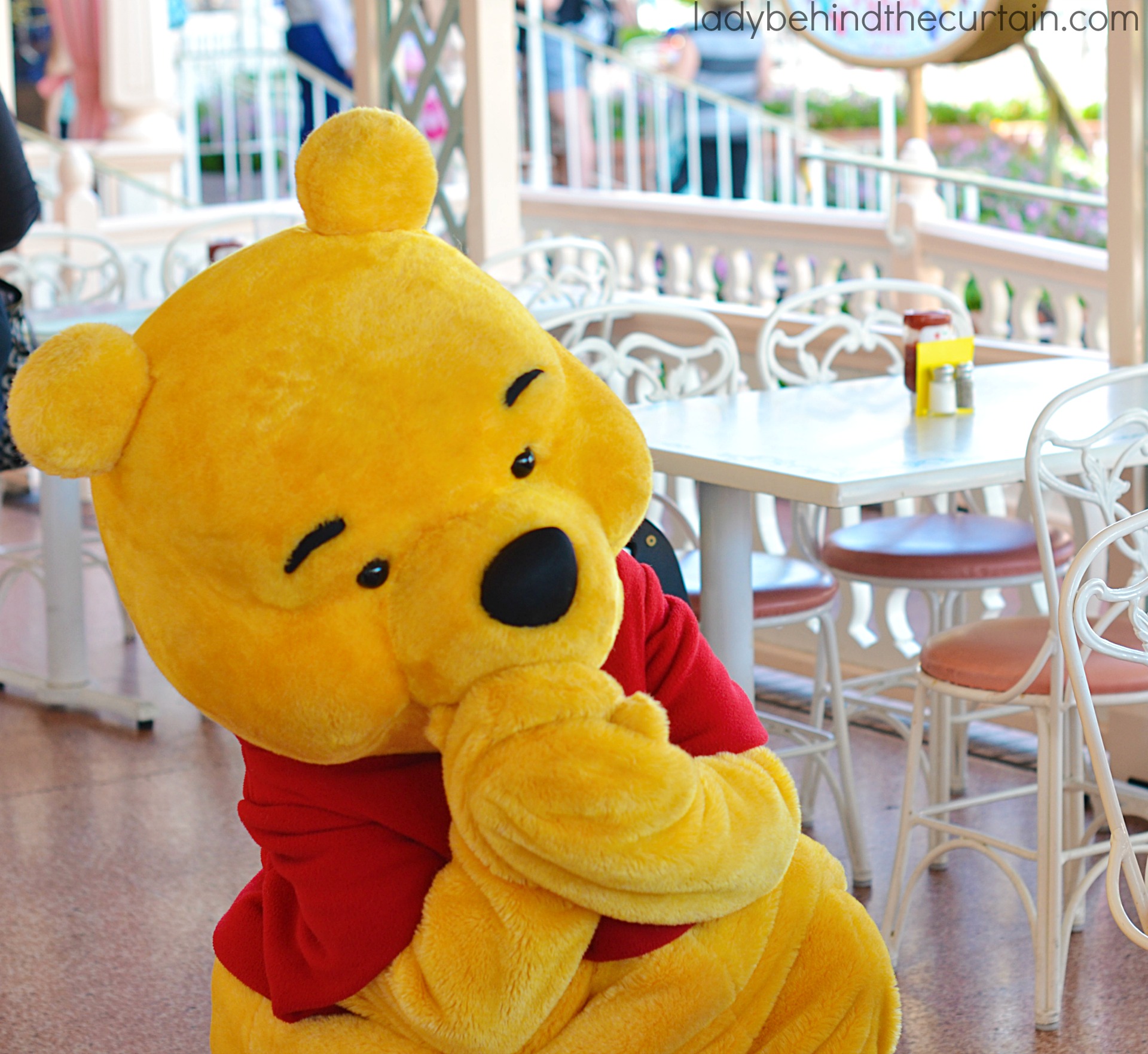 FIREWORKS:  Try to see the fireworks at least once during your visit.  I know it's at the end of the day but trust me when I say IT IS WORTH THE WAIT!  Like everything with Disney the fireworks show is done right.  From Main St. you can view the fireworks and projections on the buildings.  The fireworks start at 9:30 right after the Electric Parade.
ELECTRIC PARADE:  This one will take a bit of planning.  If you have people in your group wiling to stake out a spot for your group early then that's the way to go.  During the week the parade only runs once at 8:45 PM, on weekends it also has a second run at 10:45 PM.  We arrived at 7:00 PM and all the curbs were already taken.  I don't really think there's a prime location for the parade as far as viewing goes.  NOTE:  Only the people sitting on the curb are allowed to sit during the parade….all others have to stand.  So, if you have little ones I HIGHLY recommend taking the time to save yourself some seating on the curb.  You can rotate who saves the area.
WORLD OF COLOR: This makes for another late evening but is well worth it.  With a little planning your family will enjoy a spectacular breathtaking, sky high display of fountains, lights, music and a wondrous display of fun for everyone complete with fire!
PRINCESS DRESS:  Even though I didn't list this first I think it is a VERY important tip.  BRING YOUR OWN PRINCESS COSTUMES!  While you really can't match the quality of the princess dresses at Disneyland you can find them tons cheaper.  The kids will grow out of them before you know it so why spend $70 when you only need to spend $20-$30.  Plan ahead…Target and Walmart carry them year round.  Also….buying your Disney shirts at Target or Walmart is a must!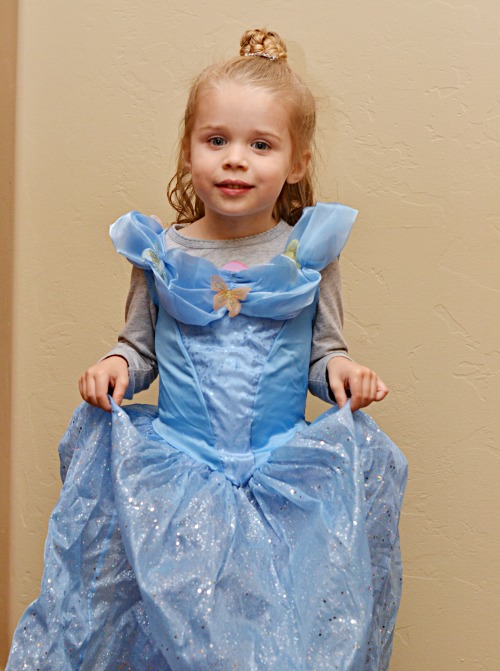 DISNEYLAND APP:  Check wait times, see restaurant menus, locate favorite characters  and more!  The perfect tool to have at your fingertips!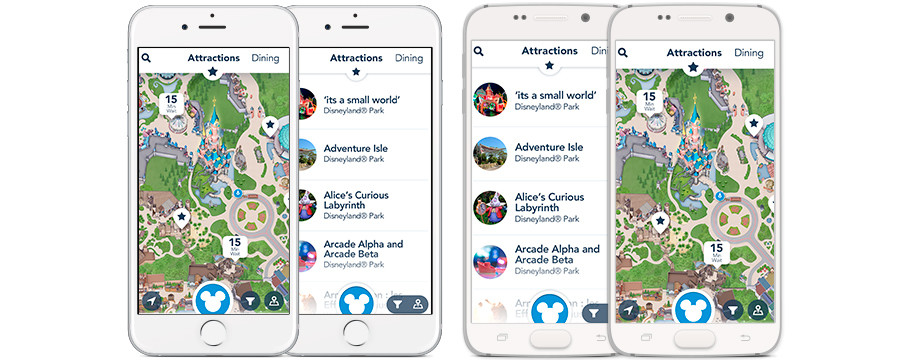 DISNEYLAND RIDE WAIT TIME BOARD:  If you don't have a smart phone then Disney has got you covered!  Instead of walking across the park from ride to ride they have a handy board for you to use.  This board is located at the end of main street right before the bridge which leads you to the entrance of either Frontierland or Adventureland.  On this board you will be able to plan what rides you would like to ride now, get a fastpass (I'll talk about that later) for or if the ride is closed.  Using these two tools helped us be able to ride all the rides we wanted to.  FOR EXAMPLE:  We got a FASTPASS for Indiana Jones…and while we were waiting for the time to come around for us to use it we hopped on Thunder Mountain.  Because we had the Disneyland App we were able to see that the wait was only 15 minutes.
FASTPASS: You will need your Disneyland entrance ticket to receive a FASTPASS.  Look for the FASTPASS distribution sign near the entrance of an attraction.  Check the return time displayed on this sign.  If the return time works for you, insert your valid Disneyland Resort admission ticket, readmission ticket or Annual passport into the FASTPASS machine.  The machine will generate a FASTPASS ticket printed with your return time.  Return to the FASTPASS return entrance at your return time, show your FASTPASS ticket to the cast member and enjoy the attraction with a minimal wait.  NOTE: At the bottom of your FASTPASS ticket is the time listed when you are able to get another FASTPASS.  So you can have more then one FASTPASS at a time.  Also don't forget you'll need EVERYONE'S entrance ticket to received multiple FASTPASS tickets.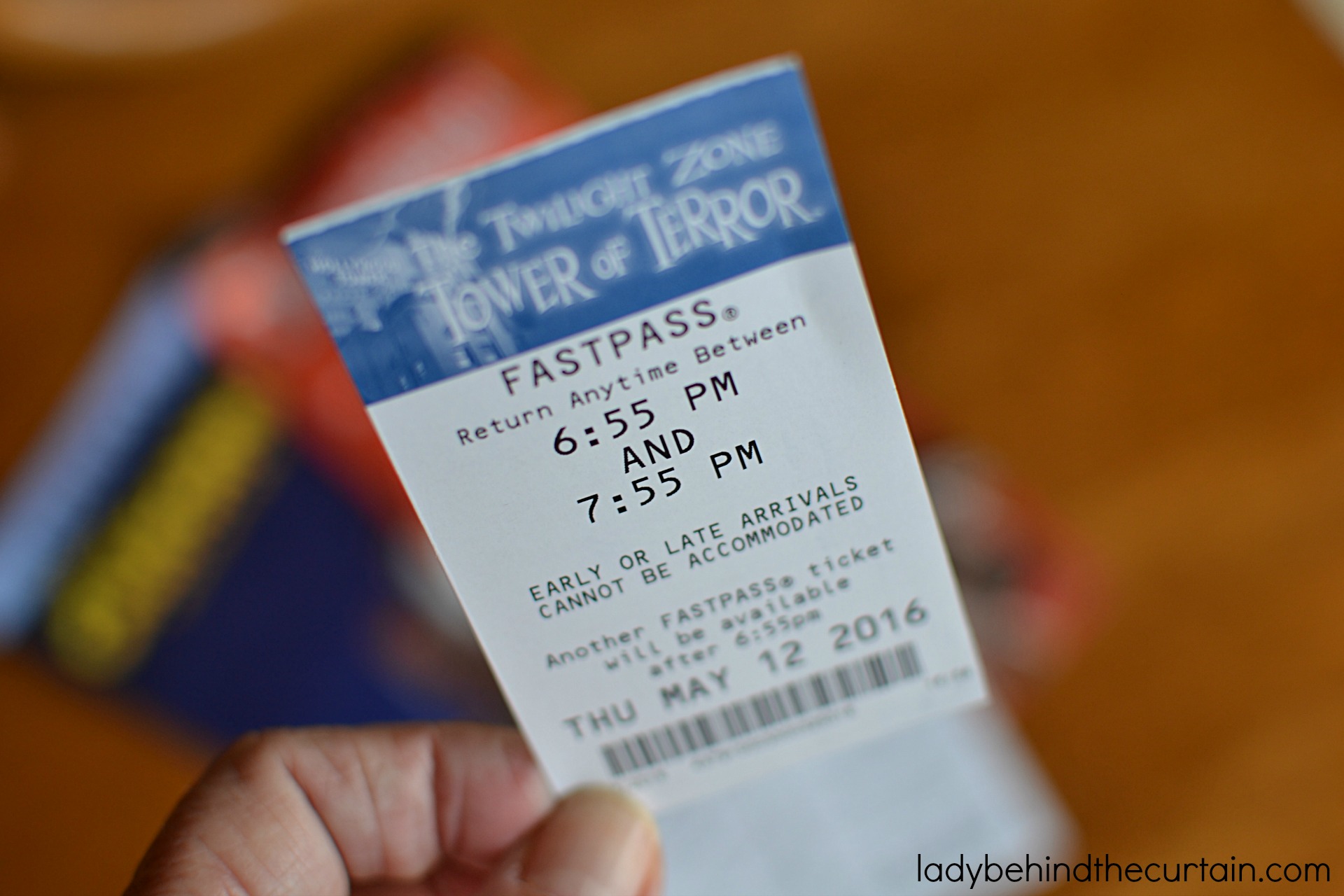 Even the FASTPASS kiosks are themed out!  This one is for Tower of Terror (now Guardians of the Galaxy Mission:Breakout!)!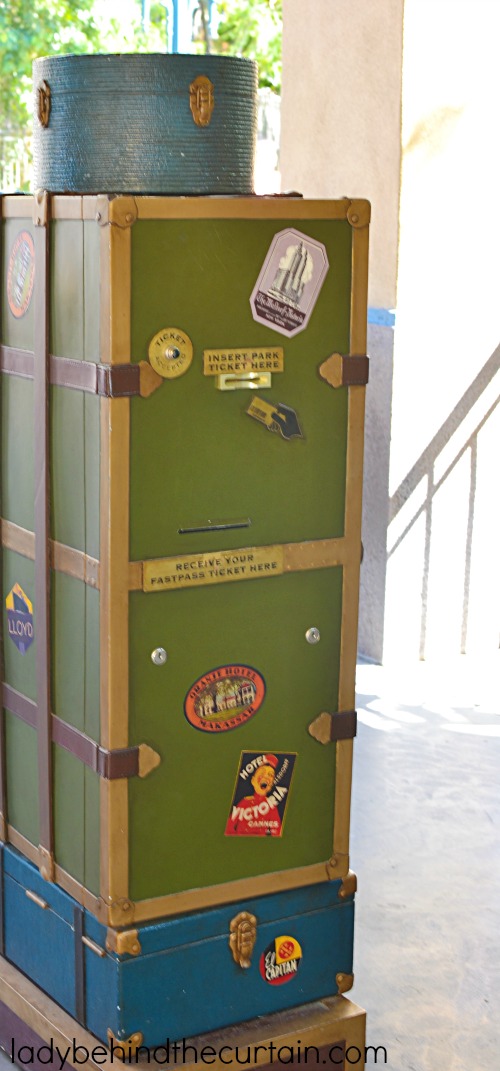 Here is a list of attractions that have FASTPASS tickets for Disneyland and Disney California Adventure:
Disneyland:
Big Thunder Mountain Railroad
Buzz Lightyear Astro Blasters
Haunted Manson
Indiana Jones Adventure
Roger Rabbit's Car Toon Spin
Space Mountain
Splash Mountain
Star Tours
Matterhorn
Disney California Adventure:
California Screamin'
Goofy's Sky School
Toy Story Midway Mania
Radiator Springs Racers (these tickets run out so make sure to get yours right when you arrive)
Soarin' Around the World
Guardian of the Galaxy Mission: Breakout!
TAKE NOTE TO CHECK EITHER YOUR DISNEYLAND APP OR THE DISNEYLAND RIDE WAIT TIME BOARD BEFORE PLANNING WHICH RIDE WILL NEED A FASTPASS.  We found that some of the rides weren't worth spending a FASTPASS on.  The line was short enough (15 minutes) that we could wait in line to ride it.
SINGLE RIDER LINE:  If you don't have any little ones (age 7 and up are eligible) and you don't mind riding with strangers.  Take advantage of this awesome opportunity.  Definitely for the Radiator Springs Racers!  The FASTPASS for this ride runs out early and the line gets really long.  But with single rider we only waited 15 minutes!  I call that a WIN!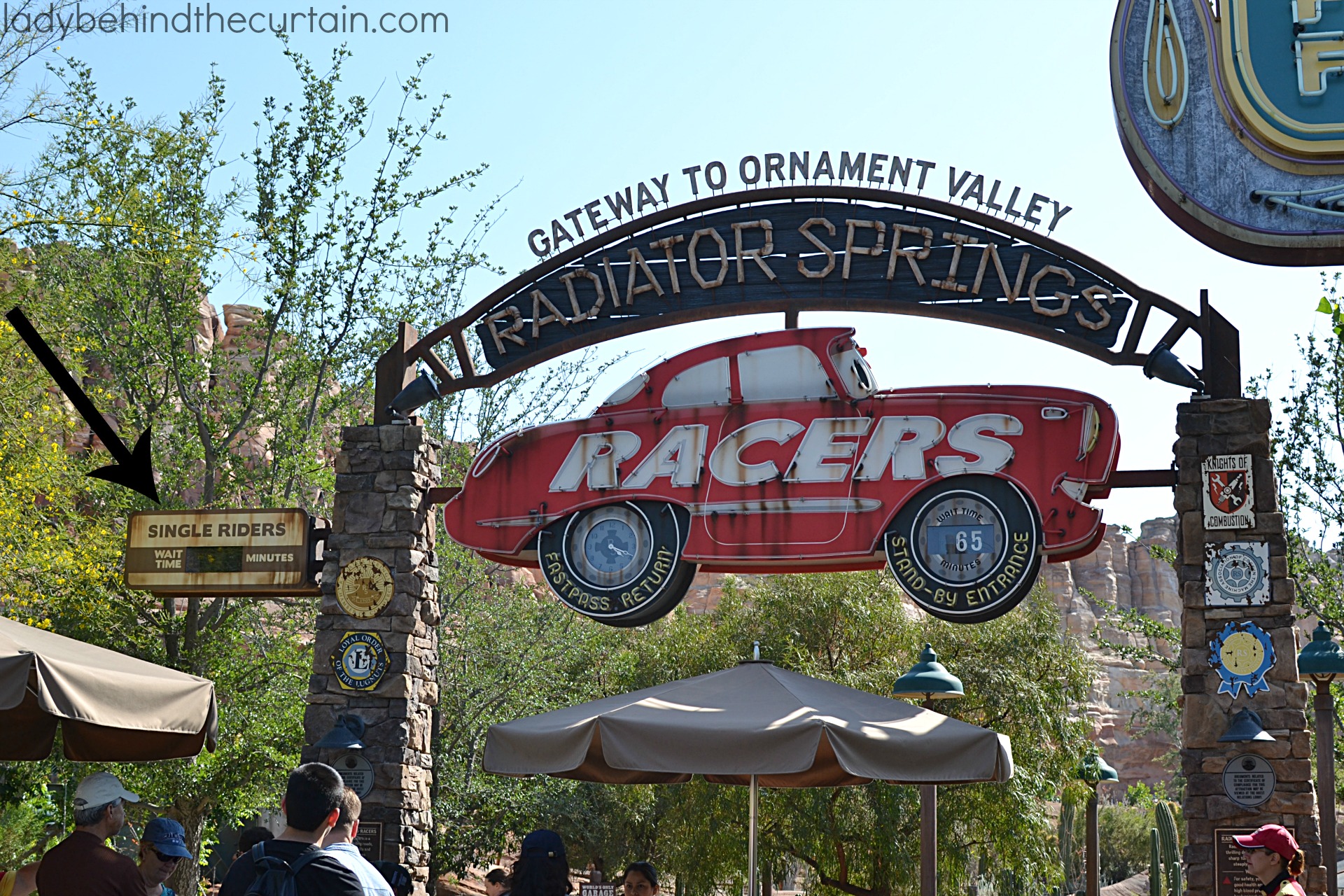 The wait WITHOUT a FASTPASS was 65 minutes!  We used the single rider line.  It only took us 15 minutes!
LIST OF SINGLE RIDER LINE ATTRACTIONS
Disneyland:
Splash Mountain
Matterhorn Bobsleds
Indiana Jones Adventure
Disney California Adventure:
California Screamin'
Goofy's Sky School
Radiator Springs Racers
Soarin' Over California
Grizzly River Run
With all this being said REMEMBER to enjoy all the magic that Disney has to offer.
…UNTIL NEXT TIME DISNEYLAND!