Triple Cinnamon Scones | With THREE layers of cinnamon you would think you were eating a gooey cinnamon roll!  These Triple Cinnamon Scones have a wonderful glaze full of cinnamon that can be drizzled or dipped onto the scones!  You can make these scones ahead of time and freeze.  Don't glaze until the day they are being served.
Do you love scones as much as I do?  Here are some of my favorite scone recipes:  GINGER SNAP SCONES, CHRISTMAS SCONES AND STRAWBERRY CHEESECAKE SCONES.
Here's how you make these awesome scones!
Form dough into a 9 inch square, brush on the butter, sprinkle the brown sugar and cinnamon on top.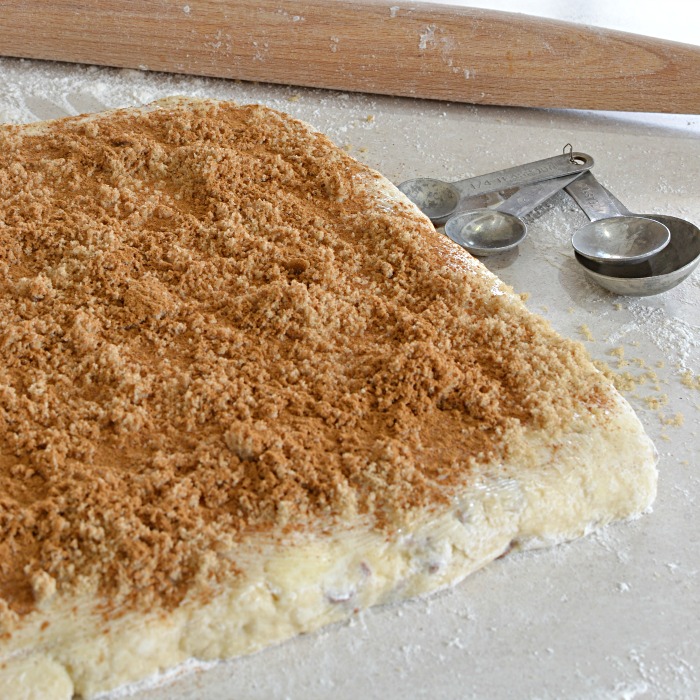 Fold one side to the center.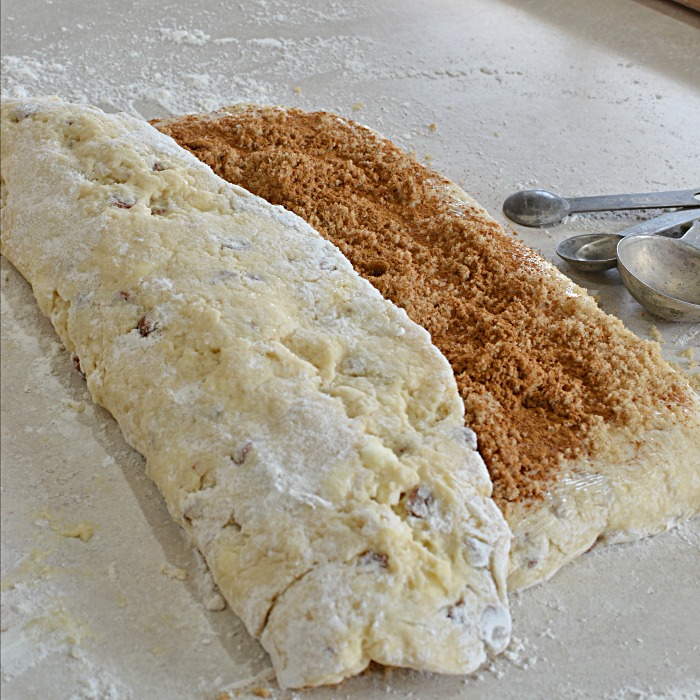 Fold the remaining side over the top, overlapping the other side a bit.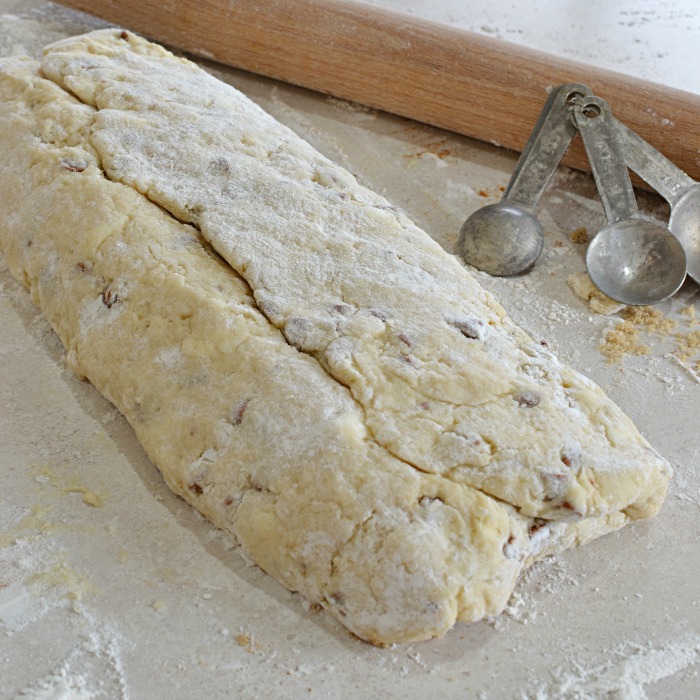 From into a 3 inch by 19 inch rectangle.
Cut rectangle into SIX 3-inch pieces.
Cut each square from corner to corner to form somewhat of a triangle, Separate 1-inch apart and bake!
FOR MINI SCONES:
Cut each 3-inch square in half and then into 4 triangles.
PIN THESE TRIPLE CINNAMON SCONES TO YOUR BREAKFAST OR BAKED GOODS BOARDS.  Don't have a breakfast board? Let me help you create one!  Visit my breakfast board and pin away!

Triple Cinnamon Scones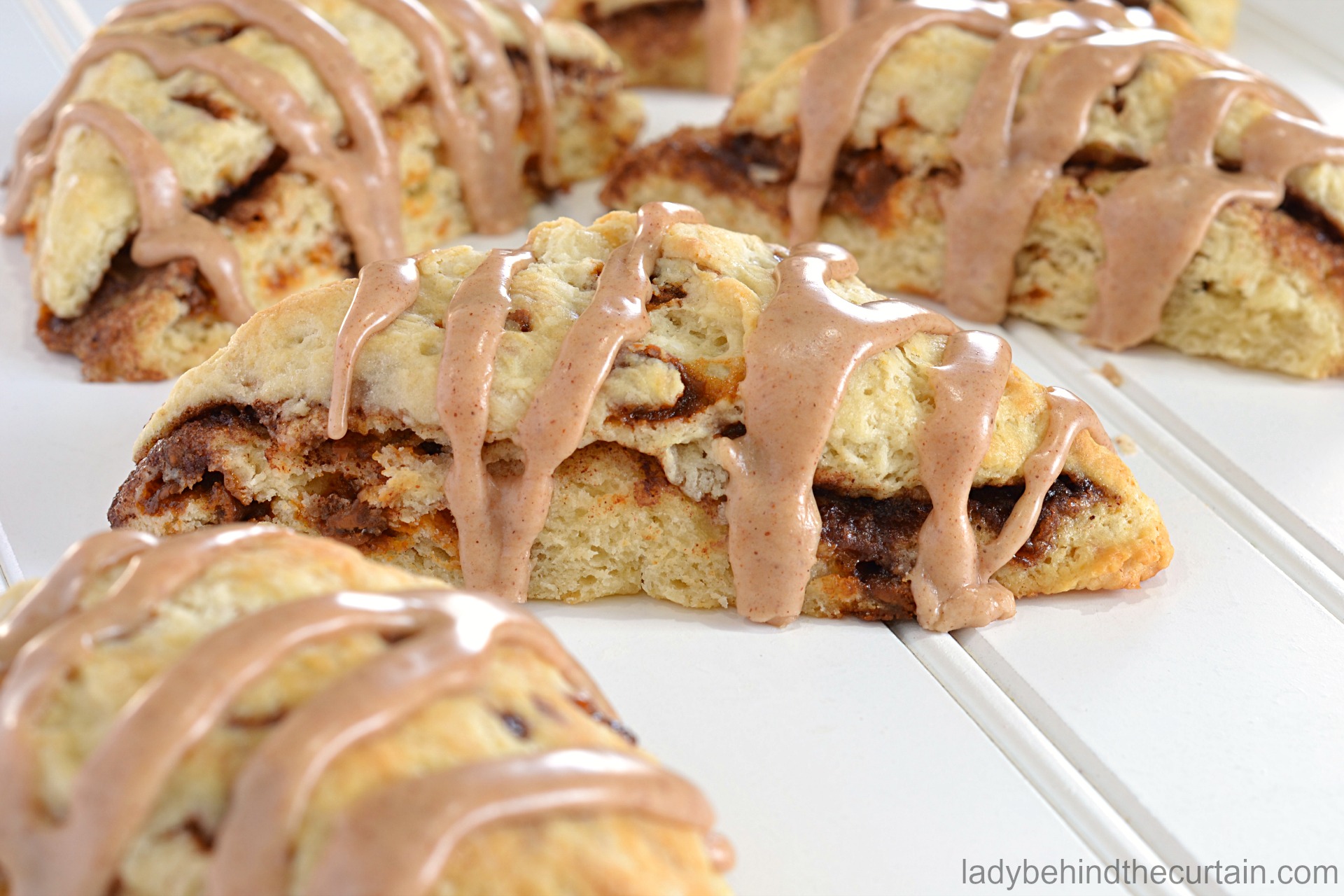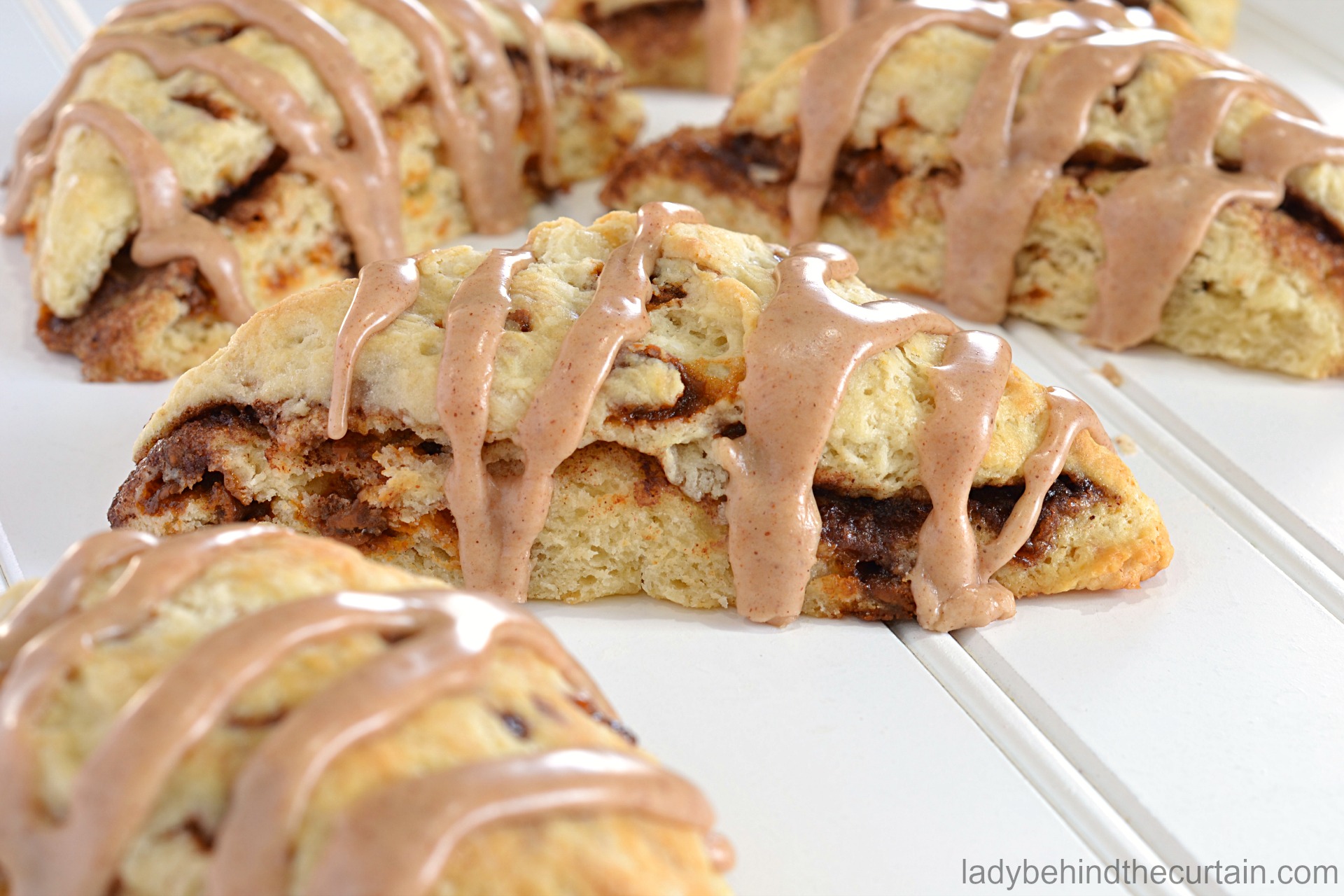 Ingredients
For the Scones
3/4

cup half and half

2/3

cup cinnamon chips

3 1/4

cups all-purpose flour, divided

1/3

cup granulated sugar

1

tablespoon baking powder

3/4

teaspoon salt

1/2

cup cold butter, cut into pats

2

large eggs, lightly beaten

1

teaspoon vanilla extract
For the Filling
1

tablespoon butter, softened

3

tabelspoons light brown sugar

1 1/2

teaspoons ground cinnamon
For the Glaze
2

cups confectioners' sugar

1

teaspoon ground cinnamon

1

tablespoon plus 1 teaspoon water
Instructions
For the Scones:
Preheat oven to 400°.
Combine the cinnamon chips with the half and half in a small bowl. Let the mixture rest(this creates a cinnamon flavored milk). While the cinnamon mixture is resting, get started putting together the rest of the ingredients. In a large bowl add the flour, sugar, baking powder and salt. Whisk to combine. Cut butter into pieces, add to the flour mixture, using a pastry blender cut the butter into the flour making sure to leave chunks of butter through out the dough. Add the eggs and vanilla to the cinnamon milk, whisk to combine. Pour into the flour mixture. Stir until just combined. Pour onto a floured surface. Pat the dough into a 9-inch square.
Brush on the butter for the filling, sprinkle the brown sugar and cinnamon on top. Fold one edge into the center and over the filling. Fold the remaining edge over the center. Gently pat into a 3-inch by 18-inch rectangle. Cut the rectangle into SIX 3-inch pieces. Transfer squares to a cookie sheet or baking pan lined with parchment paper. Cut each square in half diagonally to form a rectangle (look below for a way to make these into mini scones). Separate 1-inch apart. Bake 18 minutes. Cool before adding the glaze.
For the Glaze:
In a medium bowl whisk together the sugar, cinnamon and water until creamy and there are no lumps. Pour into a zip top bag and drizzle over the scones or use a fork to drizzle. NOTE: If you would like the glaze to be more for dipping the scone into simply add more water but ONLY a tiny bit at a time. It doesn't take much for the glaze to become too runny.
For Mini Scones:
To achieve mini scones....cut the squares in half straight up and down and then cut the smaller piece on the diagonal getting 4 scones from on square instead of 2.
MORE CINNAMON BREAKFAST RECIPES

GRANDMA'S GOOEY CINNAMON ROLLS  2.  CINNAMON BLUEBERRY CRUMBLE  3. CINNAMON ROLL BREAD PUDDING

NEVER MISS A POST!
Sign up for my newsletter (two per month) and receive my recipes in your inbox. Easy to see anytime and saved for safe keeping. Click Here and sign up today! —->>>>CURTAIN CALL NEWSLETTER