Tropical Smoothie Bowl with Toasted Topping
Tropical Smoothie Bowl with Toasted Topping: Transform your favorite smoothie into a meal that can be eaten with a spoon! Maybe drinking your meal doesn't sound appealing and you need something to chew on. This mango smoothie bowl has a delicious crunchy topping of rolled oats, shredded coconut, sliced almonds, and flaxseeds. Perfect for a busy on the go lifestyle. Grab a spoon and dive in!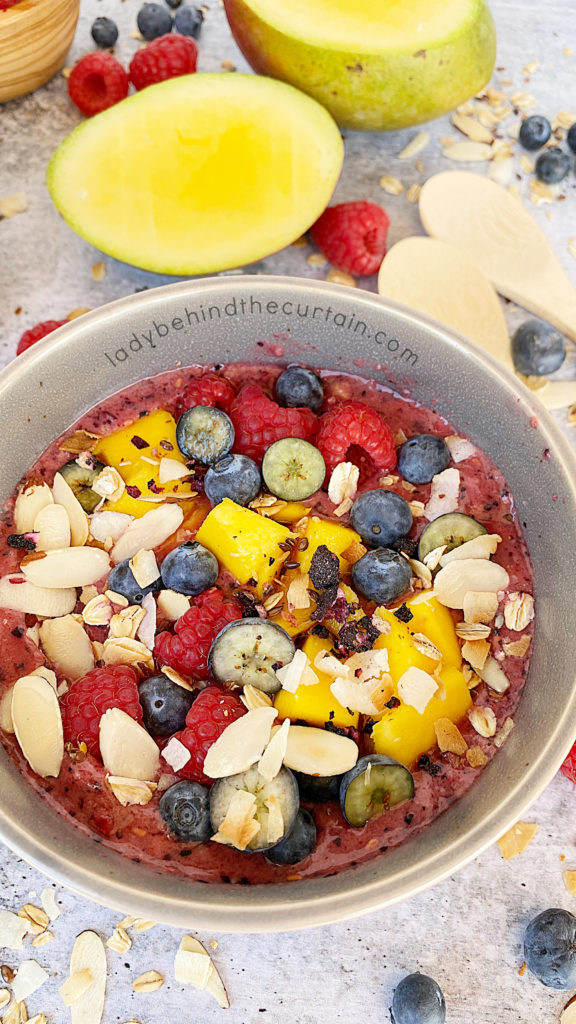 Smoothie VS Smoothie Bowl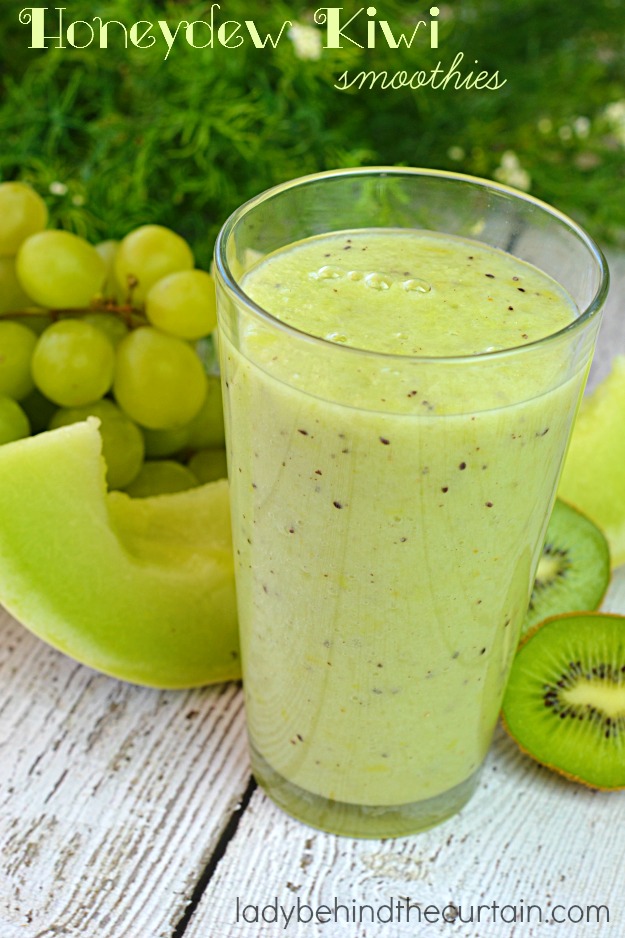 Both are cool, creamy and delicious
Make a great well rounded breakfast or healthy snack
Super easy to put together
Delicious toppings for now and later smoothie bowls
Another Smoothie Bowl Recipe
Ingredients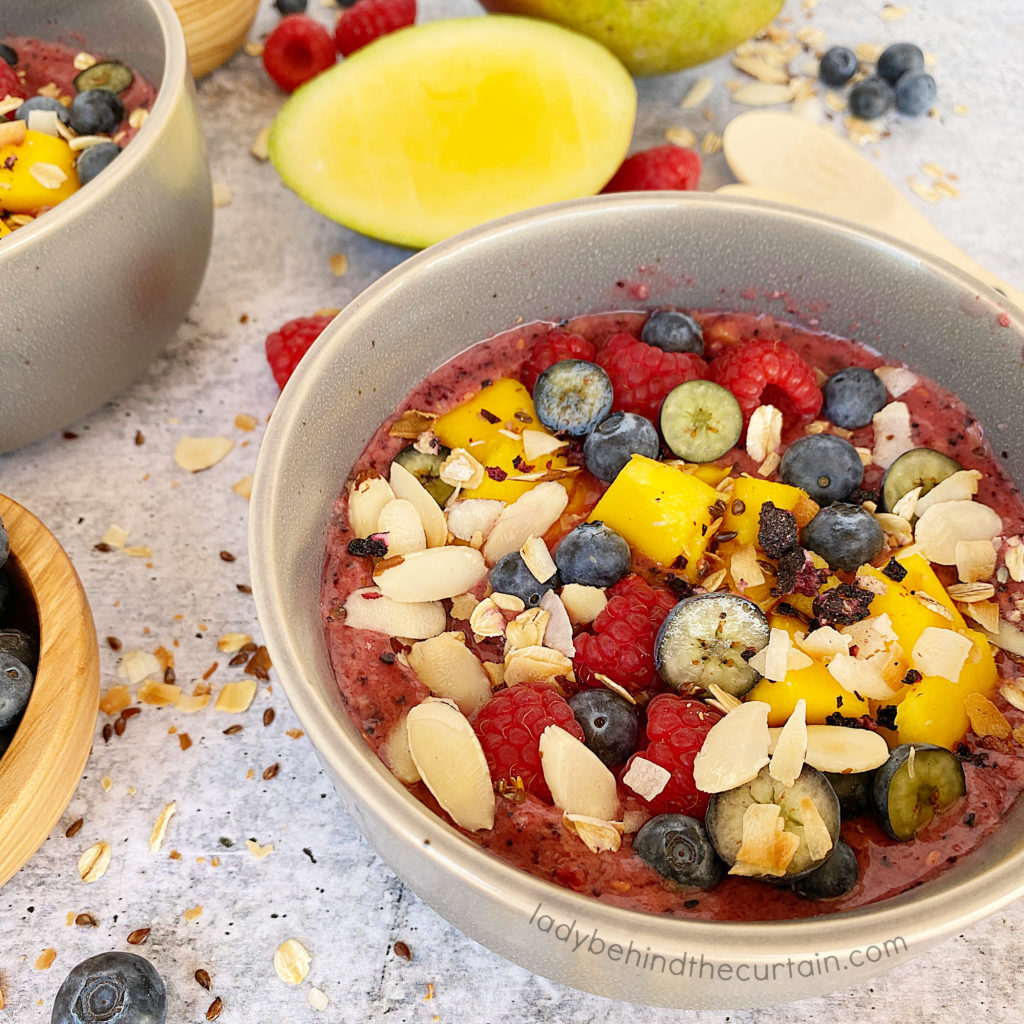 SIMPLE INGREDIENTS:

FROZEN FRUIT: The base to this Tropical Smoothie Bowl, the fruit creates this thick creamy texture and offers delicious flavor.
COCONUT MILK: NOT TO BE CONFUSED WITH COCONUT WATER OR THE KIND IN A CAN. This smoothie recipes calls for refrigerated unsweetened coconut milk
Toppings!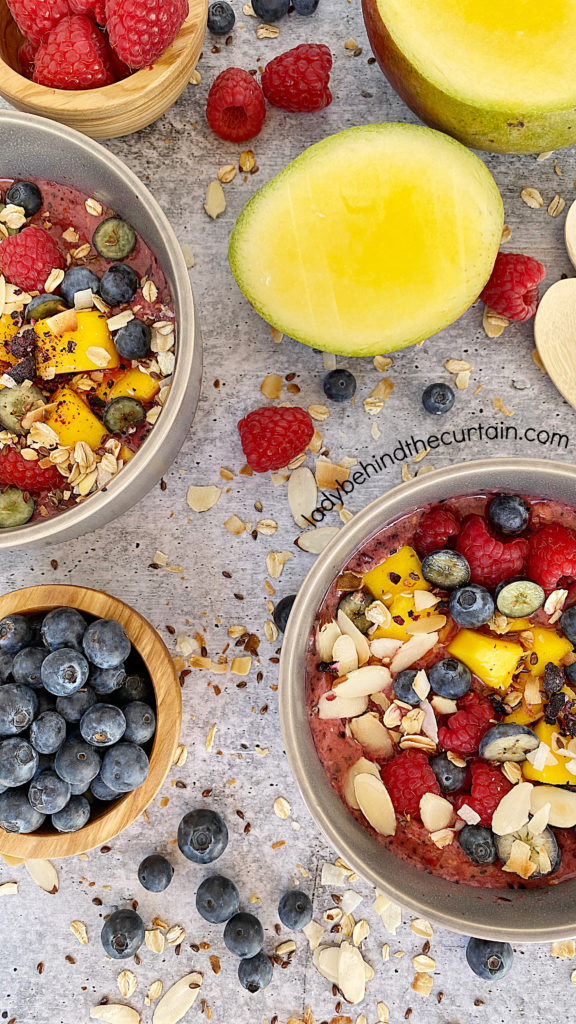 FRESH MANGO: If you use a ripe mango it will add sweetness.
FRESH BERRIES: Using the same combination of fresh berries that are in the smoothie bowl is a great way of bringing all the favors together.
TOASTED TOPPING: Coconut, rolled oats, sliced almonds, and flaxseeds. Toasting your topping will add another layer of flavor to the mix.
IT'S ALL BOUT THE TOPPINGS!—TOP 10 SMOOTHIE BOWL TOPPINGS—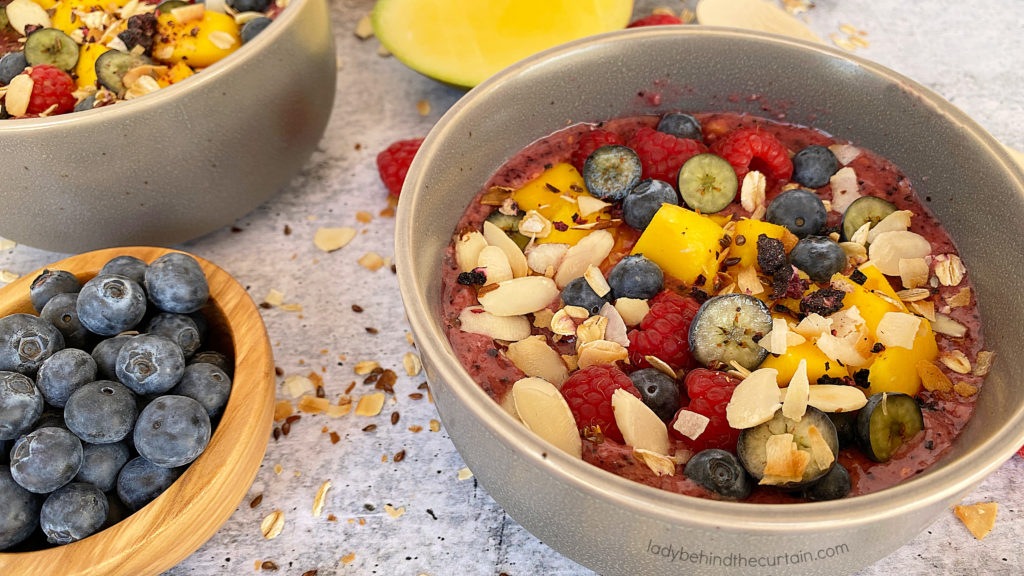 Fresh Fruit
Nuts: almonds, pecans, walnuts, cashews, macadamia nuts
Granola
Drizzles: honey, maple syrup or agave
Seeds: pepitas, chia seeds, flax seeds, hemp
Toasted Coconut
Chocolate: nips or chips
Butter: peanut, almonds, or cashew
Shredded Spinach
Crushed Freeze Dried Fruit
How to Toast Toppings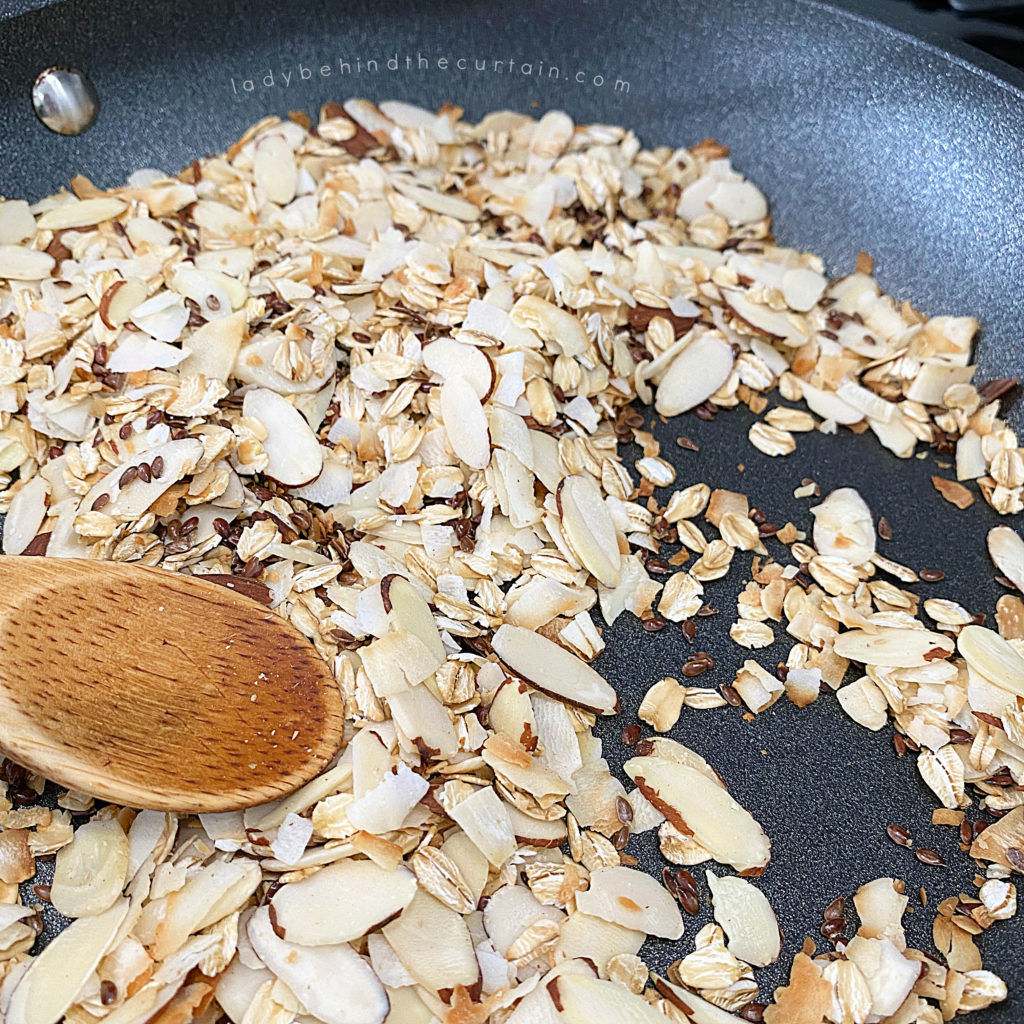 Add toppings to a dry skillet. Turn heat to medium. Continuously stir until topping has light brown pieces. Pour into a bowl to cool. Store in an airtight container.
How to Freeze Fresh Fruit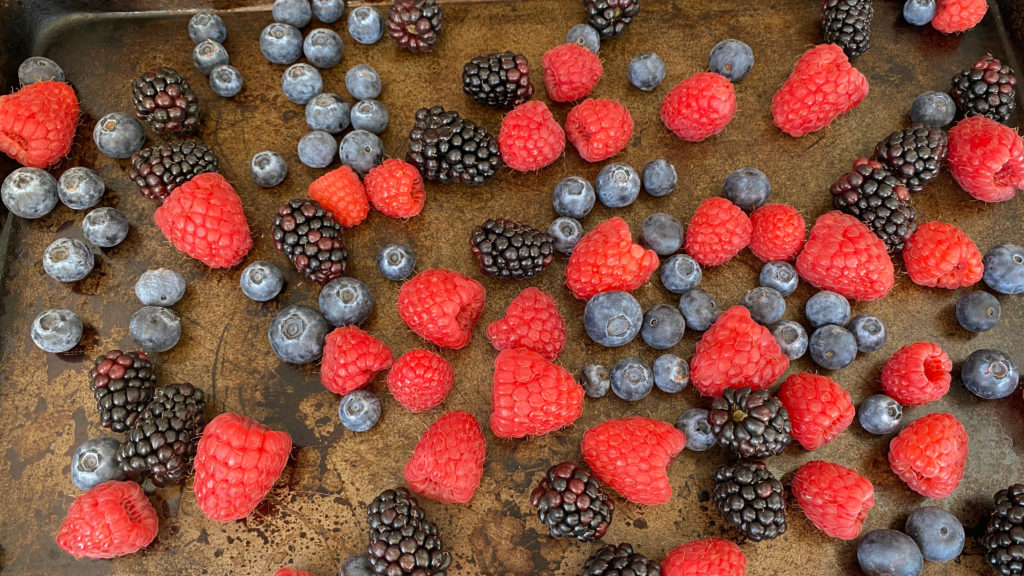 THIS IS A GREAT SOLUTION FOR EXTRA FRUIT OR FOR FRUIT THAT IS ABOUT TO GO BAD. Wash and dry fruit, then chop, or slice fruit. You can also keep the fruit whole as long as the fruit is in uniform size. Lay the fruit on a baking sheet. Place the baking sheet in the freezer for at least 1 hour or until the fruit is frozen. Transfer to a freezer safe bag and label. Will keep fresh up to 3 months.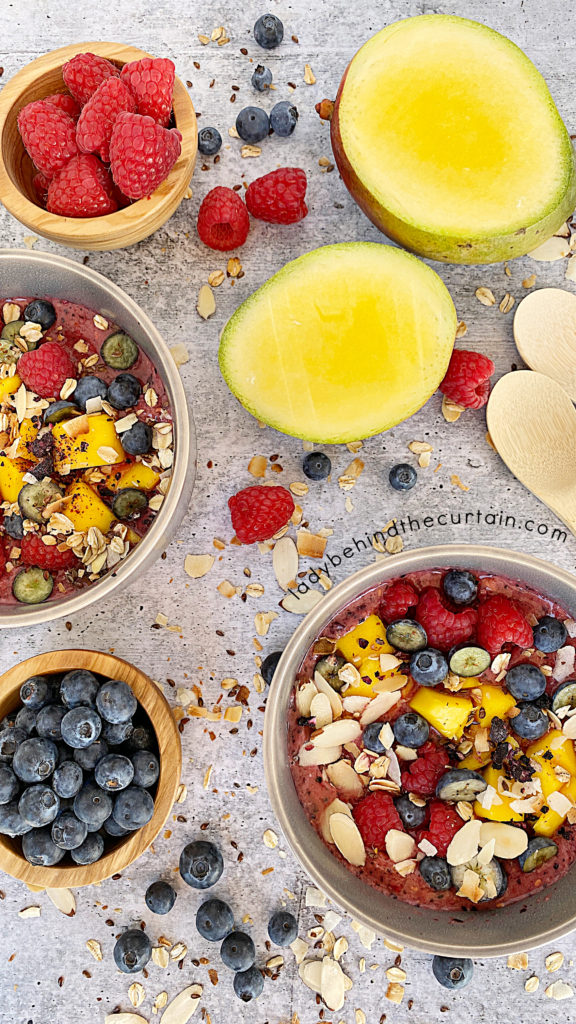 A smoothie recipe is merely a template. Customize the ingredients to your taste or to what you have on hand.
How to Peel and Seed a Mango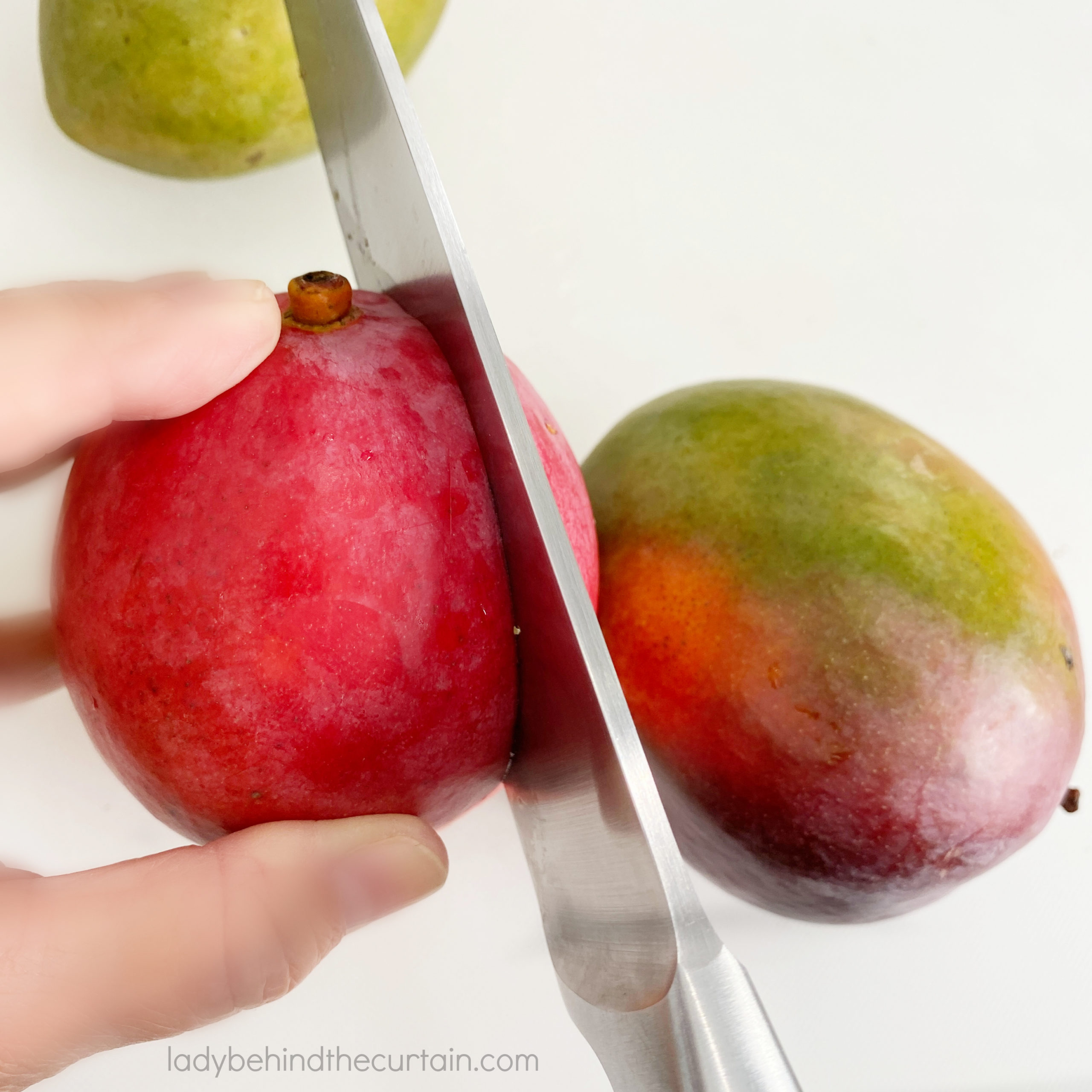 Hold the mango upright with the stem up.
Slice on each side of the stem (NOTE—if you feel some resistance you have cut too close to the pit. Move a little over and continue cutting)
Using the tip of a sharp knife score diagonally into each fruit side.
Pop the side inside out and cut off the mango pieces. (NOTE—going through these steps will eliminate the fibrous portion of the fruit) ENJOY.
EQUIVALENTS—FOR FREEZING YOUR OWN FRUIT
| | |
| --- | --- |
| APPLE | medium, chopped = 1 slightly rounded cup |
| AVOCADO | medium,, diced or cubed= about ¾ cup |
| BANANA | medium, sliced=about ¾ cup |
| BLACKBERRIES | 6 ounce container = 1¼ cups |
| BLUEBERRIES | 4.4 ounce container = 1 cup |
| CARROT | medium, peeled and chopped = ½ cup |
| KALE | 10 ounce bunch, stems removed and leaves chopped= 6 cups |
| MANGO | medium, seeded, peeled, and cubed = about 1½ cups |
| ORANGE | large= about 6 tablespoons ( a generous 1/3 cup) juice |
| PEACH | medium, chopped = 1 cup |
| PEAR | medium, chopped = 1½ cups |
| RASPBERRIES | 6 ounce container= about 1½ cups |
| RHUBARB | 4 ounce, cut into matchstick pieces = 1 cup |
| STRAWBERRIES | 1 pound, sliced =3 cups |
Pack in More Protein
Add a scoop or unsweetened vanilla whey protein powder to smoothie before blending.
SMOOTHIE RECIPES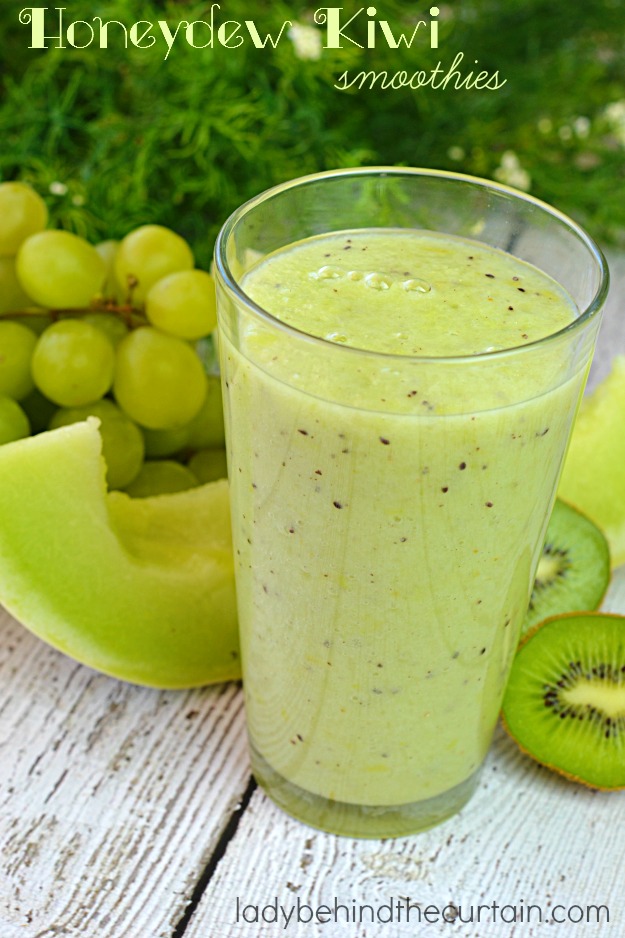 HONEYDEW KIWI SMOOTHIE 2. PEANUT BUTTER APPLE SMOOTHIE 3. TROPICAL SMOOTHIE 4. CHOCOLATE CHERRY VANILLA SMOOTHIE
How to Make a Smoothie Bowl Thicker
Nothing is worse than a melty smoothie bowl that's hard to eat with a spoon. If you blend up your smoothie and are wishing it was thicker, you can do a few things. 1. Add more frozen fruit 2. Add protein powder 3. Add chia seeds (chia seeds absorb liquid and will make your smoothie thick)
How to Sweeten a Smoothie Bowl
FOZEN BANANA
HONEY
AGAVE SYRUP
SUGAR SUBSTITUTES
SIGN UP FOR THE LADY BEHIND THE CURTAIN NEWSLETTER AND FOLLOW THE LADY BEHIND THE PARTY ETSY SHOP
THANKS FOR VISITING♥