Waffle Cone Fried Chicken Tenders
Waffle Cone Fried Chicken Tenders | This crunchy fair like dish will have everyone in your family begging for more.  These Waffle Cone Fried Chicken Tenders are juicy on the inside and covered with a delicious layer of crunchy waffle cones!  Waffles and fried chicken…. it's all the rage and is considered a "specialty" item.  I say "make your own!"  This totally reminds me of fair food.  The crushed waffle cone coating tastes as good as it sounds.  With a hint of sweet.  Your kitchen will smell like an ice cream parlor and we all know how much we love that sweet smell of fresh waffle cones baking in the oven!
Serve these chicken tenders with a variety of dips.  I served mine with a honey mustard dip and ranch but the one dip that really drove home the waffle cone flavor was the maple syrup.  The combo of the savory chicken and syrup was the bomb!
I didn't only dip the chicken tenders in smashed waffle cones I also smothered them in a waffle batter.  So no matter what, you are guaranteed to taste waffles!  So….I did a little research and found that most of the time when a waffle cone and fried chicken are combined it's by placing the chicken in a waffle cone!  With this recipe you can serve your family or guests something they've never had!  Plus, it's SUPER easy!  How fun would it be to make this for a carnival themed party?
Here's a fun carnival party I put together.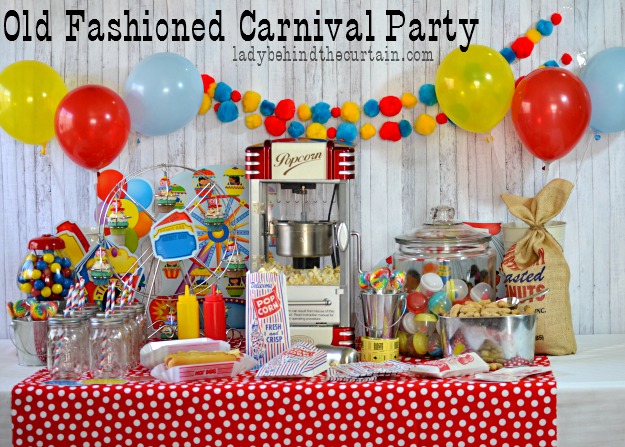 Store bought waffle cones!
Crush the cones for a slightly sweet taste.  Your house will smell like your walking the carnival midway!
The pancake/waffle mix I used.
The waffle batter has a mixture of spices.
Set yourself up with a dipping station.  First the batter and then the crunchy waffle coating.
Dip the chicken in the batter.
Place in the crushed cones.
Coat and fry.
Fried to  golden brown.
MORE CARNIVAL/FAIR FOOD RECIPES

CARNIVAL POPCORN POPS  2. STATE FAIR CHOCOLATE STRAWBERRY WAFFLE POPS  3. CARNIVAL SODA CAN CUPCAKES
Yield: Serves 6 to 8
Waffle Cone Fried Chicken Tenders
Ingredients
1 (7 ounce) box (12 cones) waffle cones, crushed
1 cup pancake /waffle batter mix
1 large egg
1¼ cups milk
2 teaspoons salt
1 teaspoon black pepper
1 tablespoon paprika
2 pounds chicken breast, sliced into strips
1½ cups vegetable oil
Instructions
Line a baking sheet with parchment paper.
Preheat oven to 350°.
Pour waffle cone crumbs into a bowl or pie dish.
Mix together the waffle mix, egg, milk, salt, pepper and paprika in a medium bowl or pie plate; whisk until smooth.
Heat 12-inch skillet on high heat.
When oil is hot turn heat down to medium low.
TIP: One way to test whether or not the oil is hot; drop a pinch of flour in the oil, if the oil is hot the flour will sizzle.
Dip chicken in waffle mixture; transfer to the waffle cone crumbs, coat, and into the hot oil.
Fry until golden brown; place on prepared baking pan.
Bake 20 minutes or until clear juices run from the chicken.
NEVER MISS A POST!
Sign up for my newsletter (two per month) and receive my recipes in your inbox.  Easy to see anytime and saved for safe keeping.  Click Here and sign up today! —->>>>CURTAIN CALL NEWSLETTER