This Watercress Steak Salad is packed with vitamins, protein and delicious flavor.  Perfect for a light dinner or lunch.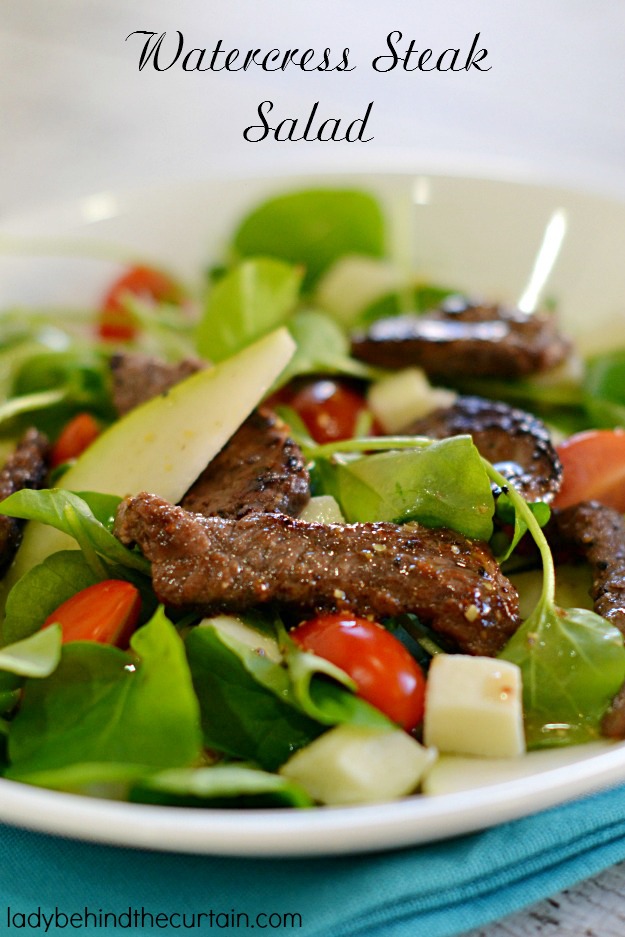 This was my first time trying Watercress.  I loved the peppery flavor.  It reminded me of radishes.  Not grassy tasting at all just peppery with a little bite.   This Watercress Steak Salad offers lots of different ingredients like tomatoes, pears, peppery watercress, juicy slices of steak and chunks of mozzarella cheese all topped with a wonderful vinaigrette.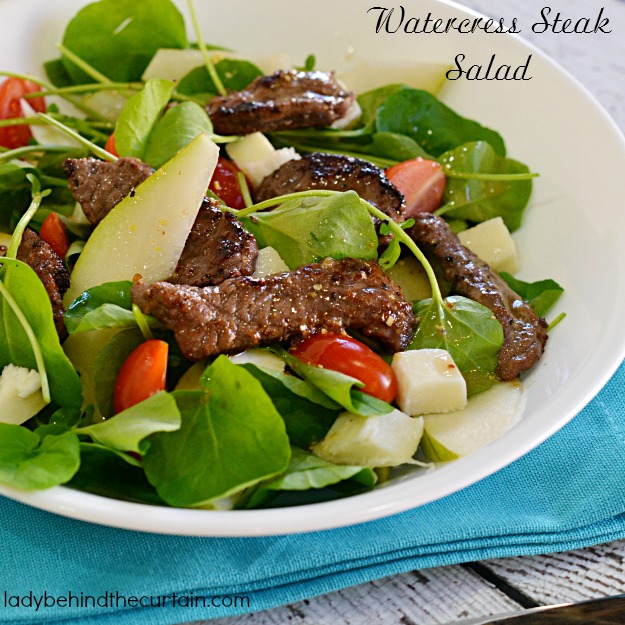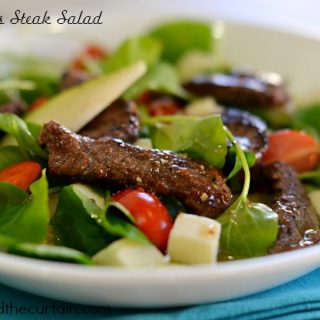 Watercress Steak Salad
Ingredients
For the Steak:
1 1/2 teaspoons olive oil
1 (1 pound) sirloin steak, cut into thin slices
salt, pepper and garlic salt to taste
For the Dressing:
2 tablespoons olive oil
3 tablespoons red wine vinegar
1 teaspoon Dijon mustard
1/2 teaspoon salt
1/8 teaspoon black pepper
For the Salad:
2 (4 ounce) packages of watercress
1 pear, thinly sliced
16 grape tomatoes, sliced in half
2 ounces fresh mozzarella cheese, cut into cubes
Instructions
For the Steak:
Heat oil in a medium skillet.
Season sliced steak with salt, pepper and garlic salt.
Cook until done or if you desire some pink cook until the level you desire is reached and set aside.
For the Dressing:
Add the oil, vinegar, mustard, salt and pepper into a small jar.
Shake hard to combine.
For the Salad:
In a large bowl add the cleaned watercress, sliced pear, tomatoes and steak.
Pour dressing over the salad and toss to coat.
Fold in cheese.
MORE LIGHT RECIPES
1. LIGHT EGG SALAD LETTUCE WRAPS  2. SLOW COOKER BAKED APPLE DESSERT 3. BAKED LEMON BLUEBERRY DONUTS