White Chocolate Raspberry Cupcakes
Time to hit the slopes with these fun white chocolate raspberry cupcakes.
I added some surprises to this cupcake with white chocolate chips and coconut.  I also decided to fill the cupcakes with raspberry preserves.  These white chocolate raspberry cupcakes are my nod to the Hostess Raspberry Coconut Zingers that I love.
You can find the vintage skiers at Bake It Pretty.  You can also purchase the trees at Bake It Pretty.  The Deer were from Michael's.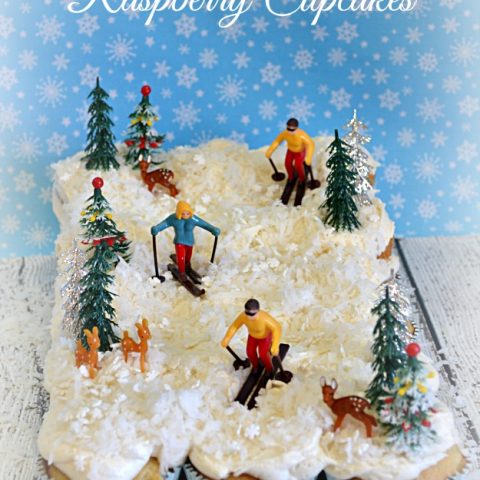 White Chocolate Raspberry Cupcakes
Ingredients
For the White Chocolate Raspberry Cupcakes:
white cake mix (15.25 ounces)
1 cup water
1/2 cup vegetable or canola oil
3 eggs
1 cup white chocolate chips
1 cup coconut
1 cup seedless raspberry preserves
For the Fluffy White Frosting:
1 cup butter, softened
5 cups confectioners' sugar
1 teaspoon vanilla extract
3 tablespoons milk
1 cup coconut
Optional: snowflake sprinkles and various cupcake toppers
Instructions
For the White Chocolate Raspberry Cupcakes:
Preheat oven to 350 degrees.
Line 24 muffin cups with cupcake liners.
Place cake mix, water, oil and eggs in a mixing bowl.
Mix on medium speed until combined and creamy.
Add the white chocolate chips and coconut.
Stir to combine.
Using an ice cream scoop divide cake batter.
Bake 20 minutes or when a toothpick inserted into the center comes out clean.
Cool cupcakes in pan 10 minutes.
Remove from pan and cool completely on a wire cooling rack.
Fill a piping bag with raspberry preserves fitted with a #12 piping tip.
Insert tip into cupcake and fill until the cupcake just starts to bulge.
For the Fluffy White Frosting:
Beat butter until fluffy.
Add confectioners' sugar 1 cup at a time adding the vanilla and milk in between.
Beat until light and creamy (about 5 minutes).
To Assemble the Pull Apart Cupcakes:
Line cupcakes up to make a ski run.
Add some frosting to the first two back rows.
Insert toothpicks into the cupcakes in the two back rows.
Take 6 cupcakes out of their wrappers.
Cut the tops off of 3 cupcakes.
Place 3 full size cupcake on top of the back row of cupcakes and the cupcake tops on top of the second to the last row of cupcakes.
Make sure all the cupcake are as close as possible.
Starting at the top and working your way down add frosting one row at a time.
Once all the frosting has been applied, use an off set spatula and carefully spread to make it appear to be one cake.
Add accent pieces, sprinkle with coconut and snowflake sprinkles.