Caramel Apple Cinnamon Rolls
Since these Caramel Apple Cinnamon Rolls don't need yeast you can have these filling your home with the aroma of cinnamon rolls in no time.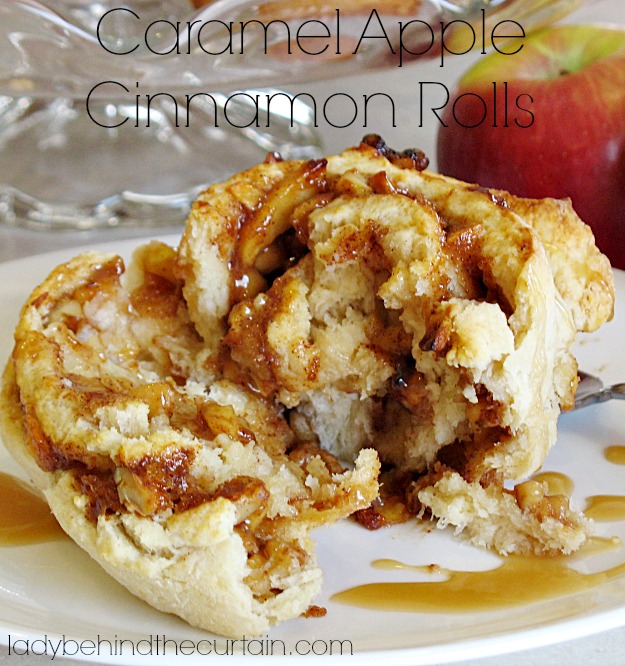 One day I wanted to make something special for my family and these caramel apple cinnamon rolls are what I came up with.  These are truly a treat!  Something special to serve for breakfast to your guests, for a Continental Breakfast or a Brunch!  These caramel apple cinnamon rolls require NO yeast which makes this recipe VERY easy to make!
Create your own Recipe Box and save your favorite Lady Behind The Curtain recipes.  Make a Meal Plan with your favorite recipes and ZipList will automatically add the ingredients to a Shopping List.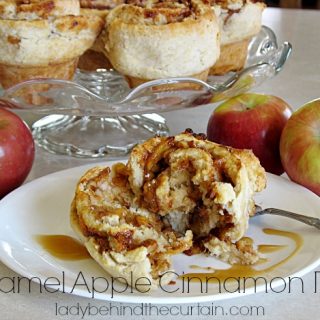 Caramel Apple Cinnamon Rolls
Yield:
Makes 8 Large Rolls
You are going to love how easy it is to make these cinnamon rolls!
Ingredients
For the Filling:
3 apples, peeled, cored, and chopped
4 tablespoons granulated sugar, divided
8 tablespoons butter, divided
2 teaspoons cinnamon, divided
3/4 cup chopped toasted nuts
1 tablespoon all-purpose flour
1/3 cup caramel sauce (ice cream topping)
For the Cinnamon Roll Dough:
4 cups all-purpose flour
6 teaspoons baking powder
2 teaspoons salt
12 tablespoons shortening
1 1/3 cups milk
Instructions
Core, peel and chop apples.
In a sauce pan sauté apples with 2 Tablespoons of butter, 1 teaspoon of cinnamon and 1 teaspoon of sugar.
When sugar has melted sprinkle flour over apples until thickened.
Add the caramel sauce and toasted nuts.
Meanwhile make the cinnamon roll dough by mixing together the flour, baking powder and salt. Blend in the shortening, when blended mix in milk.
Roll dough into a 1/4 inch thick rectangle.
Melt the remaining 6 tablespoons of butter and brush on the rectangle.
Add the remaining 2 tablespoons of sugar and 1 teaspoon of cinnamon.
Spread the apple mixture on top making sure to cover the entire area.
Roll in a long tube cut in half, then the halves in half then again until you have 8 rolls.
Spray a muffin tin with no stick cooking spray, take the cinnamon rolls and push them into the muffin cups.
Bake for 20 minutes in preheated oven of 425 degrees.
TIP: When serving add a drizzle of caramel sauce over the top of the rolls. YUMMY!!!