Sparkling Prickly Pear Cactus Slush Punch
Sparkling Prickly Pear Cactus Slush Punch | The perfect party punch full of flavor that stays slushy until the party is over.  This delicious party punch is made with mangoes (canned or fresh), mango juice and a lot of prickly pear syrup to create an amazing party drink!  Serve it at your next Fiesta Party!  NEW! NEW! NEW!  PARTY SUPPLIES FROM LADY BEHIND THE PARTY (me)!  Look below for all the details. ↓↓↓↓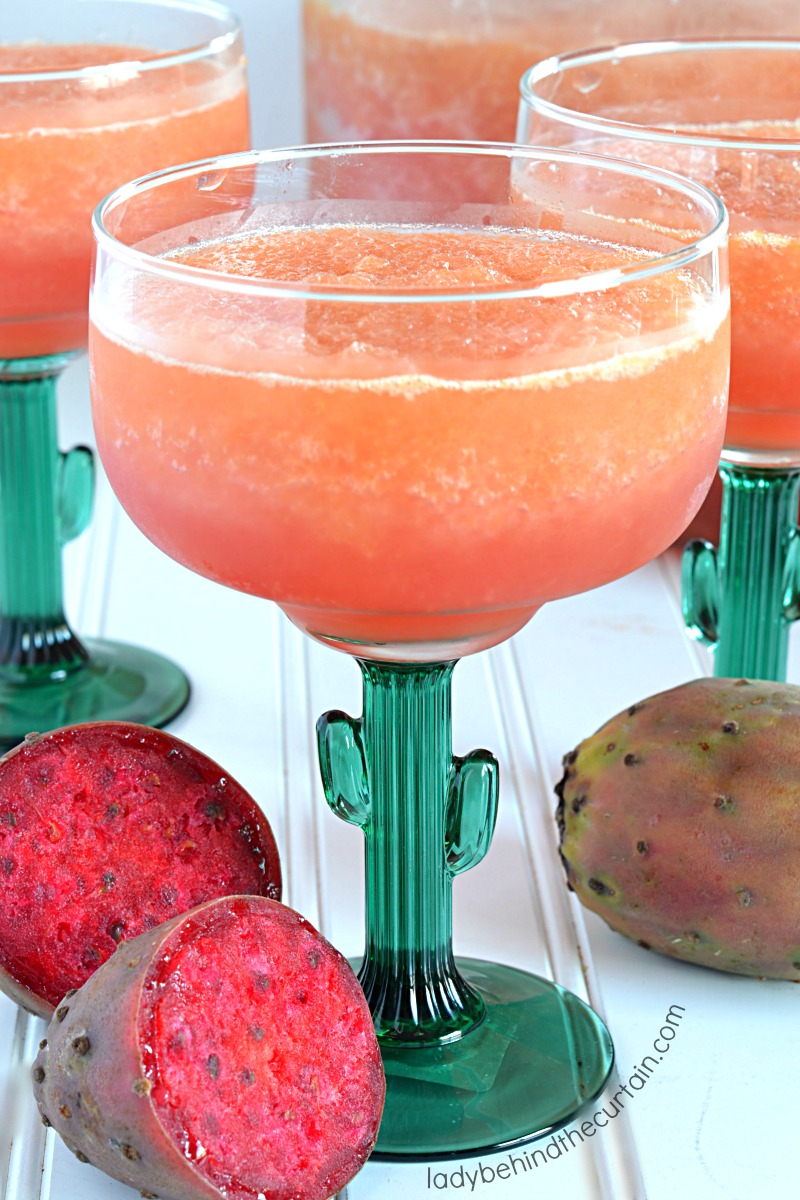 ---

DECORATE YOUR FIESTA PARTY IN STYLE! Take all the guess work out of planning a party! Everything is colorful and coordinated with a fun theme. One stop shopping is the way to go and at Lady Behind The Party, that's exactly what you're going to find. Whether you're planning a Birthday Party, Wedding Reception or celebrating Cinco de Mayo this Let's Fiesta Party Pack will set you up in style. It's a Party in a Box! Look at the picture below for a sneak peek. There are over 25 Fiesta Party Supplies to choose from!

CLICK HERE AND SHOP NOW FOR GREAT PARTY SUPPLIES…. in my Etsy shop—->>>>Lady Behind The Party
---
If you struggle like I do with what beverages to serve at your party this Sparkly Prickly Pear Cactus Slush Punch is the prefect solution.  No ice required and it can be made a week in advance!  To make defrosting easier, freeze the punch in 2 cup containers.  The slush process is so much easier and it takes less time to make into slush. Pictured below is the prickly pear syrup I used.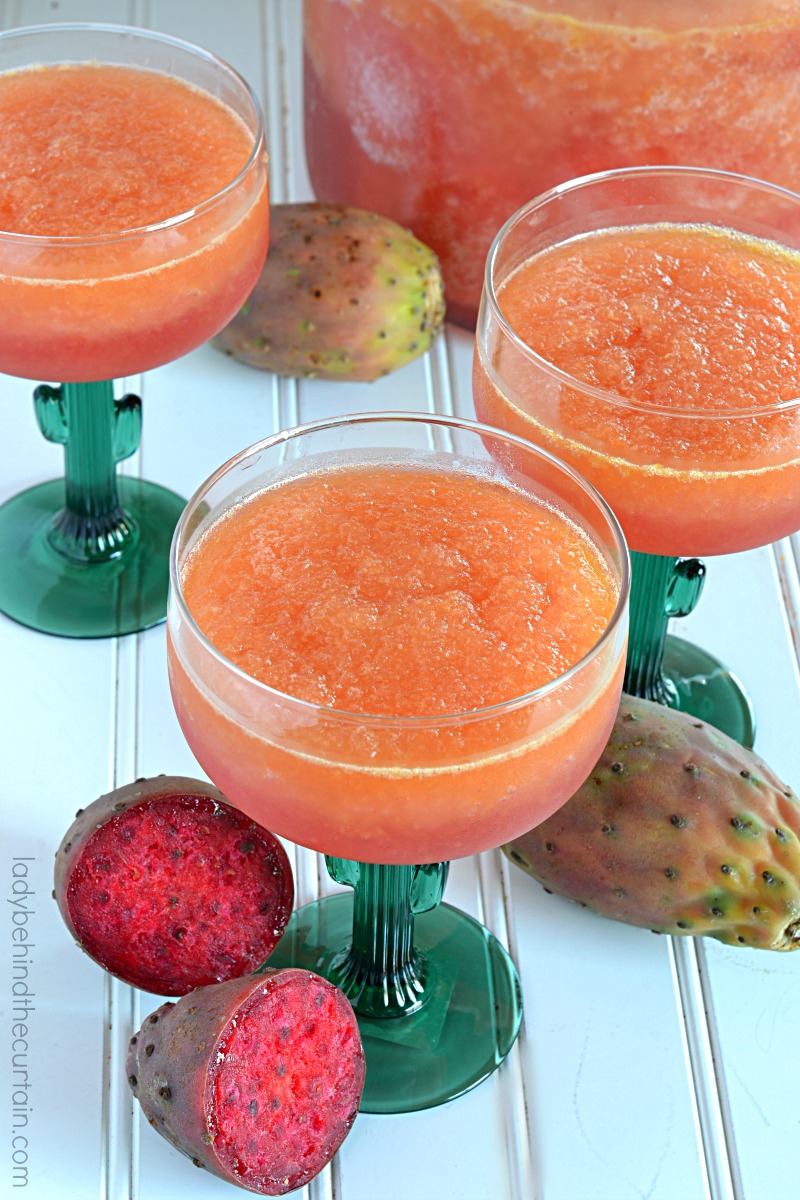 In the summer the prickly pear cactus has a fruit that ripens into a sweet refreshing snack.  Here in the desert the prickly pear fruit not only supplies us with a delicious ingredient for candies, drinks and jams but also serves as a food source for desert animals like the Javelina.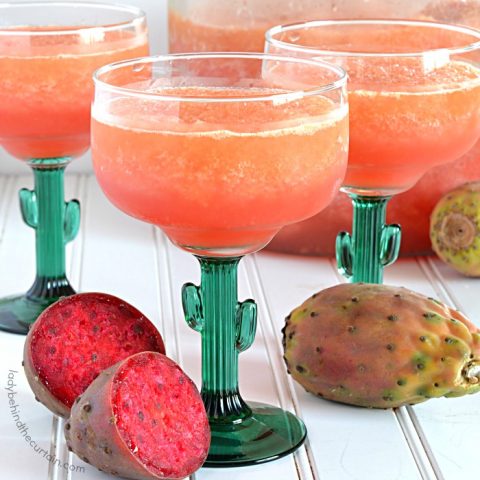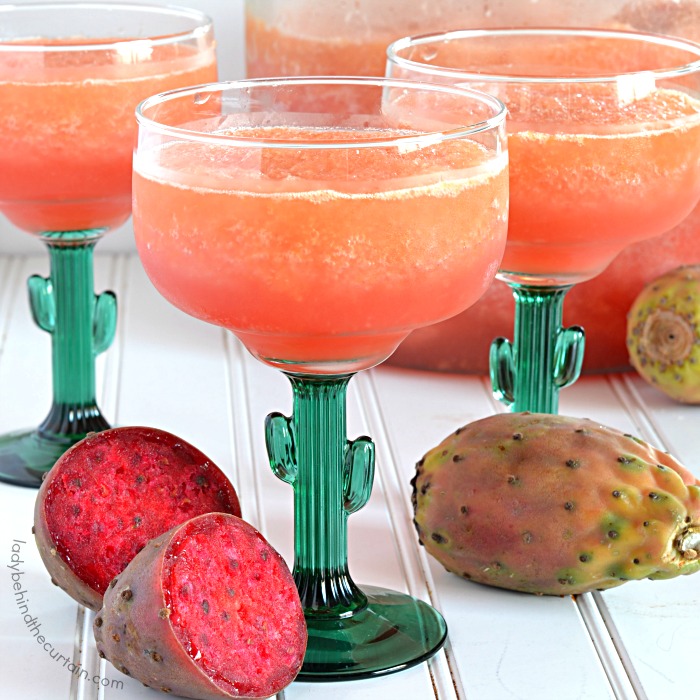 Sparkling Prickly Pear Cactus Slush Punch
 This delicious party punch is made with mangoes (canned or fresh), mango juice and a lot of prickly pear syrup to create an amazing party drink!
Ingredients
3 cups water
1 1/2 cups granulated sugar
1 (3 ounce) box peach or mango flavor jello
2 (15 ounce) cans mango
5 cups mango nectar
1 1/2 cups prickly pear cactus syrup
2 liters and 16 ounces of ginger ale, chiled
Instructions
In a large saucepan combine the water, sugar and gelatin.  Bring to boiling, stirring to dissolve sugar and gelatin.  Remove from heat.  Place mangoes (with syrup) in a blender and blend until smooth.  In an extra large bowl combine gelatin mixture, purred mangoes, mango nectar, prickly pear syrup and blend.  Divide prickly pear mixture among four 1-quart containers or to make the process easier many 16 ounce containers.  Cover and freeze for at least 8 hours or until firm.  To serve, let containers stand at room temperature for 1 hour (shorter time if using the smaller containers).  Break prickly pear mixture in a punch bowl or jug.  Gently pour in ginger ale; stir until slushy.  Serve at once.
Nutrition Information
Amount Per Serving
Calories

0
Total Fat

0g
Saturated Fat

0g
Cholesterol

0mg
Sodium

0mg
Fiber

0g
Sugar

0g
Protein

0g
MORE PUNCH RECIPES
NEVER MISS A POST!
Sign up for my newsletter and receive my recipes in your inbox. Easy to see anytime and saved for safe keeping. Click Here and sign up today! —->>>>CURTAIN CALL NEWSLETTER