Chery Gum Drops | Not too chewy.  Tender and full of cherry flavor.  Plus you don't have to use a candy thermometer.  That's right you can make your own gum drops!  These cherry gum drops are so much better than store bought.  A totally fun addition to your Valentine's Day Dessert table.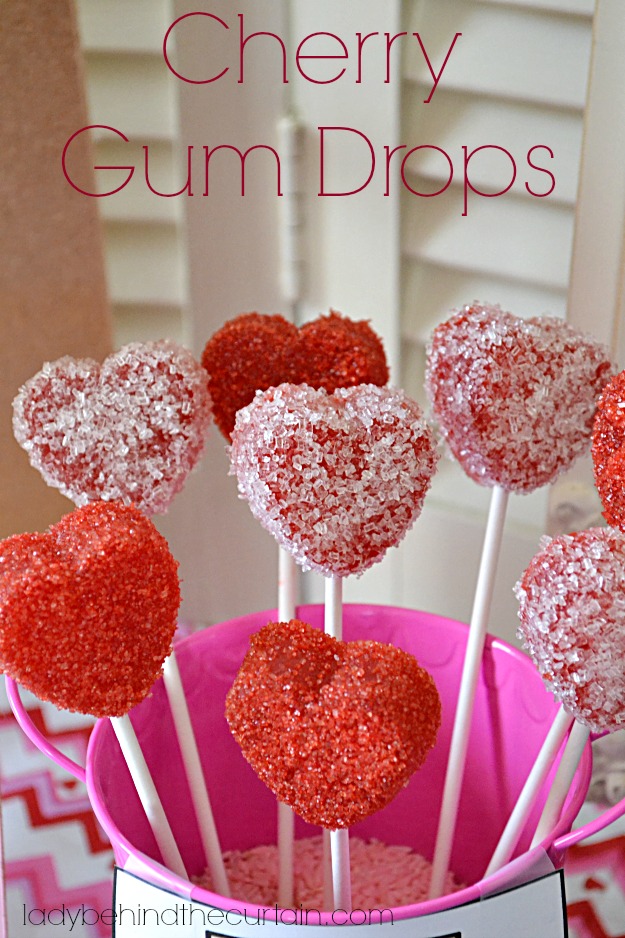 Add a touch of surprise with these fun cherry gum drops.  You can pour them into a silicone mold (like an ice cube tray) or pour the mixture into a 9×13-inch pan and use cookie cutters.  I found my small heart shape ice cube trays in the dollar section at Target.  I've also seen them at The Dollar Tree.  If you have a bigger mold you can also make Cherry Gum Drop Lollipops.
Spray small silicone mold with non stick cooking spray.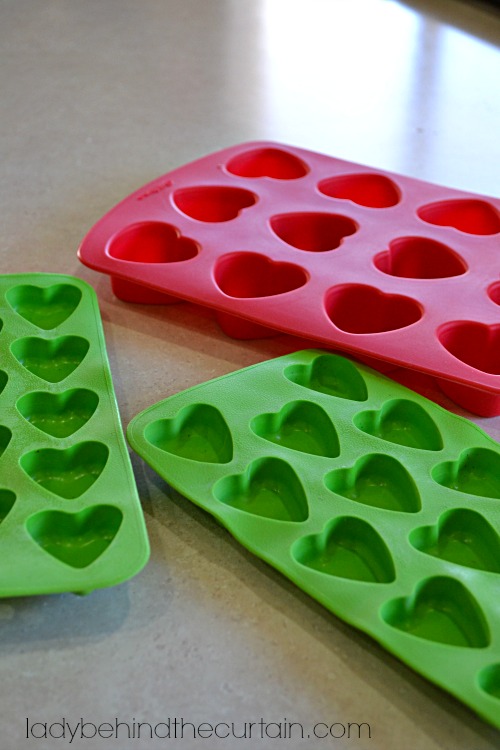 Pour gum drop mixture into molds and refrigerate.
Dip in sugar and set out to dry.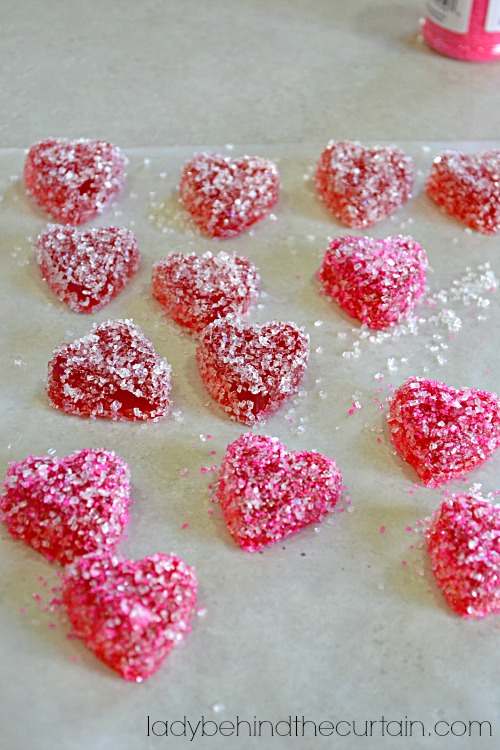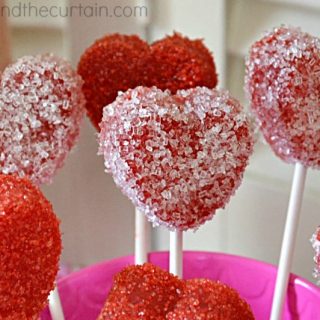 Cherry Gum Drops
Yield:
12 large thick hearts and 28 small ice cube tray hearts
Ingredients
2 cups granulated sugar
1 1/3 cups applesauce, unsweetened
2 (3 ounce) boxes cherry flavored gelatin
2 (.25 ounce each) unflavored gelatin
red, pink and white sprinkling sugar to roll the gum drops in.
Instructions
Spray the molds with non stick cooking spray and set aside.
In a large saucepan, combine the sugar, applesauce, cherry gelatin and unflavored gelatin.
Let stand 1 minute.
Stirring constantly bring to a boil for 1 minute.
Pour into a pyrex measuring cup with a pour spout. (this will help make the pouring process easier)
Pour into prepared molds.
Refrigerate 3 hours.
Place a piece of wax paper on the counter and sprinkle some of the sprinkling sugar.
Push from the bottom and push out the gum drops.
Place on sugar.
Roll gum drops in the sugar (color of your choice) and place on a cookie sheet lined with wax paper.
To see the complete party: