Valentine Marshmallow Pops
Valentine Marshmallow Pops | Make these Valentine marshmallow pops for a fun and inexpensive party favor, teacher's gift or add to your Valentine's Day dessert table.
All you need are large marshmallows, candy melts and colored sprinkling sugar to make these Valentine marshmallow pops.
Ingredients
large marshmallows
white candy melts
sprinkling sugar (pink, white and red)
long sucker sticks
Directions
The colors come from the sprinkles not the candy melts.  I think using white, brightens the colors of the sprinkles.
Pour some on the white candy melts in a microwave safe bowl.  Heat until the candy is melted and smooth.  Dip one third of the marshmallow into the melted candy, insert the lollipop stick into the end with the white melted candy.  Using the top portion of the marshmallow that DOES NOT have the melted candy to push the marshmallow on the stick.  Sprinkle the white candy with white sugar sprinkles. Let dry before moving on to the middle layer.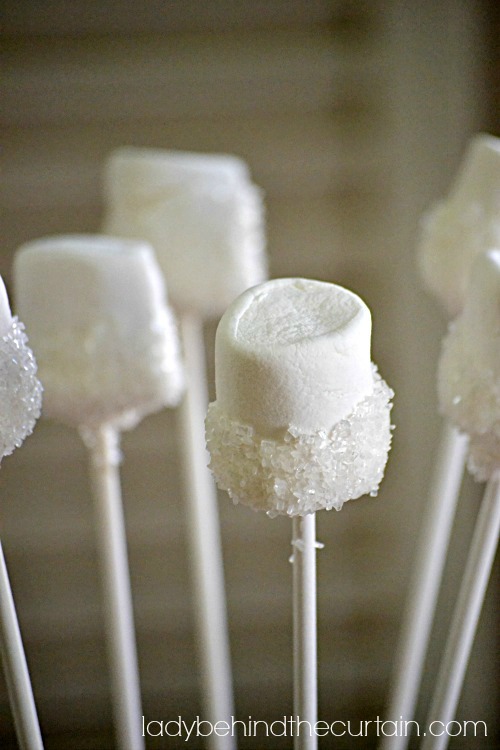 Pour more white candy melts in the same bowl or reheat what you have left from the first layer.  Using a small clean paint brush, brush on the white candy in the center.
Pour the pink sugar sprinkles into a line and roll the marshmallow, making sure to only coat the center with the pink sprinkles.
Let dry before moving on to the top layer
Reheat your candy melts, add more if needed.  Dip the top of the marshmallow into the melted white candy, dust the top with red sugar sprinkles.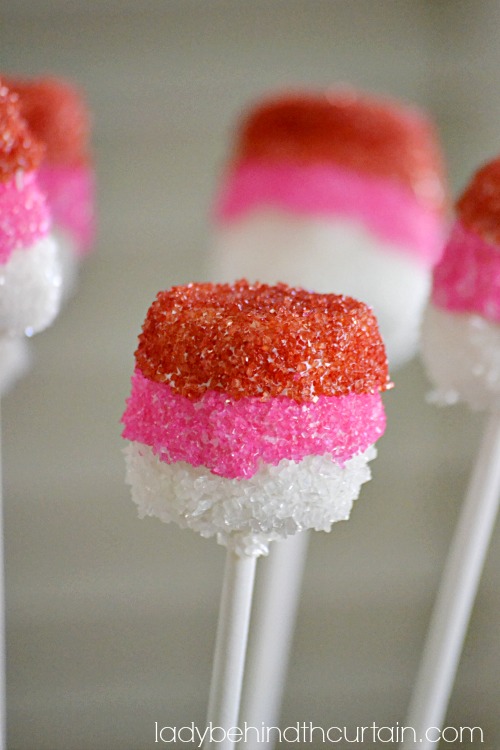 SO CUTE!  TASTES LIKE A PEEP!
To see the complete party: