Cranberry Cheesecake Bites
I received product for this post from LorAnn Oils, Inc.  All opinions are 100% mine.
I am joining over 40 PLUS amazing food bloggers from the Online Blog Conference 2014 to bring you over 40 ideas on how you can use LorAnn Oils.
SCROLL DOWN TO SEE ALL THE AWESOME RECIPES!
If you've never heard of LorAnn Flavorings here is a little bit about them.
LorAnn sells flavorings in a variety of concentrations, formulations and sizes.  Our flavors are used by professional candy makers, bakeries, pastry chefs, popcorn shops, ice cream & yogurt shops, specialty manufacturers and, of course, the home consumer.   All of our flavors are gluten-free and most are Kosher certified.
LorAnn Oils, Inc. not only carries a huge assortment of oils it also has natural flavors, bakery emulsions, vanilla extracts and ice cream flavors just to name a few.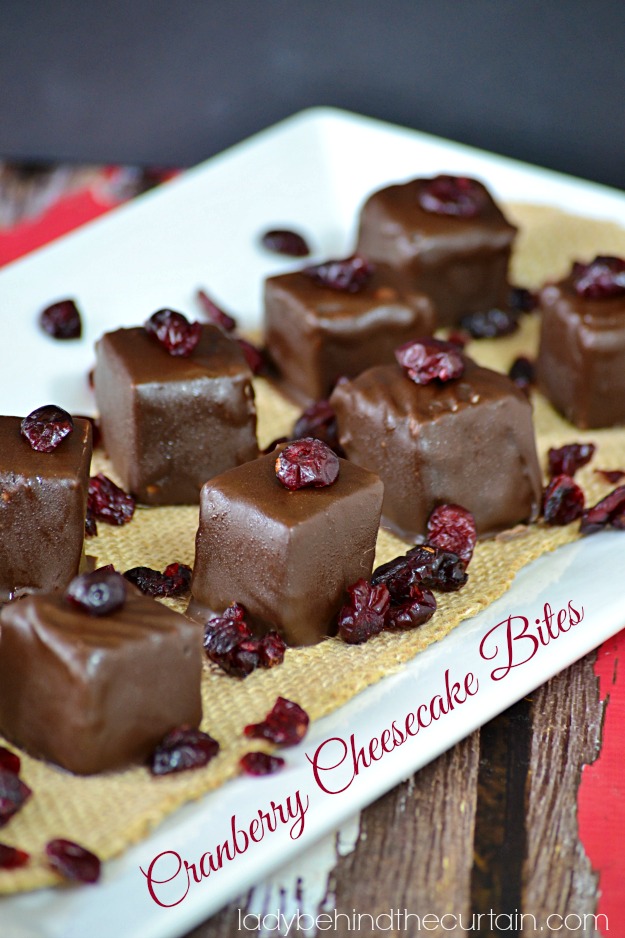 For this recipe I used LorAnn Cranberry Flavor.  A little goes a long way so all I needed was less than 1/2 teaspoon.  Yep, that's all it took to make my chocolate taste like cranberry flavored chocolate!  The chocolate I used is my all time favorite dark chocolate melts from Chocoley.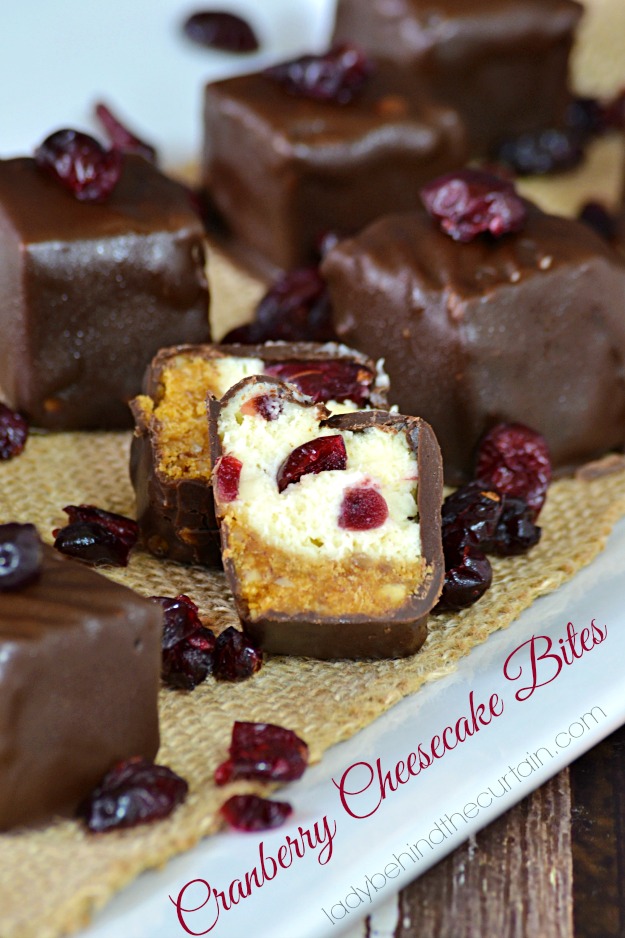 Satisfy your cheesecake craving with these bite-size delights! These Cranberry Cheesecake Bites can be made weeks in advance, cut and frozen. Cover with chocolate the day before your party and store in the refrigerator. Perfect for Entertaining! No SPECIAL pan required!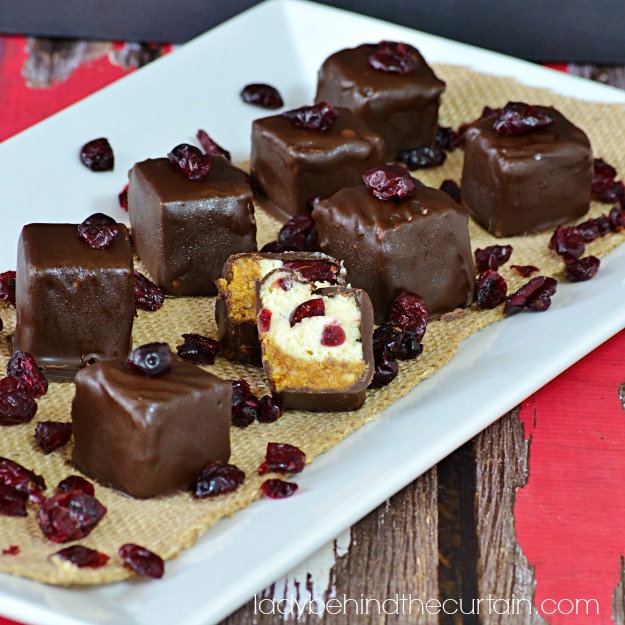 These Cranberry Cheesecake Bites may look complicated but they're not.  The most important step is freezing the cheesecake BEFORE cutting it into squares.  I love simple recipes that look hard.  Perfect for a holiday party or buffet table!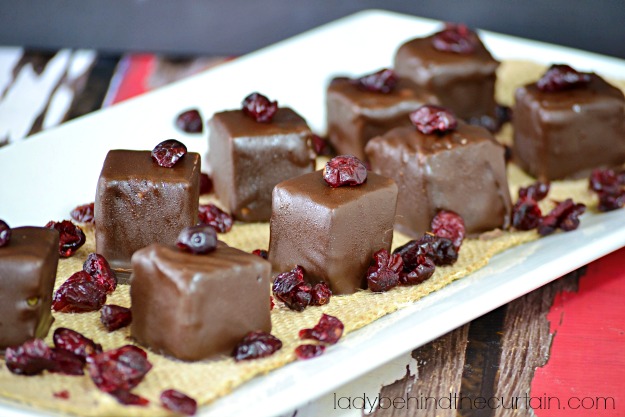 First you press the crust into a foil lined pan.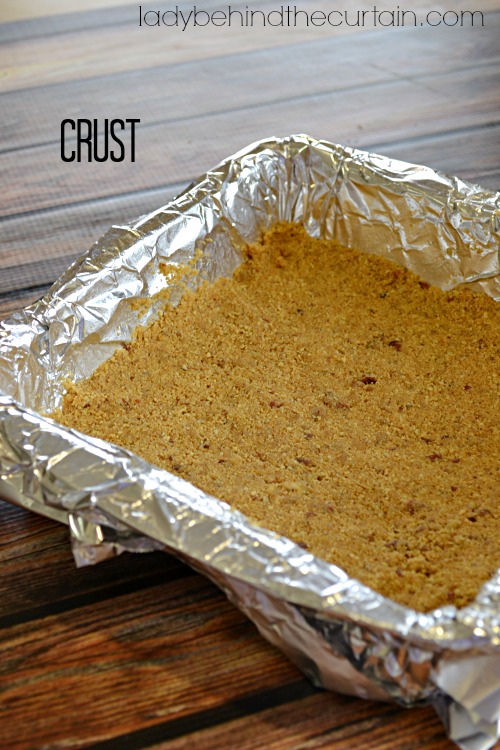 Pour the amazing filling over the crust.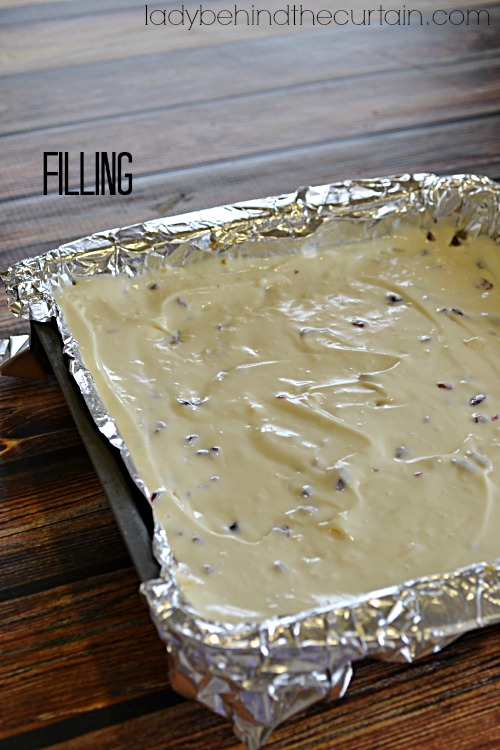 Bake, let cool and then place in the freezer.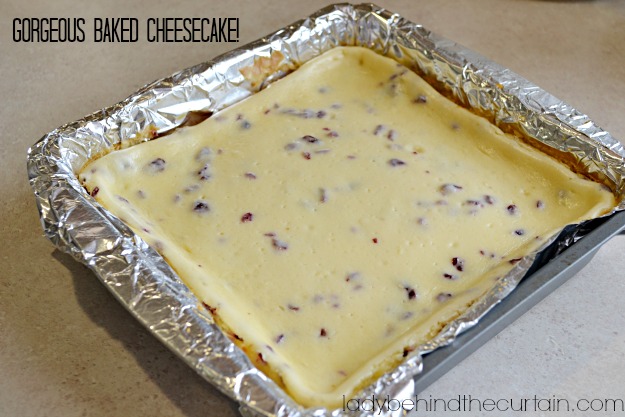 Freeze overnight.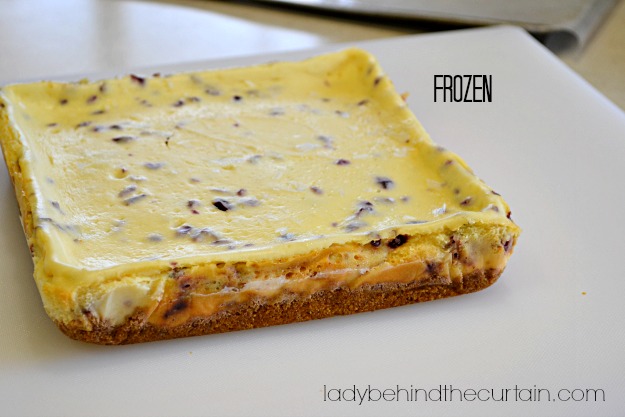 Cut into long pieces.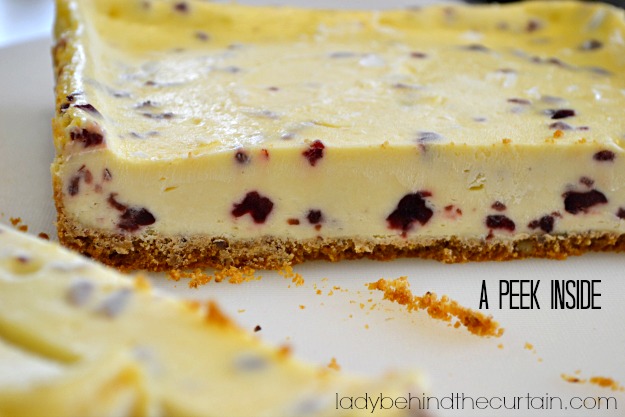 Then cut into squares.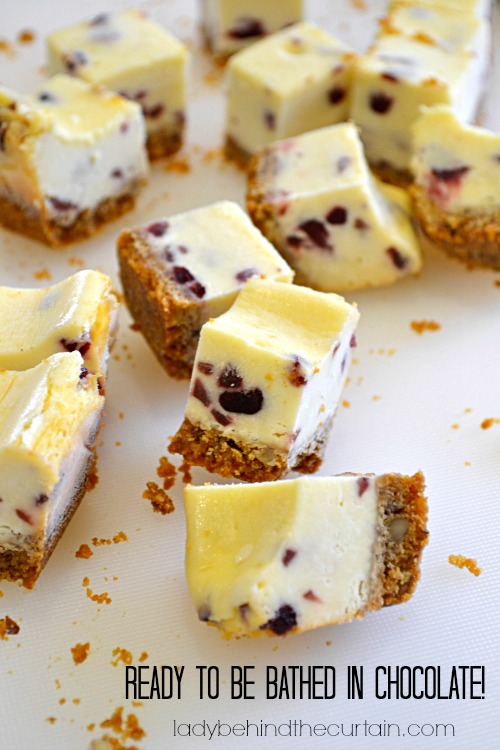 Don't forget to add the Cranberry Flavoring!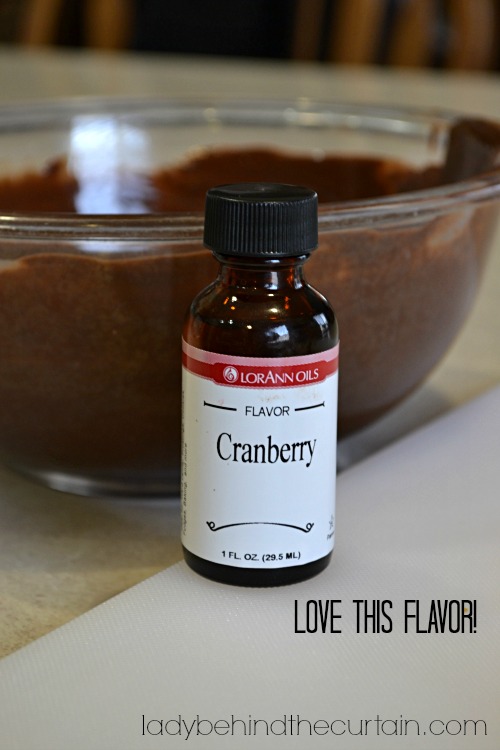 Dip in chocolate…..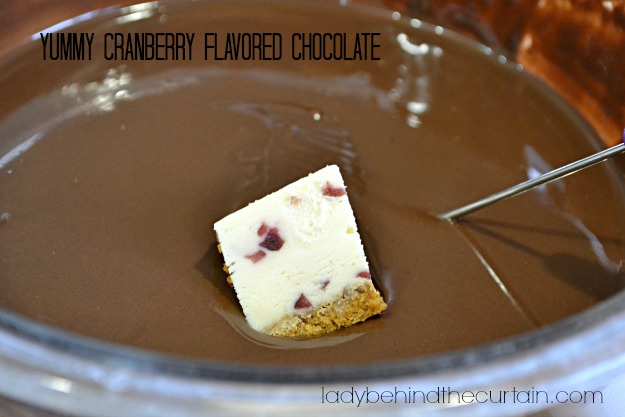 Place on a wax paper lined cookie sheet to harden.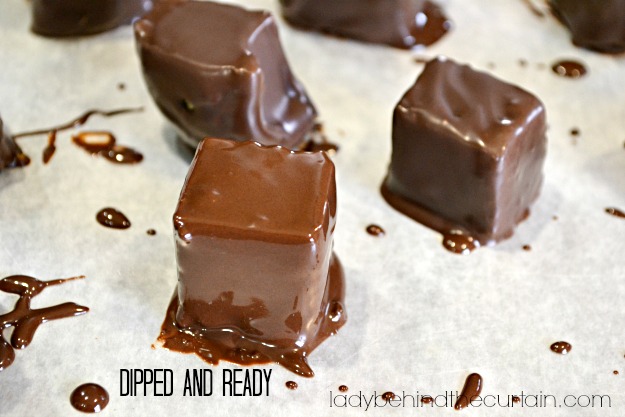 If you like this recipe then you will also like my CHEESECAKE SQUARES.
DON'T FORGET TO PIN THIS TO YOUR SEASONAL BOARDS!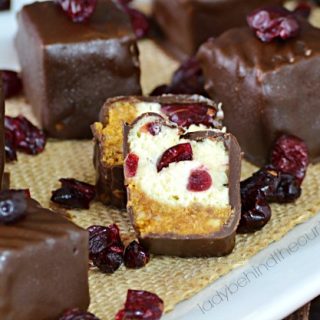 Cranberry Cheesecake Bites
Ingredients
For the Crust:
1 cup graham cracker crumbs
1/4 cup finely chopped pecans
1/4 cup butter, melted
For the Filling:
2-8 ounce packages cream cheese, softened
1/2 cup sugar
1/4 cup sour cream
2 eggs, lightly beaten
1/2 teaspoon vanilla extract
1/2 cup dried cranberries, chopped
For the Chocolate Coating:
Instructions
For the Curst:
Line a 9-in. square baking pan with foil and spray with non stick cooking spray.
In a small bowl combine the graham cracker crumbs, pecans and butter.
Press into prepared pan; set aside.
For the Filling:
Preheat oven to 325 degrees.
In a large bowl beat the cream cheese, sugar and sour cream until smooth.
Add eggs; beat on low speed just until combined.
Stir in vanilla and cranberries.
Pour over crust.
Bake 35-40 minutes or until center is almost set.
Cool on a wire rack.
Refrigerate until chilled.
Freeze overnight.
For Chocolate Coating:
In a microwave, melt the chocolate and the shortening; stir until smooth.
Stir in cranberry flavoring.
Cool slightly.
Using foil, lift cheesecake out of pan.
Gently peel off foil, cut into 49 squares.
Remove a few pieces at a time for dipping; keep remaining squares refrigerated or in freezer until ready to dip.
Using a toothpick or chocolate tool, completely dip squares, one at a time, in melted chocolate; allow excess to drip off.
Place on waxed paper-lined baking sheets; spoon about 1 teaspoon chocolate over each. (Reheat chocolate if needed to finish dipping.)
Let stand for 20 minutes or until set.
Store in an airtight container in the refrigerator.