Easy Biscuit Apple Pull Apart
When I got up this morning I hadn't intended on making something yummy like this Easy Biscuit Apple Pull Apart.  But you know things change when it's the weekend and everyone is home to put in their two cents about what they want for breakfast.  I think I satisfied ALL their taste buds with this Easy Biscuit Apple Pull Apart!  Anyway I think so since there were NO leftovers.  🙂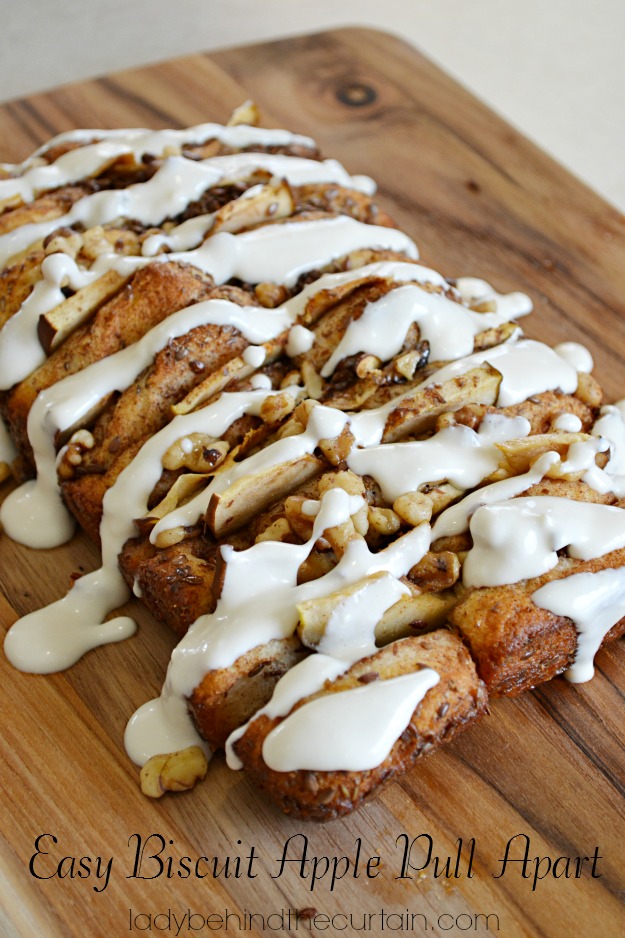 This delicious breakfast is so…..easy to make!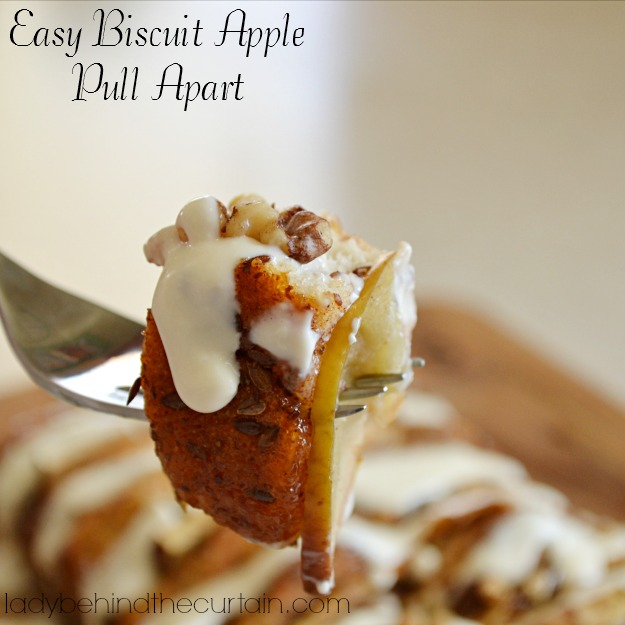 All you do is take a small can of biscuits, cut them in half and roll them in a cinnamon, sugar and flaxseed mixture.  Layer the biscuits with slices of apples, drizzle a delicious brown sugar and apple juice mixture and if that's not enough you add an incredible cream cheese icing!
Okay, whose ready for breakfast!
DON'T FORGET TO PIN THIS TO YOUR BREAKFAST OR APPLE BOARD!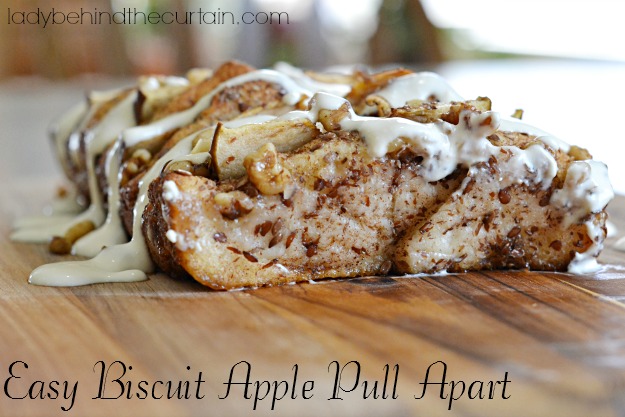 Create your own Recipe Box and save your favorite Lady Behind The Curtain recipes.  Make a Meal Plan with your favorite recipes and ZipList will automatically add the ingredients to a Shopping List.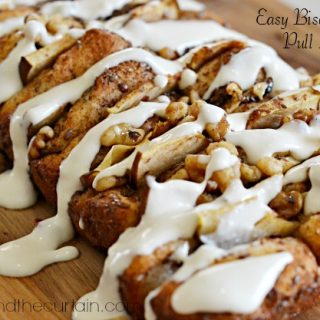 Easy Biscuit Apple Pull Apart
Ingredients
For the Pull Apart
non stick cooking spray
1 (7.5 ounce) package of 10 store bought biscuits, cut in half
4 teaspoons ground flaxseeds
1 tablespoon whole flaxseeds
2 teaspoons granulated sugar, divided
1/2 teaspoon ground cinnamon
1 apple, cored and thinly sliced
3 tablespoons walnuts, coarsely chopped
2 tablespoon light brown sugar, packed
2 tablespoons apple juice or cider
1 tablespoon butter
For the Icing:
2 tablespoons cream cheese, softened
2 to 4 teaspoons apple juice or cider
1/2 teaspoon vanilla extract
Instructions
Spray a loaf pan with non stick cooking spray and set aside.
Preheat the oven to 350 degrees.
In a medium bowl add the cut biscuits, ground flaxseeds, whole flaxseeds, 1 teaspoon sugar and the cinnamon.
Roll biscuits in flaxseed mixture to coat.
Alternately arrange biscuit halves and apple slice in the prepared loaf pan.
Sprinkle with any remaining flaxseed mixture and the walnuts.
In s small saucepan combine grown sugar, 2 tablespoon apple juice or cider and the butter.
Cook until boiling.
Pour over biscuits.
Bake 30 minutes or until the edges are golden and the center is done.
Invert bread onto a small platter or cutting board.
For the Icing:
In a small bowl whisk the cream cheese until creamy.
Add the remaining 1 teaspoon of sugar, apple juice or cider and vanilla extract.
Mix until combined.
Drizzle over warm bread.
MORE RECIPES USING STORE BOUGHT BISCUITS

1.  ORANGE CREAM CHEESE BREAKFAST ROLLS 2.  STRAWBERRY SHORT CAKE APPETIZERS  3. SPICY CHICKEN HOT POCKETS