Grandma's Gooey Cinnamon Rolls
Grandma's Gooey Cinnamon Rolls |  These old fashioned cinnamon rolls are just like my grandma used to make.  They often refer to these rolls as pie crust or pie dough rolls.  Back in the depression moms and grandmas would make cinnamon rolls from the pie dough scraps.  All the kids would wait by the oven in anticipation of devouring them!  They bring back sweet memories of Christmas with my grandma.  If you were lucky you would be the first to know and get more than one!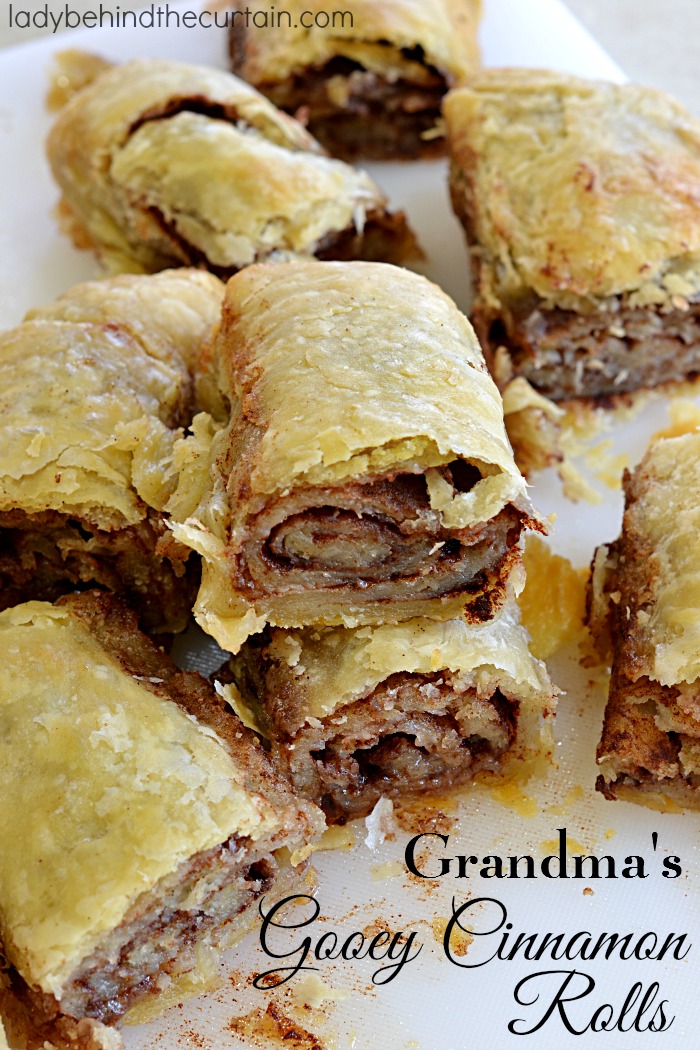 During the holidays my grandma Reed always made these gooey cinnamon rolls.  You could say they were a Christmas Tradition and always requested.  In fact we would have family friends call ahead and reserve a roll for them before we ran out!  I love that there is NO rising involved.  YEP, that's right NO YEAST!  Just buttery goodness!  Unlike the typical cinnamon roll that is sliced before baking these rolls are sliced after they bake.  It's because of that little difference that these rolls stay doughy on the inside and flaky on the outside.  Just like they should be!
These old fashioned rolls essentially fry in butter!  So…..leave your calorie counting app alone for this one!  Watch full "how to" video below.
Separate dough into 4; roll into rectangles and add the butter, sugar and cinnamon.  Add ALL four to the pan and bake.
Bake!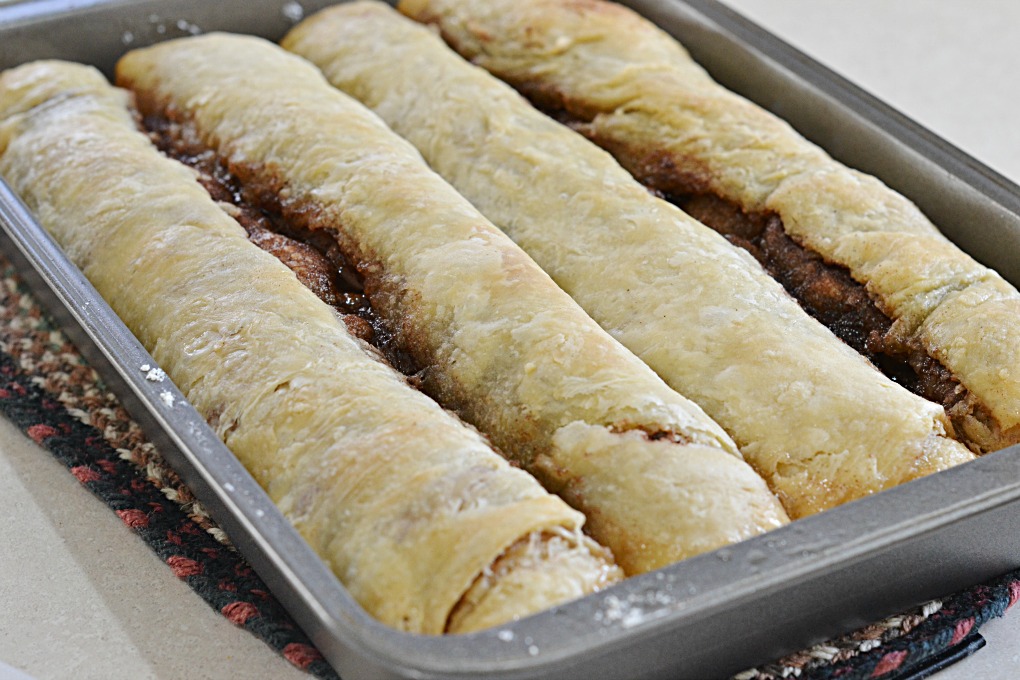 As soon as you can handle the rolls, take them out of the pan onto a cutting board to cool.
Cut each roll into 4 large pieces or 8 small.
Grandma's Gooey Cinnamon Rolls
Yield:
4 large rolls or 8 small rolls (per roll)
Ingredients
6 1/4 cups all-purpose flour
2 1/2 teaspoons salt
1 cup shortening
2 1/4 cups cold water to 2 1/2 cups
2 cups unsalted butter, softened
1 1/2 cups granulated sugar
5 tablespoons plus 1 teaspoon cinnamon
Instructions
Preheat oven to 375°.
In a large bowl combine the flour and salt.
Cut in the shortening until pieces are no larger than pea size.
Stir in water; dump dough onto a floured surface and separate into 4 equal parts.
Roll each part, one at a time into a 13x12-inch rectangle.
Slather 1 stick of softened butter on top of the rectangle; sprinkle 1/4 cup plus 2 teaspoons sugar on top of butter then 1 tablespoon plus 1 teaspoon of cinnamon.
Roll so that the roll is 13-inches long. Close the ends by pinching the dough together.
Place in a 9x13-inch cake pan seam down; repeat for the next 3 rolls.
Bake 47 to 50 minutes or until light and crispy.
NOTE: Don't be worried when baking, if it looks like all the butter has come out, it hasn't. The rolls essentially fry in butter.
When finished baking carefully take out of pan to cool on a large cutting board or foil on the counter.
When cool slice; cut each roll into 4 for large cinnamon rolls and 8 for small cinnamon rolls.
MORE CINNAMON ROLL RECIPES

1. FUNFETTI CINNAMON ROLLS  2. BROWN BUTTER CINNAMON ROLLS  3. CARAMEL PUMPKIN CINNAMON ROLLS