Large Bakery Size Pumpkin Cookies
Large Bakery Size Pumpkin Cookies: These giant pumpkin pie cookies are thick, soft, full of pumpkin flavor with an amazing cream cheese drizzle on top. Change it up and consider making these pumpkin spice cookies instead of pumpkin pie for Thanksgiving. If skipping the pumpkin pie isn't an option (I totally get that), then how about packaging up a couple as a little treat for them to take home? Whatever you decide one thing is for certain your guests are going to love these large bakery size pumpkin cookies.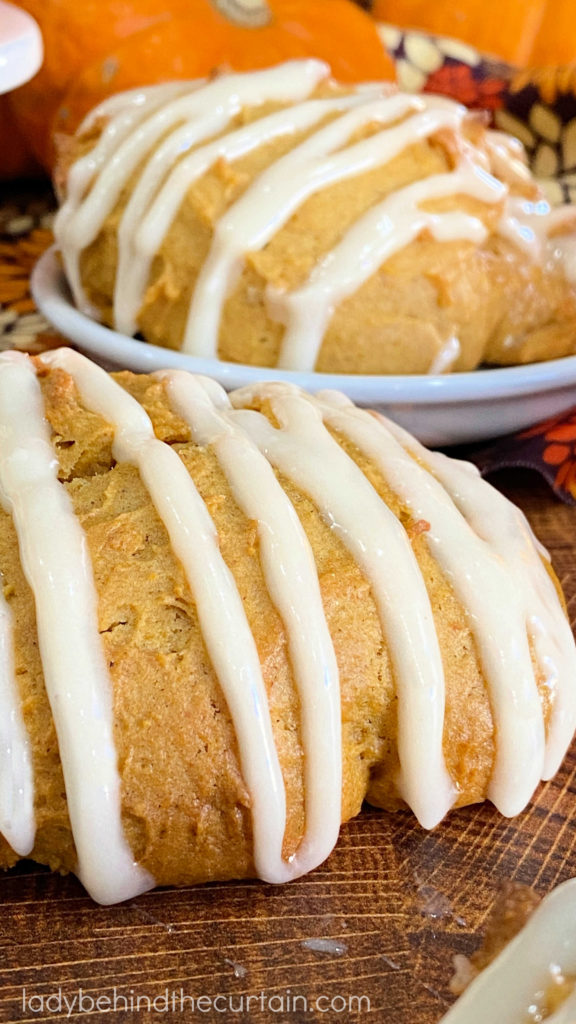 What Makes These Pumpkin Cookies Soft and Chewy?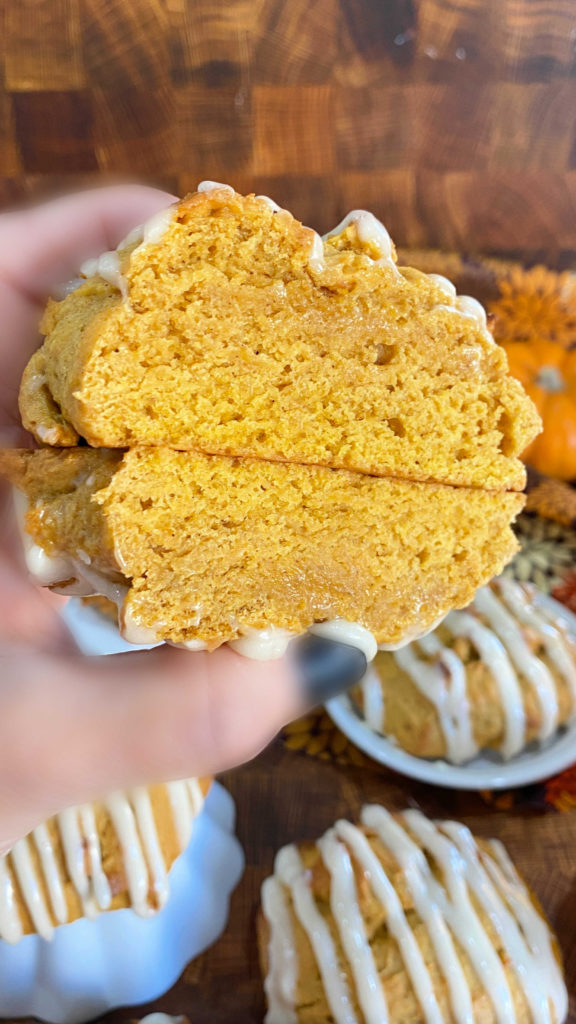 BROWN SUGAR: Use more brown sugar then white sugar. The light brown sugar creates a thicker, softer, and chewier cookie than using mostly white sugar.
BAKING POWDER: Baking soda can help create crisper cookies, but we want a thick soft cookie so omit the baking soda.
HANDLING THE DOUGH: When forming the cookie ball, don't press the dough together too much. Try to keep it airy. Only press it together enough for it to stay together. CHILL THE DOUGH BEFORE BAKING: Once the dough is formed into balls and placed on a cookie sheet lined with parchment paper, slide the cookie sheet into the refrigerator for 30-60 minutes.
More Large Bakery Soft Cookie Recipes
Cream Cheese Drizzle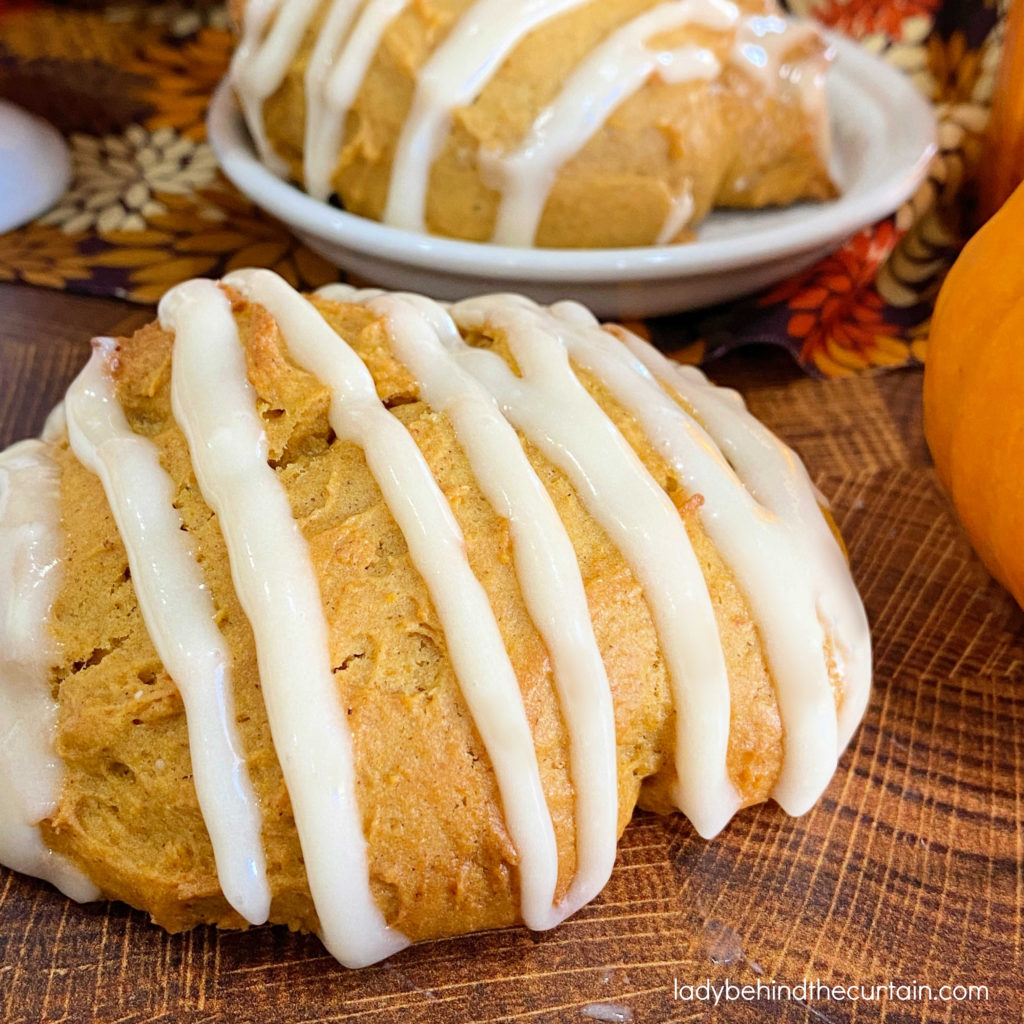 INGREDIENTS

4 ounces cream cheese, softened
3 tablespoons unsalted butter, softened
1 teaspoon vanilla extract
2 cups powdered sugar
4 tablespoons milk or water

DIRECTIONS

Beat together the cream cheese until light and fluffy.
Add the vanilla, beat to combine.
Add powdered sugar, mix until combined.
Pour milk or water into the cream cheese mixture, whip until creamy.
Pour into a squeeze bottle or use a spoon.
In a back and forth motion top the carrot cake bread with the cream cheese drizzle.
How to Make Large Bakery Size Pumpkin Cookies
Line baking pans with parchment paper and set aside.
In a large mixing bowl, beat the butter until creamy.
To the butter add the pumpkin, brown sugar and granulated sugar.
Mix until combined, light and fluffy.
Add the eggs and vanilla to the sugar mixture, beat until eggs have fully incorporated.
In a separate bowl, whisk together the flour, salt, baking powder and pumpkin spice.
Add the flour mixture to the sugar mixture.
Space out six large mounds of dough on prepared baking pans. EACH MOUND SHOULD WEIGHT 4.6 OUNCES
Place baking pans (with dough mounds) in the refrigerator 1½ hours to chill.
Preheat oven to 350°.
Bake 20 – 21 minutes, slide parchment paper and cookies off the baking pan onto the count to cool.
NOTE: THESE COOKIES WERE BAKED IN A CONVECTION OVEN, YOUR COOKIES MIGHT NEED TO BAKE LONGER IN AN ELECTRIC OR GAS OVEN.
Once cookies are completely cooled add cream cheese drizzle.
MORE RECIPES WITH PUMPKIN
GOOD INGREDIENTS MATTER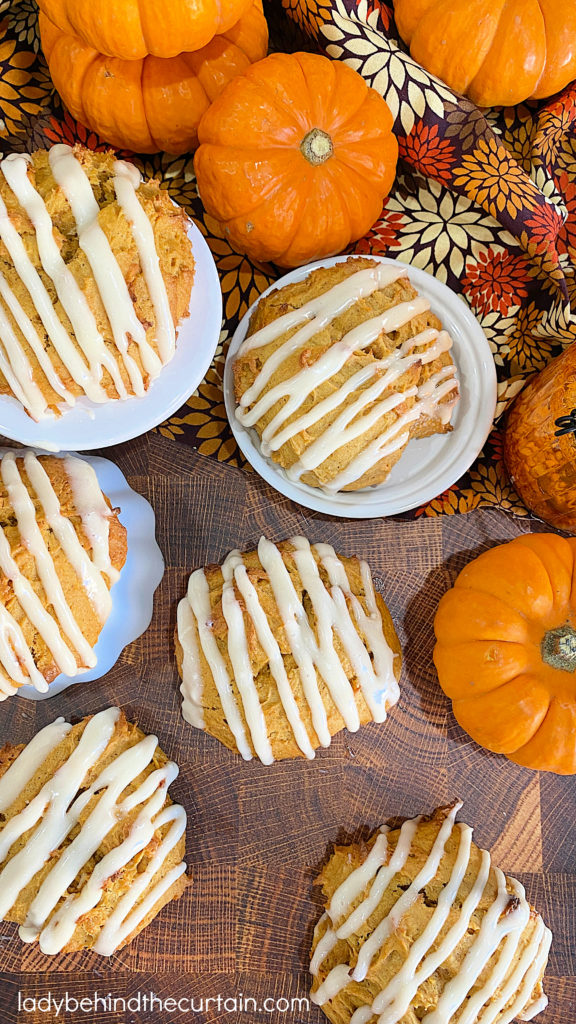 BUTTER VS MARGARINE
FLAVOR: Butter provides a rich flavor. BAKERS TIP: Always use unsalted butter when baking. You want to be in control of how much salt is in your recipe.
FAT CONTENT: Margarine contains more water and less fat, which makes for thin cookies that spread out while baking.
TIP: When baking always use unsalted butter. You want to be in control of the salt.
CAN THIS RECIPE MAKE SMALLER COOKIES?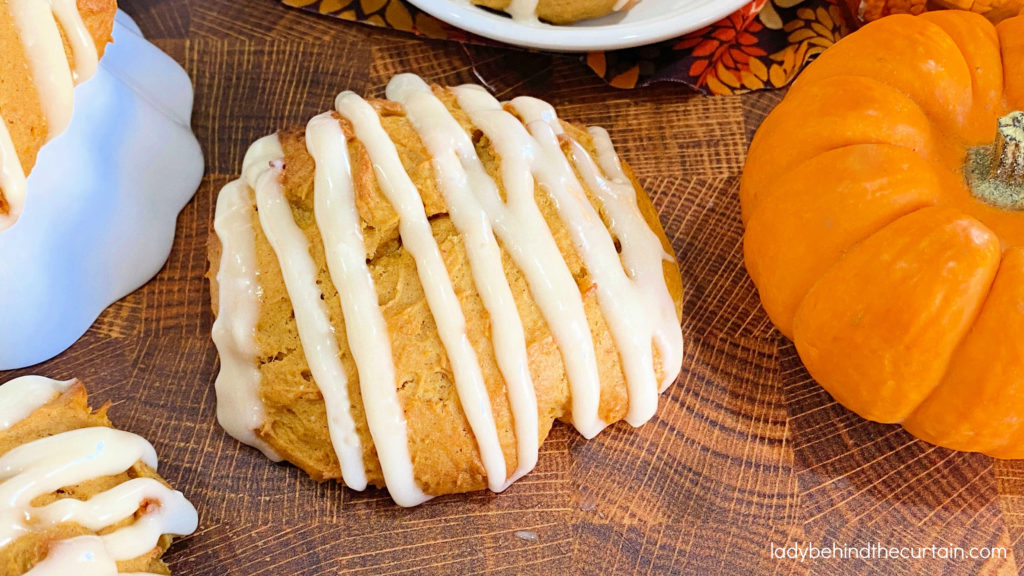 CAN THIS COOKIE DOUGH BE MADE AHEAD?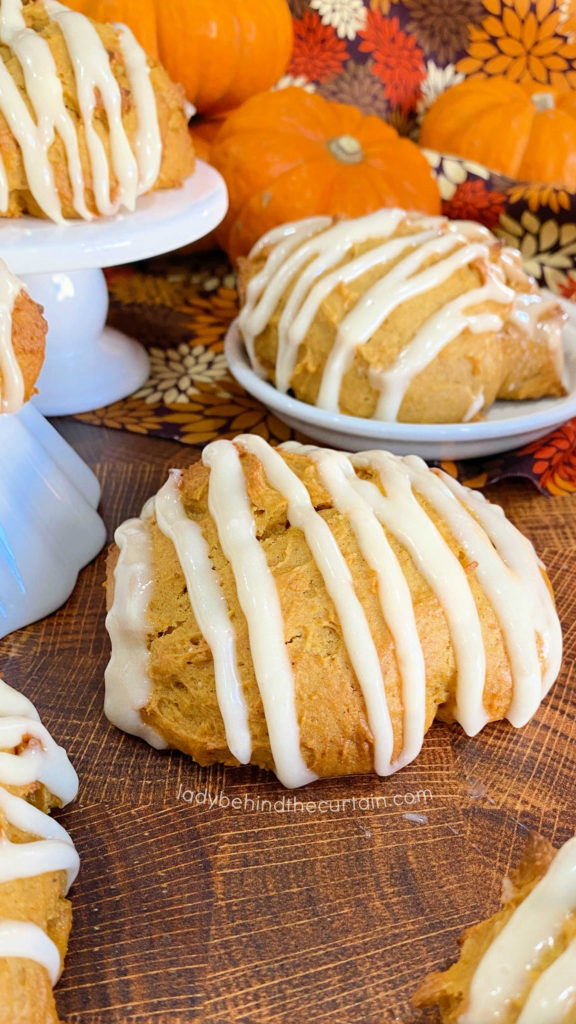 REFRIGERATOR: The cookie dough can be kept chilled in the refrigerator for up to 4 days.
FREEZER (BAKED COOKIES): Place baked cookies in a freezer safe bag. The cookies will stay fresh in the freezer up to 3 months.
FREEZER (COOKIE DOUGH BALLS): Cookie dough balls will stay fresh in the freezer up to 3 months. HOW TO FREEZE: Place the balls on a cookie sheet for a few hours before placing them in a freezer bag to store. BAKE FROZEN COOKIE DOUGH FOR AN EXTRA MINUTE, no need to thaw.
NEVER MISS A POST