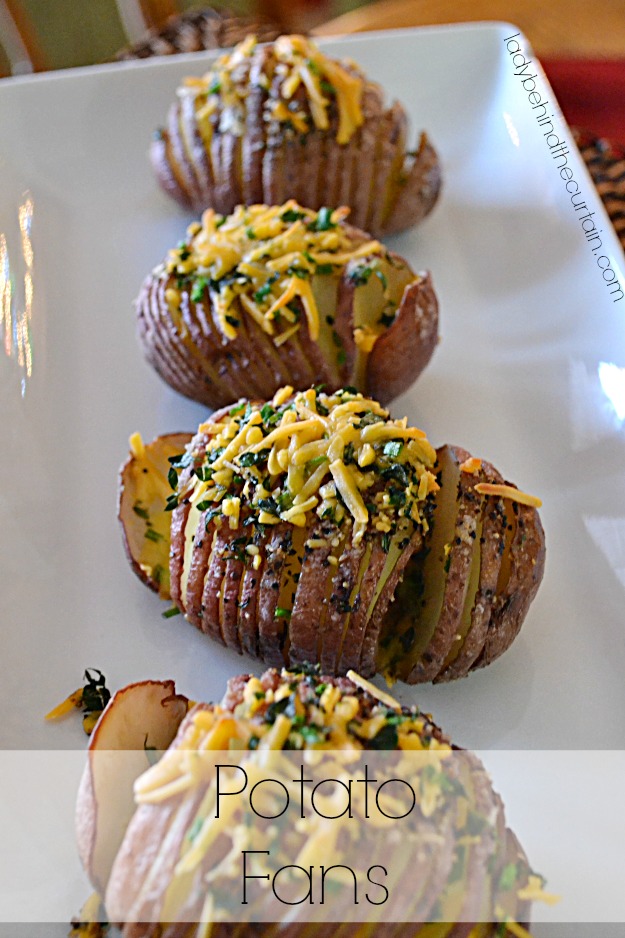 I love how these potato fans look on a buffet table.  So elegant yet so easy to make.  Add sour cream and bacon bits for loaded potato fans!  🙂
Topped with lots of melted butter and herbs these potato fans add just the right amount of fun to a table.  Perfect for a last minute side dish.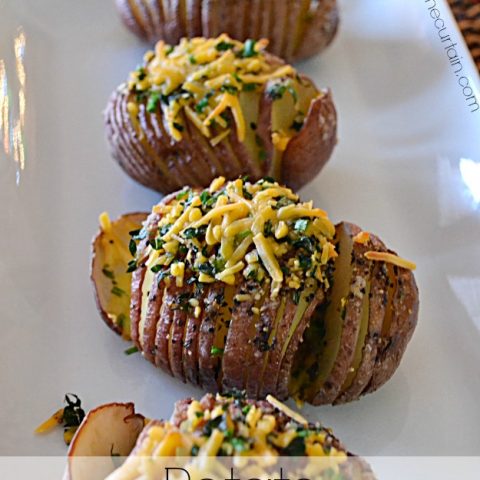 Potato Fans
Total Time:
1 hour
30 minutes
Ingredients
8 medium red potatoes
1/2 cup butter, melted
2 teaspoons salt
1/2 teaspoon black pepper
1 cup shredded cheddar cheese
2 tablespoons fresh chives, minced
2 tablespoons fresh thyme minced
Instructions
Preheat oven to 425 degrees.
With a sharp knife, cut each potato into 1/8-inch slices, leaving slices attached at the bottom.
TIP - If you don't trust yourself to NOT cut through to the bottom of the potato. Place a chop stick on each side of the potato and let the thickness of the chop stick guide you down as far as you need to go.
Fan potatoes slightly and place in a baking dish.
Mix together the melted butter, salt and pepper.
Drizzle over prepared potatoes.
Bake 50 to 55 minutes or until fork tender.
Toss together the cheese and herbs; sprinkle over baked potatoes.
Bake and additional 5 minutes or until cheese is melted.